Blueberry Mojito
As an Amazon Associate and member of other affiliate programs, I earn from qualifying purchases.
A fresh blueberry mojito is a twist on the classic mojito recipe, made with a homemade blueberry simple syrup, rum, fresh lime juice and mint leaves, topped with sparkling club soda. Refreshing from the first sip to the last!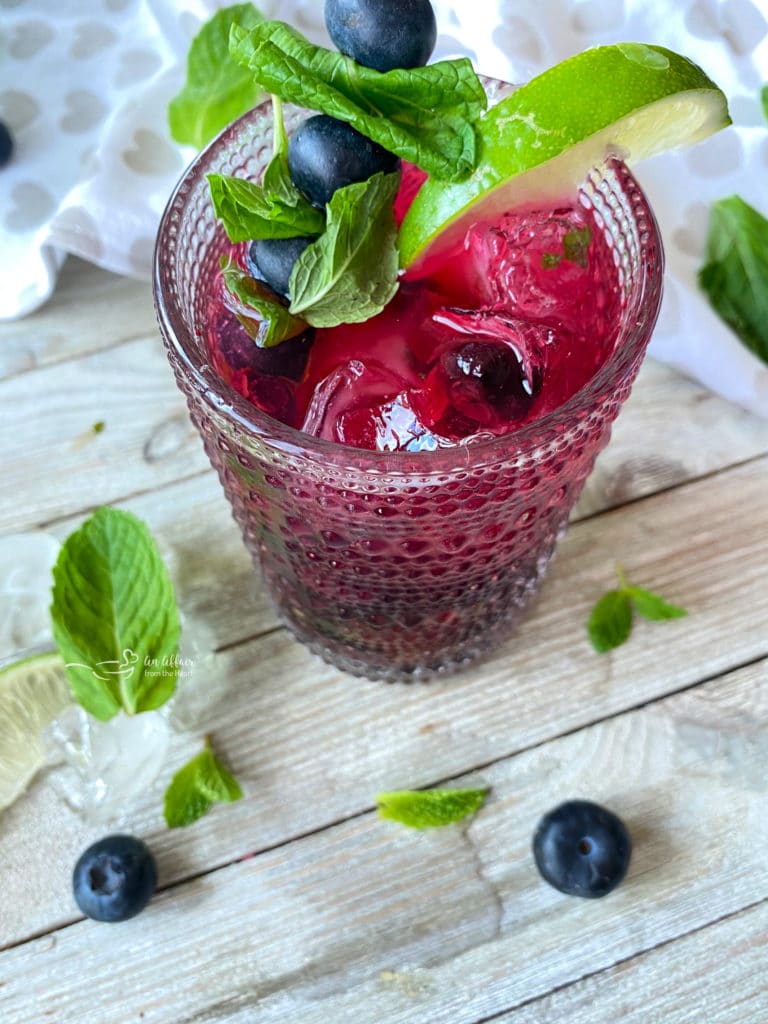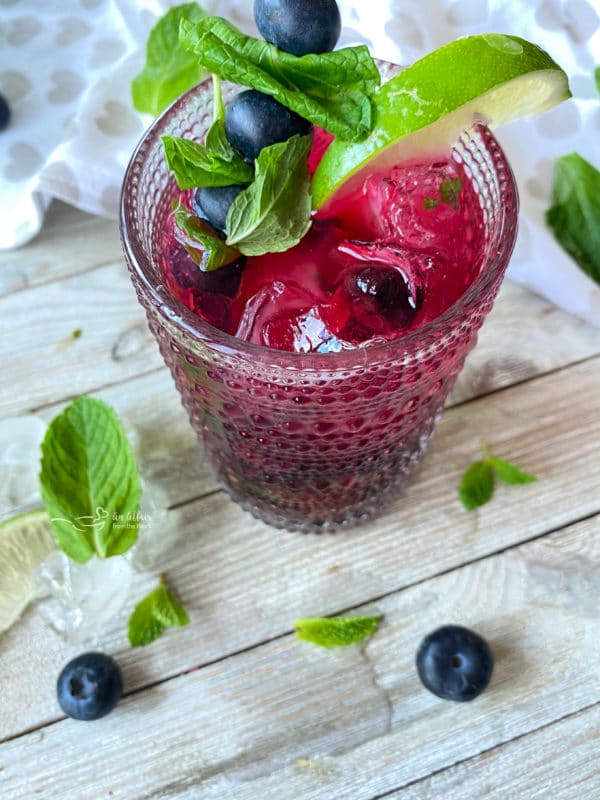 A blueberry mojito is a super refreshing way to welcome in the sunshine and get ready for summer days. It has all the great qualities of a classic mojito. But, in this case, the blueberries add their own unique combination of sweet and sour to the mix. If you are unfamiliar with mojitos, they are a tropical cocktail similar to a margarita, but with mint. A classic mojito is made with lime, sweet syrup, sprigs of mint, and silver rum, preferably the Brazilian style rum called "cachaça ".
In some ways, cachaça is more similar to vodka, but most places in the US stock it in the rum section.
Making A Blueberry Mojito
In this case, instead of using plain old simple syrup, you make a blueberry flavored simple syrup by heating and mashing blueberries to a pulp. They break down quite easily. You let the syrup cool, strain it, then use it instead of plain simple syrup to sweeten the drink.
For this particular recipe, I actually left the berries in the syrup without mashing them. I loved the color and the texture they gave the drink. You are free to do the simple syrup either way.
While you are fine using frozen blueberries for a blueberry mojito, I do recommend using fresh limes. Most of the available lime juices just seem to have a slightly chemical taste to me. Fresh limes are so much better! And with a blueberry mojito, the fresher the flavors, the better. The muddled sprig of mint helps balance the sweetness of the sugar with the sour of the limes.
Ingredients in a Blueberry Mojito
To make this cocktail, you will need sugar, fresh or frozen blueberries and water to make the simple syrup. Note that you will have plenty of syrup to make additional cocktails.
To make the cocktail itself, you'll need some white rum, fresh lime and lime juice, fresh mint leaves, the blueberry simple syrup, and some club soda.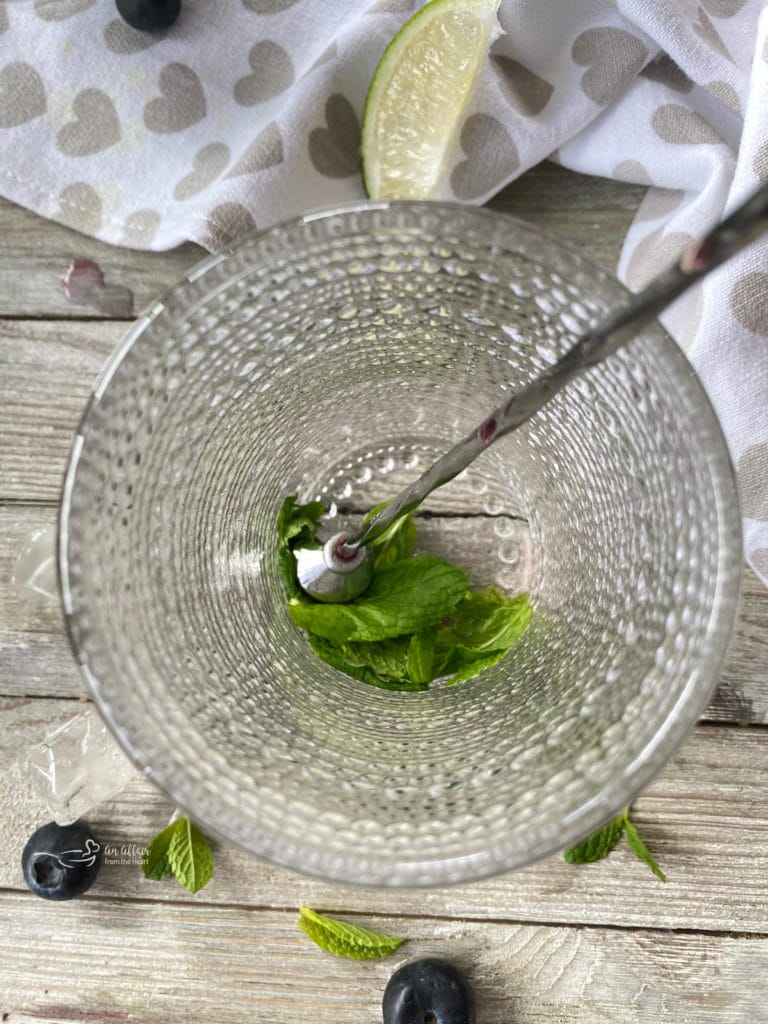 You'll want to muddle the mint leaves into the bottom of the glass first. That releases the mint oil from the leaves and amplifies the flavor.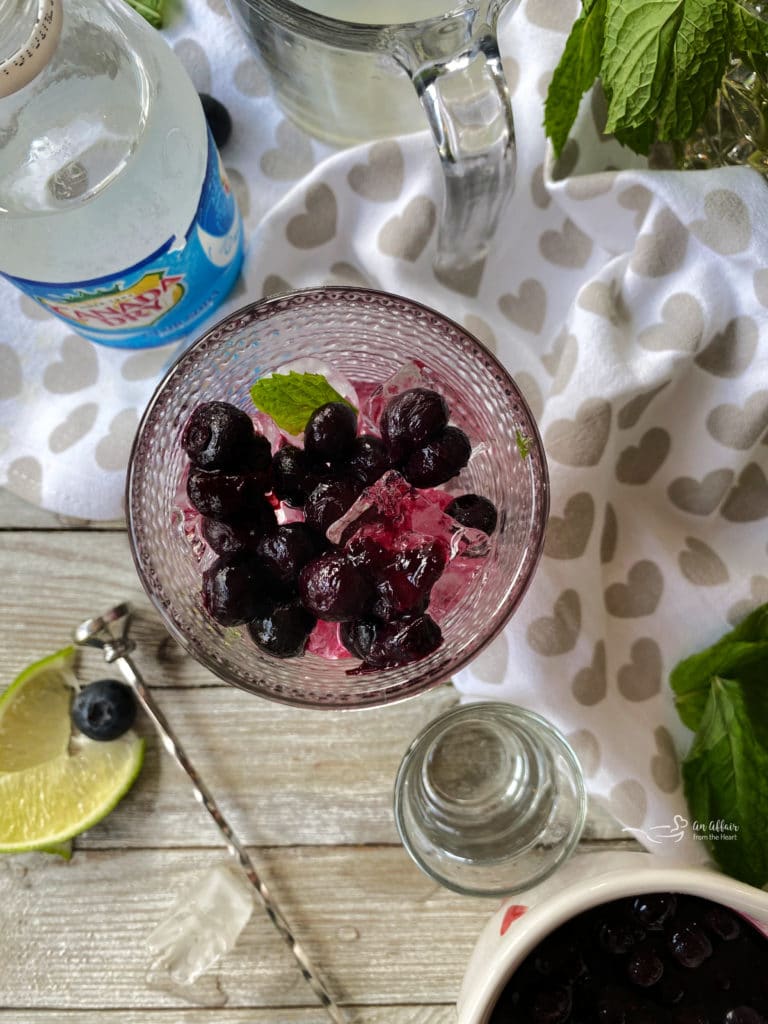 Next add in ice, lime juice, and rum. Pour in blueberry simple syrup.
Top it off with some club soda before giving it a stir. Garnish with more mint leaves, a slice of lime, and some fresh blueberries if desired.
Love it? Pin it!
Don't forget where you found the recipe for the best Blueberry Mojito! Pin it to your favorite Pinterest recipe board before you go!

FREAKY FRIDAY RECIPES BLOG HOP
I can't take all of the credit for this blueberry mojito cocktail recipe. I get to give that credit and the inspiration for this beverage to my friend, Sandra from The Foodie Affair! You see, today is Freaky Friday! Freaky Friday is a day where a bunch of us food bloggers get together and each gets assigned one another's blogs to make a recipe from.
It's all done in secret and all at the same time on the same day we announce who we were assigned and what we made. It's a chance for our readers to see some great recipes all in one place, and to find some new blogs to follow. And that day is TODAY!
The Foodie Affair
I feel like I have "known" Sandra as long as I have been around the blogosphere. She began blogging around the same time that I did, and our paths cross quite frequently, for which I am so grateful. You see, she is such an inspiration! One of the most motivated people that I know, a fitness enthusiast, self-taught cook, mother, and wife that works a full-time job in addition to her vast amount of recipes she shares on her blog.
Sandra has a sweet tooth and shares some amazing desserts like her Homemade Chocolate Pudding or her Pineapple Bread Pudding with Pineapple Rum Sauce. But she also takes her low carb/keto lifestyle into account and shares sweet tooth recipes for others who eat a low carb diet, too. Her Keto-friendly fruit pizza and lemon mug cake are sure to curb that craving when you need a little something sweet!
The Foodie Affair Keto and Low Carb Recipes
Sandra is extremely knowledgeable about the low-carb life and how to tweak recipes that you already enjoy and make them keto-friendly. There has been more than one instance where I reached out to her when a reader asked about how to lower the carbs in one of my recipes.
She has an entire section of her blog devoted to Keto and Low Carb Recipes, Keto vs. Low Carb and even a Keto Macro Calculator to help you on your journey.
I did make my Blueberry Mojito Recipe with sugar and a homemade blueberry simple syrup, where Sandra's version that I used as inspiration is a Sugar-Free Blueberry Mojito.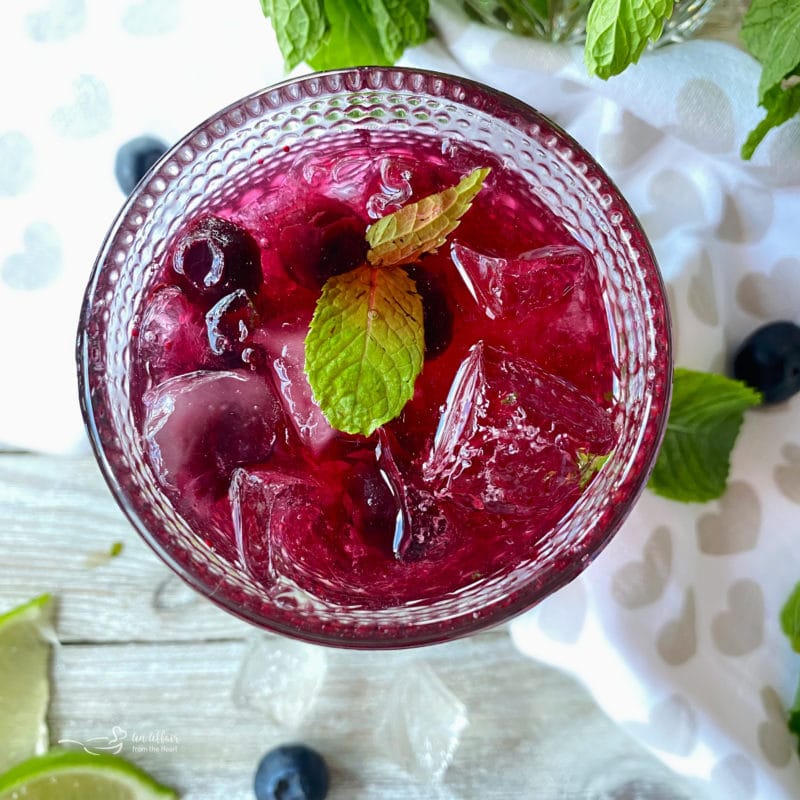 What Kind Of Alcohol is best for Mojitos?
Rum is the traditional alcohol used for Mojito recipes. Mojitos are best with the clear rums referred to as "silver" or "white" rums. The clearer the rum the less sweet it tends to be, but the color of rum can be a measure of how it was casked or how it is distilled.
You can use the darker rums too, but personally, I favor the "drier" rum styles for this drink since it already has plenty of sweetness going for it from the blueberry syrup. Not to mention the color is more vibrant with the clear rum.

Tips and Ideas When making these Blueberry Mojitos
Make sure to cool the simple syrup before using it. (or you'll need a lot more ice cubes!)
Don't forget to muddle the mint leaves to get the optimal amount of delicious mint flavor.
Fresh limes are always better than the bottled juice.
Frozen blueberries work beautifully in this recipe, too!
Want a little more flavor? Use a blueberry or lime-flavored sparkling water like La Croix.
Make a non-alcoholic blueberry mojito mocktail by simply leaving out the rum!
Take a look at all of our 2021 Freaky Friday Spring Edition Recipes: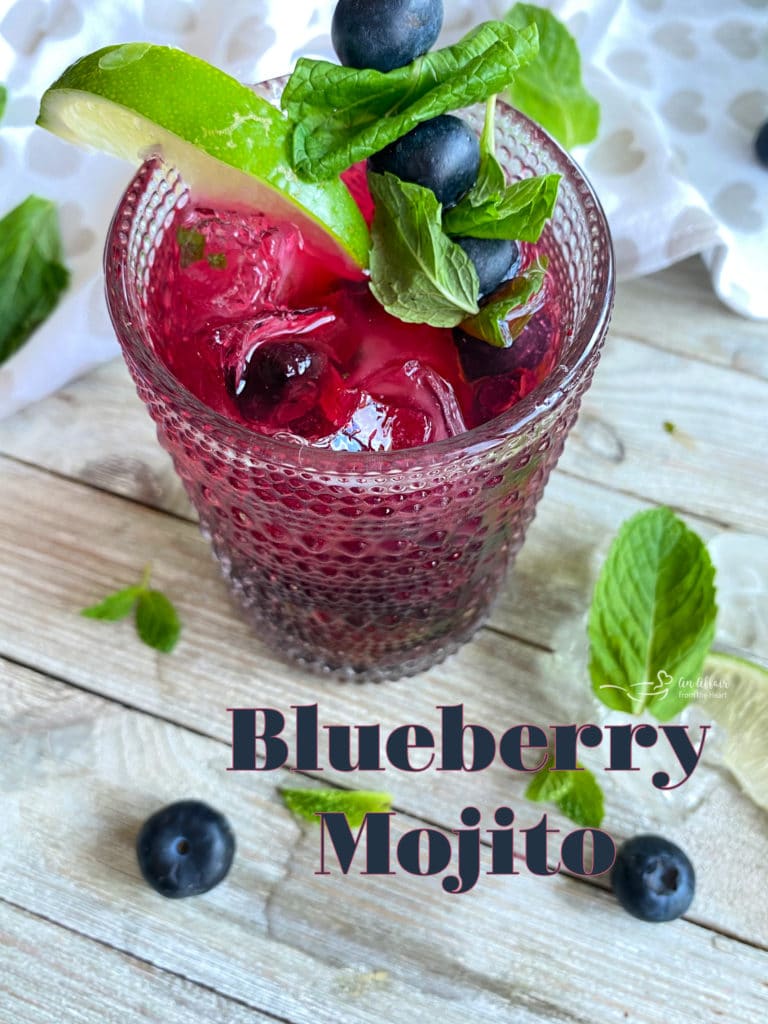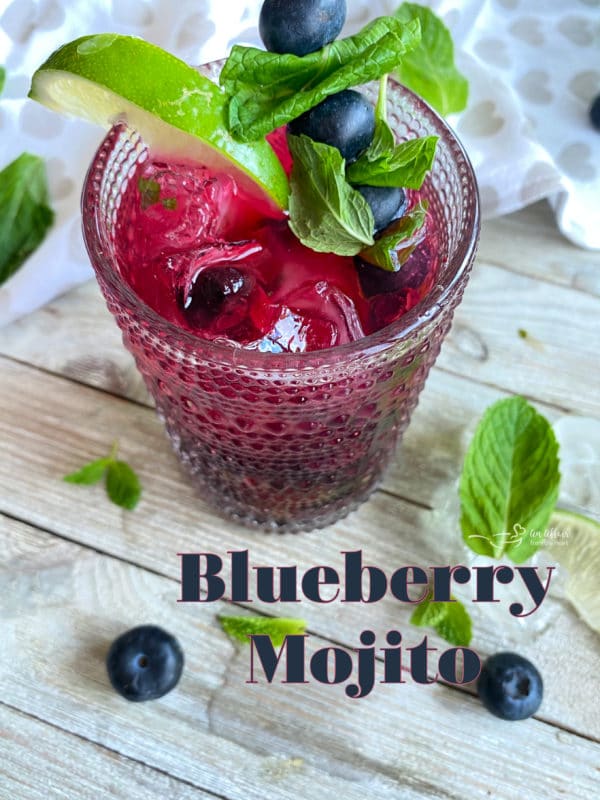 I can hardly WAIT to mix these up, how about you? Let's make some Blueberry Mojitos!!

Yield: 1 cocktail
Blueberry Mojito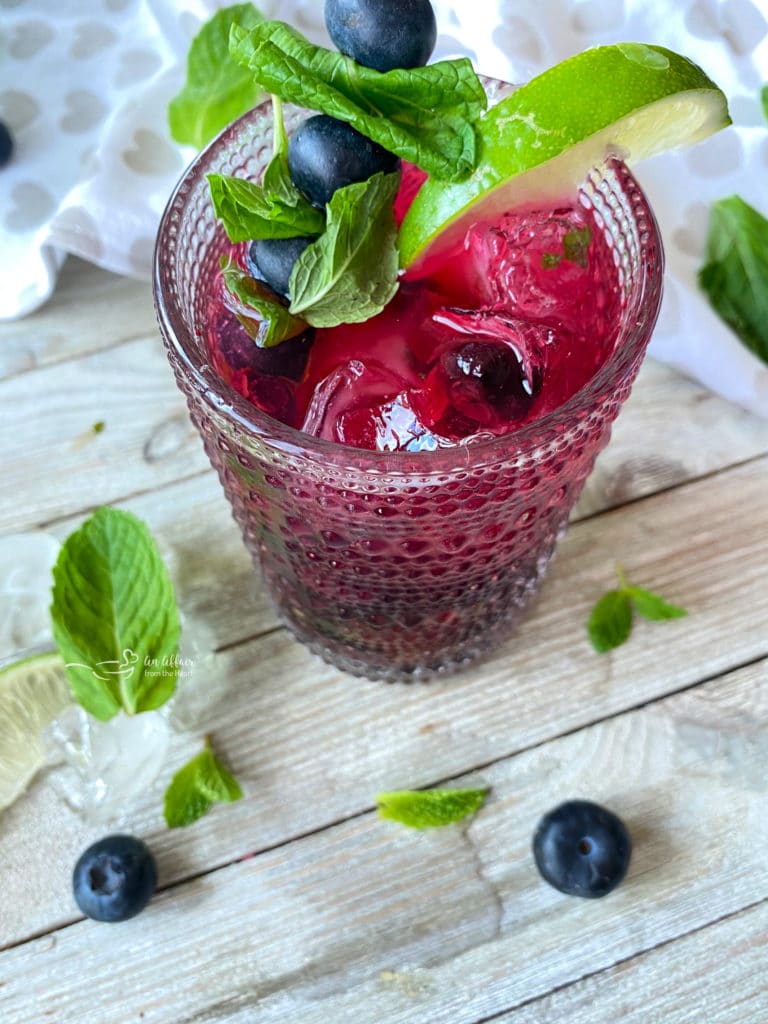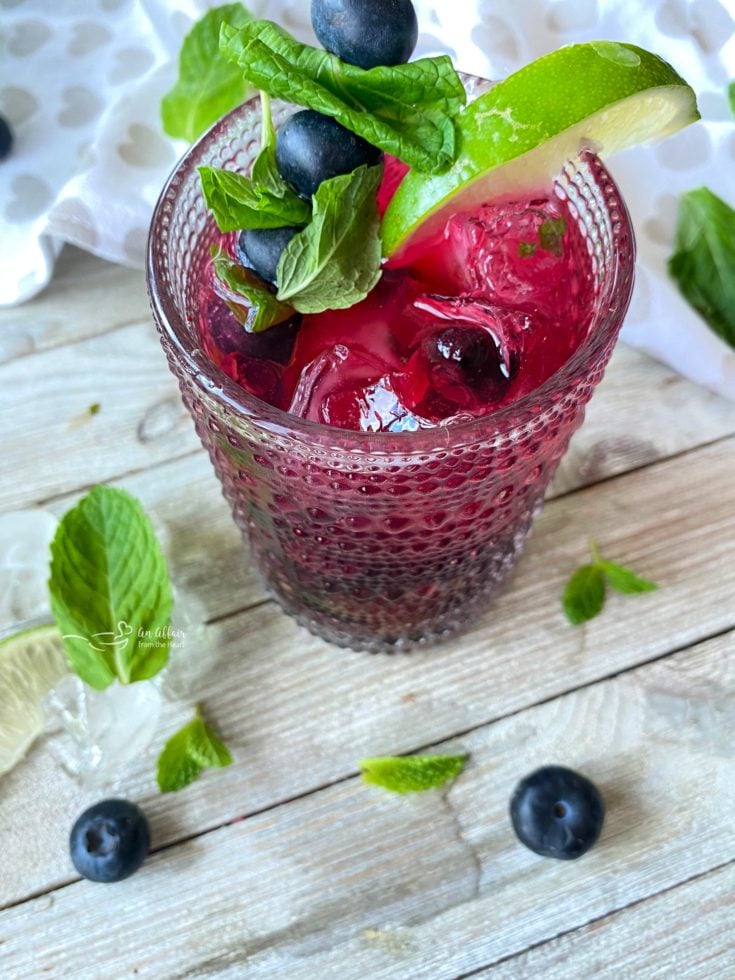 A fresh blueberry mojito is a twist on the classic mojito recipe, made with a homemade blueberry simple syrup, rum, fresh lime juice and mint leaves, topped with sparkling club soda. Refreshing from the first sip to the last!
Ingredients
To Make the Blueberry Simple Syrup
1 cup fresh or frozen blueberries
1/2 cup sugar
1/2 cup water
1/2 teaspoon vanilla
To Mix the Cocktail
10-12 fresh mint leaves
1 Tablespoon fresh lime juice
1 shot (2 ounces) White Rum or Cachaça
2 Tablespoons Blueberry Simple Syrup (recipe above)
Club soda or blueberry or lime flavored La Croix
fresh lime, mint and blueberries for garnish, if desired
Instructions
To prepare the blueberry simple syrup: Place the water, sugar and blueberries on the stove over medium heat in a saucepan. Heat until sugar is dissolved. You can leave the berries whole as I did, or mash them and strain the syrup through a mesh strainer. Let the syrup cool before using in the cocktail.
To mix the cocktail: Place mint leaves in the bottom of a 12-ounce glass, and muddle them to release the mint oil. Fill the glass with ice.
Add in the lime juice, rum, and blueberry syrup. Top with club soda, stir and enjoy!
Notes
Easily made into a refreshing mocktail by leaving out the rum.
The amount of simple syrup will make quite a few cocktails.
Nutrition Information:
Yield:
1
Serving Size:
1
Amount Per Serving:
Calories:

1274
Total Fat:

2g
Saturated Fat:

0g
Trans Fat:

0g
Unsaturated Fat:

1g
Cholesterol:

0mg
Sodium:

61mg
Carbohydrates:

301g
Fiber:

18g
Sugar:

269g
Protein:

6g
*** The nutrition for this recipe isn't accuarate, because it calculates the entire contents of the blueberry syrup, and you only use 2 Tablespoons of it.