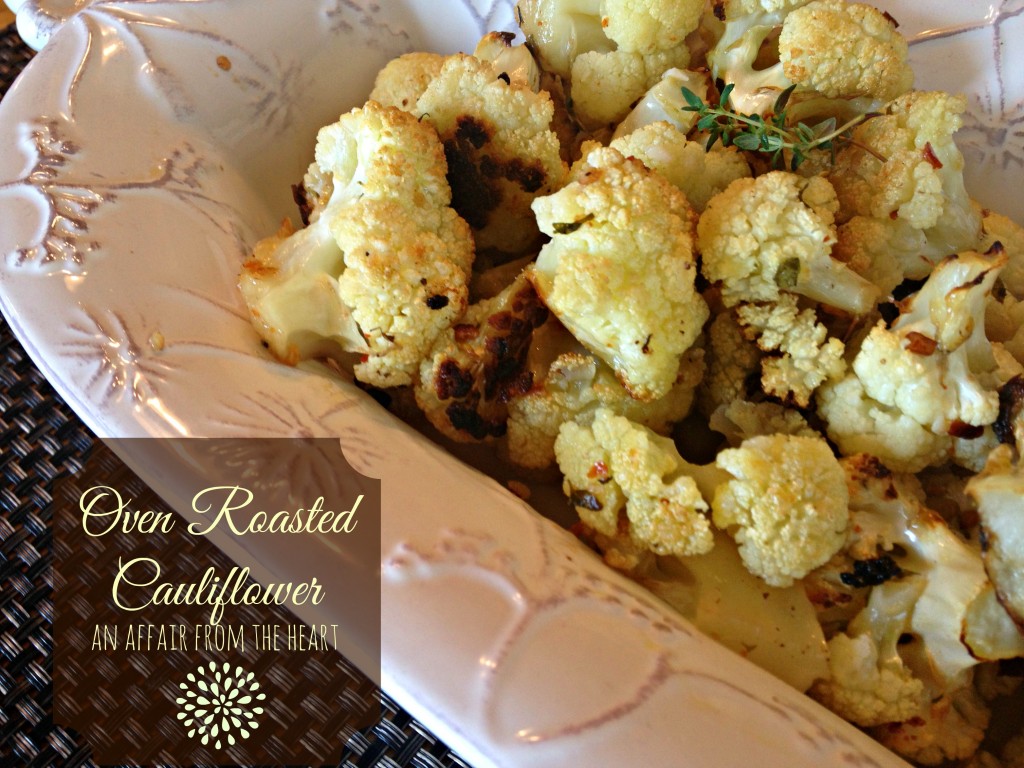 I love cauliflower. It's a vegetable that eats like a starch. I was always raised to have on your plate, a meat, a vegetable and a starch (potato or rice) or the plate wasn't complete. When I eat cauliflower I don't even miss it!
Typically I steam it, but this roasted cauliflower is made right in the oven in less than 20 minutes, it's got a great seasoning and it's just plain, EASY.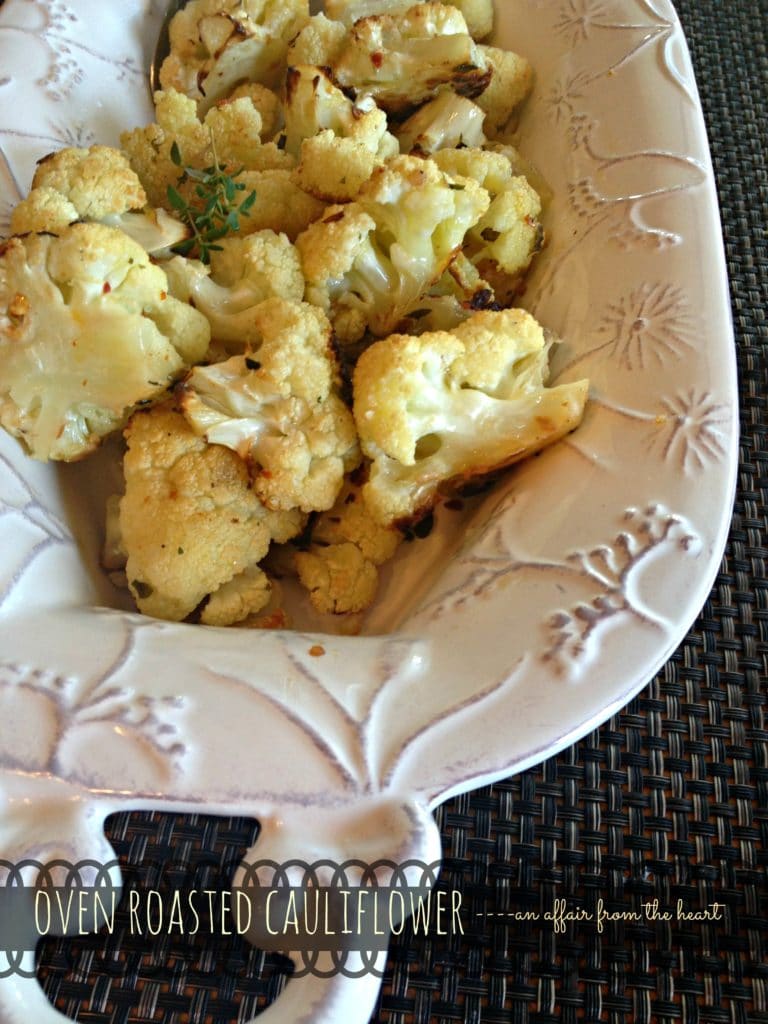 Roast Cauliflower
Oven roasted cauliflower is the exact opposite of everything that some folks dislike about boiled cauliflower. Don't get me wrong, I like cauliflower any old way. You can roast it, parboil it, boil it, bake it, mic it and I will like it.
Cauliflower is a great vegetable and so versatile. But I get why some folks don't like it. They were probably raised on mushy boiled cauliflower and never forgave their parents for it.
Too bad. Cauliflower is wonderfully nutritious and full of fiber. All you need to know is how delicious it is roasted. Give it a try. Then you will be well on your way to rediscovering all the great ways to enjoy cauliflower!
Oven roasting cauliflower brings out all the best qualities of cauliflower. Roast cauliflower gains great flavor through caramelization during roasting. It becomes more savory and less "cabbagy".
I just invented that word but you get what I mean.
More ways to enjoy roast cauliflower
You can enjoy the florets of roast cauliflower as is, or you can go a couple other directions too. After the cauliflower is roasted, then you can make a cauliflower mash. Or, chop it up finely to make riced cauliflower.
The roasting gives great flavor and texture. Whether you choose to eat it just like that, or mash or fine chop it, comes down to how you want to pair it up on the plate.
I guarantee even diehard cauliflower naysayers will take a second look. You just have to get them over that first bite. It might require a little push. One small leap of faith. An ounce of trust.
But patience will pay off. Roast cauliflower really is that good.
Variations on oven roast cauliflower
Roast cauliflower of course is delicious as is, but you can add various twists to keep it interesting too.
The first thing that comes to mind seems obvious but worth mentioning. Melt some cheese on top. I would recommend a cheese that has some funkiness and bite, like a swiss style cheese, jarlsberg for example.
Grate it up and toss it on at the end of the roasting process. You just want the cheese to toast up a bit and melt on, not melt off.
Make some extra crispy bacon, drain and dry it, then crunch it into bacon crumbs. Sprinkle those over the top of the roasted cauliflower when you pull it out of the oven.
Want to keep things veggie friendly? Then sprinkle a bit of balsamic vinegar on the cauliflower. If you have a mister for the vinegar that is best. You only want a very light spray on there.
Some seasonings that work really well on roast cauliflower include garlic powder, onion powder, cumin, and cayenne.
Oven roasted cauliflower is not just for the holidays
Although roast cauliflower works great with holiday menus, don't limit yourself to just those special occasions. However, if you are going for some holiday meal planning, I can suggest some great sides to include too.
Store oven roasted cauliflower to enjoy later
Definitely don't worry if you have leftovers. Chilled roast cauliflower tastes every bit as good chilled. Toss it in a salad or eat it by its lonesome. You know how raw cauliflower always gets served with ranch dressing? Well try some ranch dressing on chilled or oven hot roast cauliflower.
Even better if you ask me.
You can store it in the fridge for 5 to 7 days. If you squeeze some lemon on it then it will keep even longer.
Freezing is possible too. Make sure the container is tightly sealed. It does change the texture a bit, so I recommend using it for cauliflower mash. Just let it thaw, then check out my cauliflower mash recipe.
What does roast cauliflower go best with?
Enjoy your oven roasted cauliflower!
I hope you will enjoy some roasted cauliflower soon. It truly is the perfect combination of tasty and healthy. Who doesn't need more of that combo?
Yield: 4
Oven Roasted Cauliflower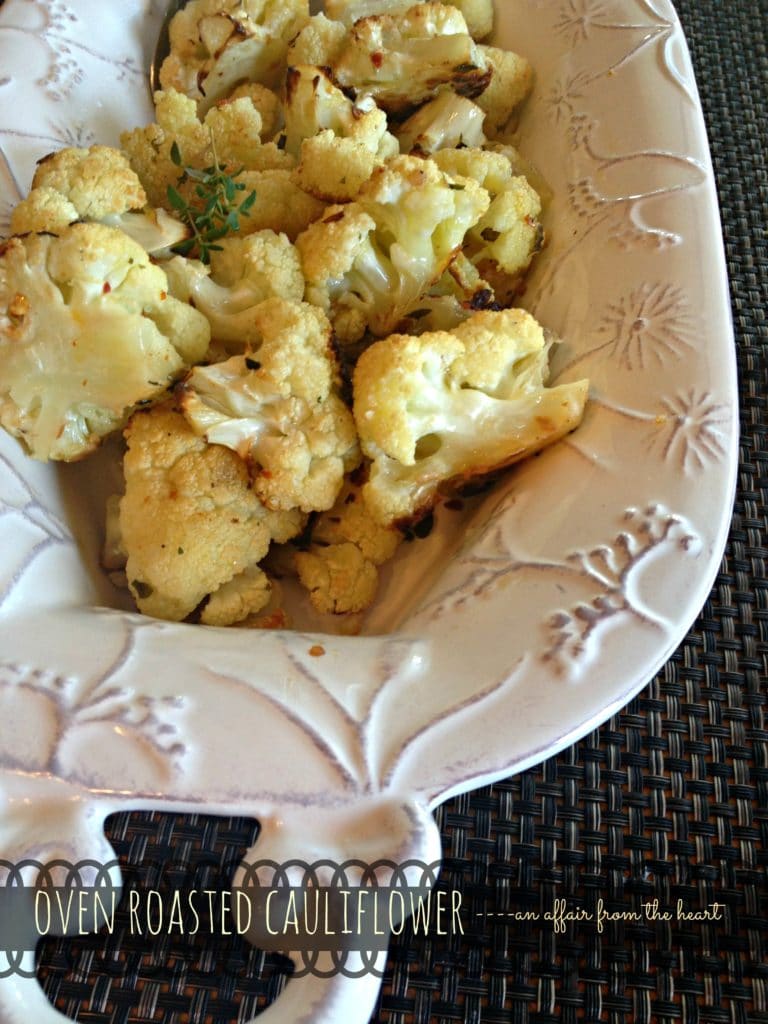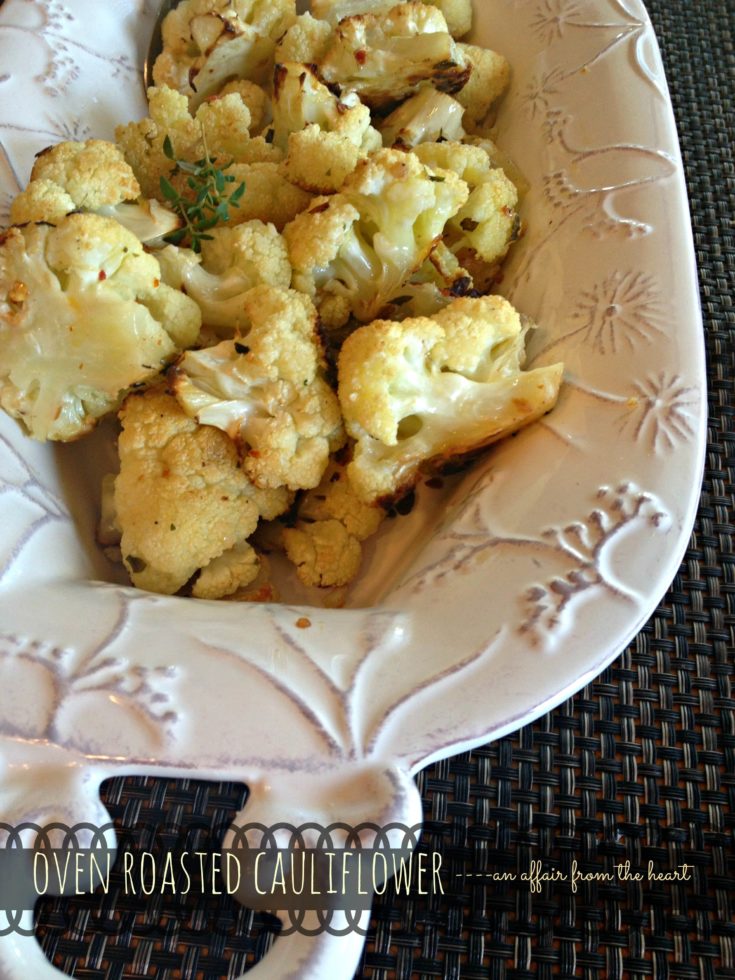 perfectly seasoned cauliflower roasted in your oven in less than 20 minutes
Ingredients
2 pounds of cauliflower, cleaned and flowerettes cut into small pieces
1/4 cup olive oil
3-5 cloves garlic, minced
1/4 teaspoon crushed red pepper flakes
2-3 teaspoons fresh thyme
2 teaspoons sea salt
Instructions
Preheat oven to 450 degrees and line a cookie sheet with non-stick foil.
Place cauliflower on cookie sheet lined with non-stick foil.
Toss cauliflower with oil and garlic.
Dust with red pepper flakes, thyme and salt, toss.
Bake for 17-20 minutes.
Nutrition Information:
Yield:
4
Serving Size:
1
Amount Per Serving:
Calories:

178
Total Fat:

15g
Saturated Fat:

2g
Trans Fat:

0g
Unsaturated Fat:

12g
Cholesterol:

0mg
Sodium:

1092mg
Carbohydrates:

11g
Fiber:

5g
Sugar:

5g
Protein:

4g
Nutrition isn't always accurate.
So, the next time you want to switch it up, try a little cauliflower in place of the rice or potatoes!
recipe adapted from allrecipes.com

If you make this recipe, I'd love to know! Snap a picture, share the photo on social media with the hashtag #AnAffairFromTheHeart – I'd love to see what you made! – Michaela