So simple to make, delicious and pretty, too! This Persimmon Salad has apples, Maraschino cherries, pineapple, and apricots, makes a beautiful winter side dish.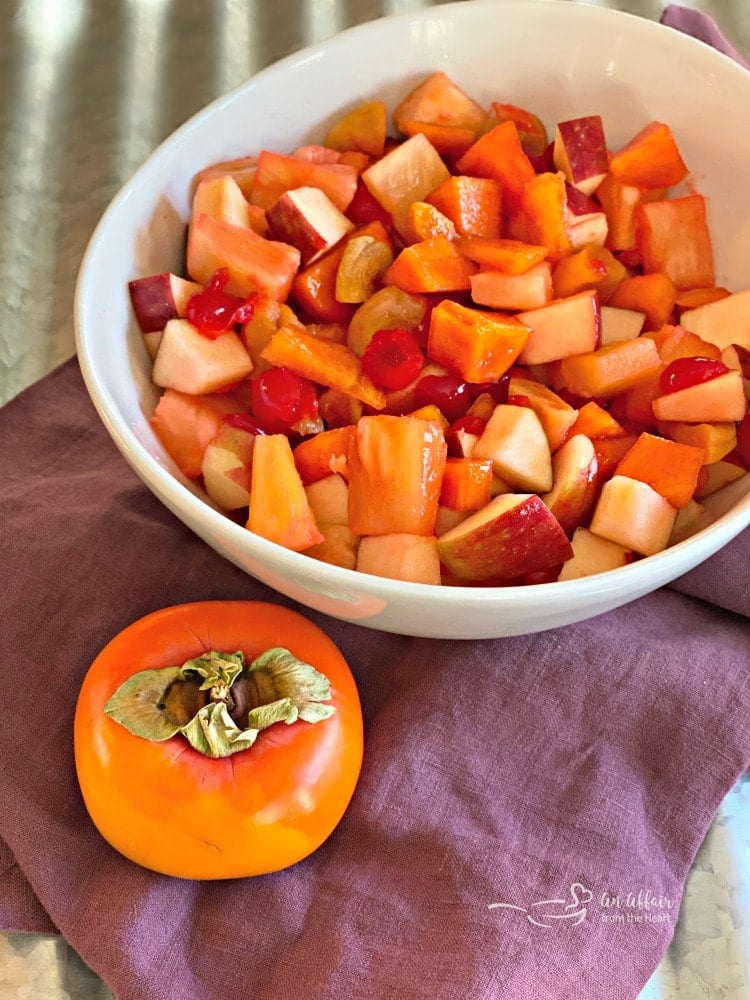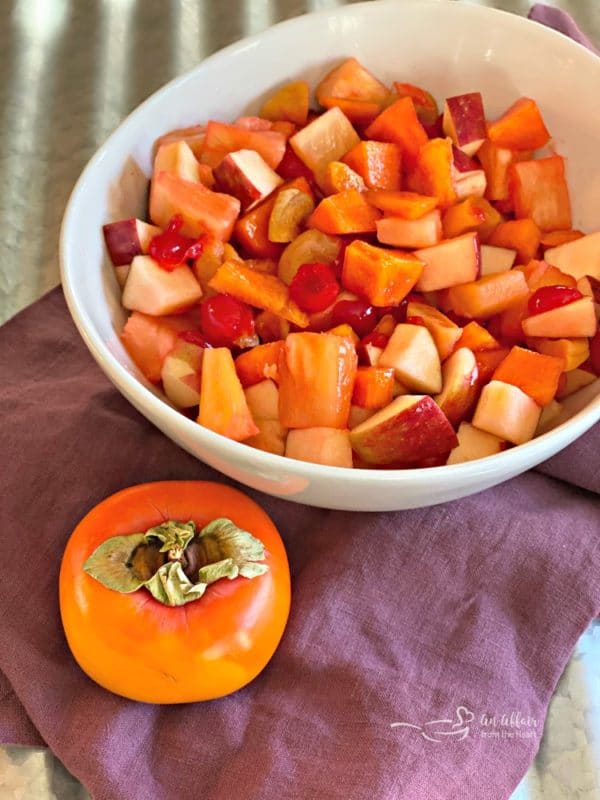 Persimmon salad finds a new way to explore this exotic and tasty, yet sort of persnickety fruit. Why do I say that? Well, I think like many people unfamiliar with persimmons, it is sort of hard to like.
You have to eat them at just the right peak of ripeness to enjoy persimmons. If you don't, then you risk getting a mouth full of astringent and bitter tannins. You might think you just ate some aspirin raw then licked a battery and stuffed a prickly cactus in your mouth.
Try A Persimmons Salad
However, patience pays off! If you eat a persimmon at the peak of ripeness, then it is sort of like a perfect apricot drizzled in honey with a hit of red delicious apple coated in caramel.
With a flavor like that, how can it not make a beautiful addition to a fruit salad? Let's not forget what a gorgeous color persimmon are too!
Types Of Persimmon
Persimmon are regarded as "winter fruit" since they ripen during the winter months in typically warm climates.
The first thing to get up to speed on persimmon is there are a few varieties. For the most part, you only see two types in domestic supermarkets. Most common, the hachiya and fuyu persimmons, are the ones you find in stores.
Some other varieties include Izu, Jiro, Izu, Suruga, Hanagosho, Midia, and Shogatsu. However, you are safe with any variety ending in "Maru," "Jiro" or "Fuyu since those are all sweet varieties.
There are also dozens of astringent varieties that must be eaten when very ripe. These include Eureka, Tamopan,Tanenashi, and Gailey.
Persimmons originated in Asia, but they are now grown elsewhere, including the US too. Most importantly, make sure to understand the difference between sweet persimmons and astringent ones.
The sweet ones are much more forgiving than the astringent ones. Those astringent varieties are great, but seriously need to be eaten at the peak of ripeness. If you have any question, then just take a very small bit on your tongue.
If your tongue feels like you are licking a fuzzy tennis ball to the point of rawness, then wait to eat any more.
Fuyu persimmons taste quite sweet, and most importantly, are edible while still a little firm. They sort of resemble a beefsteak tomato in their squat and wide round shape.
The hachiya persimmon is good only when it's very ripe. Even better if it is overripe. In fact, don't be tempted to toss it since it will look too ripe. But that is when it is just right. The Hachiya persimmons have a more tapered end, sort of like a turnip or acorn in shape.
The hachiya are very astringent if not eaten at the peak of ripeness. You have a bit of wiggle room with the Fuyu because they are not so astringent if not overripe. So I recommend seeking out the Fuyu.

Make sure you in this recipe to your favorite Pinterest board so you can find it easily!
How Do You Know A Persimmon Is Ready To Eat?
With the Fuyu, the texture of the fruit will have a bit of melon like texture, soft yet firm and completely juicy with sweetness.
The texture of the Hachiya will be much more mushy. Think over ripe banana that you might mash for a loaf of banana bread. I know that texture might put some of you off it, but the flavor really is quite delicious and worth a try. Maybe I should say it has more of pudding texture…
In terms of this fruit salad, the fuyu persimmon works best if you want pieces of the fruit to stand out. However, mash the hachiya thoroughly and it becomes more like the dressing component. Either way, you add a great flavor with the deliciously complex layers of persimmon.
How do you eat a persimmon fruit?
Cut off the leafy top. Then cut it in half. You can scoop out the inside or you can cut it into chunks with the skin on too. The skin is slightly waxy but not bad to eat. With a really ripe hachiya style persimmon, then just cut in half and scoop out the inside. It is easier that way.
What is persimmon fruit good for?
Persimmon come full of tons of vitamins and fiber. They are super low in fat and very high in beneficial minerals. Vitamins C, and many B vitamins, plus full of vitamin A. You get a bunch of helpful minerals as well like copper, manganese, and potassium.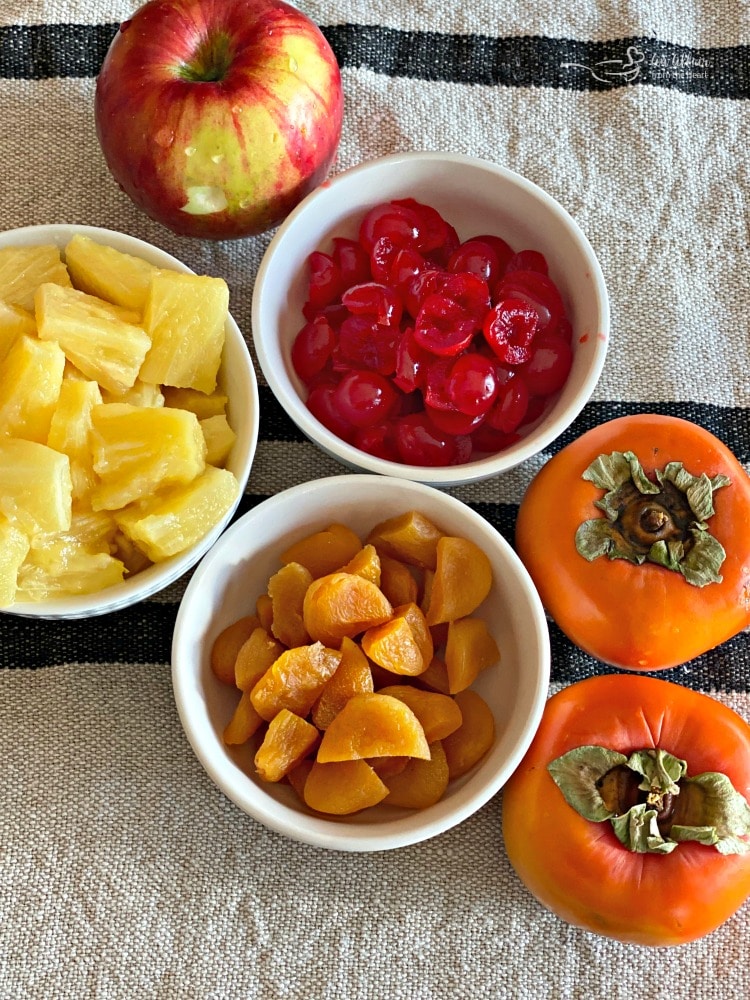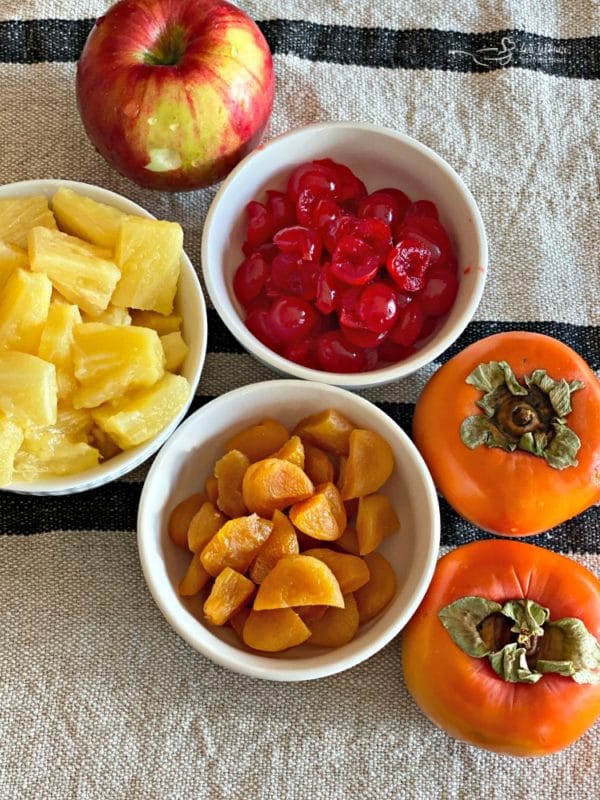 Enjoy Your Persimmon Fruit salad!
My cousin, Shirley, is so thoughtful, she sends me persimmons from California every year. This year, she also shared this fruit salad recipe with me. I am not sure how familiar people in the Midwest or other parts of the country might be with persimmons, but you will most likely be able to find this winter fruit at a supermarket or places like Fresh Thyme or Whole Foods this time of year.
I have many fruit salad recipes, but I had nothing like this persimmon fruit salad.
So be brave, try something new if you have never tried a persimmon before. They are a unique and delicious fruit!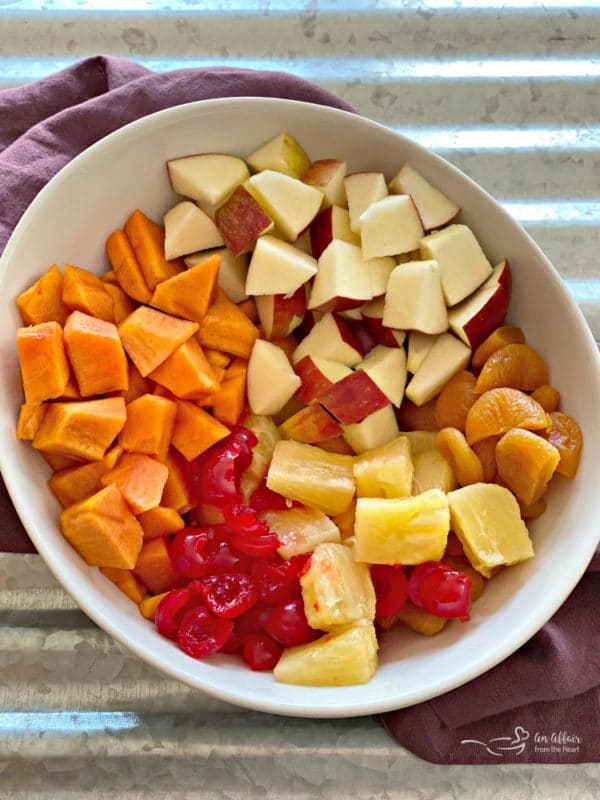 Shirley's persimmon salad recipe calls for Fuyu Persimmons, fresh apple, canned pineapple chunks, Maraschino cherries, and dried apricots. Of course, if you had the fresh apricots those would work, too. I tweaked it a little bit to my liking, as I thought the cherry juice made an already sweet fruit salad even sweeter, I added more pineapple juice.
We loved it! It's very colorful and pretty, too. I think it makes a great addition to any table, but a holiday one especially!
Other Great Ways to use Persimmons: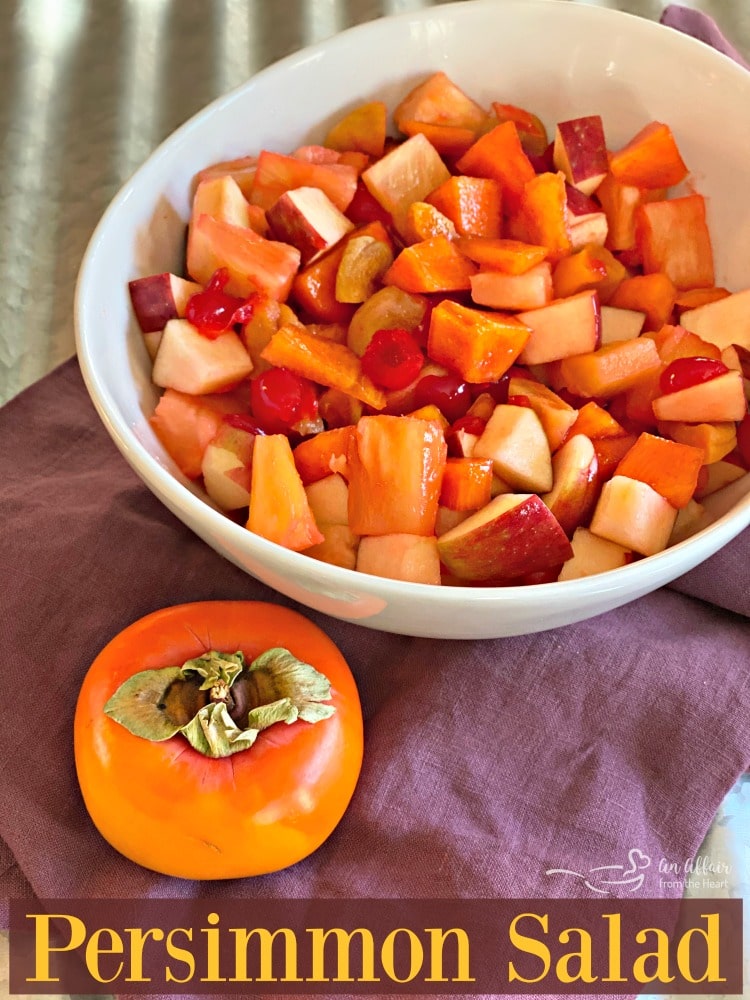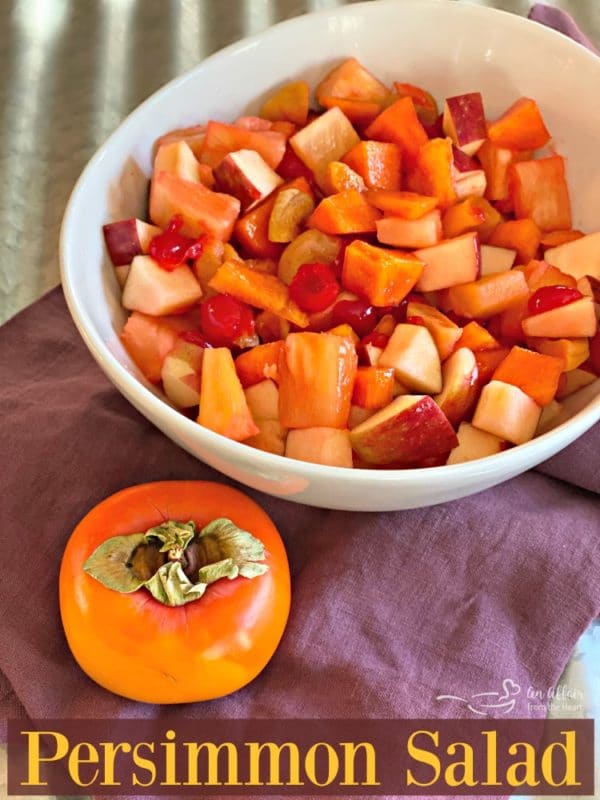 If you whip the persimmon salad recipe up now, you can be enjoying it in just a couple of hours after it chills. Let's get to it!

Yield: 6-8
Persimmon Salad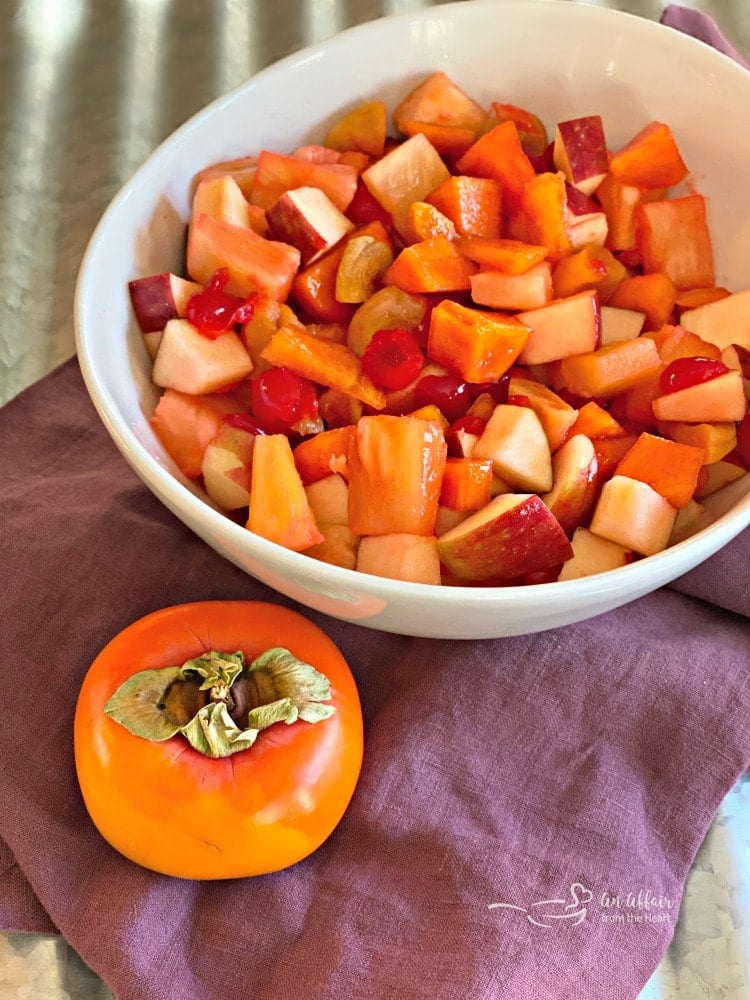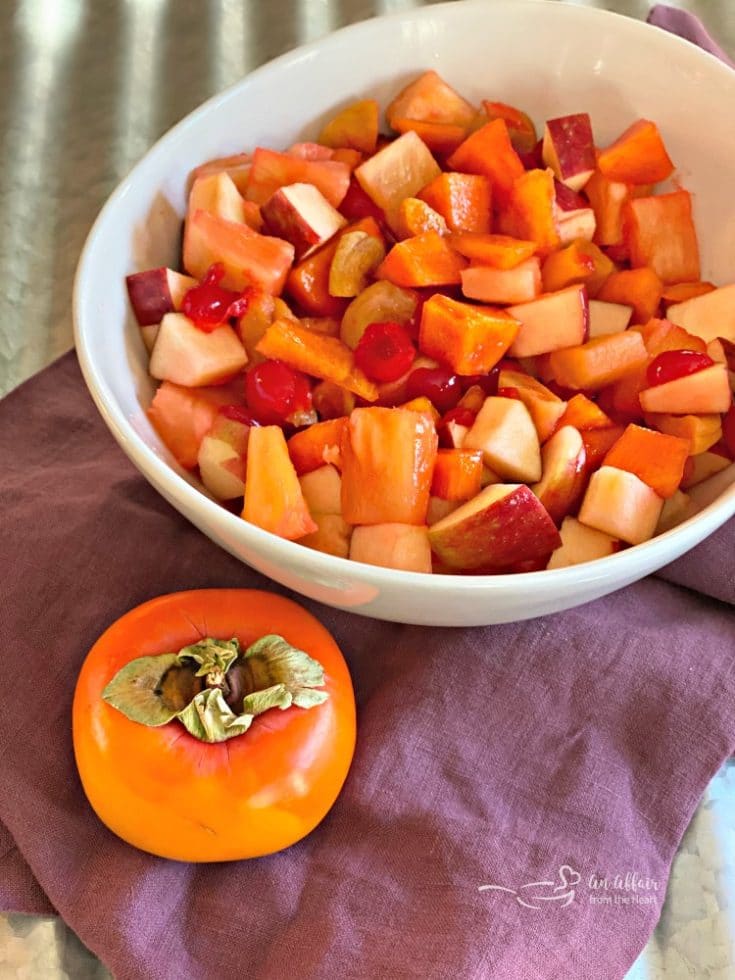 So simple to make, delicious and pretty, too! This Persimmon Salad has apples, Maraschino cherries, pineapple, and apricots, makes a beautiful winter side dish.
Total Time
2 hours
5 minutes
Ingredients
2 persimmons peeled and diced
1 apple, diced, skin life on
5 ounces Maraschino cherries, halved
1 cup dried apricots, halved
20 ounce can of pineapple chunks, drained
2 Tablespoons cherry juice
4 Tablespoons Pineapple juice
Instructions
Combine all ingredients in a bowl, cover, and place in the fridge for a couple of hours. Fruit salad is ready when apricots are re-hydrated.
Nutrition Information:
Yield:
6
Serving Size:
1
Amount Per Serving:
Calories:

211
Total Fat:

0g
Saturated Fat:

0g
Trans Fat:

0g
Unsaturated Fat:

0g
Cholesterol:

0mg
Sodium:

8mg
Carbohydrates:

55g
Fiber:

6g
Sugar:

46g
Protein:

2g
Nutrition isn't guaranteed accurate.

If you make this recipe, I'd love to know! Snap a picture, share the photo on social media with the hashtag #AnAffairFromTheHeart – I'd love to see what you made! – Michaela