Buffalo Cauliflower Dip
As an Amazon Associate and member of other affiliate programs, I earn from qualifying purchases.
Everyone loves that buffalo chicken dip at parties, but not everyone wants the calories, or sometimes even the meat. This Buffalo Cauliflower Dip will give you the satisfaction of that famous dip with less calories and all of the taste.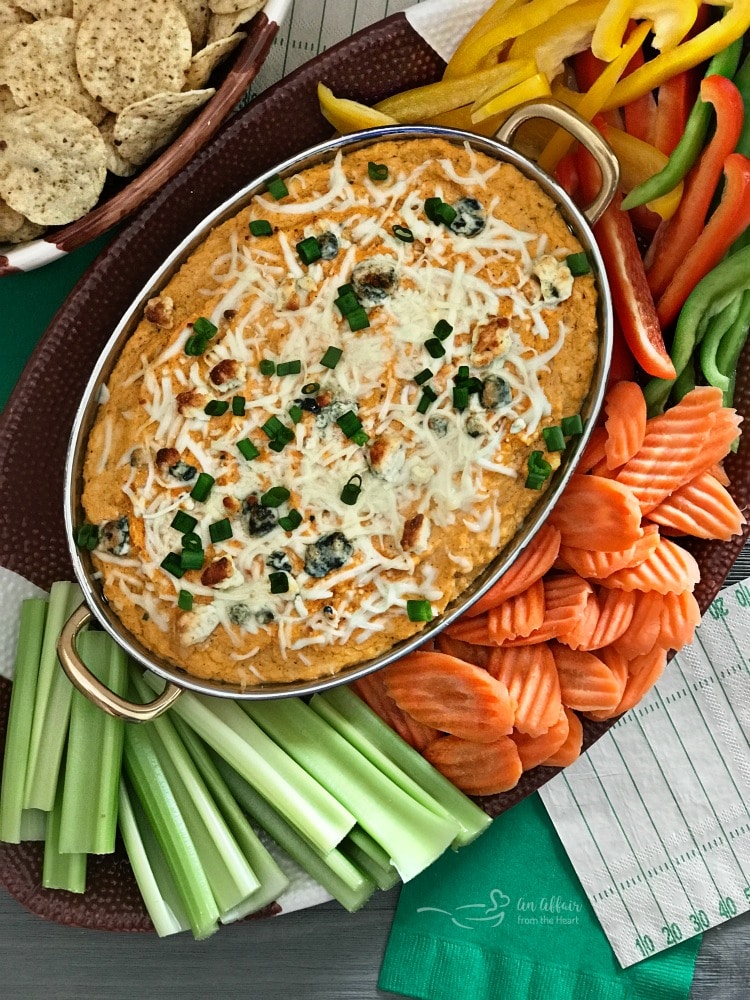 This weekend is the "Big Game." What some may consider the biggest game of the year. At least if you are a football fan. Me? I like football, but when it comes to this particular game, I am typically more about the snacks, and the commercials.
This recipe post was sponsored by Family Fare Supermarkets, however, all thoughts and opinions are my own.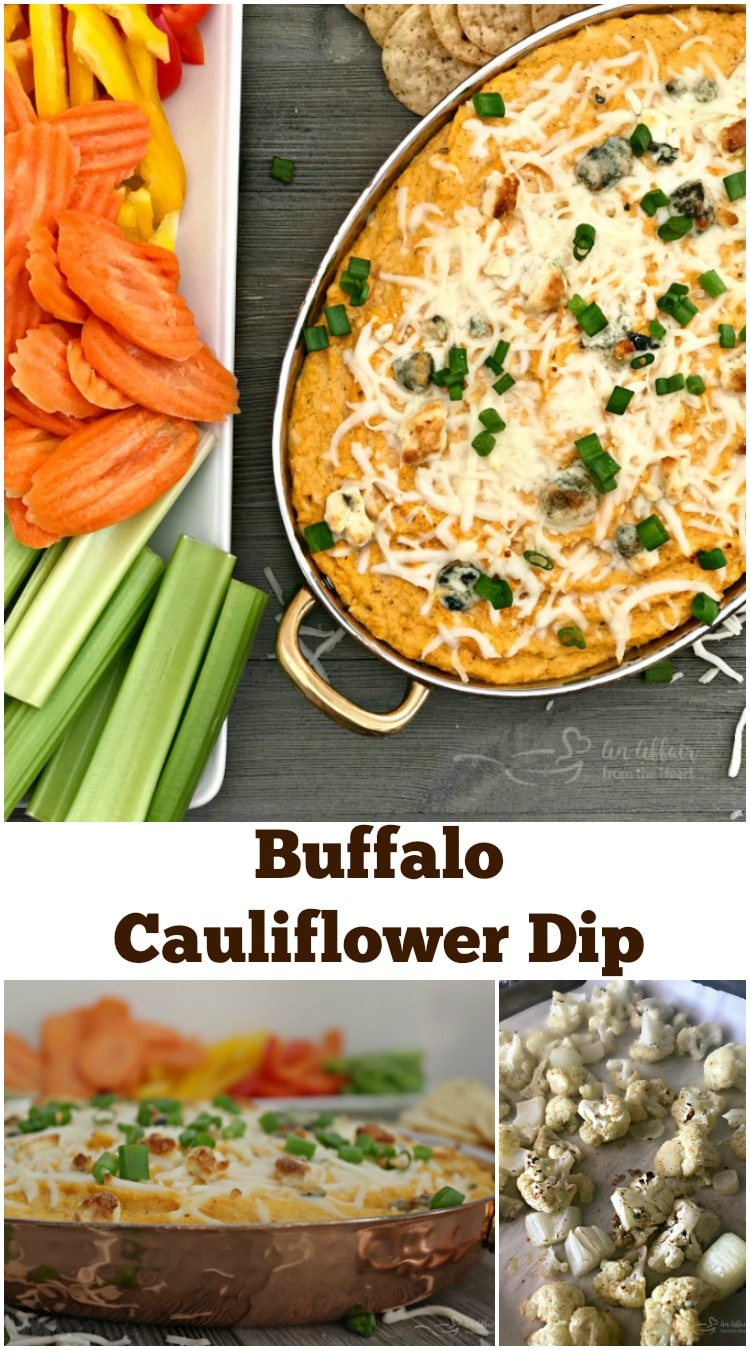 "Football Food" isn't always the best thing we can put in our bodies, though, is it? I decided if I am going to be standing in front of a bunch of snacks for 3+ hours, I should probably come up with something that wasn't a bazillion calories! Re-Thinking our Super Bowl Snacks became my mission.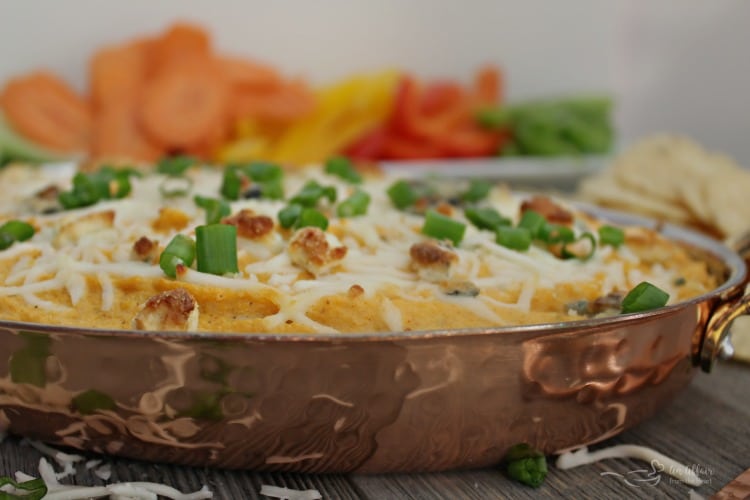 Something about watching sports that makes me crave wings. Hot Wings. Buffalo Wings. Unless my oldest son is with me, I get the hot ones all to myself. The rest of the family prefers the BBQ ones. Not me. I have to have them hot, Ranch for dipping and lots of celery. You just gotta have celery!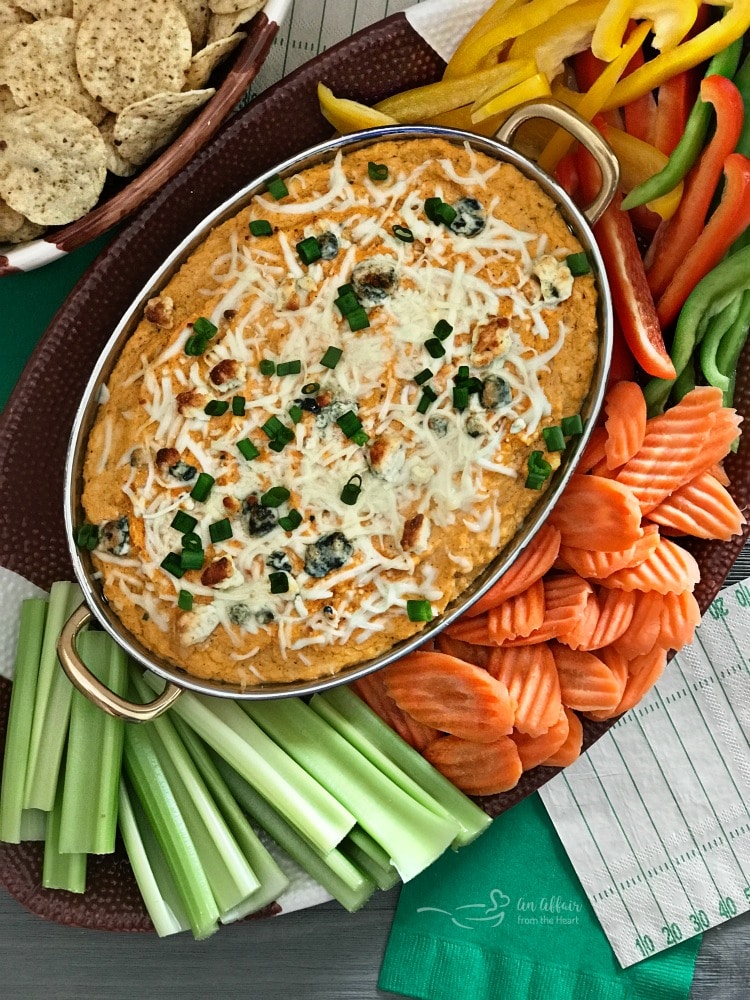 Oooooo and then there is that Buffalo Chicken Dip … I could eat a whole bowl of that. It's like Buffalo Wings without the mess. Perfect … Let's start there!! My brain got to spinning, and I thought about a recipe that I saw on a fellow blogger's site called Buffalo Cauliflower Bites. At first glance you would swear they were hot wings, but no, they are cauliflower all drenched in buffalo sauce and served with the same treatment as a hot wing. Then I thought to myself, what if those came in dip form? Again, messy fingers averted, same satisfying flavors.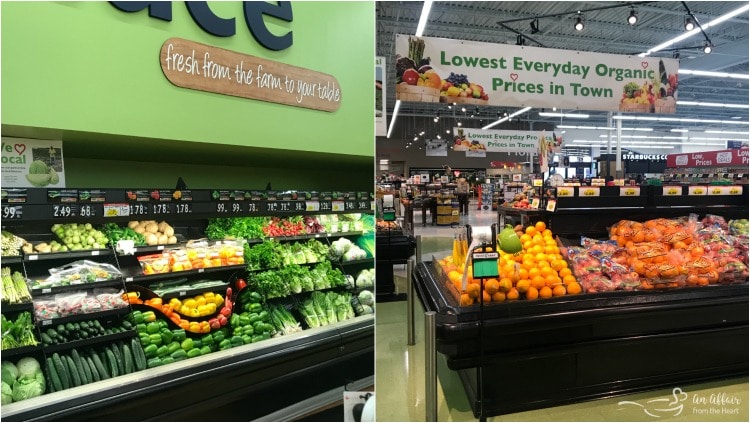 I took my idea along with me to my local Family Fare Supermarket. Browsing their produce section, I selected not only the cauliflower I would be needing but some other fresh veggies for dipping.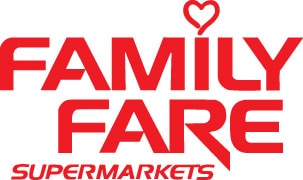 Family Fare supports local farmers and provides fresh fruits and vegetables from the farm to our local families. Their produce buyers search locally, throughout the United States and all over the world to bring you the very best selection and variety available. They are so sure of the quality of their produce they offer a 200% Freshness Guarantee on their produce. If you aren't completely satisfied with your purchase, they will exchange it, and refund it!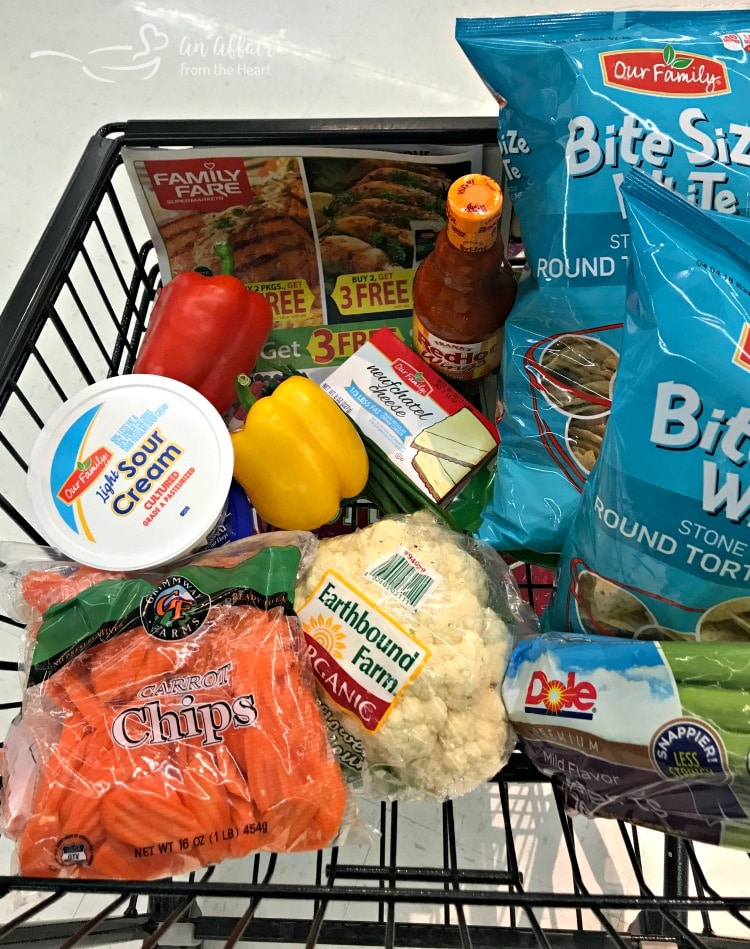 Produce gathered, time to get some hot wing sauce, some chips, some cheese and sour cream. Typically, when I am shopping, if there is a store brand available, I almost always buy it. It saves money, and the products taste virtually the same. Family Fare is no different. Their store brand, Our Family, has such a wide variety of choices. I picked up some light sour cream, Neufchatel cheese, Mozzarella cheese and their Our Family tortilla chips.
Here is what Family Fare has to say about their quality guarantee on their Our Family products:
"We make sure that every product with the Our Family label on it will match, or exceed the quality, of the national brand equivalent. This commitment is supported through an industry leading quality guarantee.
Our Quality Guarantee: If you're not satisfied with the quality of any Our Family brand product, simply return it to the store where purchased, and we'll refund your money AND replace it with a like item of the brand of your choice, free. That's our guarantee. Because no matter the family, you're Our Family."
Time to make some dip!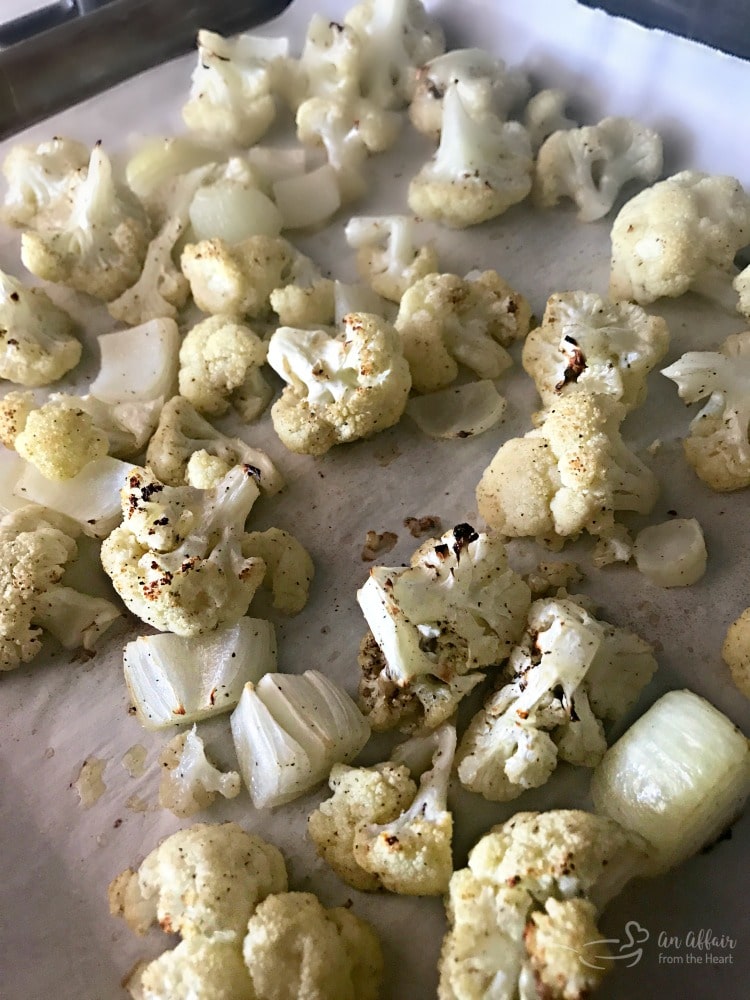 Start by tossing your cauliflower and onion in a bit of olive oil, some salt and pepper. Roast it in the oven for just a bit. (here's where it's tough to not eat all of the cauliflower so it makes it into the dip!)
Cauliflower is one of my favorite veggies. We eat it in place of potatoes quite often. Have you ever had Cauliflower Mash?? Oh, my!! So good! Cauliflower is a superfood. It's high in Vitamins C, K and B6, it's a great source of fiber and Omega-3s, it's low in calories is a natural anti-inflammatory.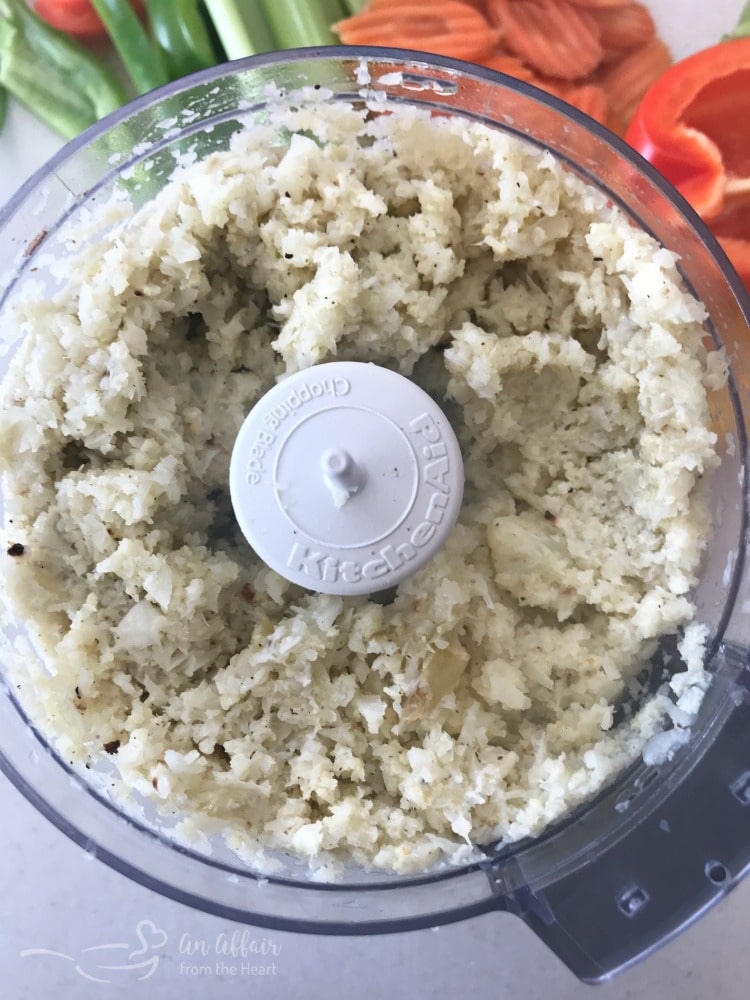 In your food processor, pulse cauliflower and onion until it's minced well. Cream together Neufchatel cheese, hot wing sauce and sour cream with your mixer. Add in cauliflower and onion and part of the Mozzarella cheese. Spread into a smaller shallow baking dish. Top with Bleu Cheese crumbles if you like them. (I love them!) Bake for about 15 minutes. Top with green onions and serve warm with veggies and tortilla chips for dipping.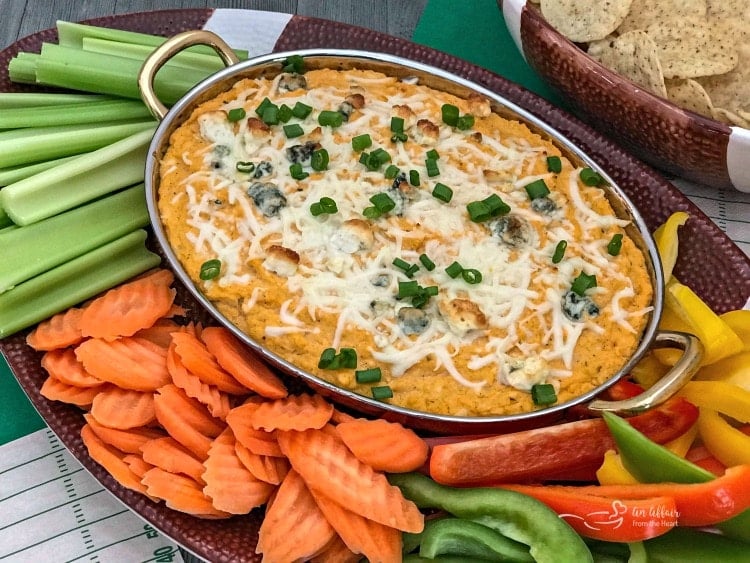 Try this: Carrot sticks are great for dipping, but pick up some carrot chips for a fun dipping option!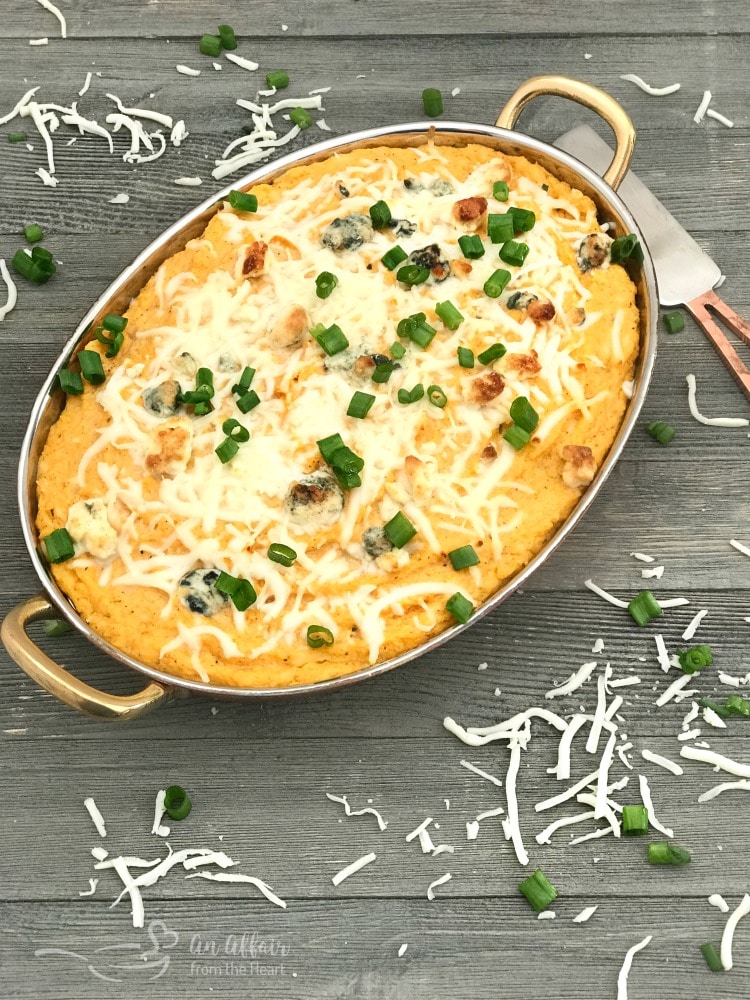 Follow Family Fare Supermarkets on their website for lots of great recipes, coupons, and ways to save with their Yes Rewards. Follow the path to savings with the Yes Rewards Savings Facebook Page, and Family Fare on Instagram.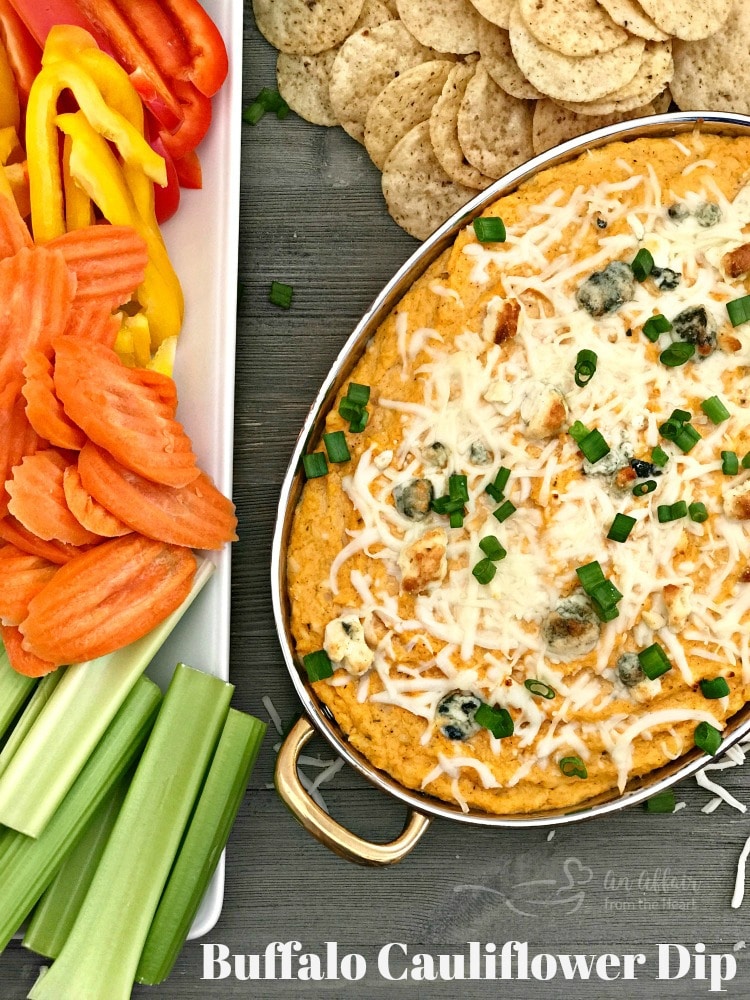 Yield: 8-10
Buffalo Cauliflower Dip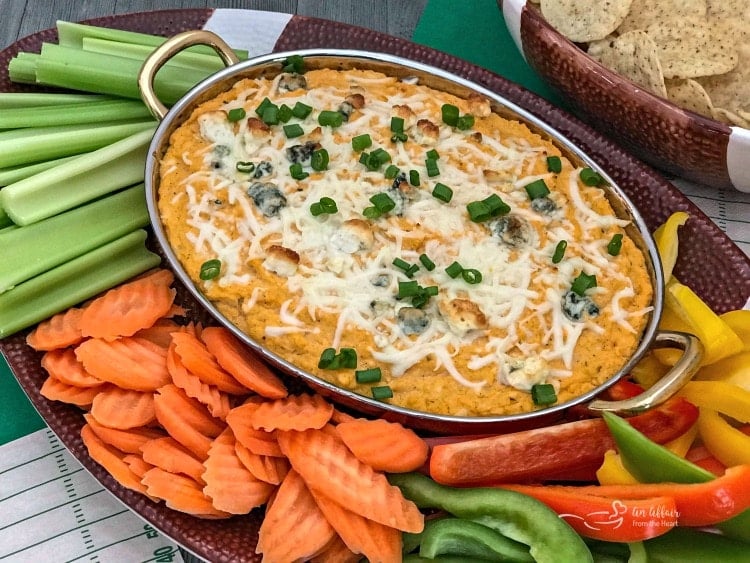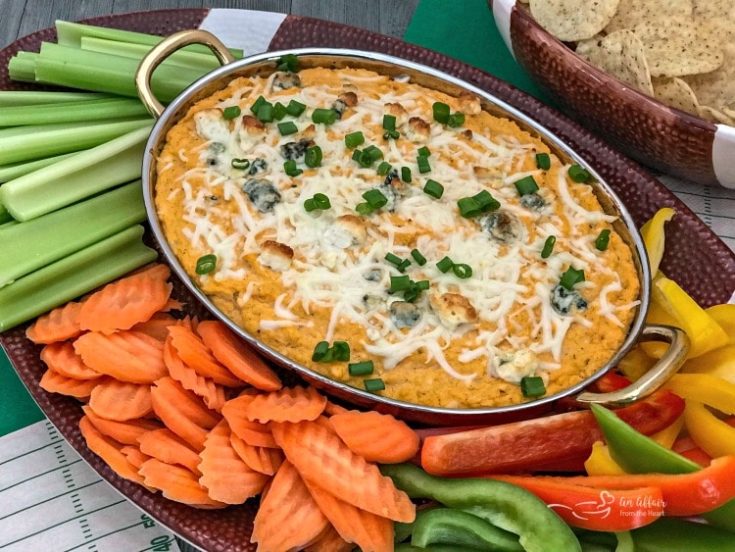 Everyone loves that buffalo chicken dip at parties, but not everyone wants the calories, or sometimes even the meat. This Buffalo Cauliflower Dip will give you the satisfaction of that famous dip with less calories and all of the taste.
Ingredients
1 medium sized head of cauliflower, broken into florets
1 small yellow onion cut in chunks
1 Tablespoon Olive Oil
1/4 teaspoon each Salt and Pepper
1/3 cup Frank's Hot Wing Sauce (you can add more if you want it spicier)
5 ounces Neutchatel Cheese
1 cup Light Sour Cream
1 1/2 Tablespoons Ranch Seasoning
1 cup Low fat Mozzarella cheese, divided
Bleu Cheese crumbles, if desired
Sliced green onion for garnish
For Serving: Celery sticks, Carrot chips, bell pepper slices and tortilla chips
Instructions
Preheat oven to 425 degrees.
Line a cookie sheet with parchment paper. Toss cauliflower and onion in a gallon sized bag with olive oil and salt and pepper. Spread over parchment paper. Bake for about 20 minutes or until cauliflower is tender. Remove from oven, cool slightly.
Reduce oven temperature to 375 degrees.
Add cauliflower and onion to food processor and pulse until minced.
In a medium bowl with your mixer, cream Neutchatel cheese until smooth. Add in sour cream, hot wing sauce and Ranch seasoning and mix until combined. Add in cauliflower, onions and half of the mozzarella cheese. Mix until incorporated.
Spread into a small shallow baking dish. Top with remaining Mozzarella and Bleu cheese crumbles if desired.
Bake for about 20-25 minutes or until dip is heated through.
Garnish with sliced green onion. Serve warm with veggies and tortilla chips for dipping.
Nutrition Information:
Yield:
10
Serving Size:
1
Amount Per Serving:
Calories:

215
Total Fat:

16g
Saturated Fat:

8g
Trans Fat:

0g
Unsaturated Fat:

7g
Cholesterol:

35mg
Sodium:

453mg
Carbohydrates:

10g
Fiber:

2g
Sugar:

3g
Protein:

10g
Nutrition isn't always accurate.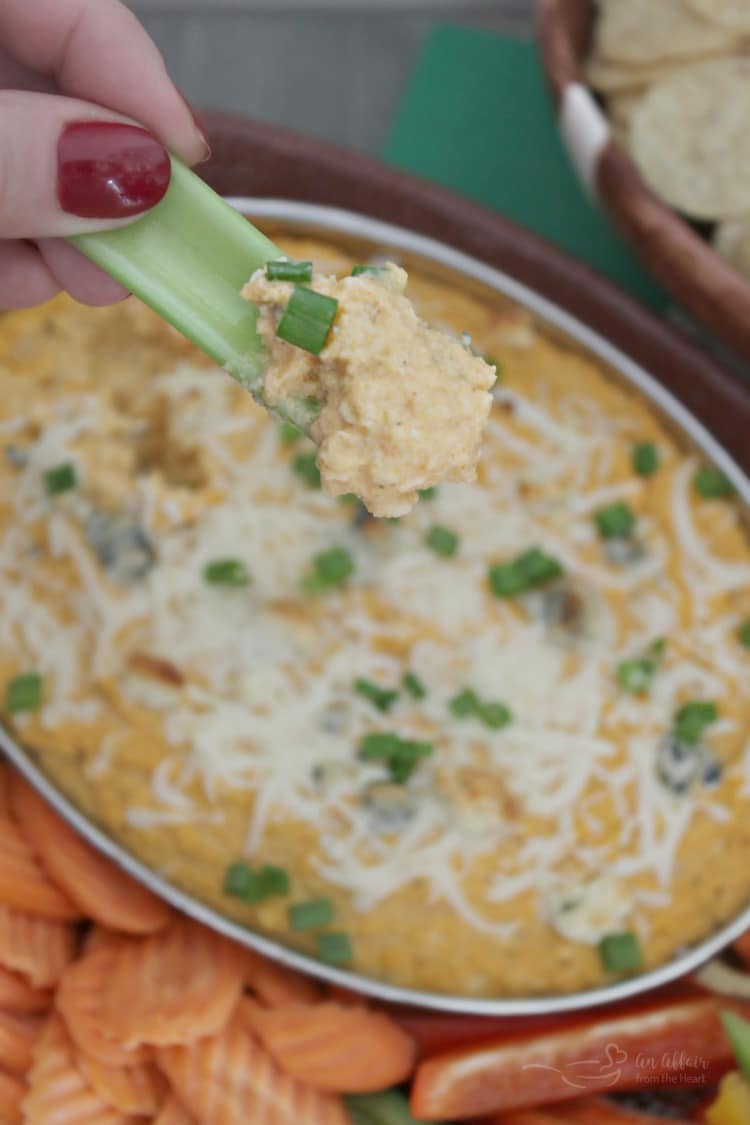 Get to dipping! The dip was wonderful on ALL of the veggies and the tortilla chips — but the celery was my favorite, as it seemed more like the whole "hot wings experience." If you love this dip, I bet you would love these Spicy Buffalo Cauliflower Pockets.
Looking for more dips? I have you covered!