Kicked Up Red Beer
As an Amazon Associate and member of other affiliate programs, I earn from qualifying purchases.
Here in Nebraska, and many places in the Midwest, the Red Beer is a common beverage. No need to order them any special way, unless you like them spicy, in which case you're sure to love this Kicked Up Red Beer, made with a homemade Bloody Mary Dry Spice. Made even more perfect, garnished with spicy pickled green beans!

Our Family's Red Beer Tradition
Every Sunday, we have family dinner here at the house. All of our kids and their significant others come for dinner, and many times even extended family will show up for a happy hour.
That's because they know that at 3 o'clock on Sundays, they will get to have one (or two…) red beers.
Some like them the traditional way, just tomato juice, and beer, then there are other's who like their red beers spicy! That's when I pull out the spice mix for the Kicked Up Red Beer!
This content is intended for readers who are 21 or older. This post has been sponsored by Ely Farms but my love of their Nebraska grown pickled vegetables and my opinions here are all my own.
SOME OF THE ITEMS BELOW CONTAIN AFFILIATE LINKS; I AM A PARTICIPANT IN THE AMAZON SERVICES LLC ASSOCIATES PROGRAM, AN AFFILIATE ADVERTISING PROGRAM DESIGNED TO PROVIDE A MEANS FOR US TO EARN FEES BY LINKING TO AMAZON.COM AND AFFILIATED SITES. I AM ALSO AN AFFILIATE FOR OTHER BRANDS. HOWEVER, I ONLY PROMOTE THINGS THAT I LOVE AND THINK YOU WILL LOVE, TOO. FOR MY ENTIRE DISCLOSURE POLICY PLEASE

CLICK HERE

.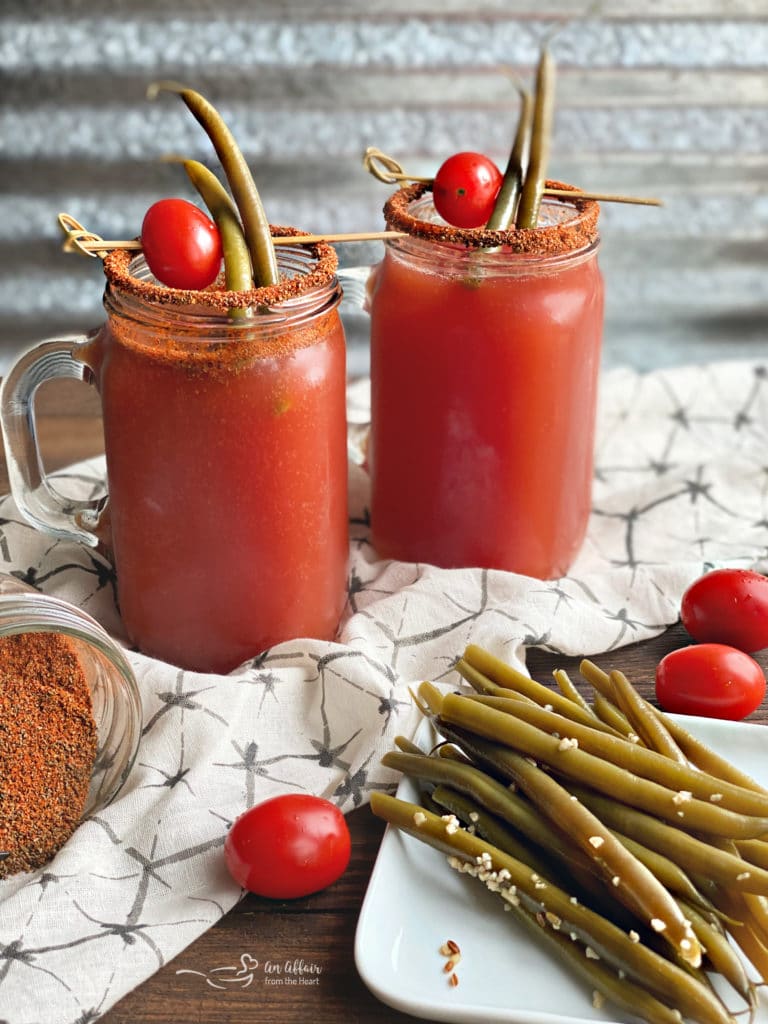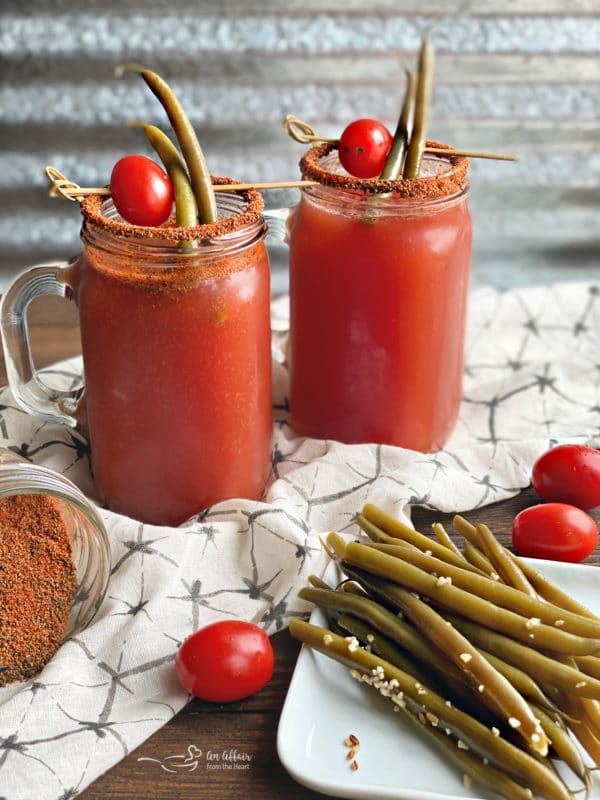 A What??
I remember the first time I was out of state and ordered a red beer. The guy looked at me like I had two heads. "You mean a Red Ale?"
I said, "no, I mean a tomato beer, you know tomato juice and beer?" Again, the look of his brain ticking, responds, "Do you mean a Michelada?" (in his defense, I was in Southern California at the time.)
Eventually, I got my draft light beer, and a side of tomato juice and I mixed it myself.
Red Beer vs. The Michelada
Many people are familiar with the Michelada. It's similar to a Nebraska red beer, in that it starts with both beer and tomato juice.
But the difference that lies between the two is that the Mexican version contains lime, salt, hot sauces, and seasoned spices.
As I mentioned, many like their red beers more on the spicy side — some will spice it up like a bloody Mary using a liquid mixer. But it's still called a red beer.
A Red Beer by Many Other Names
Nebraska calls it a red beer, but is the same thing popular in other states, just called something different?
All over the Midwest, people drink tomato beers, but they call them other names like "Red Rooster," "Red Draw," "Bloody Beer," "Montana Mary," and "Red Eye."
So, a red beer by any other name is still called delicious in my book!
Red Beer – A Husker Football Tailgate Staple
You'll find red solo cups filled with tomato juice and beer at any Nebraska Cornhusker football tailgate, but most definitely at the morning tailgates. The concoction sure makes it easier to drink a beer at 7 in the morning, much like people think of a bloody Mary.
But what about if maybe you were a bit "over-served" the night before? Even better. Ever heard the phrase "Hair of the Dog?" Red beers are a known hangover cure.
College kids can attest, a little tomato juice in your Busch Light (affectionately referred to as Busch Latté) in the morning, and before you know it, you'll be back in the game!

Adding a little Pizzazz to your Beer
I have always liked green olives in my beer. Whether it is red or not. Something about that pickle taste just adds something to it. Plus, snacks!
We had a neighbor once that was from Aberdeen, South Dakota. He saw me drinking my beer with olives, and he said: "Back home, they call that a South Dakota Martini!"
More recently, my older kids have taken to adding a dill pickle to their beers, and calling them (what else?) Pickle Beers!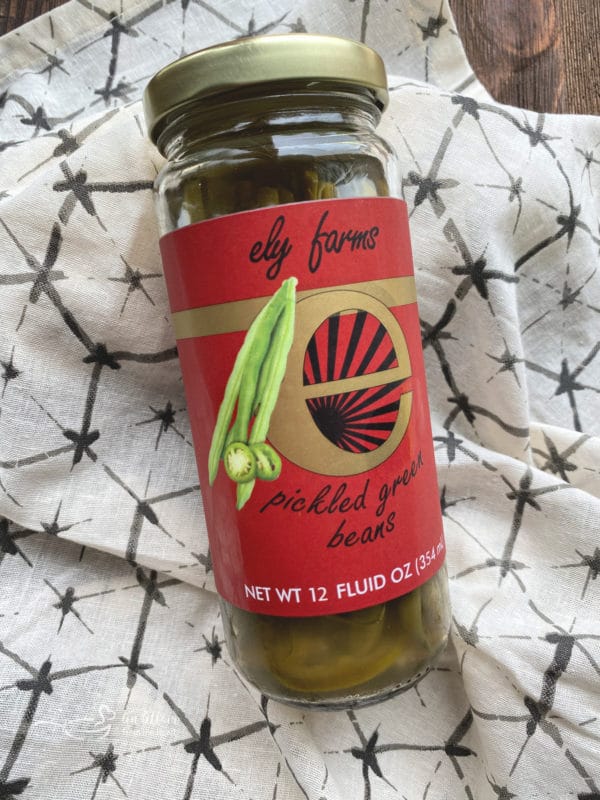 Ely Farms Pickled Green Beans
When Neal Ely, the owner of Ely Farms, told me about his new product, the Pickled Green Beans, we brainstormed how to go about sharing them in the debut.
Both of us, Nebraska born and raised, decided that the world needed to know about the Red Beer, and what better to garnish it with than Pickled Green Beans?
These beans are Mom's secret recipe, and have a hint of garlic and dill, along with a light 'kick' compliments of red hot chili pepper. They are the perfect addition to an ice cold pint of beer.
All of Ely Farms products are grown and produced in Grafton, Nebraska, using a family recipe. No crazy ingredients here, friends, the pickled beans contain green beans, water, vinegar, salt, garlic, jalapenos, and spices.

Ely Farms Products
Ely Farms Pickled Asparagus Spears was a national FFA entrepreneur winner. Since its beginning in 1999, Ely Farms Pickled Asparagus Spears have become a highly acclaimed specialty product in the state of Nebraska – known for its unique taste.
If you have been with me a while, you would have heard me talk about it already. I did a holiday appetizer with it, Bacon & Cheese Phyllo Wrapped Pickled Asparagus.
Sales originated in their hometown of Sutton, Nebraska and they have recently seen their Pickled Asparagus product spread into surrounding areas. You can find Ely Farms Pickled Asparagus Spears in grocery and specialty stores in Nebraska, Iowa, Kansas, and Colorado. Of course, you can also find it online on their website, as well as through Buy Nebraska.
More recently, Mom's secret recipe became the perfect flavoring to two more products, Pickled Okra and Pickled Green Beans.
So, now you know how to order Ely Farms products, keep reading to learn how to WIN Ely Farms products!

Spicy Red Beer Recipe — Let's Kick it Up a Notch!
This dry Bloody Mary spice blend is going to give you heat lovers just what your beer needs! Keep it in the cupboard, and break it out anytime you need to add a lil 'somethin – somethin' to your cold one!
My Bloody Mary Seasoning Blend is a perfect mix of celery salt, onion salt, paprika, black pepper, cayenne pepper, garlic powder, and ground mustard.

Ely Farms Pickled Green Beans – Crisp and packed with flavor!
Let's Kick Up Our Red Beer!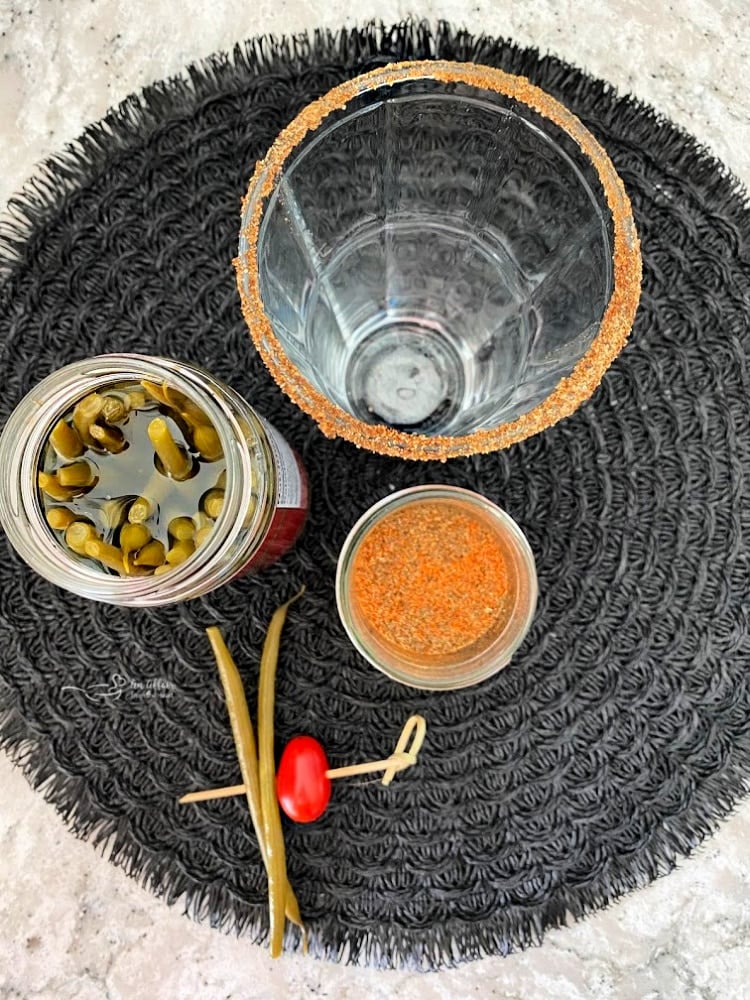 Begin by dipping your beer glass in water — or use some of that juice from the pickled green beans. Then dunk it in the spice mix to rim your glass.
Skewer a couple of green beans and a tomato for the top. If you really want to amp it up – add a pickled asparagus spear and a piece of pickled okra, too!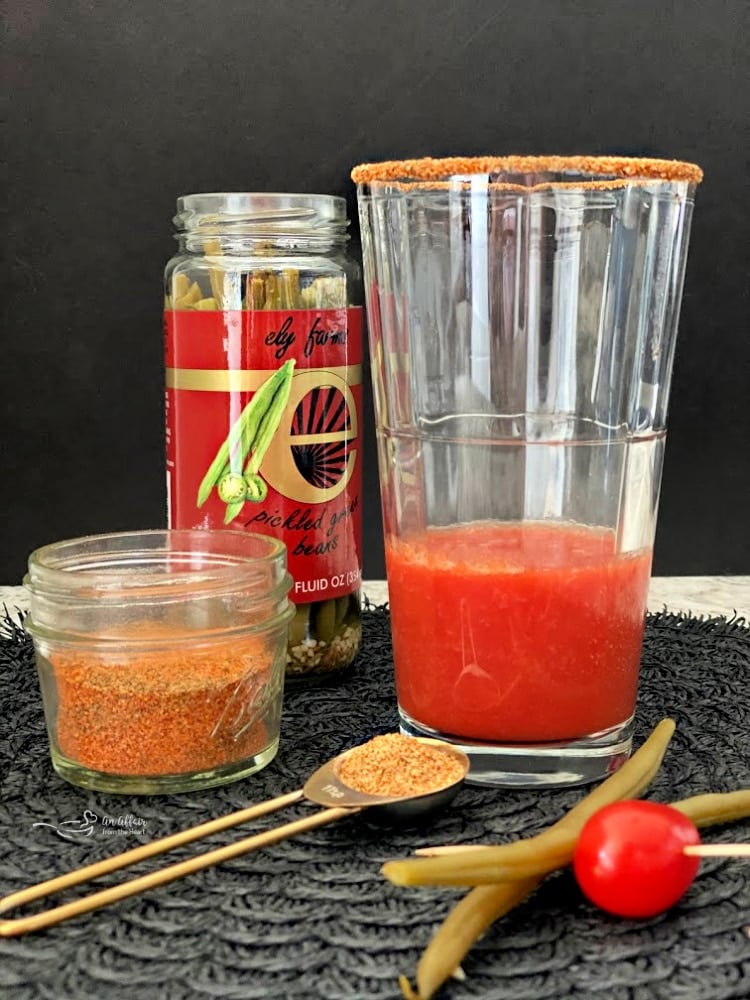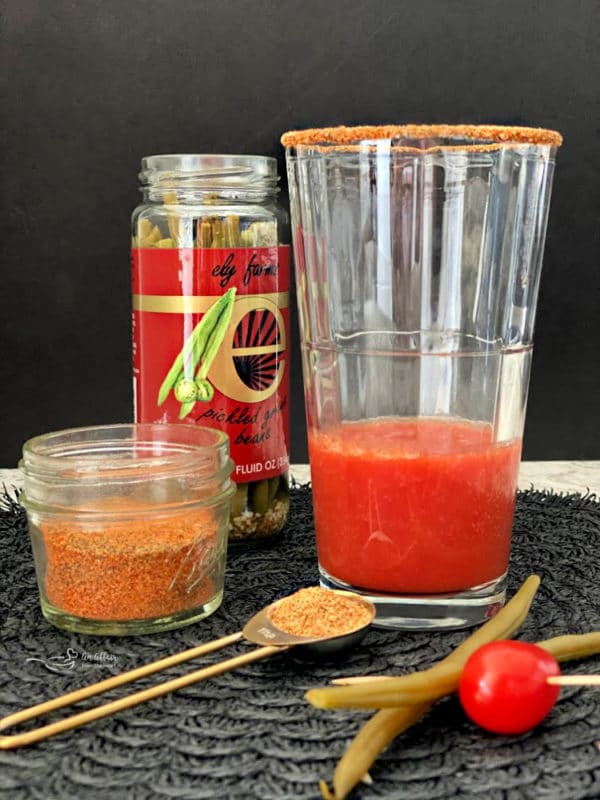 Pour in the tomato juice.
Drop in some spice mix!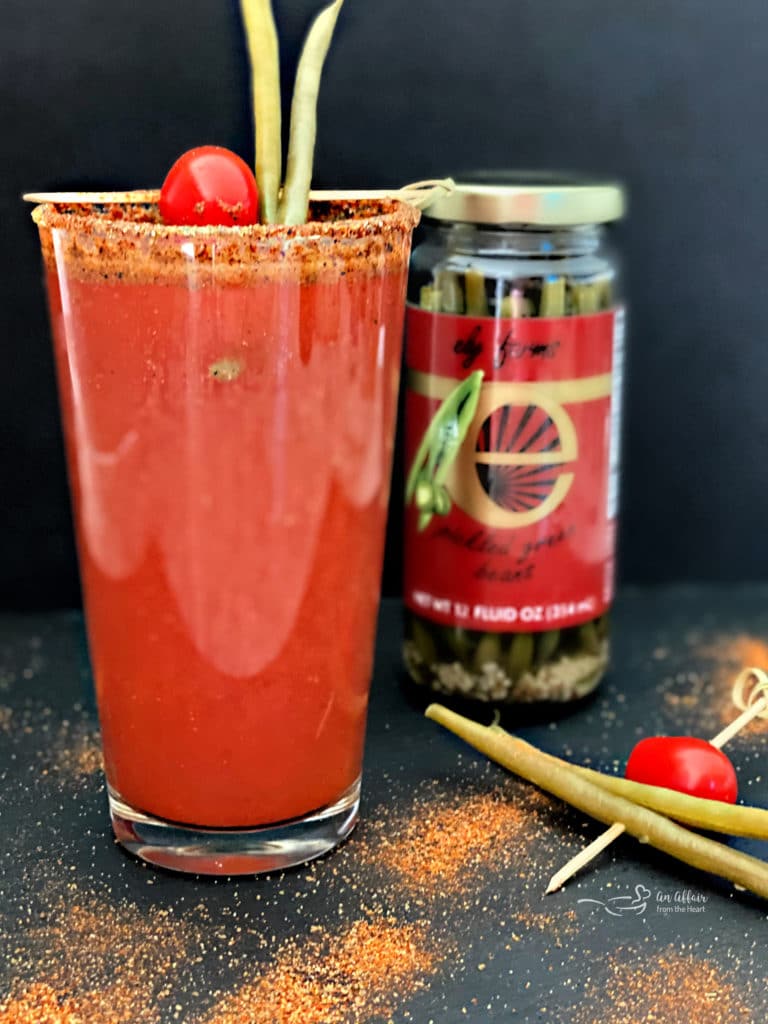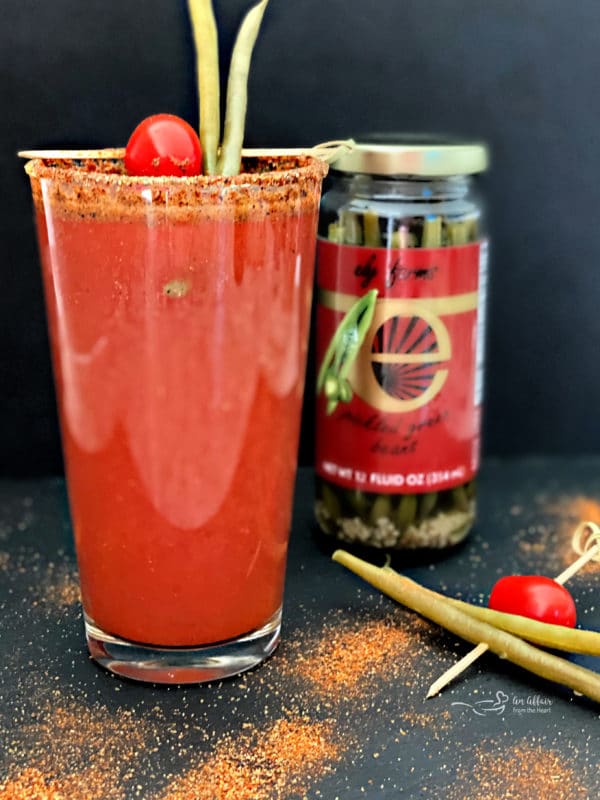 Pour beer in the glass and garnish with the pickled green beans. Drop them in the glass to get the full taste effect before you drink it.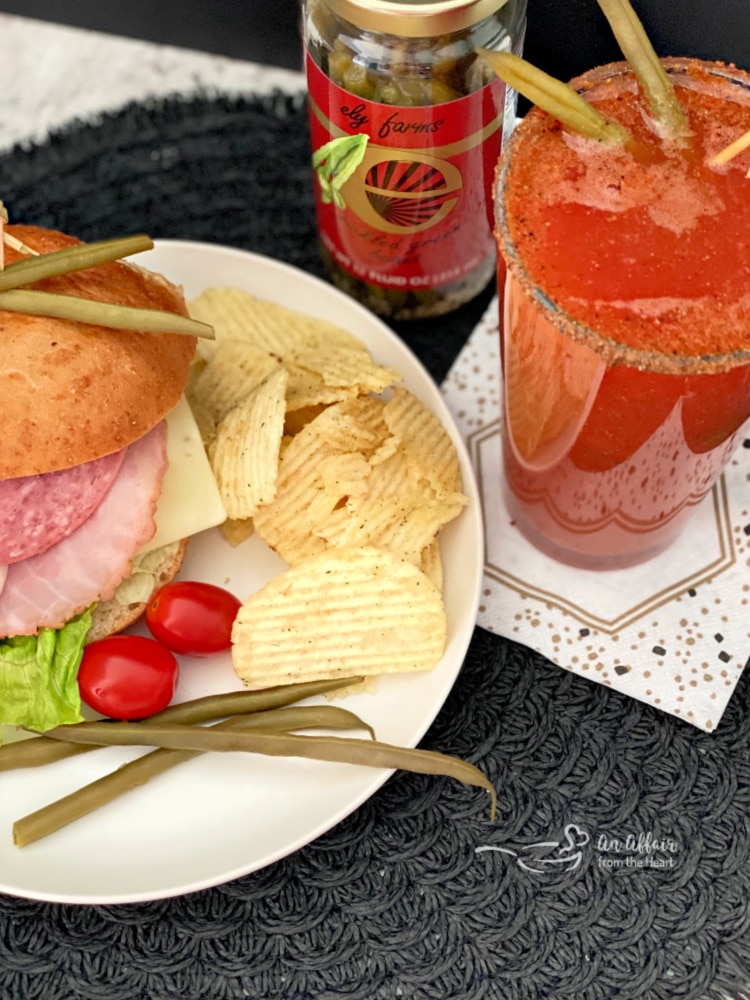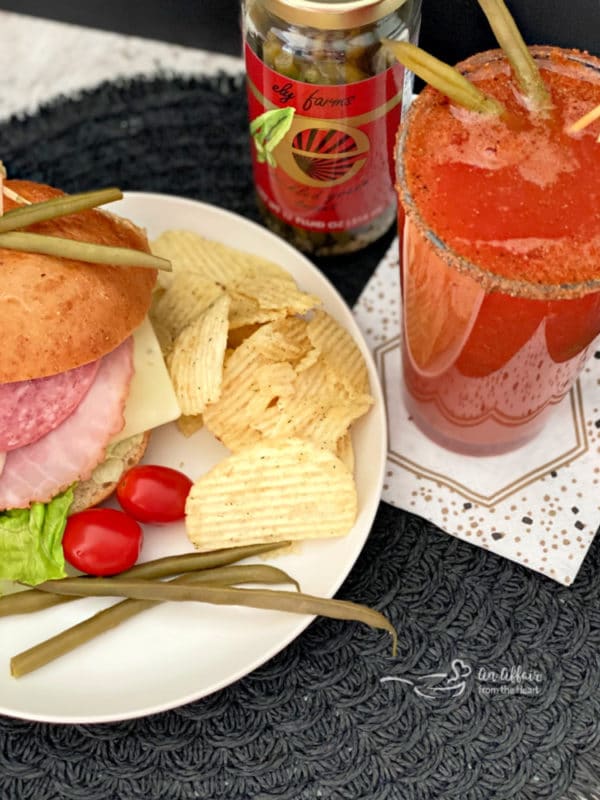 Enjoy Ely's Pickled Green Beans in all sorts of ways, as a snack, dress up a charcuterie board, garnish your cocktails, and anywhere you would normally put a pickle – like alongside a deli sandwich, or a Homemade Runza! You'll love the crunch they give to your lunch!
WIN a CASE of Ely Farms Pickled Vegetables!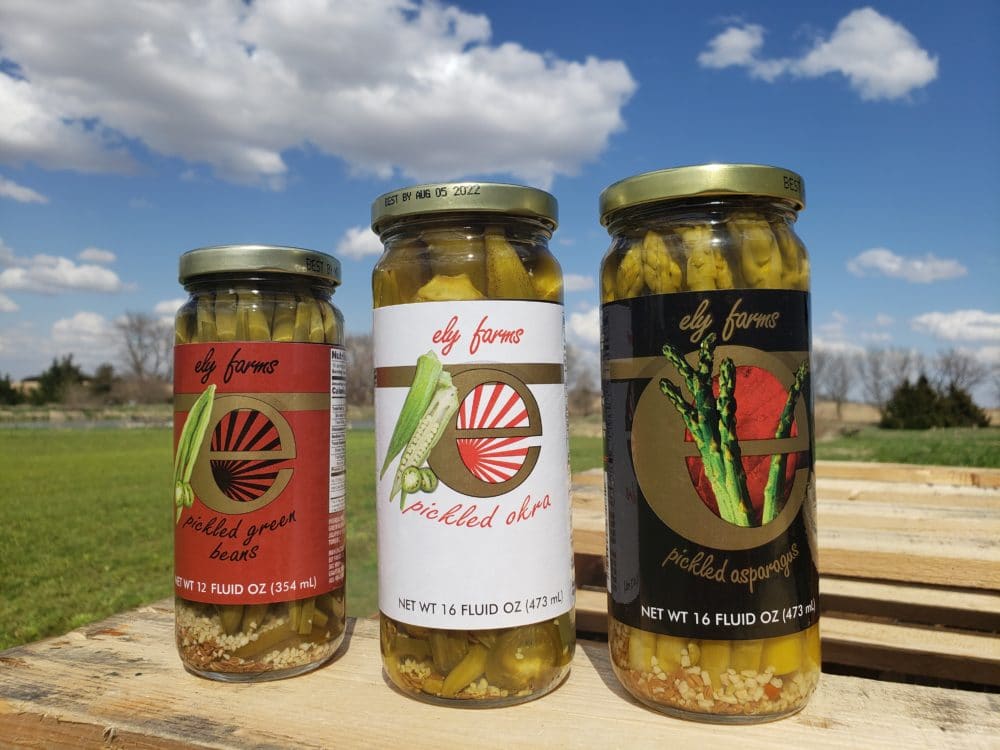 Love it? PIN IT!
If you love the sound of these kicked up red beers, pin this recipe to your favorite Pinterest board before you go!
Visit My Barware Section of my Amazon Storefront for all sorts of great ideas and gifts!
Raise your beer mug … Cheers to Ely Farms Pickled Green Beans!
Let's get to the recipe for the spice blend and Kicked Up Red Beer!

Yield: 1 pint beer
Kicked Up Red Beer/Bloody Mary Dry Spice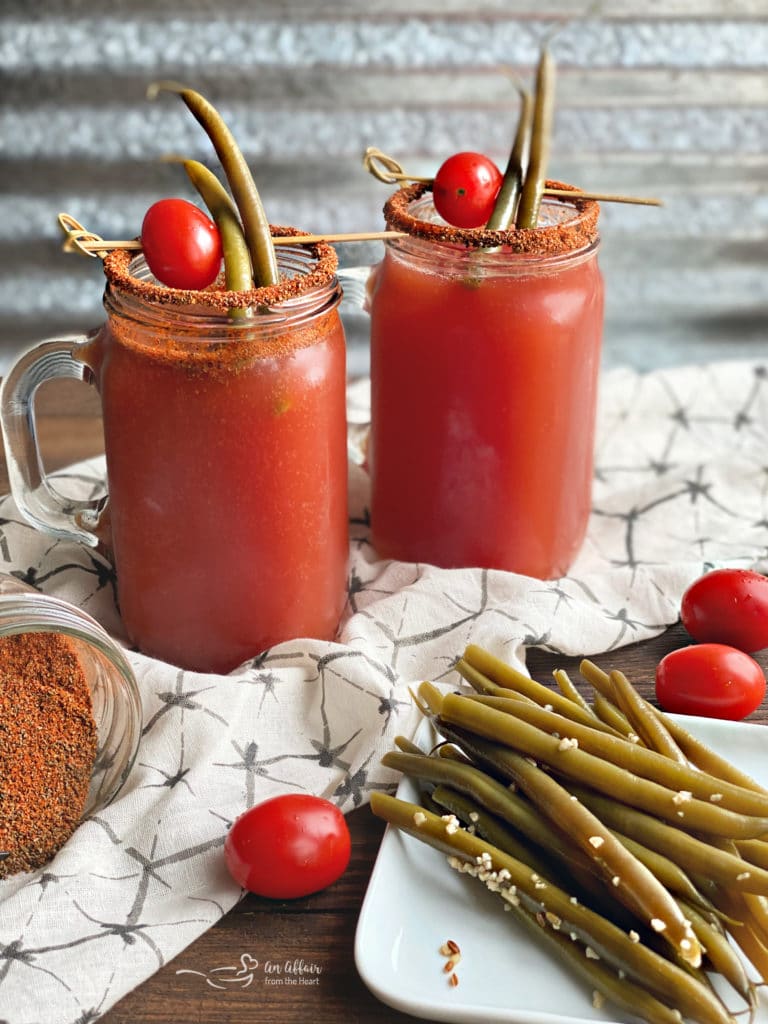 Here in Nebraska, and many places in the Midwest, the Red Beer is a common beverage. No need to order them any special way, unless you like them spicy, in which case you're sure to love this Kicked Up Red Beer, made with a homemade Bloody Mary Dry Spice. Made even more perfect, garnished with spicy pickled green beans!
Ingredients
For the Bloody Mary Spice Blend
2 Tablespoons celery salt
1 Tablespoon paprika
2 teaspoons black pepper
1 teaspoon garlic powder
1 teaspoon ground mustard
1 teaspoon onion salt
1/4 teaspoon cayenne pepper
To Make the Kicked Up Red Beer
1 light beer of your choice
1/3 cup tomato juice
1/2 teaspoon Bloody Mary Dry Spice
2-3 Ely Farms Pickled Green Beans
1 grape tomato (optional)
This content is intended for readers who are 21 or older.
Always drink responsibly.
Instructions
Mix ingredients for spice blend. Store in an airtight container.
To Rim the glass: Wetten the rim of a pint beer glass by dunking it in water. Then dunk it into the spice mix, and coat the rim.
Add tomato juice to the glass, then spice mix, then pour beer into the glass.
Garnish with Ely Farms Pickled Green Beans and a grape tomato.
Enjoy!
Notes
Spice Mix makes 1/4 cup (12 teaspoons) - It will spice up approximately 24 beers.
If you want to really spice things up, consider adding more cayenne pepper to the mix, or a couple of drops of Tabasco sauce before consuming.
Nutrition Information:
Yield:
1
Serving Size:
1
Amount Per Serving:
Calories:

200
Total Fat:

4g
Saturated Fat:

0g
Trans Fat:

0g
Unsaturated Fat:

3g
Cholesterol:

0mg
Sodium:

9386mg
Carbohydrates:

22g
Fiber:

6g
Sugar:

4g
Protein:

5g
Nutrition isn't guaranteed accurate.