Chili Rellenos
As an Amazon Associate and member of other affiliate programs, I earn from qualifying purchases.
When planning my Valentine luncheon this year, I didn't take into consideration that it fell on
a Friday during Lent.
Out of all of my friends attending, only three weren't Catholic, and out of those three, one was a vegetarian!!
I did make some white chicken enchiladas, but everything else was meatless.
I had wanted to try this Chili Relleno recipe for a long time.
a photo of my plate!!
Easy Chili Rellenos Like Mom Used To Make
When I moved out, I had sat and copied many of my Mom's recipes.
(this was a long time ago…)
I have transferred this recipe from book to book my whole adult life, and I have never made it?
(why??)
So when I was telling my Mom that I was going to make these, she said,
"really? I forgot how much I liked those?"
She hadn't made them in eons either!
Well, they got RAVE reviews at the party!!
And they were so simple!!
I LOVE green chilies, don't you?
(If you want to check out another chili recipe I recommend my
chicken chili
too)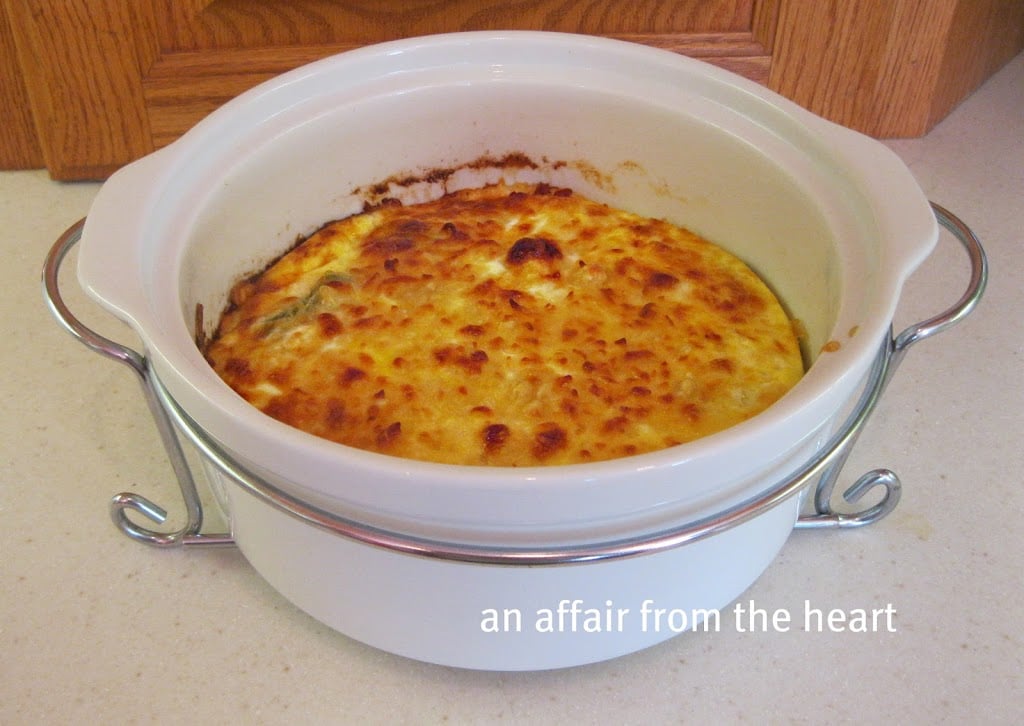 So What Kind Of Green Chili Is Best?
For the recipe I suggest canned green chilis. You can typically find these on the hispanic food aisle.
But if you feel up to it, then there are plenty of chili options to go with.
It used to be the only chili in the grocery store was a jalepeno. And jalepenos don't necessarily work for Chili Relleno. Sure, you could use them, but there are other green chilis that work much better.
There are also less spicy versions too by the way. Just in case you were already starting to sweat worrying about how hot the chilis will taste.
The Traditional Chili For Chili Rellenos
Canned green chilis are typically anaheim or the close relative hatch chilis.
Traditionally, the longer and bright green Anaheim is the go to chili for rellenos. Since this recipe is a casserole, rather than the traditional stuffed pepper style chili relleno, you have options. Really, the biggest question will be how hot or mild you want to go with the dish.
If you want a mild heat, the Anaheims are great, but you could also try a poblano chili. They are a bit wider and rounder than the anaheims. If you love the heat and I get it if you do even if I won't go there, try habaneros. They have a delicious flavor but they are insanely hot!
The Difference Between Chili Relleno Casserole And Chili Relleno
So if you are unfamiliar with chili rellenos in the first place then you might not know the difference between the casserole and the traditional style. In Mexican cuisine, chili rellenos are stuffed peppers dipped in an egg batter and fried. They are delicious.
But the casserole version offers many advantages. First, it is baked rather than fried. So right off the bat, there is a slightly healthier edge. Next, it is way easier to prepare. Stuffing peppers, battering them up. Popping them in oil. Hoping the stuffing doesn't fall out.
That is work.
Now there are times when that work is truly worth the effort. But then you find yourself wondering when the last time you made them was. It is so convenient to make a chili relleno casserole!
Sweating The Chilis For Relleno Casserole
If you use canned green chilis then you don't have to concern yourself with removing the outer layer of waxy pepper skin. It is already removed. However, if you use fresh chilis, then you want to remove the skin first.
You can easily remove the pepper skin by sweating it off. If you want a bit of smokiness, then pop the chilis on the stove top. (This works on electric or gas tops) Let the outer layer singe up. Turn it to get all sides.
Remove the charred chilis and set inside a bowl with a lid. Close up the lid and let them sit for a few minutes. Open and the skin will slide right off.
If you prefer, you can also parboil them, then add to the bowl and cover.
What Is The Best Cheese For Chili Rellenos
I love using the Monterey Jack cheese for this relleno casserole. It has a nice melt to it. Forms a great crust where it melts out, and is not too pungent to overtake the flavor of the chilis.
If you want the more traditional style of relleno cheese, then get queso asadero. But guess what? Queso Acadero is essentially the same style of cheese as Monterey Jack. Queso Acadero also sometimes is called "Oaxacan" cheese.
By any name, you want to use a cheese that has a smooth creamy texture but is reasonably firm so it melts well.
How Do I Store Chili Relleno Casserole?
Like many great casseroles, you can make this recipe ahead of time and keep it in the fridge until you are ready to bake it. It will keep in the fridge for up to a week, no problem. Or you can freeze it for up to six month. Then pop it out, warm, and serve.
If you have leftovers, then those keep the same way. This is one of those recipes where leftovers go quickly though!
Any Other Chili Recipe Ideas?
Here are some of my favorite chili recipes. I think you will get the hint that I love chilis…
Yield: 8 servings
Chili Rellenos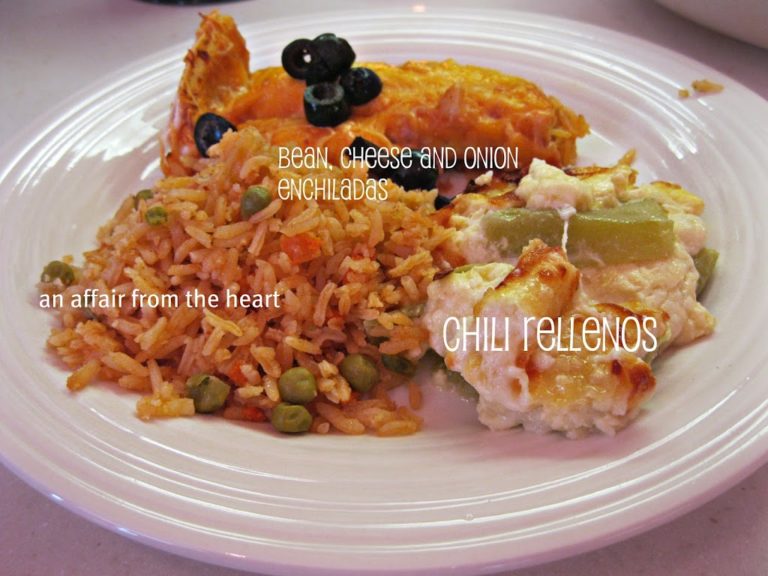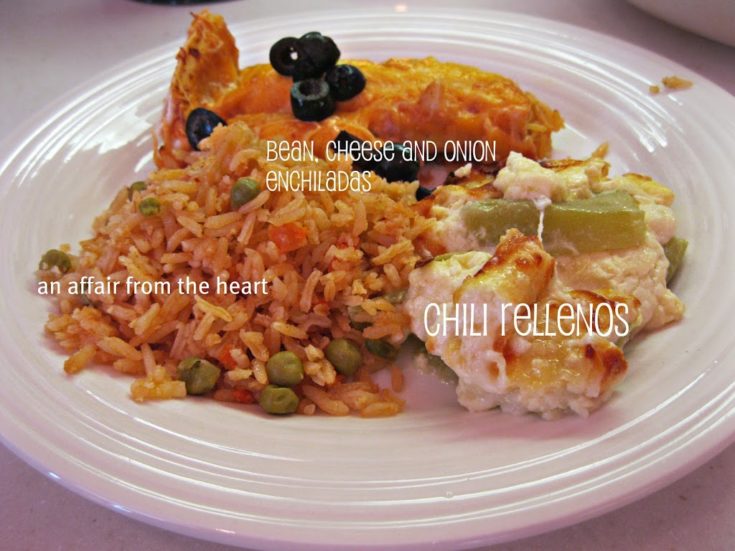 Whole green chilies with a cheesy sauce make up this Chili Rellenos.
Ingredients
3 – 4 ounce cans of WHOLE green chilies
3 eggs
1 cup milk
1/4 cup flour
8 ounce package of Monterey Jack Cheese, shredded
salt, to taste
Instructions
Preheat oven to 350 degrees. Spray a 2quart casserole with non-stick cooking spray.
Drain chilies, spread them out flat and remove any seeds.
Whisk the eggs, milk, salt and flour together, set aside.
Line the bottom of the casserole with half of the chilies.
Top with half of the cheese.
Add the other half of the chilies, top with cheese.
Pour egg mixture over the top and bake for 40-45 minutes, until they slightly brown on top and eggs are cooked.
Nutrition Information:
Yield:
8
Serving Size:
1
Amount Per Serving:
Calories:

179
Total Fat:

11g
Saturated Fat:

6g
Trans Fat:

0g
Unsaturated Fat:

4g
Cholesterol:

97mg
Sodium:

288mg
Carbohydrates:

9g
Fiber:

1g
Sugar:

2g
Protein:

12g
Nutrition isn't always accurate.