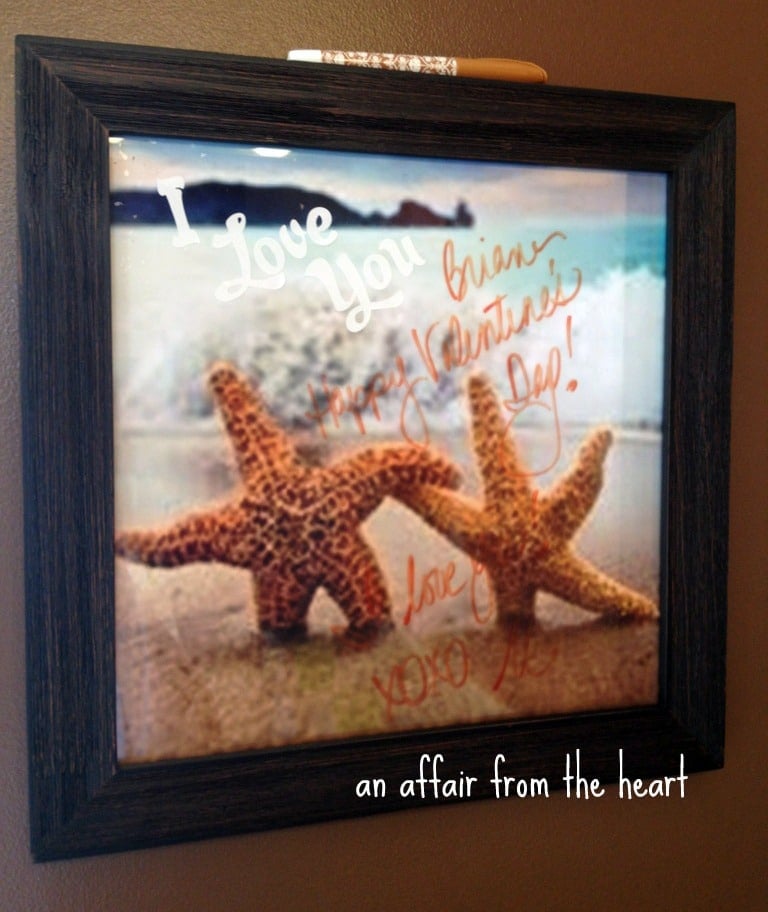 Happy Valentine's Day to my Hubby!!
For Christmas we gave our kids a trip to see their Grandparents in San Diego.
Our flight left on Valentine's Day.
My husband knows how much I love Valentine's Day, and he always makes it special.
But we agreed that a plane trip to sunshine was gift enough!
(but I am a little bit of a rule breaker, ya know?)
I saw this idea on Pinterest a while back and figured I would give it a try.
We always leave notes to one another on the bathroom counter.
I just re-did our room and bath in the last year, in browns and kind of a Caribbean blue.
We love our trips to the beach to escape the winter weather!!
I have so many photos from our trips over the years, and shells an"beachy" trinkets, I decided to decorate with all of them.
When I saw this idea to turn a picture into a dry erase board, I knew I wanted to try it.
I found the photo on Google Images. I just thought it was so darn cute!!
I printed it in a 12×12 size and found a frame at Hobby Lobby.
Before I framed it, I used some scrapbook stickers and stuck
"I Love You" in the upper left corner.
When honey woke up on Valentine's Day, it was hanging on the wall right behind him and his mirror.
I wrote "Happy Valentine's Day" on it to greet him.
I even found a brown dry erase marker that was cute enough to leave on top of the frame.
Now when he is getting ready in the morning, those two starfish are in the reflection behind him, and even if there isn't a note on it, it always says
"I love you."
Doesn't everyone need a reminder every now and then??
xoxo

If you make this recipe, I'd love to know! Snap a picture, share the photo on social media with the hashtag #AnAffairFromTheHeart – I'd love to see what you made! – Michaela