yes, please.
Make this SUPER easy cake recipe made with crushed pineapple, then
Top it with frosting made with Whipping cream, cream cheese and coconut extract.
Then of course, top it with a cherry, and make them for your good friend's big linebacker-looking, umbrella drink-drinking husband for his birthday!
whhhat…?
Yep.
David and Gigi are two of the most AWESOME friends a couple could have.
They love many of the same things we do, water, boating, concerts, football…basically just having a good time.
But I have to tell you, I never tire of going to a restaurant and David ordering a Strawberry Daiquiri and Gigi ordering a beer, and the waiter bringing them and sitting them down just the opposite, only to think she's the one with the fru-fru umbrella drink.
You see, David isn't a small dude.
It's always good for a chuckle.
David also has a big sweet tooth, and usually if he does some sort a favor for us, (he's a mechanic, so that'll happen) he says "Aw… just pay me in brownies or something."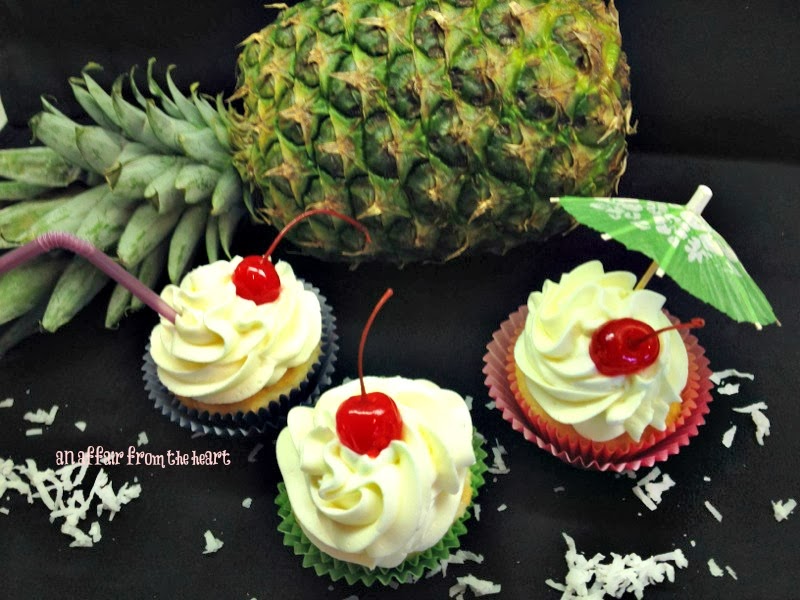 So, when we decided to go out and celebrate David's birthday last week, I decided to combine the best of both and make these fru-fru umbrella drink cupcakes for him!
all boxed up for the birthday boy, they came with a "juice pouch style" Frozen strawberry daiquiri
and some cocktail umbrellas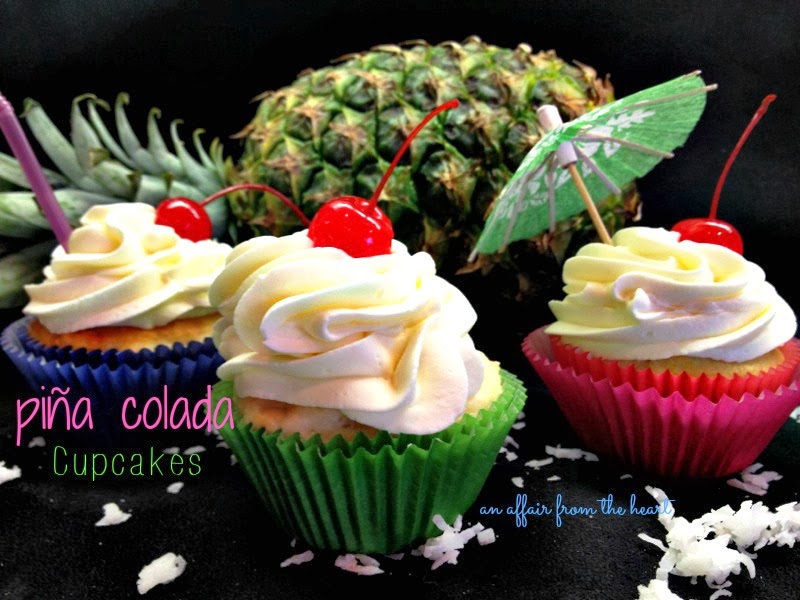 (pineapple cake with coconut whipped cream frosting)
Cake
1 white cake mix (or yellow)
1 – 11 ounce can crushed pineapple with juice
1 teaspoon rum extract
Combine all ingredients in a mixing bowl for 2 minutes and pour into cupcakes liners.
Bake according to box instructions, or until toothpick inserted in center comes out clean.
Cool.
Top with this yummy frosting:
Decorate with straws, cherries and cocktail umbrellas.

If you make this recipe, I'd love to know! Snap a picture, share the photo on social media with the hashtag #AnAffairFromTheHeart – I'd love to see what you made! – Michaela