Whipped Cherry Butter
As an Amazon Associate and member of other affiliate programs, I earn from qualifying purchases.
If you've never made Cherry Butter before or have never even heard of cherry butter keep reading. This quick and easy recipe makes up a batch of creamy sweet cherry butter that you will want to slather all over your favorite breads and baked goodies.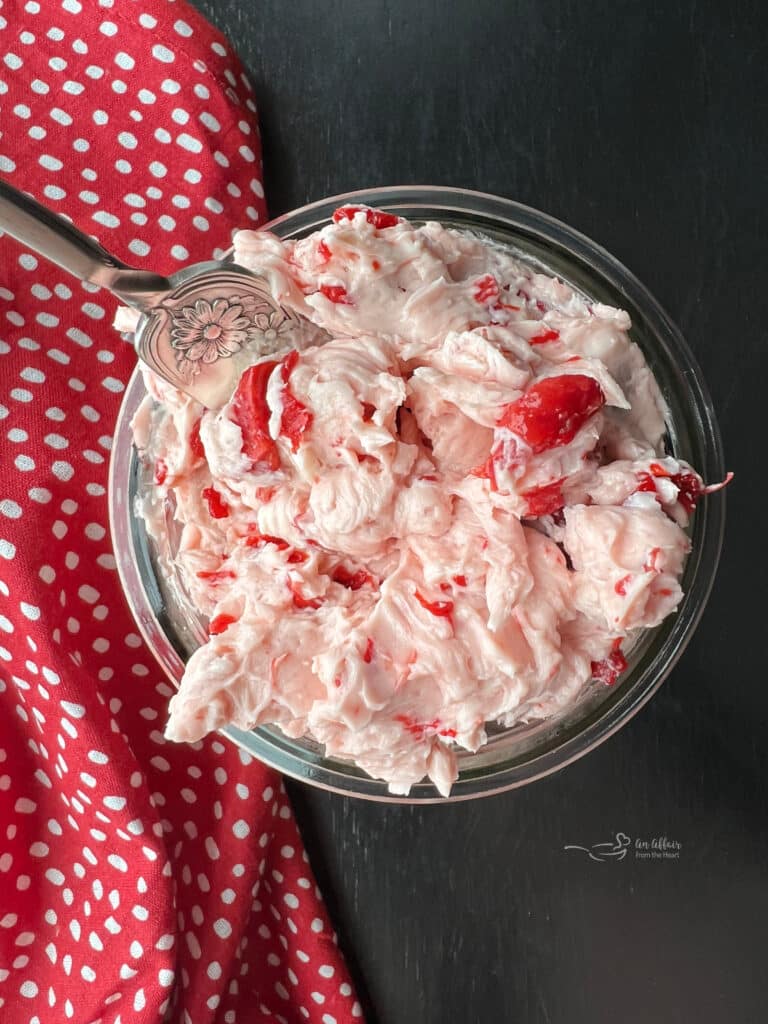 Slightly tart cherry pie crust filling combined with almond-flavored creamy butter and some powdered sugar make up a batch of thick cherry goodness, the ultimate whipped cherry butter. Cherries and butter, what a great flavor combination.
Not to be confused with cherry jelly or cherry jam, this is made with butter so it's extra rich and creamy and can be used almost as you would cherry jam.
I like to have a batch of this cherry butter recipe on hand for Sunday morning brunch when the warm waffles and pancakes come off the griddle. Everyone loves to top them with this cherry compound butter and watch it slowly melt, adding a nice tart and buttery flavor.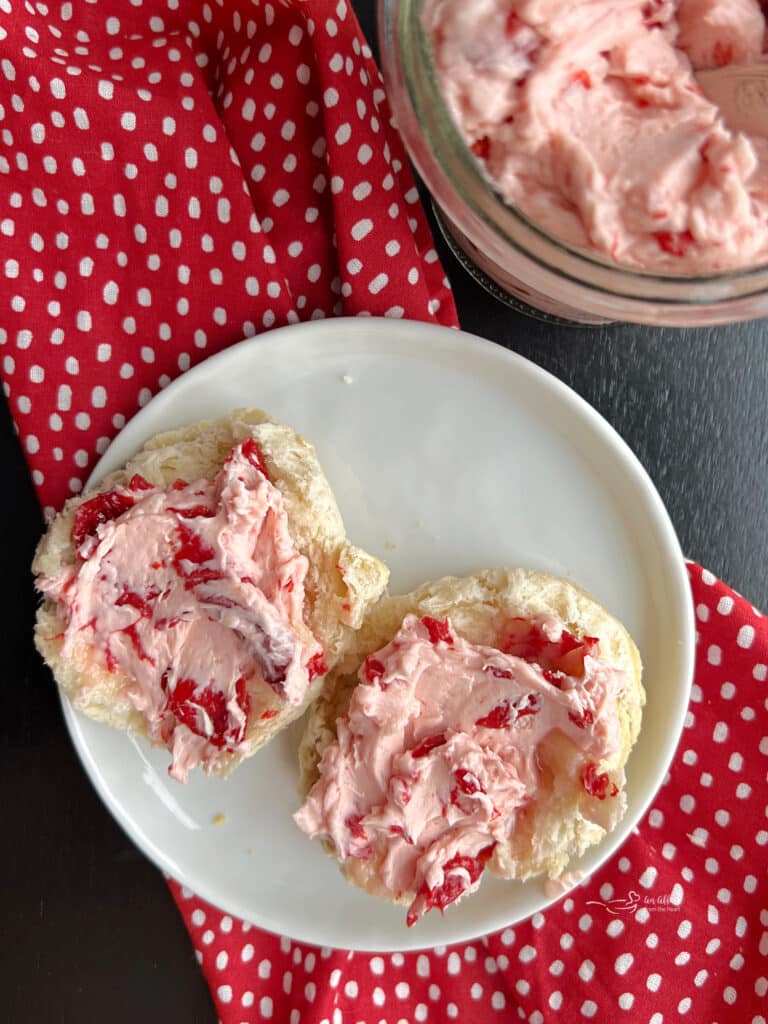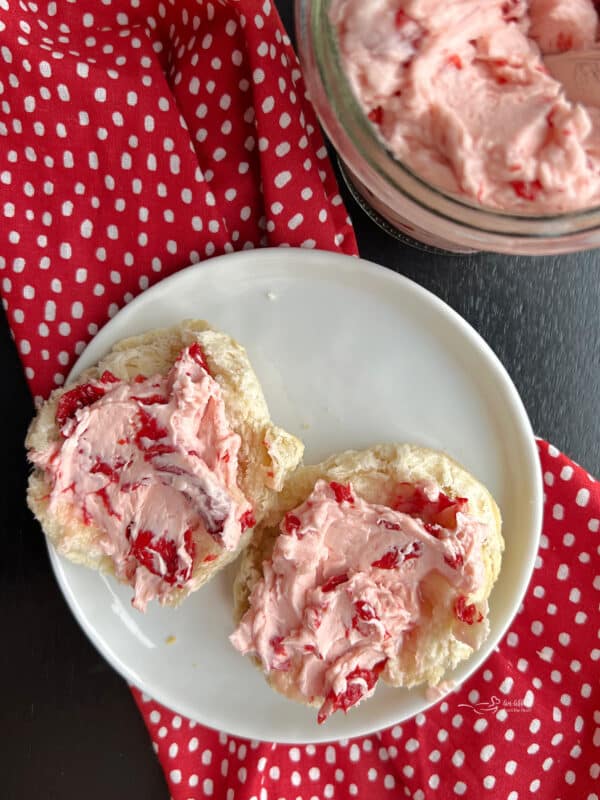 You can easily make the cherry butter spread in advance and store it in the fridge for a few days or pop it in the freezer until you are ready to use it. You can even freeze this fruit-flavored butter in an ice cube tray and just pop out a cube at a time.
Here are some of my favorite things to put cherry butter on Peasant Bread, Pop Overs, and these poppyseed rolls.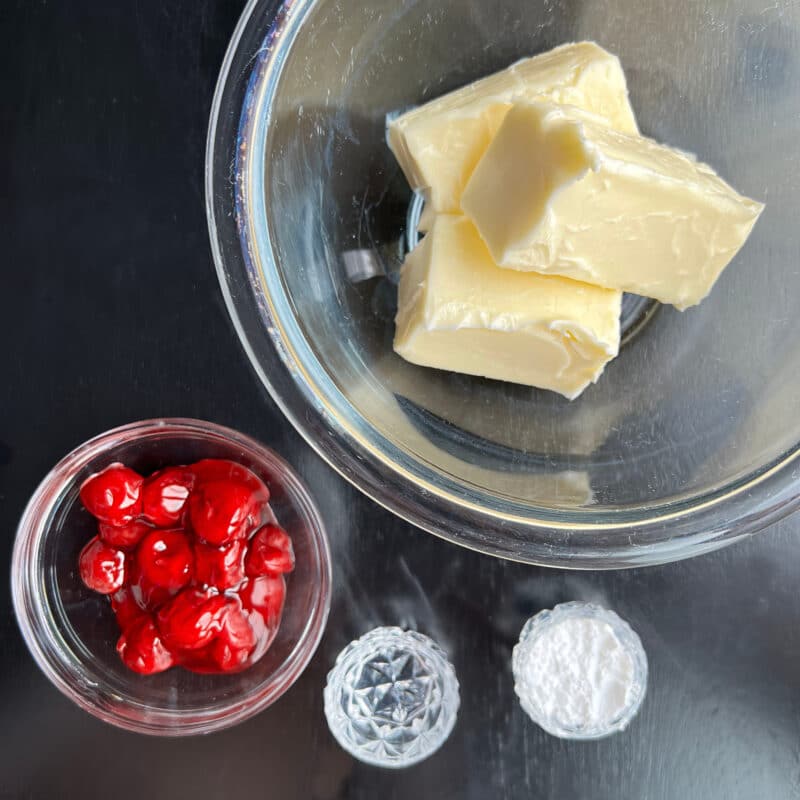 Ingredients Needed To Make This Recipe For Cherry Butter
You will find the complete recipe and instructions a the bottom of this post in the printable recipe card.
Butter – I like to use unsalted butter to make this cherry butter.
Powdered sugar – Powdered sugar sweetens up the butter.
Almond extract – A dash of almond extract enhances the flavor of this cherry butter nicely.
Cherry pie filling – You'll need a can of cherry pie filling to add the cherry flavor. No need to dig out the cherry pitter and go through pounds of cherries using pie filling.

How To Make This Cherry Butter Recipe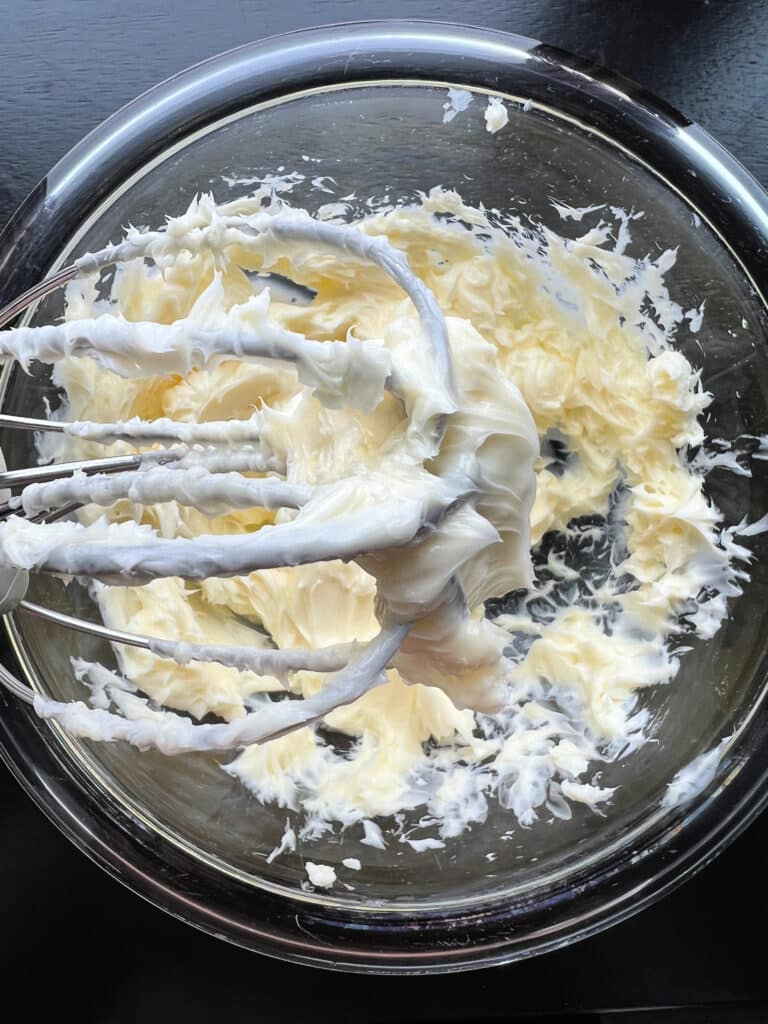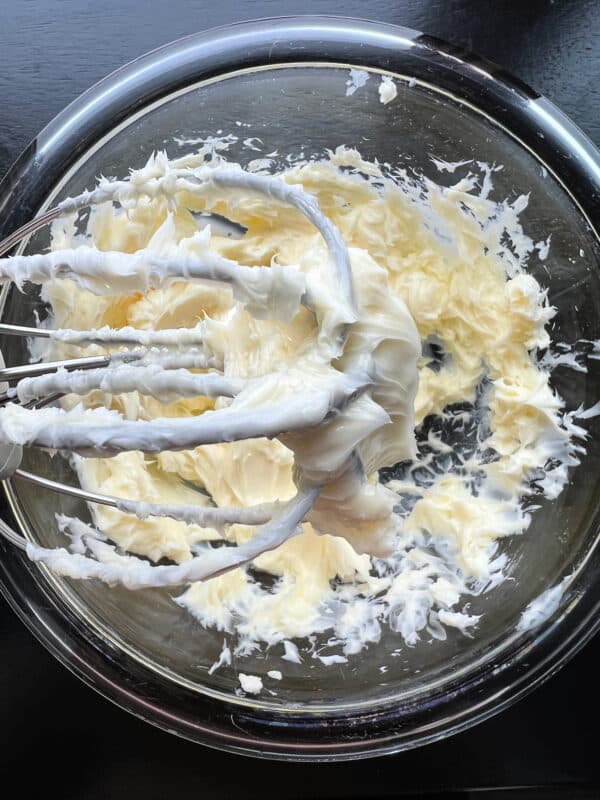 Cream the butter until you get a fluffy thick consistency.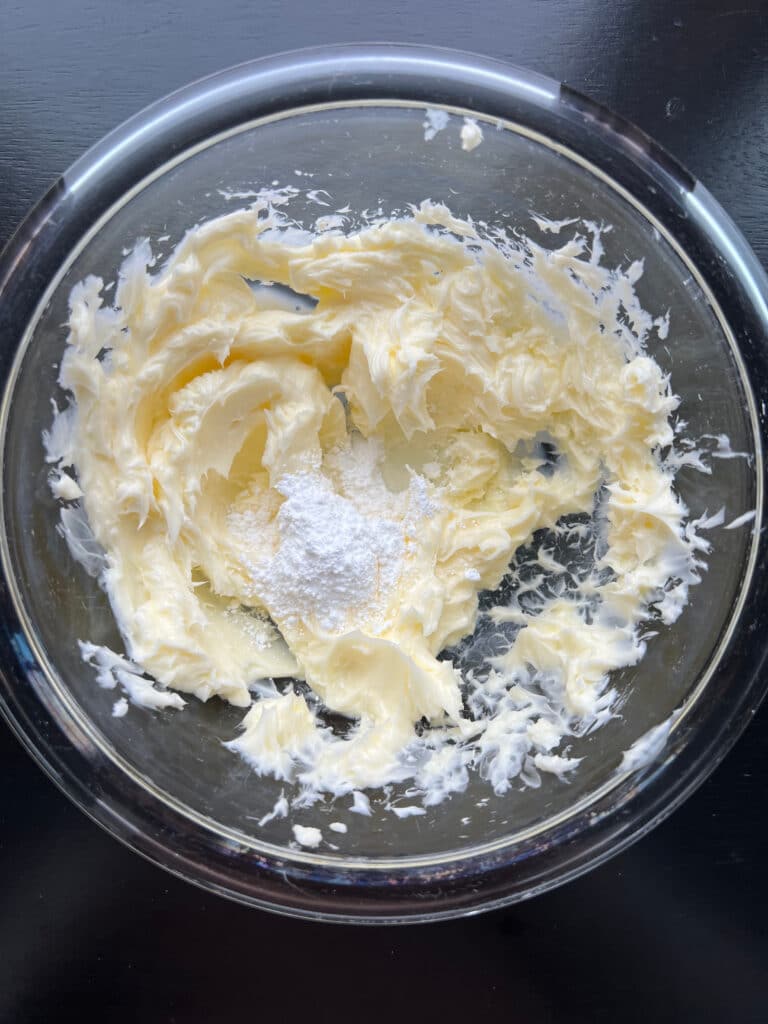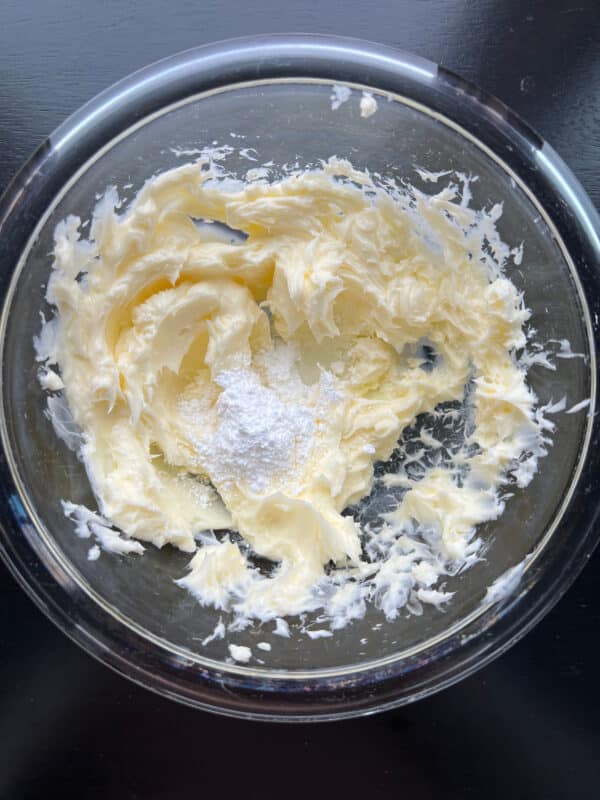 Then, add the almond extract and the powdered sugar.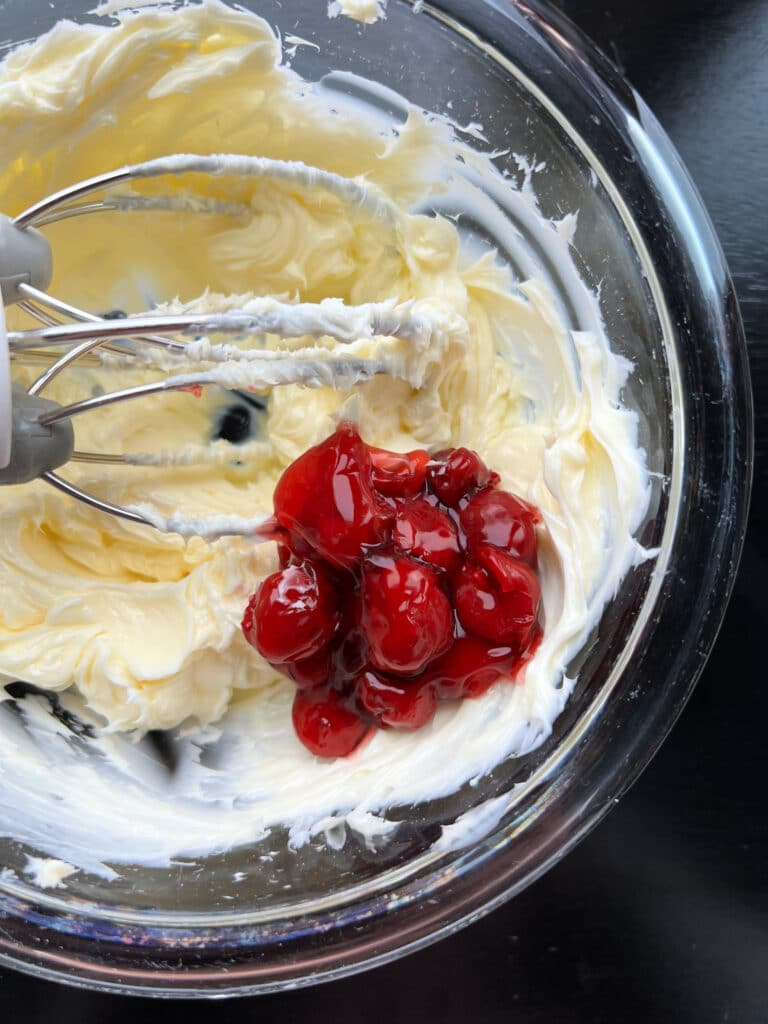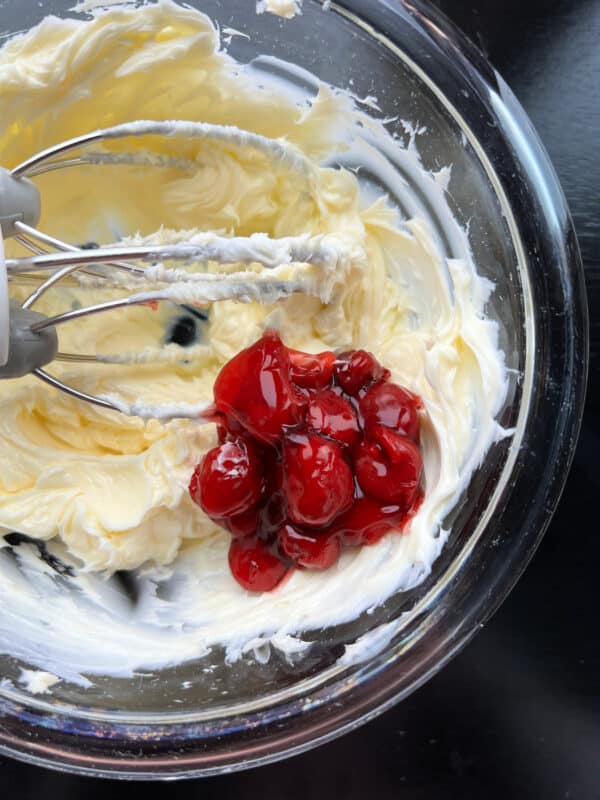 Finally, beat in the cherry pie filling.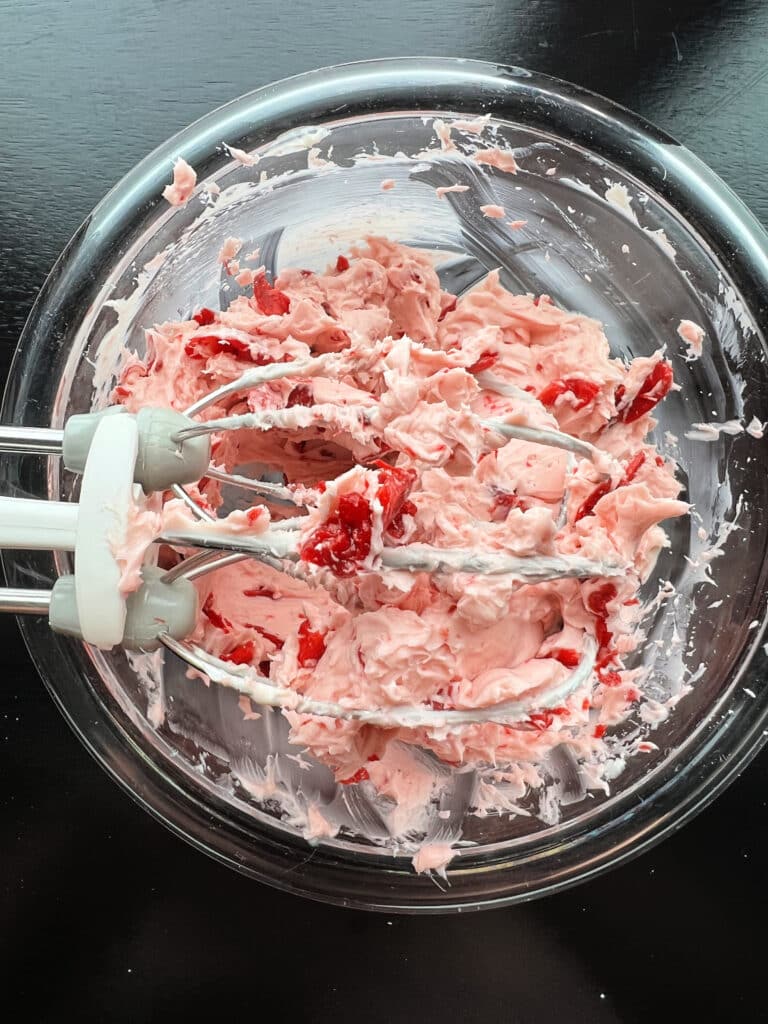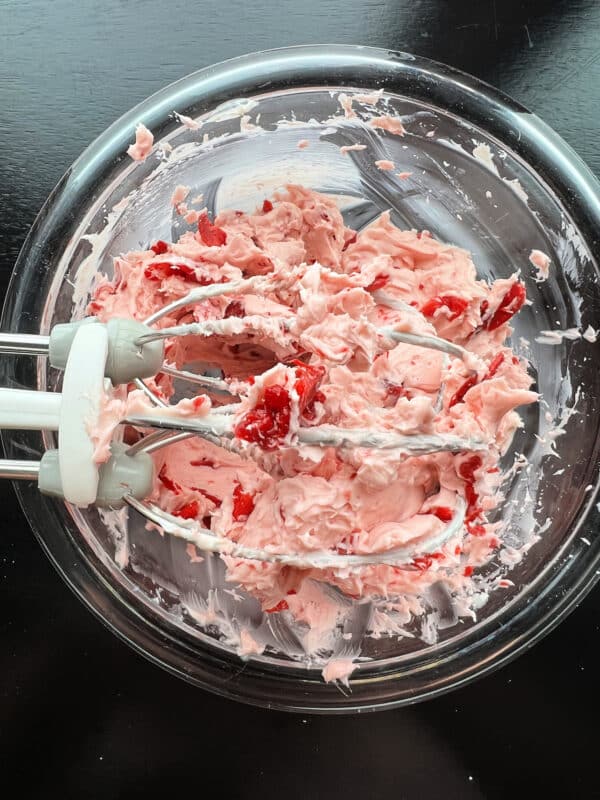 Mix well until it becomes a butter-like puree.
Serve on your favorite English muffins, bagels, or toast.
Love PB&J? Try it with some peanut butter, too! So Good!

Love it? Pin it!
If you love this recipe for Cherry Butter make sure that you don't lose it! Pin it to your favorite Pinterest recipe board before you go!

FAQs About Compound Cherry Butter
What can you use compound butter on? Compound butter is so versatile you can use it on so many things; toast, bagels, waffles, or pancakes.
How long does fresh compound butter last? Compound butter should last just as long as plain butter so check the best-before date on the package. You can freeze compound butter in an airtight container for up to 1 month.
What is an example of compound butter? A good example of compound butter is if you are in a restaurant they bring butter flavored with herbs to the table. And of course this recipe for butter with cherry pie filling.
Should compound butter be refrigerated? Yes, I recommend you keep compound butter in the fridge.
How do you make cherry butter? To make cherry butter you can combine butter with some powdered sugar and cherry pie filling. Very simple!
How to use cherry butter? You can use cherry butter anywhere you'd use regular butter. We like to serve cherry butter with popovers and scones. So yummy!
Want to try savory butter?
I have a Roasted Garlic Butter that makes the most delectable garlic cheese bread and this Herb Butter that I use when I make my Filets in the oven. Divine!
Substitutions
There are really no limitations to the different kinds of compound butter you can make. You can whip up a batch of any fruit butter like apple butter would be an excellent choice using organic apples. Pick your favorite fruit or whatever is in season.
If you don't have almond extract on hand you can use vanilla extract.
If you don't have a can of cherry pie filling in your pantry you can easily make your own using tart cherries, sour cherries, black sweet cherries or if you are lucky enough to have your own cherry tree use those cherries. You'll have to cook the cherries with hot water, some lemon juice, and fruit pectin over medium heat until they thicken. You can add a touch of apple juice or any fruit juice to sweeten it up.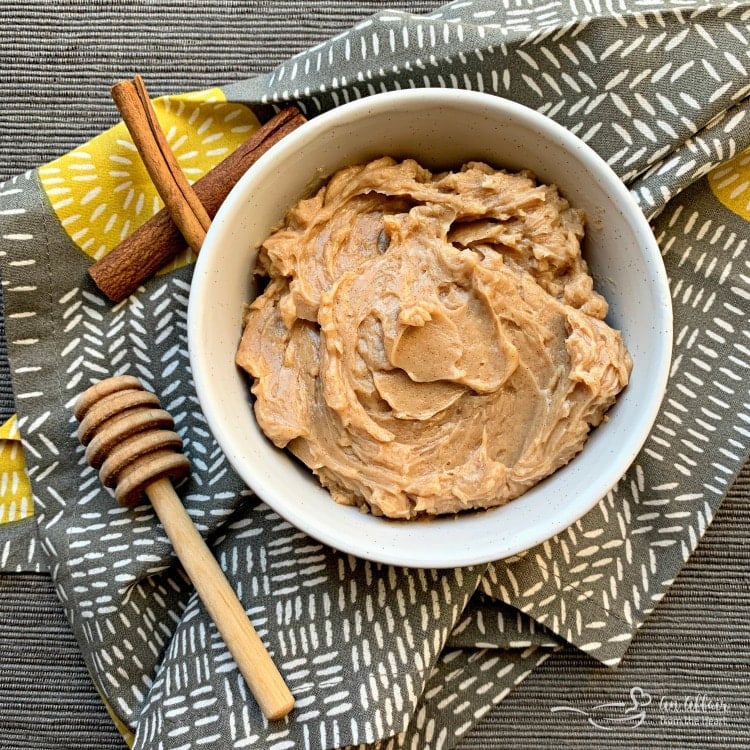 Another sweet butter that is a must-try is my Copycat Texas Roadhouse Cinnamon Honey Butter
Tips and Tricks
Bring the butter to room temperature before you begin so it is easy to whip.
Make sure there are no lumps in the powdered sugar. You can sift the sugar as you add it to eliminate the lumps.
If you don't want any cherry lumps you can puree the pie filling by placing it in the blender or food processor.

More Cherry Recipes to Love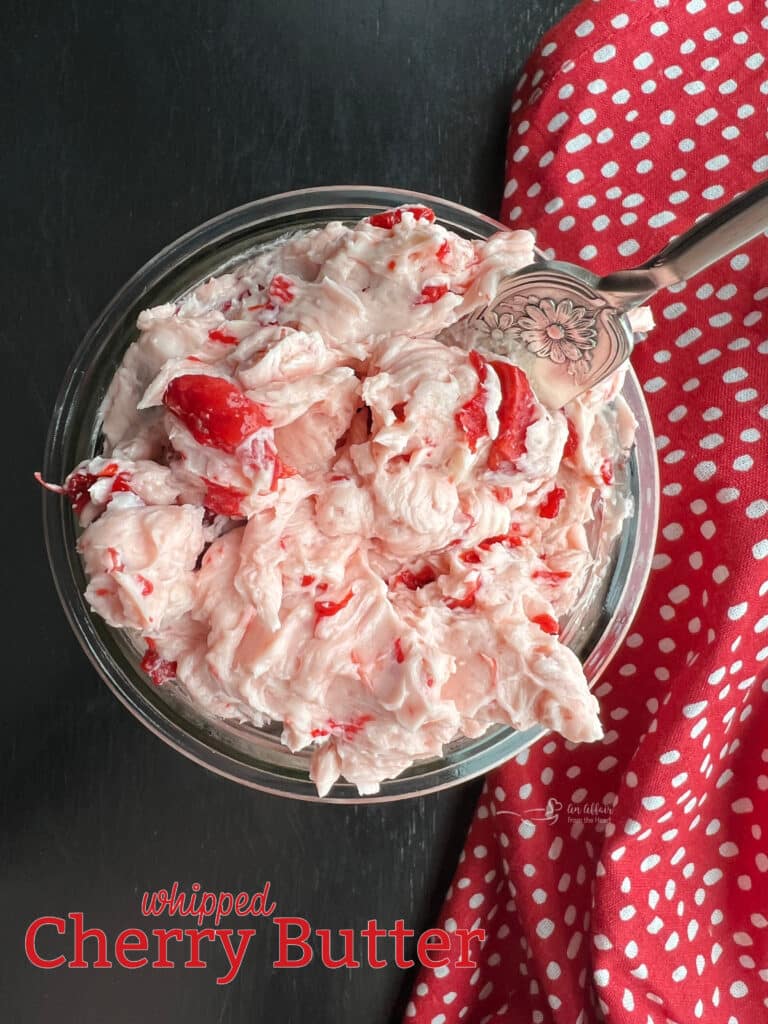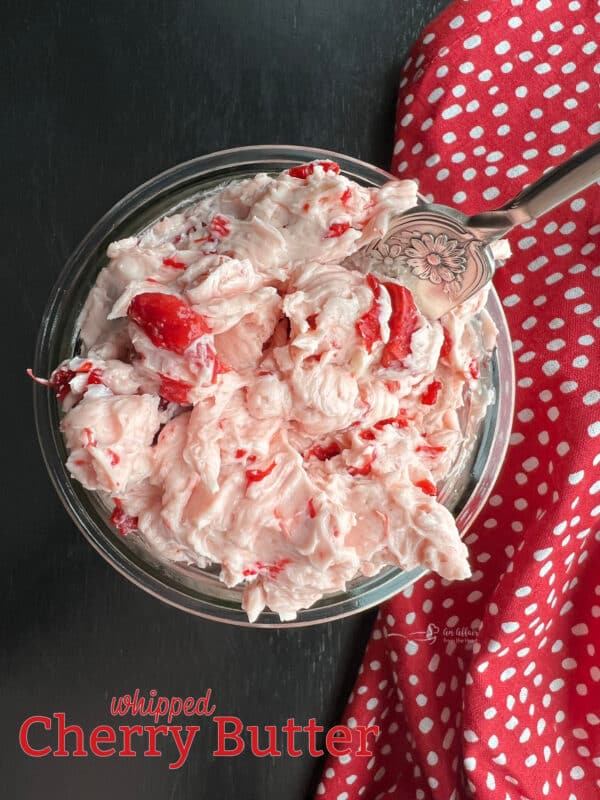 This cherry butter recipe is perfect when you are looking for an alternative to plain butter. It makes a nice addition to a weekend brunch table. Your guests will love being able to slather it on bagels, sourdough, waffles, or pancakes. Let's make some!
Yield: 1 pint
Whipped Cherry Butter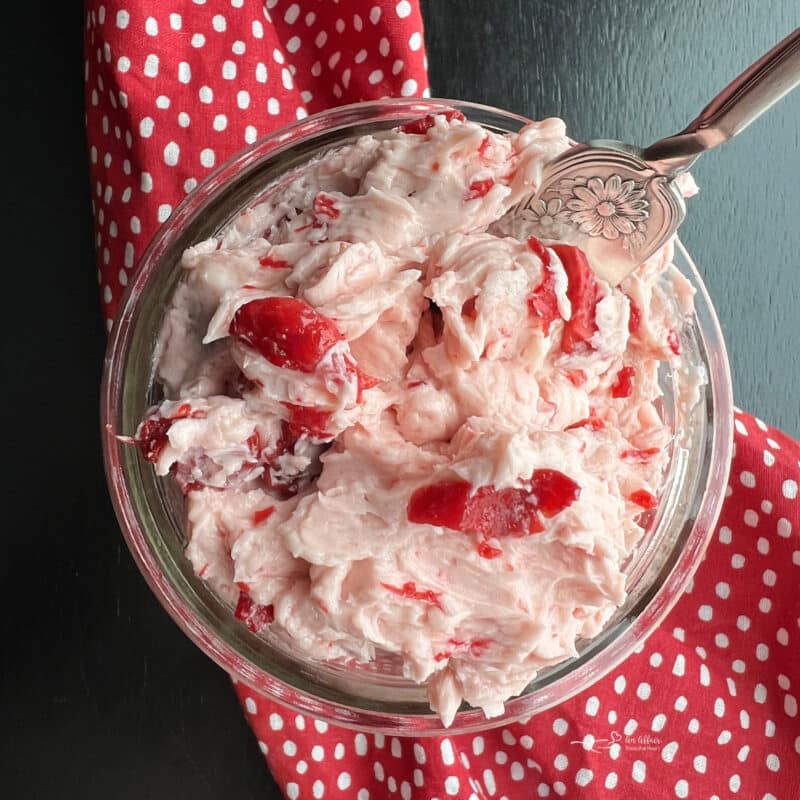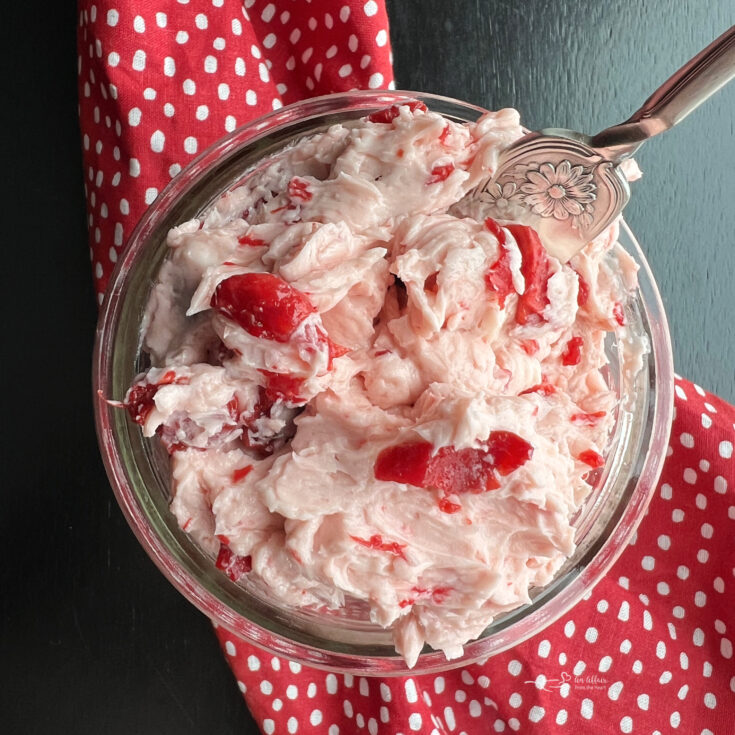 Your favorite breads and rolls will thank you when they get a slathering of Cherry Butter! So simple to make using softened butter, cherry pie filling and a bit of powdered sugar and almond extract for sweetening. Delightful!
Ingredients
1 1/2 sticks (12 Tablespoons) unsalted butter, softened
1/2 cup cherry pie filling
3 teaspoons powdered sugar
1 teaspoon almond extract
Instructions
Beat butter until fluffy.
Add in almond extract and powdered sugar, and mix thoroughly.
Beat in cherry pie filling.
Serve immediately.
Notes
Store in the fridge in an airtight container for up to 10 days. Bring it out of the fridge to bring it to room temperature before serving to make it easily spreadable.
Recommended Products
As an Amazon Associate and member of other affiliate programs, I earn from qualifying purchases.
Nutrition Information:
Yield:
15
Serving Size:
1
Amount Per Serving:
Calories:

22
Total Fat:

1g
Saturated Fat:

1g
Trans Fat:

0g
Unsaturated Fat:

0g
Cholesterol:

3mg
Sodium:

11mg
Carbohydrates:

3g
Fiber:

0g
Sugar:

1g
Protein:

0g
Please note that nutrition is not guaranteed accurate.