Grinch Shortbread Bites
As an Amazon Associate and member of other affiliate programs, I earn from qualifying purchases.
Grinch shortbread bites are melt in your mouth little cookies that will help your inner Grinch grow a heart three sizes bigger at least. Which makes it the perfect holiday spirit cookie. They are simple to make, so you won't shrink your heart two sizes too small trying to make them either.
And if you love these, I know you'll love my Grinch Fudge, too!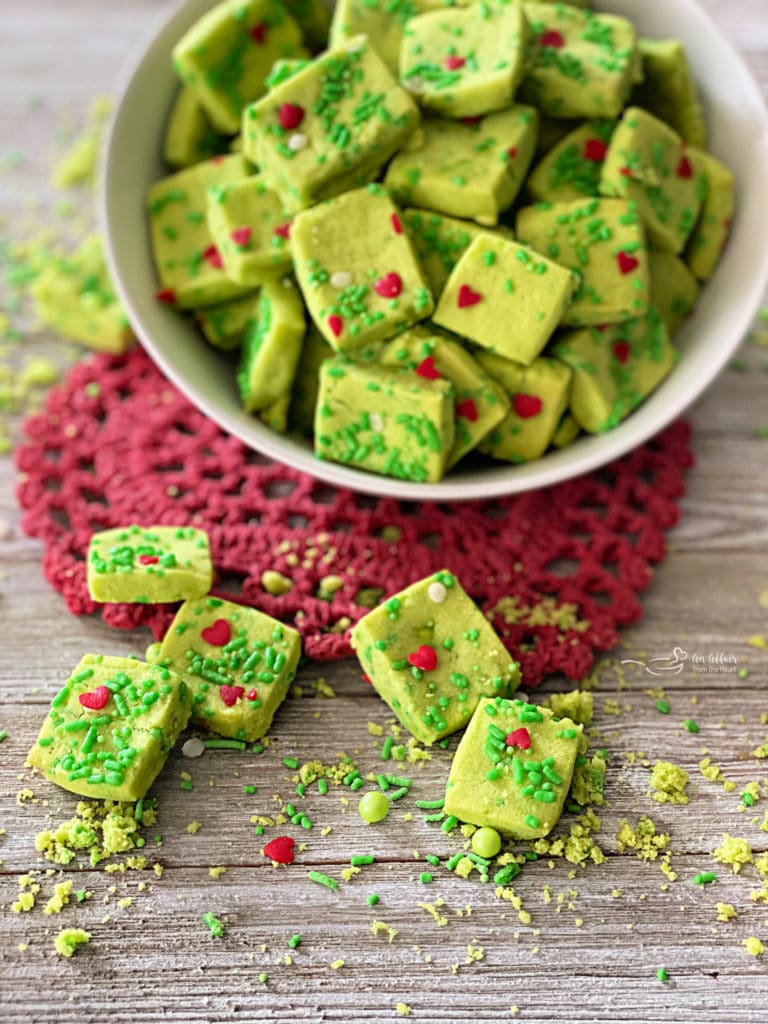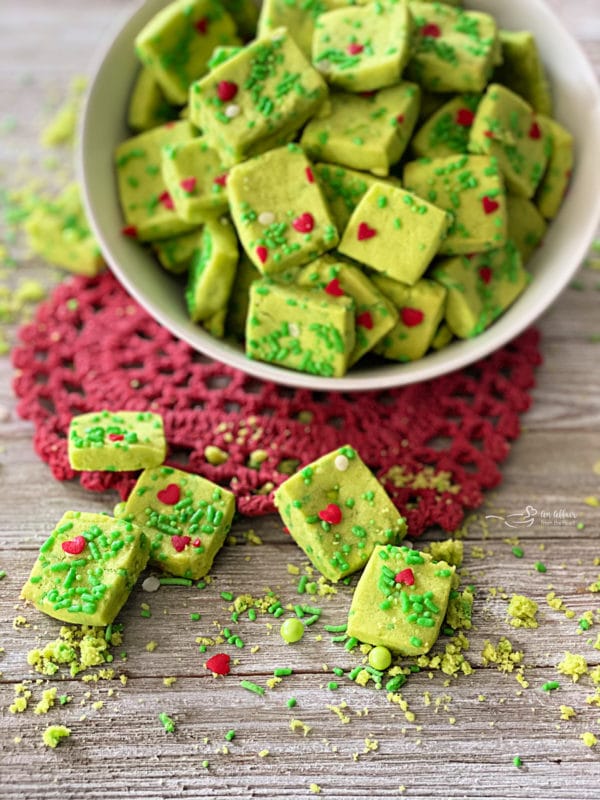 Quick & Easy Grinch Shortbread Bites
In the holiday classic, "How the Grinch Stole Christmas", a mean old Grinch learns the true spirit of Christmas. No, it isn't about what comes from a store. Yes, indeed it is about a little bit more as the Grinch comes to realize.
So, no matter how you feel about preparing for the holidays, baking cookies is a great way to get into the spirit of things. To dwell on what true giving means and being with family and sharing love. All the things that really matter when all is said and done.
Yes, I know, we all feel like the holidays are here before we are ready. Yes, the stress of dealing with all the planning and the costs of purchasing meals, and gifts, and decorations, and all that is never easy. But, making shortbread sprinkle cookies couldn't be simpler.
And, adding a bit of green, and some Grinch themed sprinkles to pay homage to the Grinch just makes them plain fun. I mean, what's a Grinch cookie without that green color and that red heart sprinkle??
This recipe was created for #ChristmasCookiesWeek! I was sent samples and products by some of the sponsor companies but as always opinions are 100% mine.
For this recipe, I used products from Sweets & Treats, Adams Extracts & Spices and Anolon.
SOME OF THE ITEMS BELOW CONTAIN AFFILIATE LINKS; I AM A PARTICIPANT IN THE AMAZON SERVICES LLC ASSOCIATES PROGRAM, AN AFFILIATE ADVERTISING PROGRAM DESIGNED TO PROVIDE A MEANS FOR US TO EARN FEES BY LINKING TO AMAZON.COM AND AFFILIATED SITES. I AM ALSO AN AFFILIATE FOR OTHER BRANDS. HOWEVER, I ONLY PROMOTE THINGS THAT I LOVE AND THINK YOU WILL LOVE, TOO. FOR MY ENTIRE DISCLOSURE POLICY PLEASE

CLICK HERE

.

What is shortbread?
Shortbread cookies are pretty much the gold standard of easy when it comes to cookie recipes. Flour, sugar, and butter. How much simpler can it possibly get? They exist somewhere between being a cookie and a biscuit. I guess you could say shortbread is like a sweet version of a biscuit.
What I have found to be the "secret" to melt in your mouth shortbread bites is the cornstarch. Sure, you could leave it out if you don't have it – but they won't have that same texture as this recipe.

Ingredients in this Grinch Shortbread Cookies Recipe
This shortbread recipe is my go-to. It's easy to make and I love the taste of it! It's flavored with vanilla extract, but it is fantastic with almond extract, too! Make sure that when you give it that "Grinch Green" color that you use lime green food coloring. Regular green won't give it the right color.
Ingredient List:
butter
powdered sugar
granulated sugar
salt
vanilla extract (or almond)
cornstarch
all-purpose flour
lime green food coloring
Sweets & Treats "Mean One" Sprinkles
How to Make mini Grinch Shortbread Sprinkle Cookies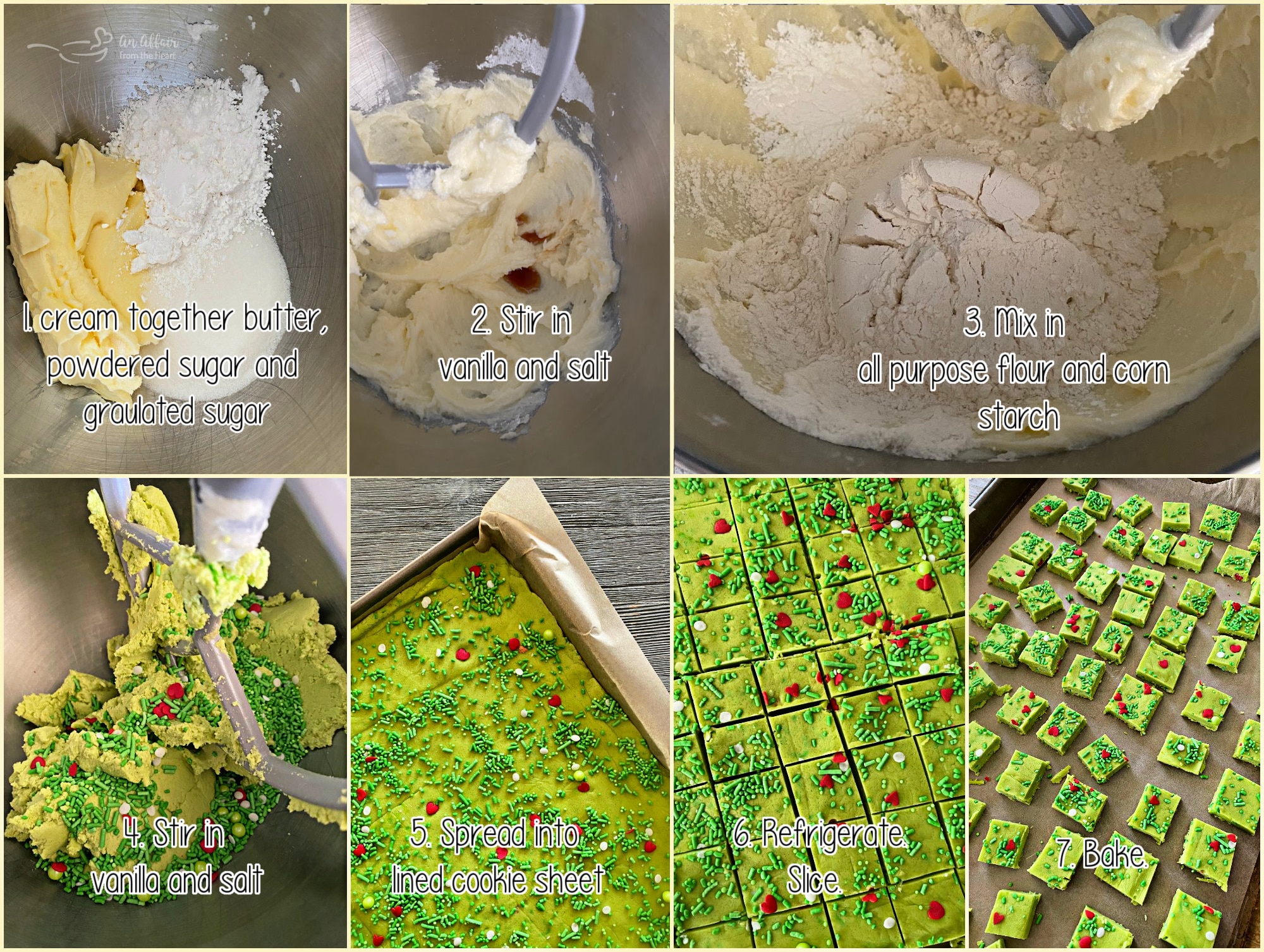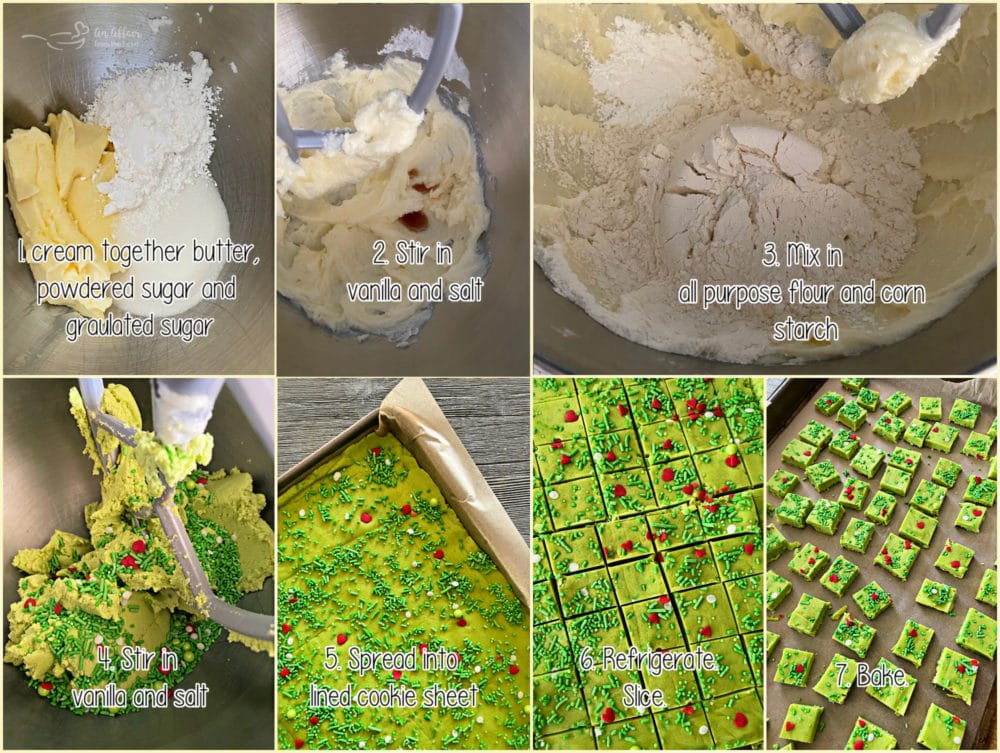 Find the full printable recipe card at the bottom of this post.

LOVE THEM? PIN THEM!
Don't forget where you found the recipe for these amazing Grinch Shortbread Bites! Pin the recipe to your favorite Pinterest board to find them easily!

Keys to making great shortbread cookies
Sometimes shortbread cookies come out too hard, or other times too crumbly. They can be too dense. You want a light cookie that holds together even after a bite but is not too hard. There is a trick to that.
The trick is to let the shortbread dough rest a bit before you stick it in the oven to bake. Let some of the moisture in the butter evaporate and you get a much lighter and tastier cookie. For this recipe, chilling the dough once it's pressed into the baking pan is key. Plus, you will find they cut so much easier, too!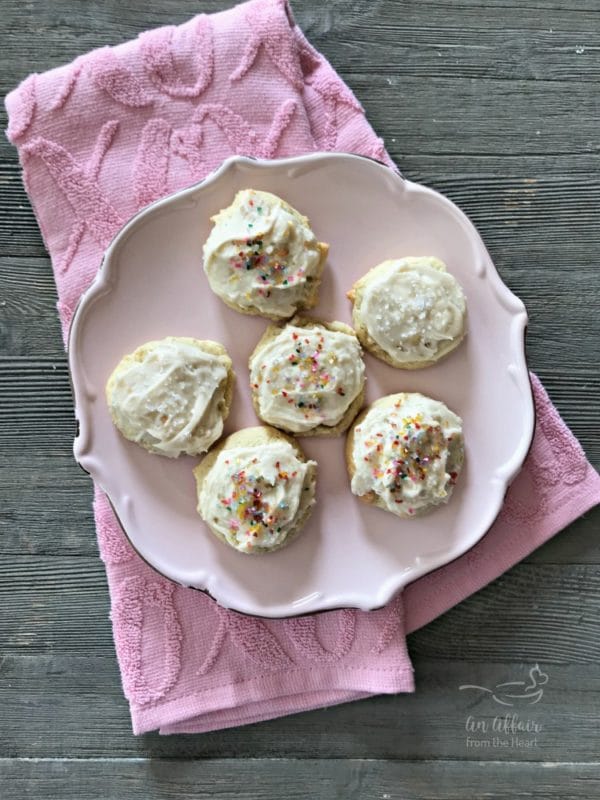 Old Fashioned Frosted Sour Cream Sugar Cookies
What is the difference between shortbread cookies and sugar cookies?
People often confuse these two types of cookies. Quite simply, sugar cookies have more sugar. Shortbread cookies are less sweet and denser.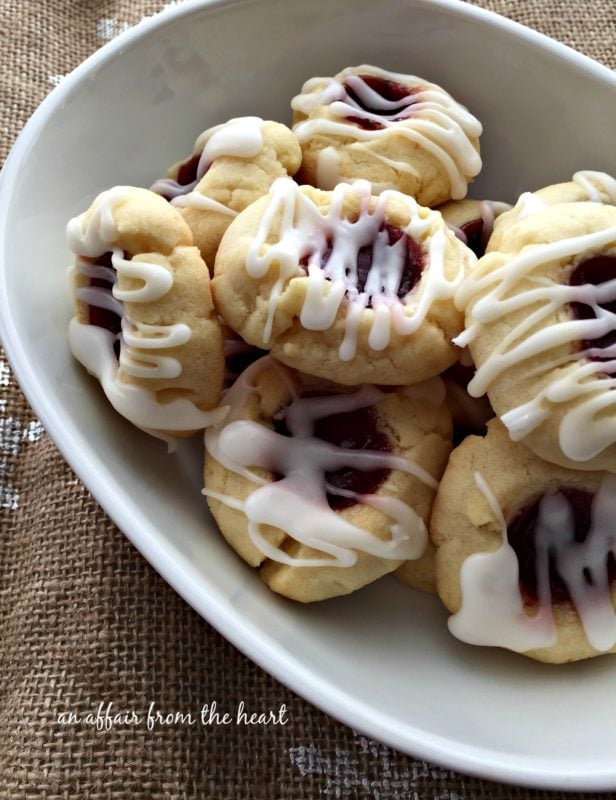 More shortbread cookie recipes
Shortbread dough is so versatile! Here are some other ways to work with it and make some delicious, and super easy, treats.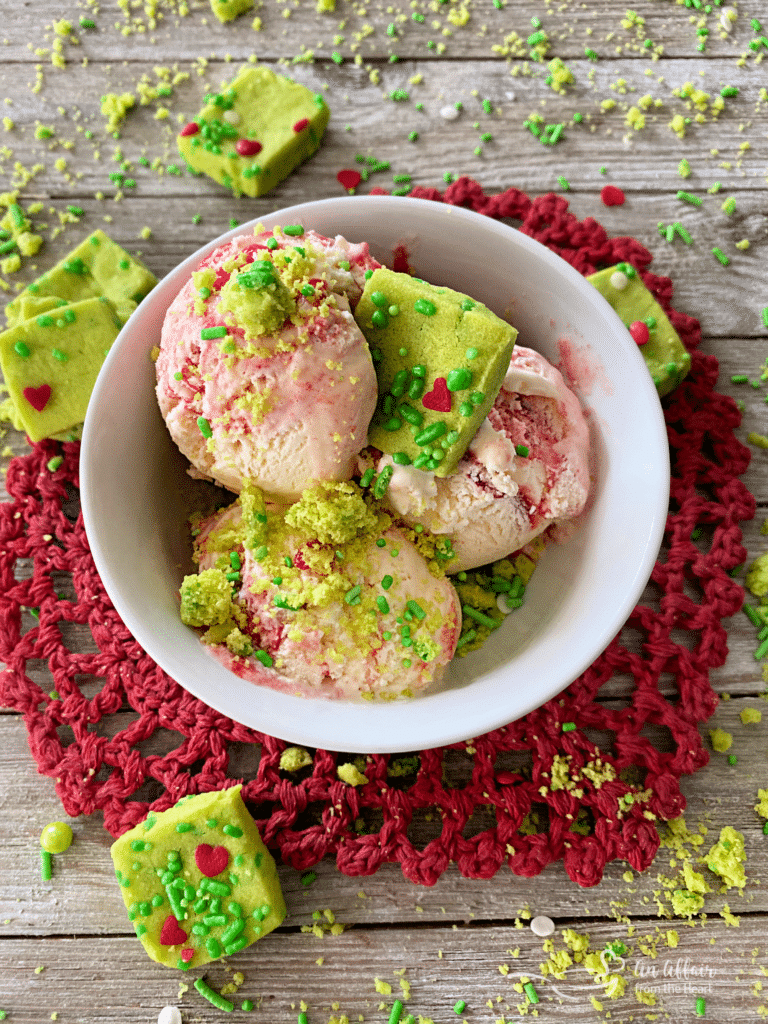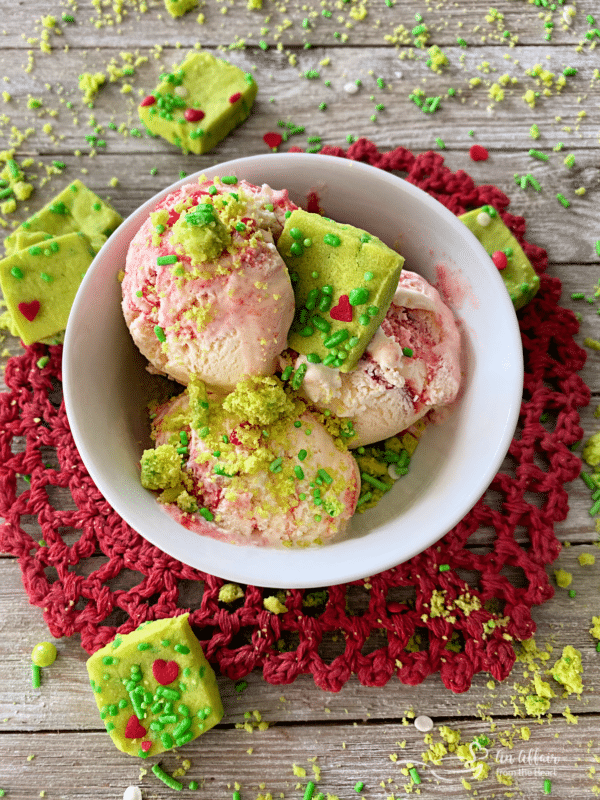 How to make Grinch Shortbread Bites Even Better
So if these shortbread bites weren't melt-in-your-mouth delicious enough — I have the perfect way to "one-up" them! Serve them as an ice cream topping for a festive dessert!
Crumble them over the top of whatever kind of ice cream you like, I chose a Vanilla Bean with a Strawberry Swirl, and oh my word!! Heaven in every bite!
I think a kid of any age would welcome this as the holiday dessert, don't you??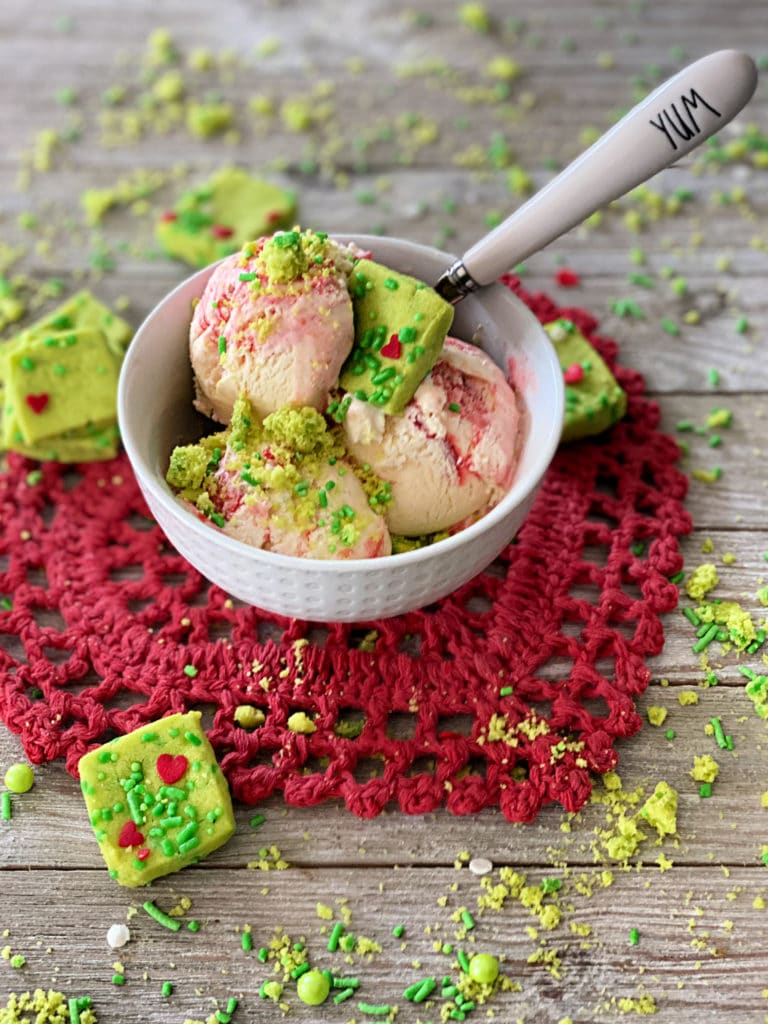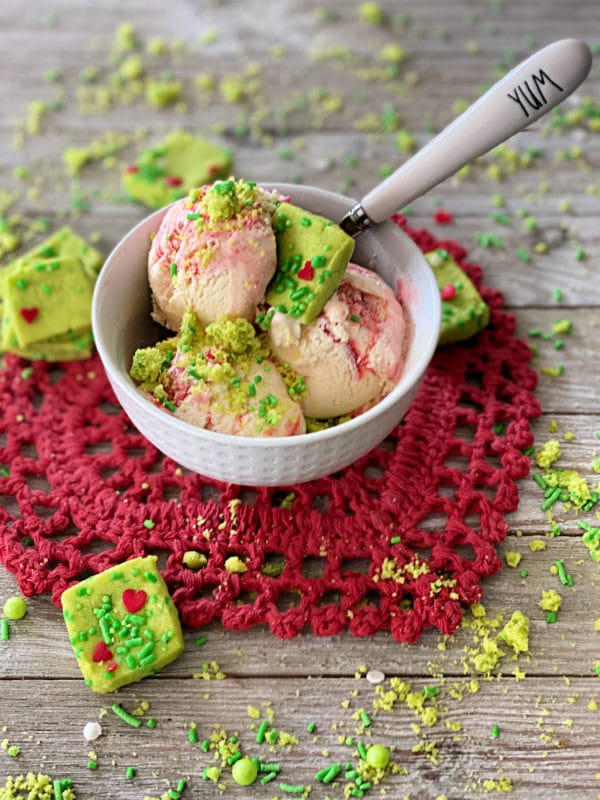 This is my third and final recipe for the 2020 edition of Christmas Cookies Week.
Yesterday, I shared my Turtle Cookie Recipe. So good! Big buttery cookies, full of pecans, chocolate chunks and caramel bits.
My first cookie this week were these Chocolate Sugar Kiss Cookies. They are so simple to make and only require 4 ingredients! If you pop over to see this recipe, you can see a detailed list of all of the prizes being offered by our amazing sponsors, Millican Pecan Company, Adams Extracts & Spices, Anolon and Sweets & Treats Boutique.
ENTER TO WIN Prize Packages HERE:
Please check out the cookies from all of the other talented bloggers in the list right under my printable recipe card.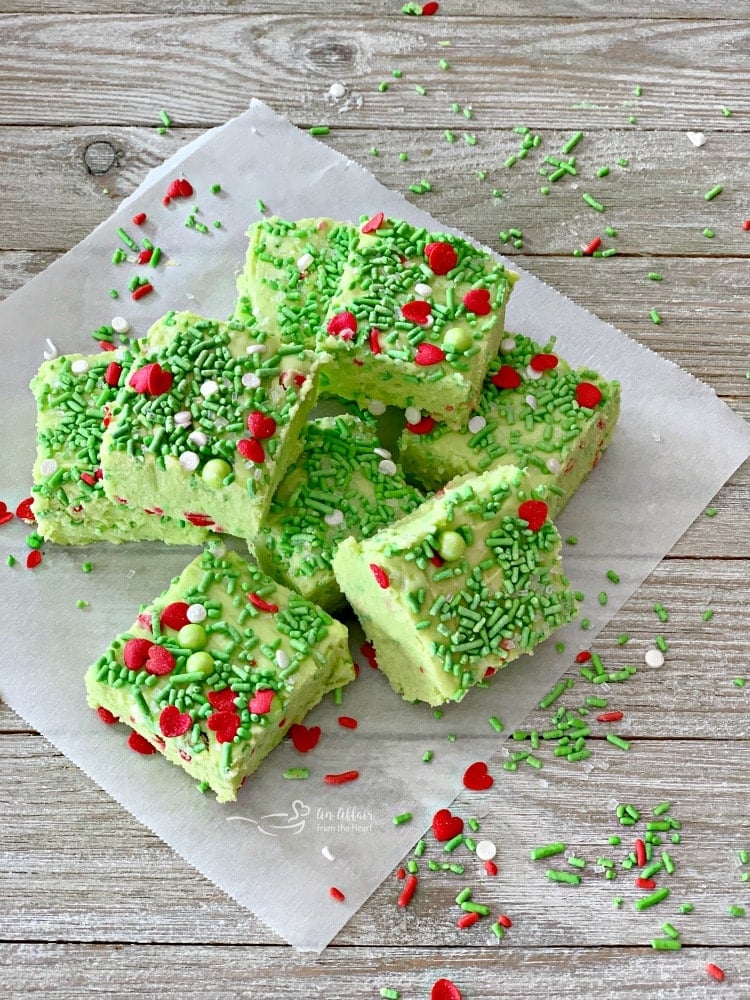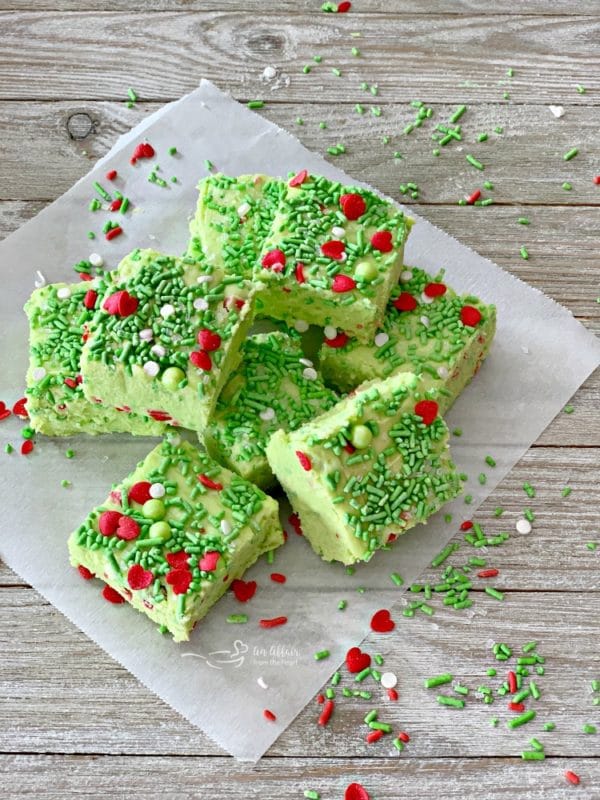 Here is that Grinch Fudge I told you about!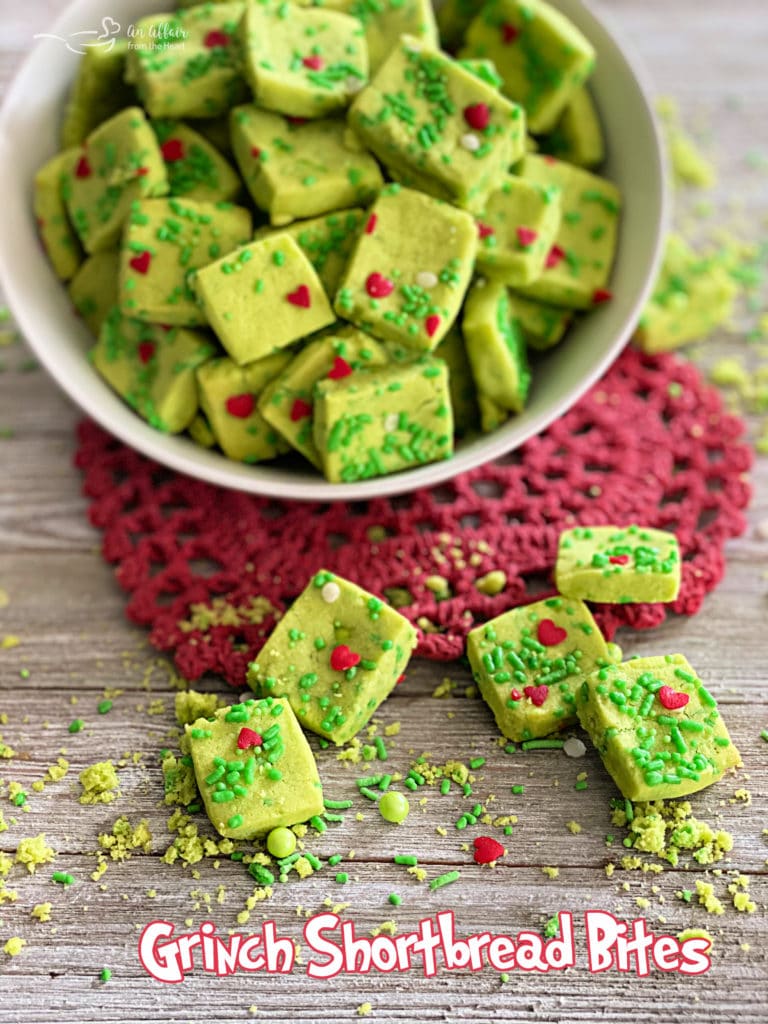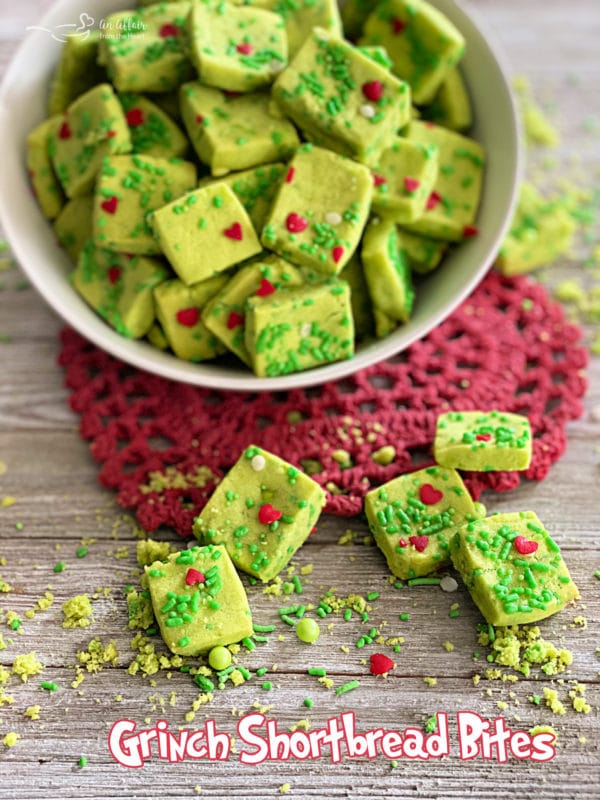 Let's get to the recipe for this super fun and delicious green Christmas cookie! Let's make some Grinch Shortbread Bites!

Yield: about 96 bites
Grinch Shortbread Bites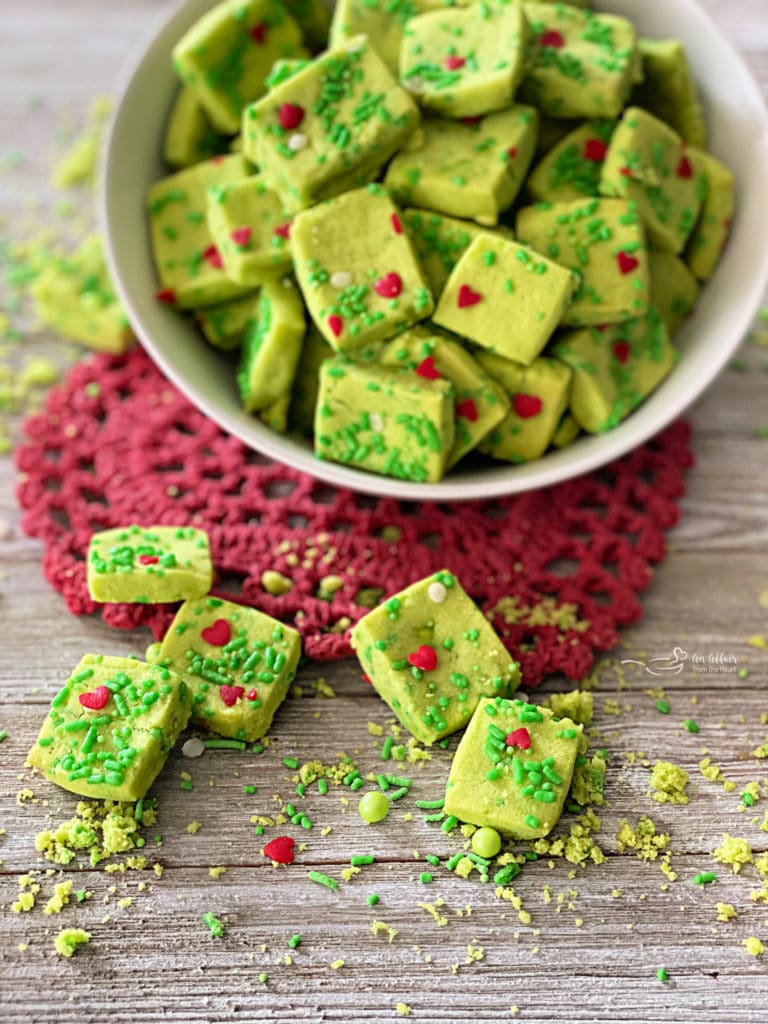 Buttery vanilla shortbread bites, colored Grinch green and decorated with "The Mean One" sprinkles. Even the a grump like the Grinch couldn't refuse these melt-in-your-mouth shortbread bites!
Cook Time
9 minutes
7 seconds
Additional Time
30 minutes
Total Time
54 minutes
7 seconds
Ingredients
1 cup (2 sticks) butter, softened
1/4 cup powdered sugar
1/2 cup granulated sugar
1/8 teaspoon salt
1 1/2 teaspoons vanilla extract (or almond)
1 Tablespoon cornstarch
2 1/4 cups all-purpose flour
lime green food coloring (until you like the color)
Instructions
Line an 8x12 cookie sheet with parchment paper and set aside. Line one standard-sized cookie sheet the same way. Set aside.
In your mixer, cream together butter and both sugars.
Add in salt and vanilla extract, mix.
Mix in the flour.
Fold in 1/4 cup of sprinkles by hand, with a rubber spatula, careful not to over mix the dough or the sprinkles will break and make the dough all streaky.
Press the shortbread evenly into the bottom of the prepared 8x12 cookie sheet. Sprinkle with remaining sprinkles and gently press into the dough. Refrigerate for 30 minutes.
Preheat oven to 375 degrees.
Cut the shortbread into 1" squares and spread them out on the prepared cookie sheet, so they don't touch.
Bake for 7-9 minutes. Watch them closely. when they begin to brown, the grinch green color isn't as pretty!
Cool. Store in an airtight container.
Notes
Makes an AMAZING topped for ice cream!
Recommended Products
As an Amazon Associate and member of other affiliate programs, I earn from qualifying purchases.
Nutrition Information:
Yield:
96
Serving Size:
3
Amount Per Serving:
Calories:

17
Total Fat:

0g
Saturated Fat:

0g
Trans Fat:

0g
Unsaturated Fat:

0g
Cholesterol:

0mg
Sodium:

3mg
Carbohydrates:

4g
Fiber:

0g
Sugar:

1g
Protein:

0g
Makes 96 bites, Serving Size 3 bites -- Nutrition isn't guanteed accurate.
Thank you to the hosts of #ChristmasCookies week where more than 25 bloggers shared cookie recipes perfect for your holiday celebrations. Hosted by Ellen from Family Around the Table, Christie from A Kitchen Hoor's Adventures and Heather from Hezzi-D's Books and Cooks.
Don't miss one delicious cookie recipe! Follow along on Pinterest.
Thursday Christmas Cookie Recipes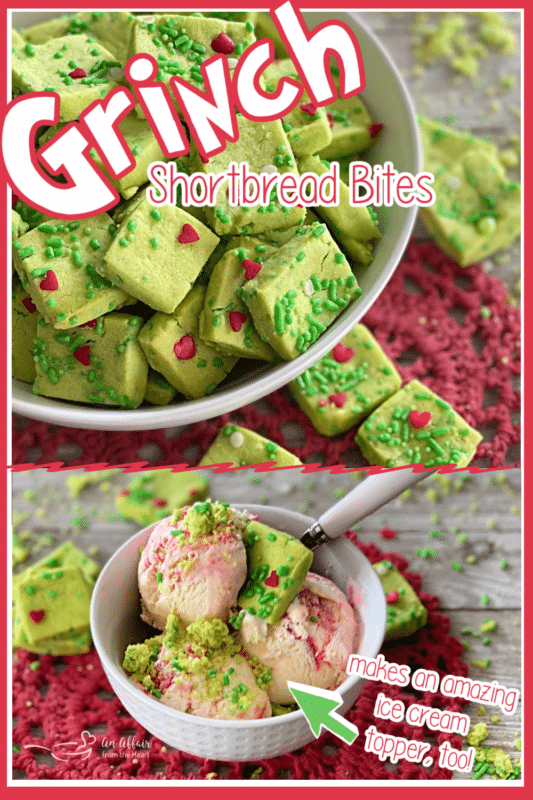 I adapted the shortbread recipe from Mel's Kitchen Cafe to make these Grinch Shortbread Bites