Fiber Smoothie
As an Amazon Associate and member of other affiliate programs, I earn from qualifying purchases.
This High Fiber Smoothie is tasty, filling, and guaranteed to keep your tummy satisfied throughout the morning which helps to reduce those trips to the fridge and the extra calories that come along with them. Packed with chia seeds and fresh fruits like raspberries, kiwi, and banana, there is no need for added sugar in this tasty high-fiber smoothie recipe! It's naturally sweet and a delicious way to start your day!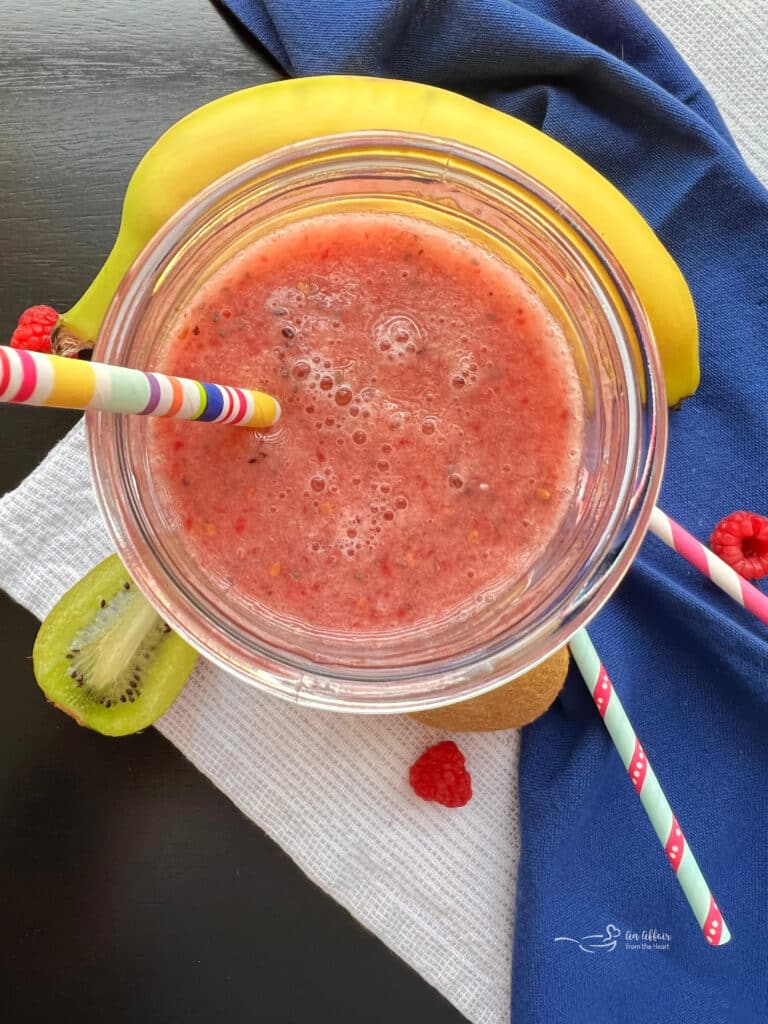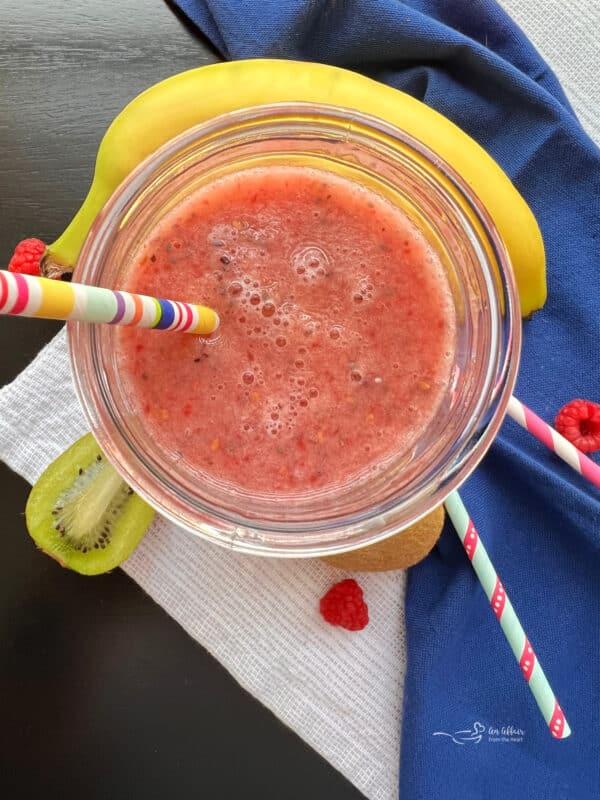 How many of you resolved to start taking better care of yourself and watching what you eat with the start of the new year? Some of us like to start 'anew' and make resolutions for a healthier year. Whether you promised yourself you'd eat better, vowed to eat a good breakfast every morning, or planned to drop a few pounds, this high fiber smoothie recipe is a healthy, delicious and easy way to kick start your day.
Who doesn't need a kick start in the morning?!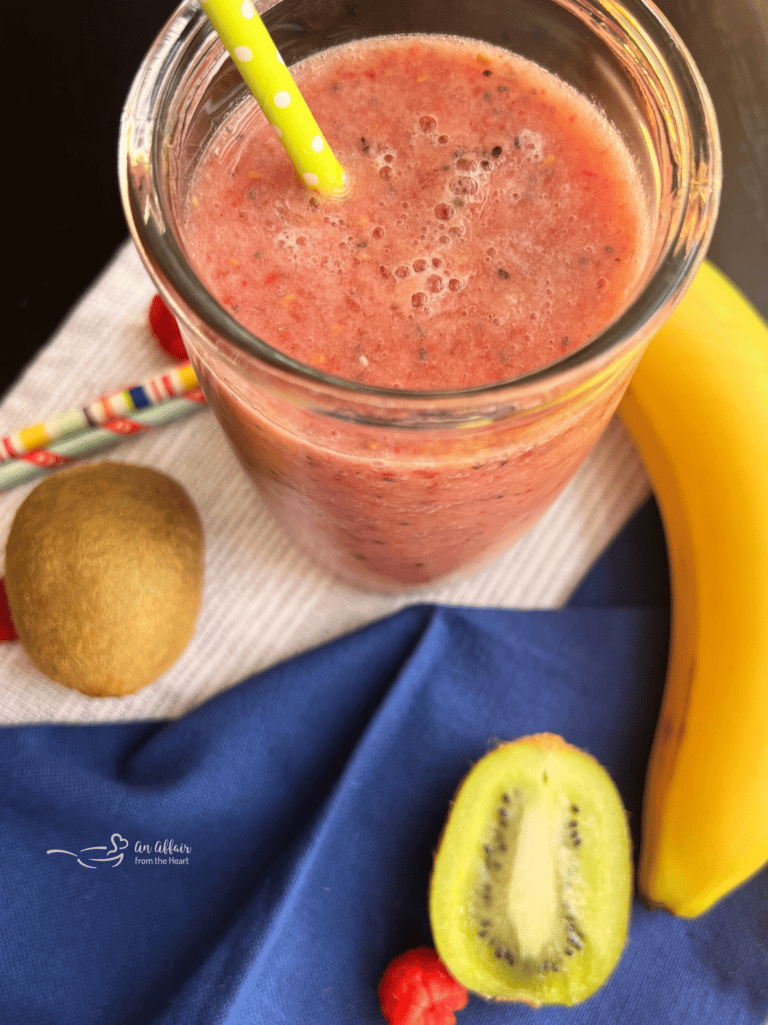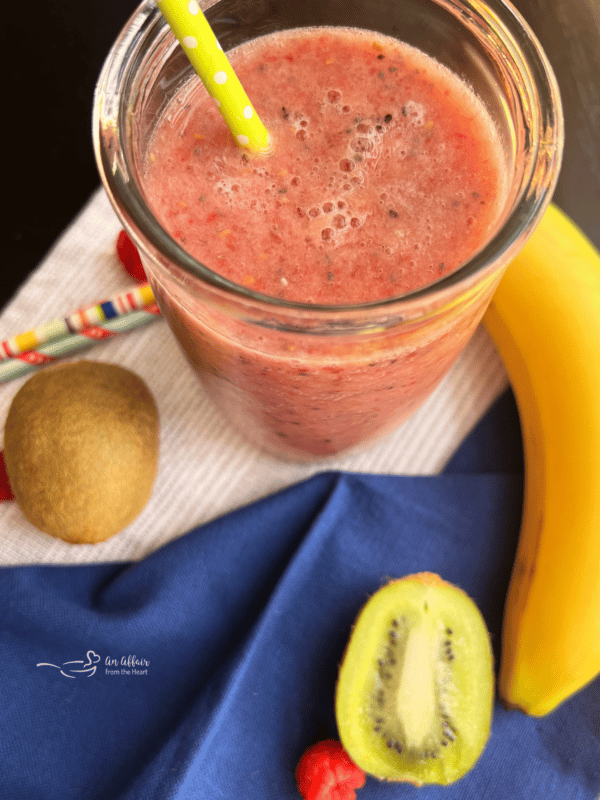 I am no weight loss expert, so you can take my advice anyway you want. But I am living proof that you can lose weight by monitoring your caloric intake (duh), moving more (yes, exercise), and also making sure you get enough high-fiber foods and water each day. Fiber helps our bodies rid themselves of the waste from our food once the nutrients have been absorbed and the water helps our bodies to flush out this waste. I am going to leave it there, this is a food site, and I am not here to gross you out. Just know that this smoothie will help give you a happy gut!
HIGH FIBER FOODS & SMOOTHIES
I have researched loads of recipes that are high in fiber as well as individual foods. Maybe someday I will be able to ingest one of those green drinks, but for now, I have a hard time getting past the weird color. Until then, I find new and yummy ways to switch up my morning breakfast. One of my favorite breakfasts is a smoothie so you will be seeing new high fiber smoothie recipes from me here and there.
I will also tell you that I feel like "if I am not chewing, I am not eating" so Slimfast and stuff like that never ever appealed to me, yet there is something really satisfying about drinking a homemade high fiber smoothie first thing in the morning. A smoothie loaded with protein, fiber, and healthy fats can definitely keep the hunger pains away for a few hours!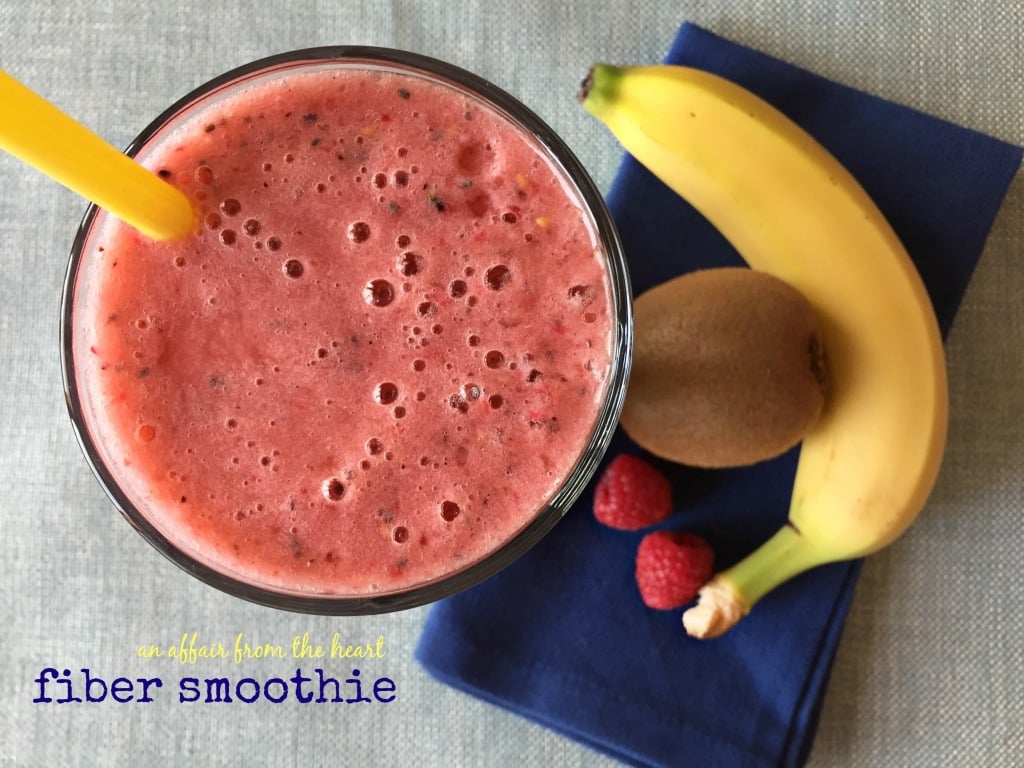 I first posted this recipe on my website back in 2015 when I was taking part in a high-fiber weightloss plan. It has been a popular recipe since the day I first posted it!
Why You'll Love This High Fiber Smoothie
This fresh fruit fiber smoothie recipe has got it all; fiber, healthy fats and protein. It is a fiber smoothie for weight loss. Even if weight loss isn't your objective you'll love how satisfying this smoothie recipe is.
If you are looking to improve your digestive health, and who isn't these days, the fiber in smoothies is a great way to achieve this. Fiber supports a healthy gut microbiota. Go figure!

Fiber Smoothie Ingredients
Packed with goodness this smoothie has 11 grams of fiber, and a great way to add that extra fiber content and meet your daily fiber needs right from the get-go in the morning. It is also high in vitamin c and we all know how important that is!
banana – A fresh or frozen banana will work great! Keeping a stash of frozen bananas in the freezer is a great way to make a banana smoothie in a hurry!
kiwi – peeled or unpeeled though if you keep the peel you are adding more fiber.
raspberries – You can use fresh or frozen raspberries in this healthy breakfast smoothie.
chia seeds – One of the easiest ways of adding extra fiber to your diet.
ice cubes – If you are using frozen fruit, this smoothie won't require as much ice, if any.
water – you can sub coconut water or dairy milk or almond milk if you choose. Using water is a simple way to keep the calories down.

How To Make This High Fiber Smoothie
Good news! Making a smoothie that will get you on your way to good health is as simple as dropping all of the ingredients in a blender! So even on busy mornings, you can enjoy one!

BLEND
Place all of the ingredients into a high-speed blender and blend until the ice is crushed and the mixture is smooth.
Pour into a glass and breakfast is served!

Love it? Pin it!
Don't lose the recipe for this healthy breakfast smoothie packed with fiber! Pin it to your favorite Pinterest recipe board before you go!
Tips & Tricks for Quick Smoothies
Keep a stash of frozen fruit in the freezer so you can blend up a smoothie really easily. Using frozen fruit reduces the amount of ice you need to make the smoothie cold and thick. Don't throw away ripe fruit, cut it up and place it in a bag in the freezer for just this purpose!
If you love a particular smoothie recipe, add the ingredients you need into a ziplock bag and freeze them. Simply dump the frozen contents into your blender and Viola!
How to Store Your Smoothie
Once you make your smoothie it is best to drink it right away or it will get watery. If you absolutely can't drink it right away you can place it in the freezer to drink later on. Remove from the freezer a few minutes before you want to drink it so it softens.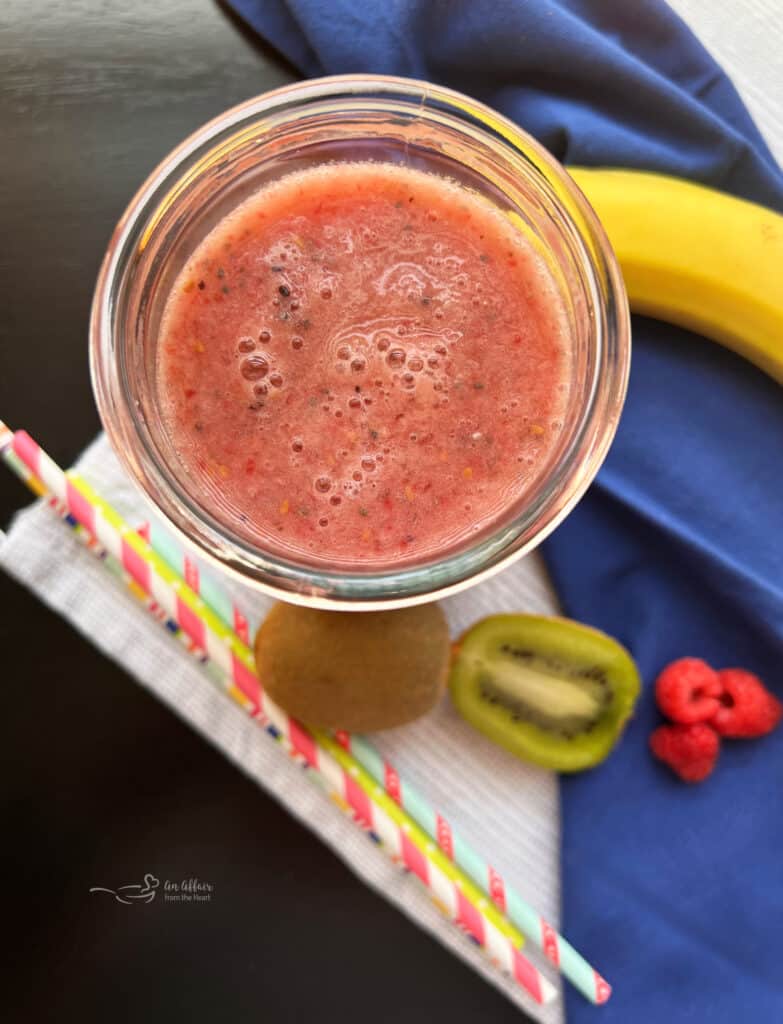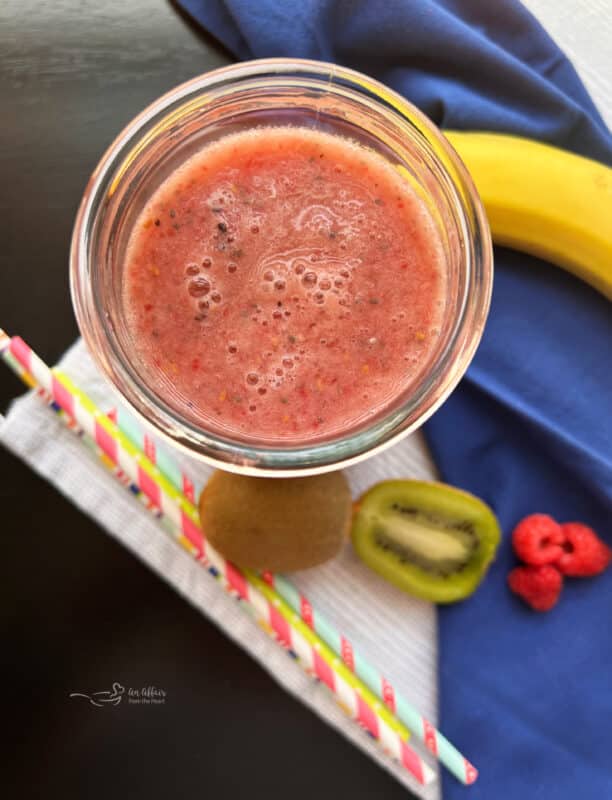 FAQs About Smoothies
There are many questions about smoothies – here are some that might help you, too!
Does a smoothie have fiber? Yes, if you are putting fruits and vegetables in your smoothie it most definitely has fiber.
How do you add fiber to smoothies naturally? The best fiber for smoothies is the naturally occurring fiber in fruits and vegetables. If you want to increase the amount of fiber you can add flax seeds, oats, nuts or seeds. Nut butters are also a good way to add not just fiber but protein and healthy fats as well.
Are smoothies a good way to get fiber? Smoothies are an excellent way to get the recommended daily amount of fiber. The grams of fiber in each smoothie will vary depending on what you add to it.
Are smoothies good for constipation? I am not a medical specialist but I do think if you drink high fiber smoothies for constipation it may help you go regularly.
Do I need to add ice to my smoothie if I use frozen fruit? Adding ice to your smoothie is a great way to thicken it up and make it cold however if you use frozen fruit you may not need to add the ice. It is really a personal choice as to how thick and cold you like your smoothies. I typically add a few ice cubes regardless of whether I am using fresh or frozen fruit as I like my smoothies really thick.
What can I substitute for water? You can substitute any liquid you like for the water depending on your taste preference; milk, nondairy alternatives, juice, coconut water or depending on your smoothie ingredients a shot of coffee or espresso will also work.
Do I need to add protein to the smoothie? This is a personal choice. I know lots of people like to add a scoop of protein powder to their smoothies, but I am not a big fan of protein powder. I'd rather rely on the protein content from the other ingredients like the chia seeds. If you are looking for more protein you can add nuts, almond butter, seeds, dairy milk or both soy and oat milk have a good amount of protein. Even oats have protein if you want to throw in a handful. They are also loaded with fiber so you get a double whammy with them.

More Smoothie Recipes to Enjoy
If you love a good smoothie recipe, check these out!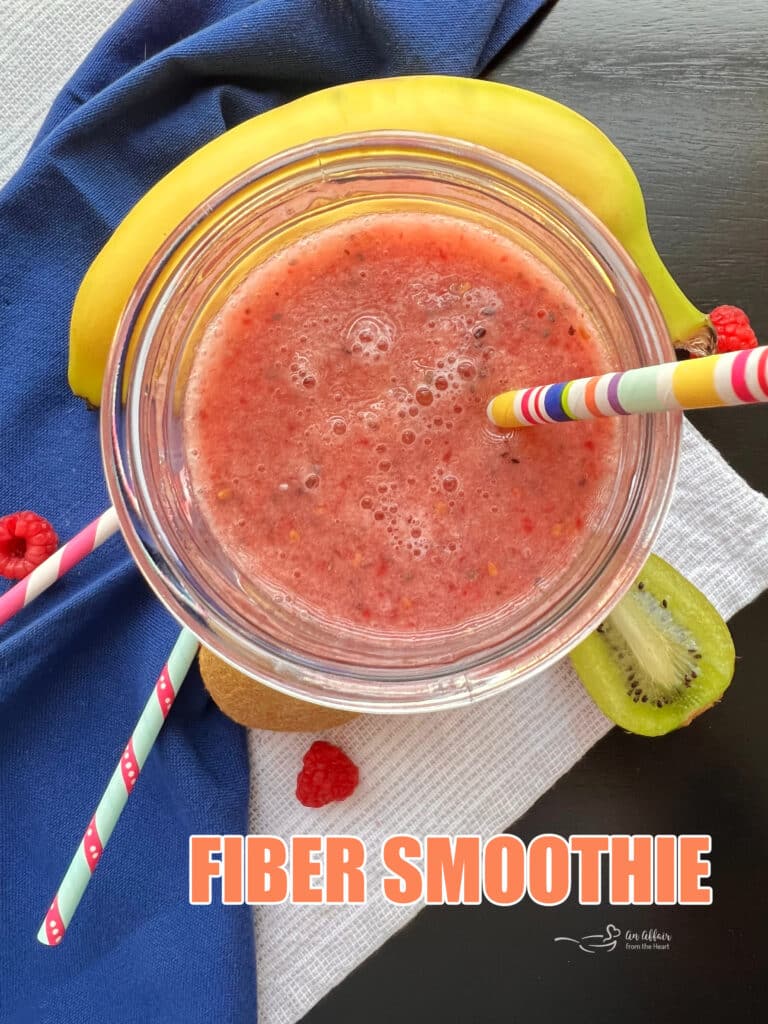 You will never have to worry about getting enough fiber in your diet when you have a yummy smoothie recipe like this! Let's get to the recipe!

Yield: 1 smoothie (about 14 ounces)
Fiber Smoothie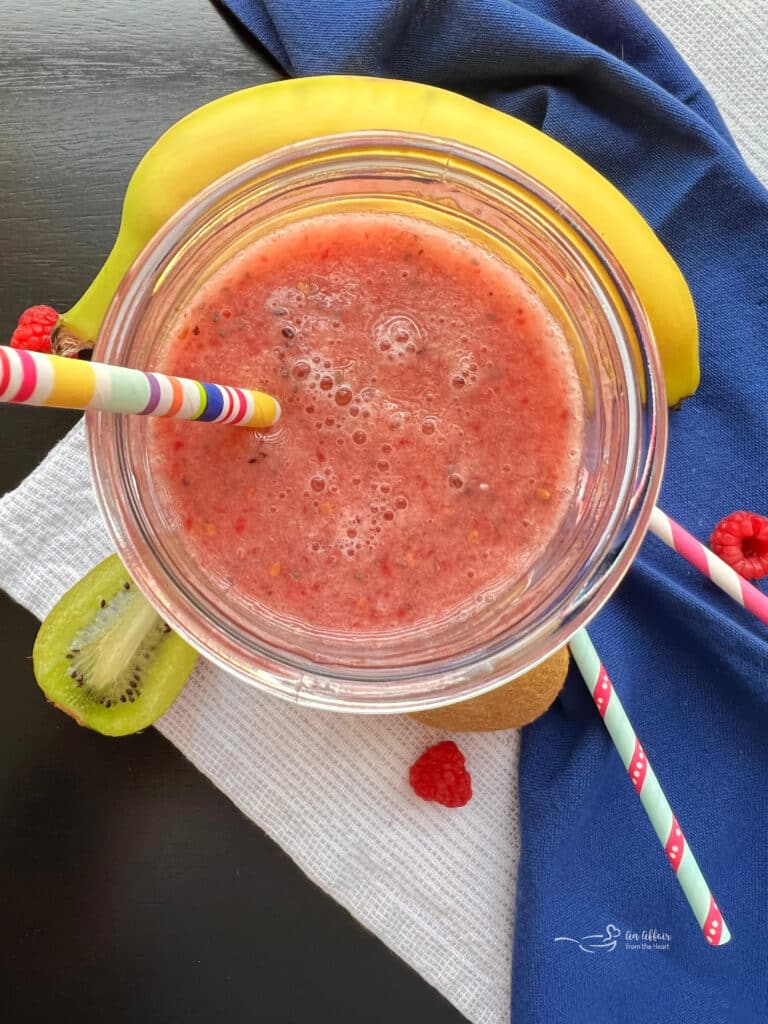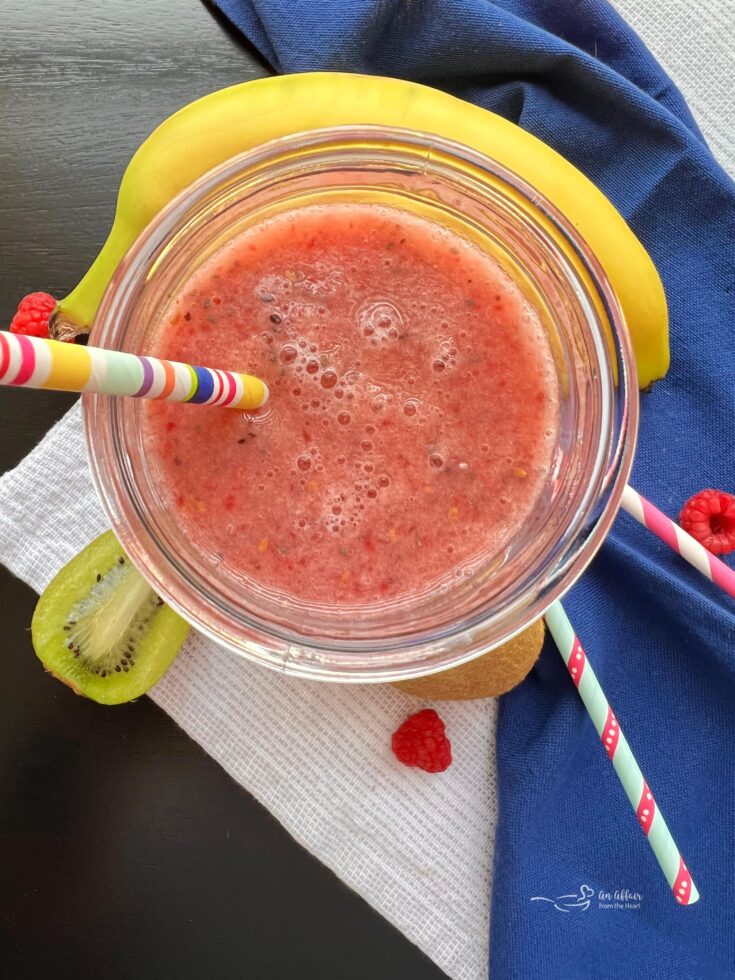 This high fiber smoothie is tasty, filling and guaranteed to keep your tummy satisfied throughout the morning. Packed with chia seeds and fresh fruits like raspberries, kiwi and banana, there is no need for added sugar in this tasty high-fiber smoothie recipe! It's naturally sweet and a delicious way to start your day!
Ingredients
1 small banana
1 kiwi
1/2 cup raspberries
1/2 Tablespoon chia seeds
6 ice cubes
1/2 cup water
Instructions
Place all ingredients in your blender, blend to crush ice.
Pour into a glass and enjoy immediately.
Notes
Frozen bananas and fruits make smoothies really easy and reduce the amount of ice you need to add!
Recommended Products
As an Amazon Associate and member of other affiliate programs, I earn from qualifying purchases.
Nutrition Information:
Yield:
1
Serving Size:
1
Amount Per Serving:
Calories:

193
Total Fat:

3g
Saturated Fat:

0g
Trans Fat:

0g
Unsaturated Fat:

2g
Cholesterol:

0mg
Sodium:

11mg
Carbohydrates:

43g
Fiber:

11g
Sugar:

21g
Protein:

4g
Nutrition isn't always accurate.
This recipe was originally posted on January 12, 2015. It has been updated to improve user experience and re-shared on July 26, 2022.