Crock Pot Minestrone #FallForFlavor — Giveaway Included
As an Amazon Associate and member of other affiliate programs, I earn from qualifying purchases.
This minestrone is full of fresh veggies, and so simple to make. Everything, including a jar of pasta sauce goes right in the crock pot!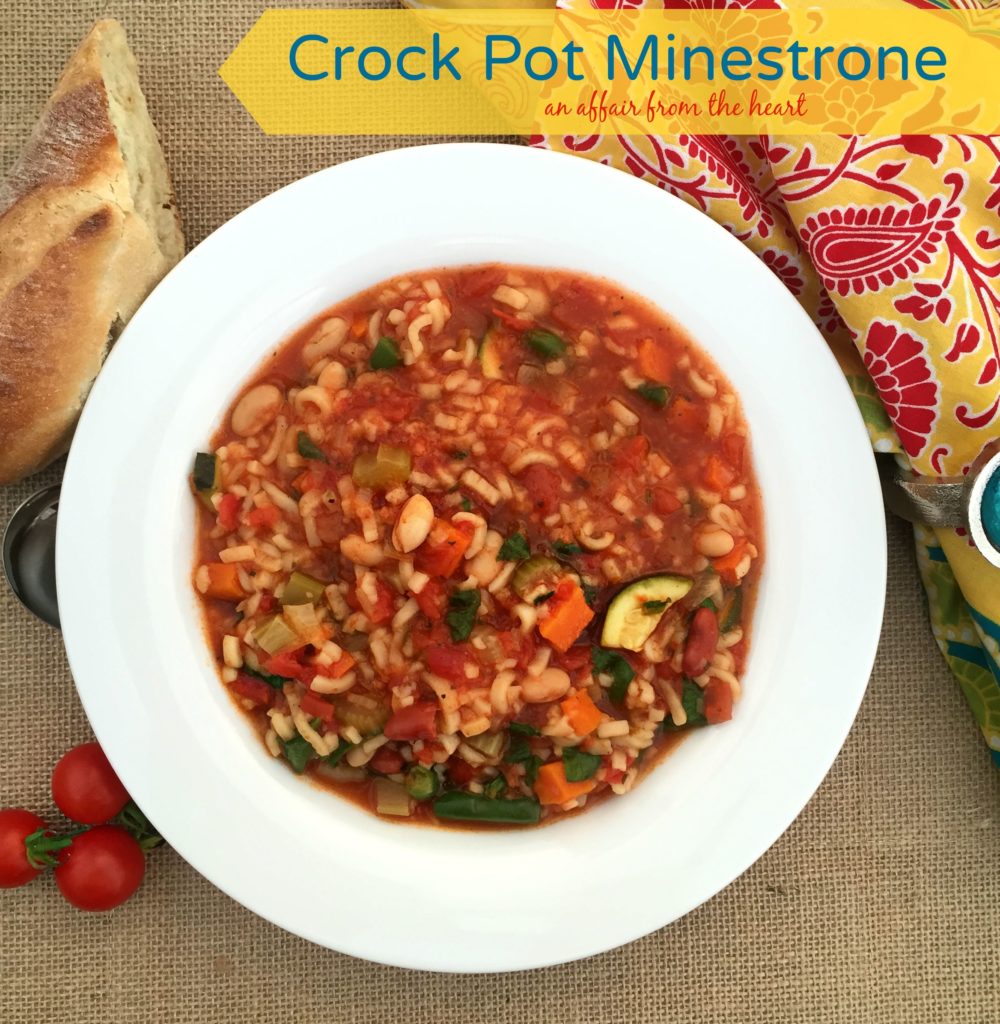 We eat soup year round, but it becomes a weekly addition to our meal plans in the fall and winter. Even though our temps aren't quite reflecting it yet, fall is coming, it's right around the corner. Flavors are turning to apples, pumpkin, and meals like stews and soups. The best part of early fall to me, aside from all of my favorite foods, is that so many gardens and farmers markets are bursting with home grown veggies! I say we combine those two favorites of mine, and make dinner!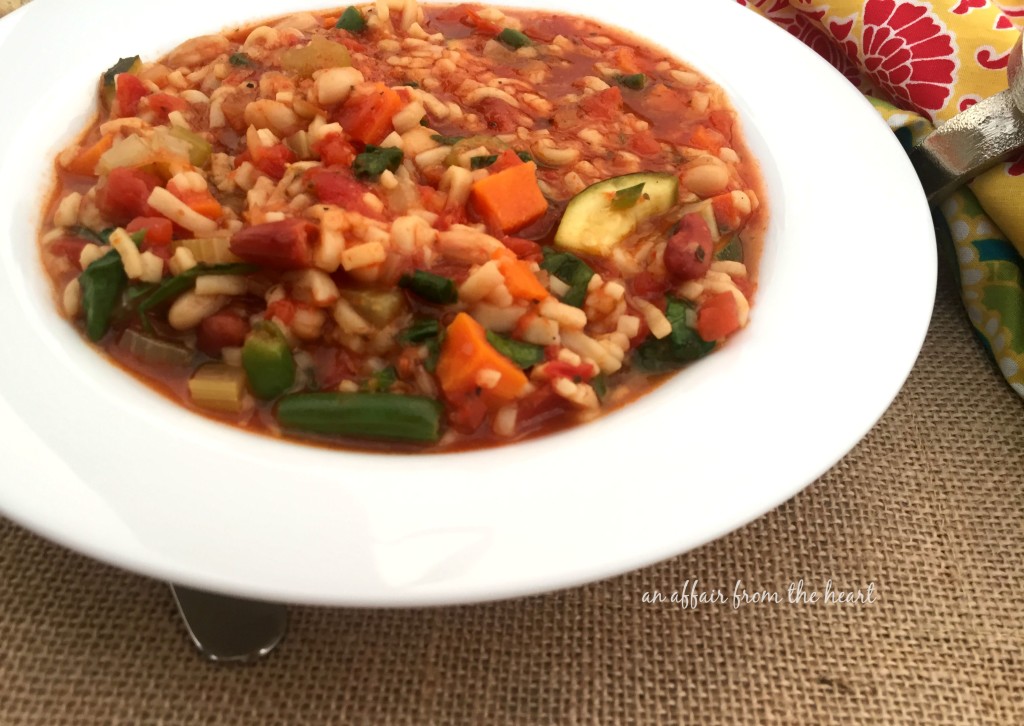 Soup has always been my favorite meal, it's just so comforting to me. I remember coming home from school, and getting that whiff of dinner when I walked into the house. "What's for dinner?" The age old question. My mom would tell me 'soup' and I was elated! Not only did that mean I was going to enjoy dinner, I would enjoy it for lunch the next day, too.
Yes, I was that kiddo with the Snoopy lunch pail and thermos!
My oldest daughter is just like that. When she asks what's for dinner, and say soup, she is thrilled! She will eat soup for breakfast when given the chance. She loves minestrone, and I decided my website wouldn't be complete with out a recipe for her to refer to when she wants to make it herself someday.
This recipe is simple. It starts with your crock pot, a jar of Mezzetta Napa Valley Homemade Marinara Sauce and a whole bunch of fresh veggies!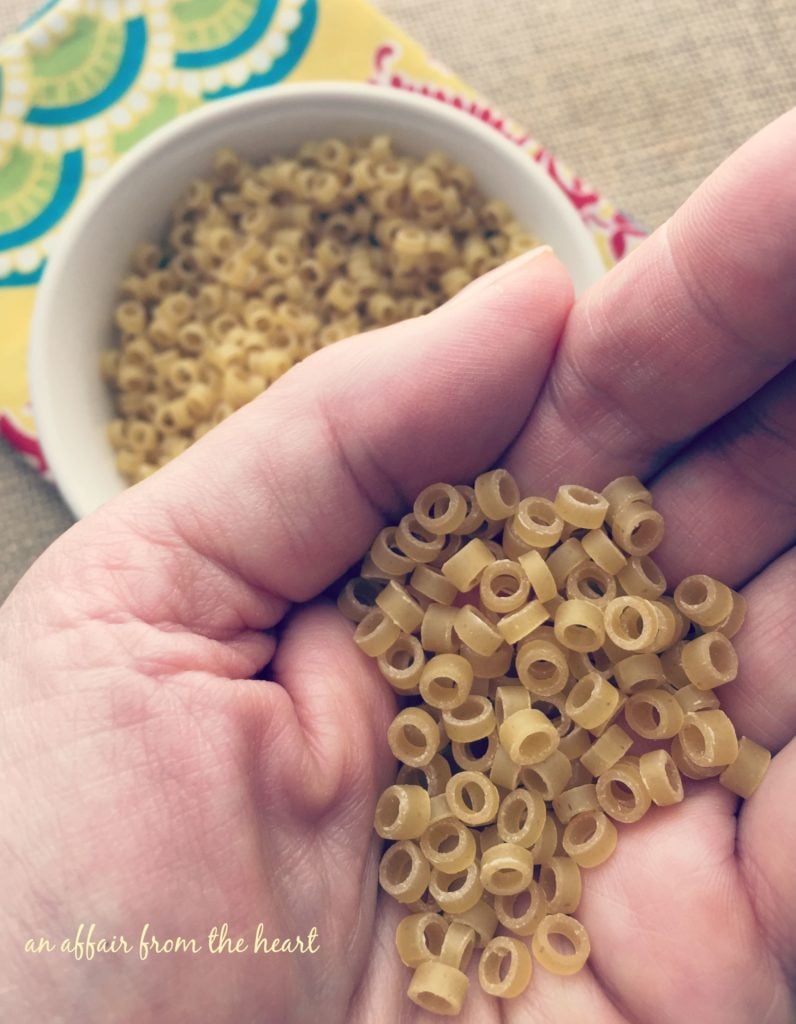 I love these little ring pasta noodles I found! Try them when you try this recipe. My kids loved them!
I love how good FOR you this recipe is, too. I felt content knowing that my family had a wonderful wholesome meal, even on a night that we rushed from school to football and cheerleading, and weren't eating until three hours past our normal family dinner hour. Dinner was ready and waiting in the crock pot, we were able to sit as a family and enjoy it after a very busy day.
I have long been a fan of Mezzetta products, and now that they offer these homemade sauces, I am an even bigger fan!
Mezzetta® Napa Valley Homemade™ flavors include:
• Marinara • Tomato & Sweet Basil • Spicy Marinara • Roasted Garlic & Caramelized Onions
• Parmesan, Asiago & Romano • Wild Mushroom
Feel good about serving these sauces to your family!
• Real Food. 100% hand-selected plum tomatoes. No added sugar. No paste. No shortcuts.
• Real Farmers. Committed to farming the highest quality ingredients, without compromise.
• Real Family. Family owned and operated for over 80 years.
• Real Recipe. Made in the Italian tradition from our Napa Valley kitchen.
• Real Good. Pull up a plate and taste the difference.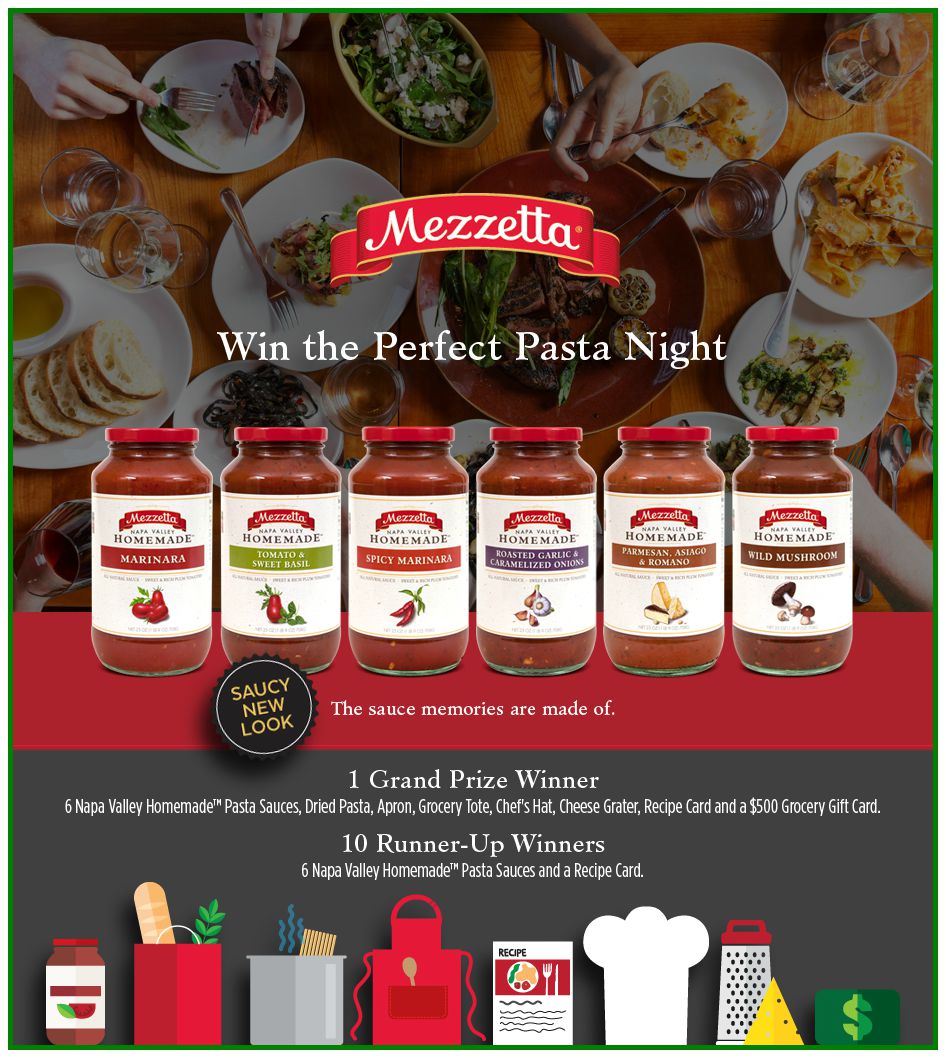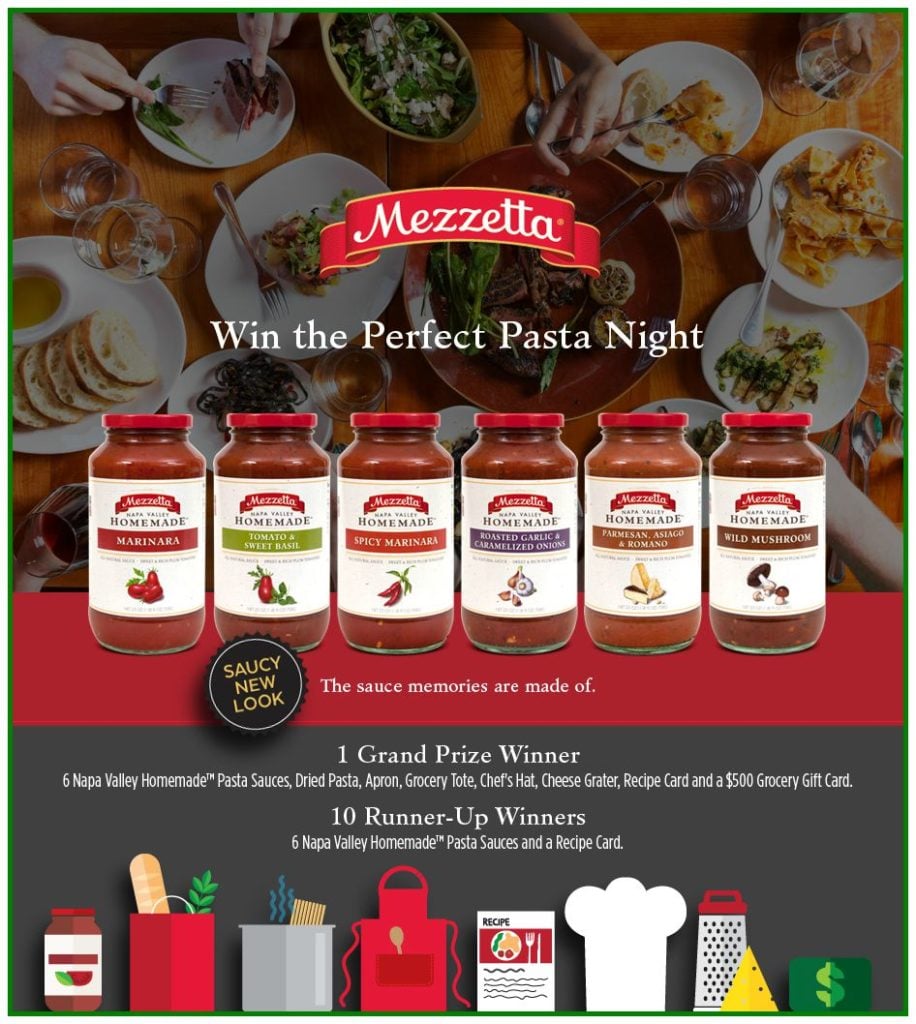 This fall Mezzetta wants you to #FallForFlavor — Win the Perfect Pasta Night from Mezzetta!
The GRAND PRIZE winner will receive 6 Napa Valley Homemade Pasta Sauces, Dried Pasta, an Apron, a Grocery Tote, a Chef's Hat, a Cheese Grater, Recipe Cards and a $500 GROCERY GIFT CARD! Runner ups win 6 Napa Valley Homemade Pasta Sauces and Recipe Cards. Who wouldn't want to enter?!
CLICK HERE to get yourself in the drawing — I would LOVE to have one of MY readers win!!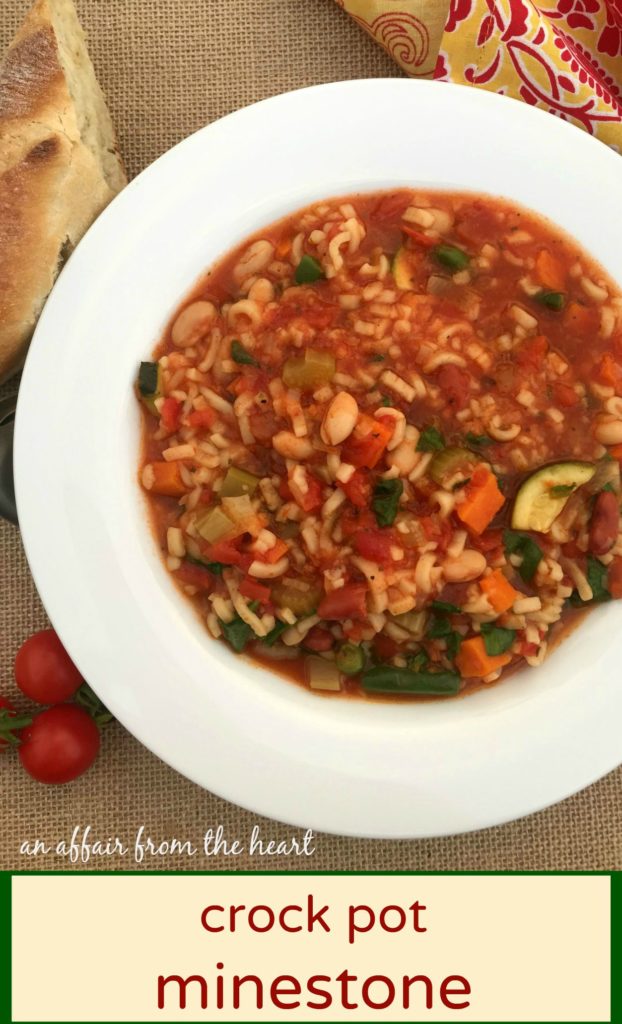 —
Yield: 8
Crock Pot Minestrone #FallForFlavor -- Giveaway Included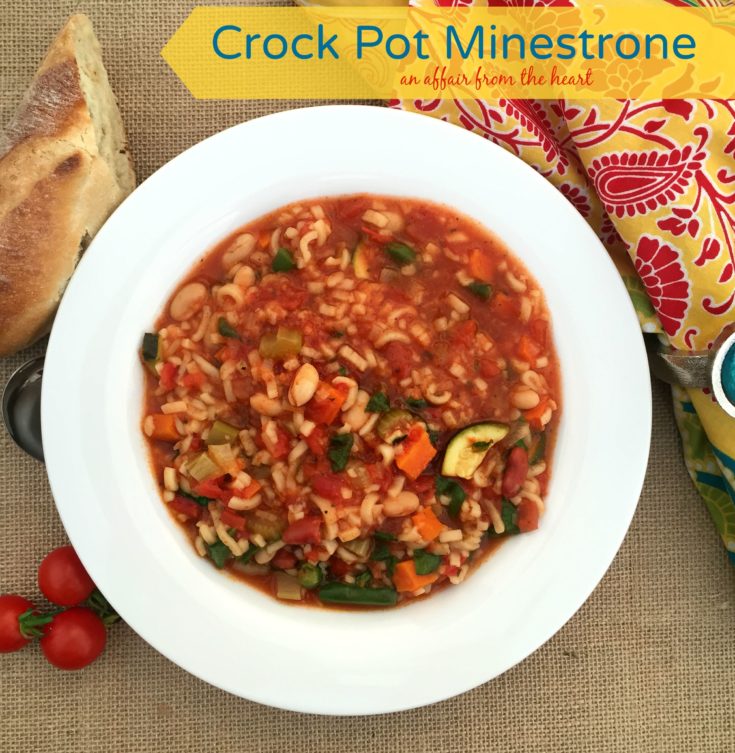 This minestrone is full of fresh veggies, and so simple to make! Everything, including a jar of pasta sauce goes right in the crock pot!
Total Time
4 hours
10 minutes
Ingredients
1 jar of Mezzetta® Napa Valley Homemade™ Marinara Sauce
2 can (14.5 oz) petite diced tomatoes + 1 can water
32 ounces Vegetable stock
1 cup shallots, chopped
1/2 cup onions, chopped
4 cloves garlic, minced
1 1/2 cups celery, diced
1 1/2 cups carrots, diced
3 teaspoon dried oregano
1/2 teaspoon dried rosemary
2 bay leaves
Salt & Pepper
1 (7 oz) package "ring" pasta
1 (15 oz) can Great Northern Beans, drained and rinsed
1 (15 oz) can Red Kidney Beans, drained and rinsed
2 cups zucchini, diced
1 cup frozen green beans, thawed
2 cups spinach, chopped
Fresh Parmesan cheese for serving
Instructions
Add to your crock pot: Marinara sauce, diced tomatoes, shallots, onion, celery, carrots, water, vegetable stock, garlic, rosemary and oregano. Give a stir, cover and cook on high for 3-4 hours OR on low for 6-8 hours.
Add kidney and Great Northern beans, ring pasta and zucchini to the crock pot, and heat on high for about 30 minutes. Salt & Pepper to taste.
Before serving, stir in green beans and spinach.
Top with fresh grated Parmesan cheese.
Nutrition Information:
Yield:
8
Serving Size:
1
Amount Per Serving:
Calories:

194
Total Fat:

2g
Saturated Fat:

0g
Trans Fat:

0g
Unsaturated Fat:

1g
Cholesterol:

1mg
Sodium:

765mg
Carbohydrates:

37g
Fiber:

10g
Sugar:

9g
Protein:

11g
Nutrition isn't always accurate.
—
Mezzetta Napa Valley Homemade – the Sauce Memories Are Made Of!
What will YOU make with your Mezzetta® Napa Valley Homemade™ Sauce?
Don't forget to ENTER THE GIVEAWAY!
—