This coconut cream poke cake is so moist, and it's topped with coconut cream whipped cream frosting and sweetened coconut. A Coconut Lover's DREAM come true!
Now, I am here to tell you, that there aren't many things I don't eat.
I'm really not picky at all.
But coconut has never been a favorite of mine.
I love it in Pina Coladas … and suntan lotion … even more when these two things are put together,
but to eat?
Not so much.
I usually just eat around the coconut, and give that part to him, which is just one more thing he can love about me in the end, right?
Well, I have to admit, this cake I made here, it has got me starting a love affair with coconut!
I actually ate TWO pieces!!
(I know, right?)
I was asked to bring dessert for the Super Bowl party my brother and sister in law were hosting, and just like my husband, his whole family LOVES coconut.
I have seen various coconut cake recipes I wanted to try, but honestly, couldn't settle on one.  So I started picking components from each one I liked and this was the finished product!
I will just tell you, that this is BY FAR the BEST frosting I have ever eaten.
I switched up my whipped cream frosting just a smidgen and it was PERFECTION with this cake!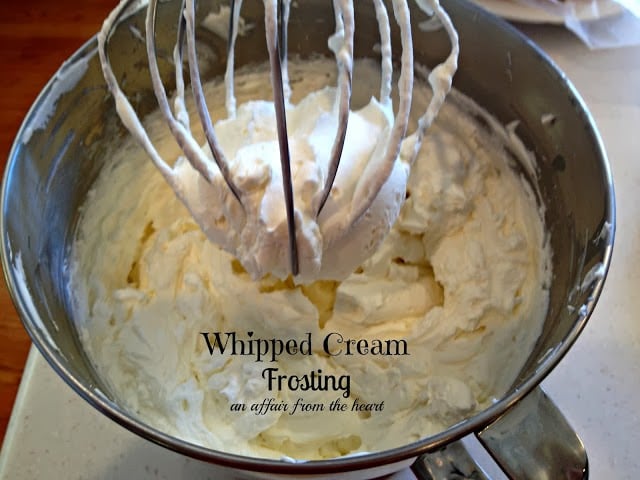 Coconut Cream Poke Cake with Coconut Whipped Cream Frosting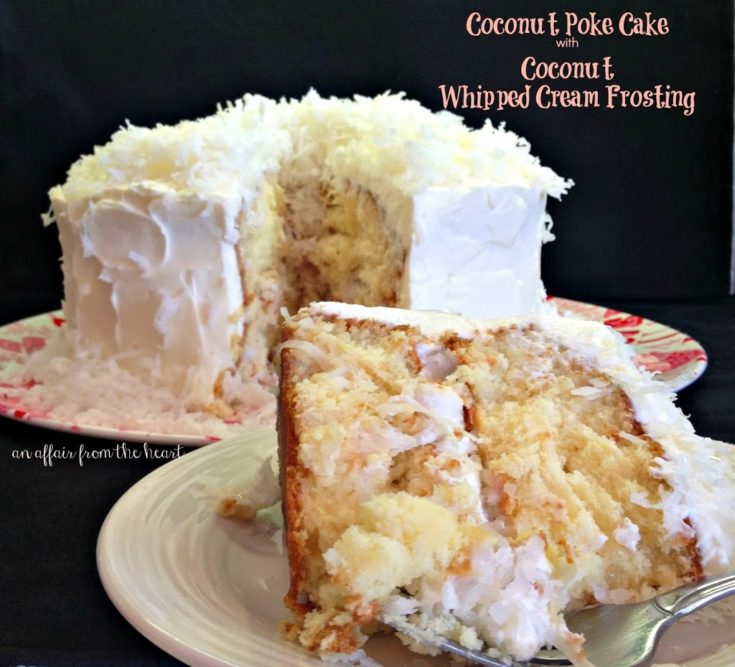 Ingredients
Cake:
1 box of white cake mix
1 3.4 ounce box of instant vanilla pudding
1 1/4 cup milk
1/3 cup oil
3 egg whites
1 teaspoon coconut extract
** I got to thinking that every cake mix isn't the same, so rule of thumb: Replace water with milk, add pudding of choice, add extract and leave the eggs and oil as per instructions on the
box of cake mix! **
"Poke" Cream:
1- 15 ounce can coconut cream
1- 14 ounce can sweetened condensed milk
Frosting:
1- 8 ounce package cream cheese, softened
1/2 cup sugar
1 teaspoon coconut extract
1/2 teaspoon almond extract
2 cups heavy whipping cream
2 1/2 cups shredded sweetened coconut
Instructions
Preheat oven to 350 degrees and grease and flour 2 - 9" cake pans.
**this cake would be super easy to make as a 9x13, so if you're not looking for the presentation of the layers, I would recommend it! **
In your mixer, combine all of the ingredients for the cake for about 30 seconds, then beat for 2 minutes.
Distribute evenly in each cake pan and bake for 30 minutes or until cake tester comes out clean.
Combine ingredients for cream and set aside.
While cakes are warm poke holes all over with a large fork or skewer.
Pour cream mixture over the top of the cakes.
(I think the next time I will only use about 3/4 of the mixture, the cakes got REALLY moist, which made them a little more difficult to layer)
Place in the refrigerator for about 5 hours, or over night is even better.
To make the frosting, cream together cream cheese, sugar and extracts until smooth.
Then, with the whisk attachment, slowly add the whipping cream and and whip until stiff peaks form.
(it tastes like a coconut cheesecake!!)
To remove the cakes from their pans:
This is a little tricky. I took a thin knife and ran it around the edge, and I sat the bottom of the pan in hot water for a minute or two, to loosen it up.
I flipped it out onto a piece of waxed paper, then flipped it again onto my plate.
Top with bottom layer with a little frosting, and about 1/2 cup of coconut.
Place second layer on top, frost and top with remaining coconut.
If you are making in a 9x13 you wouldn't have to worry about removing the layers, just frost and top with coconut, and you're done!! 🙂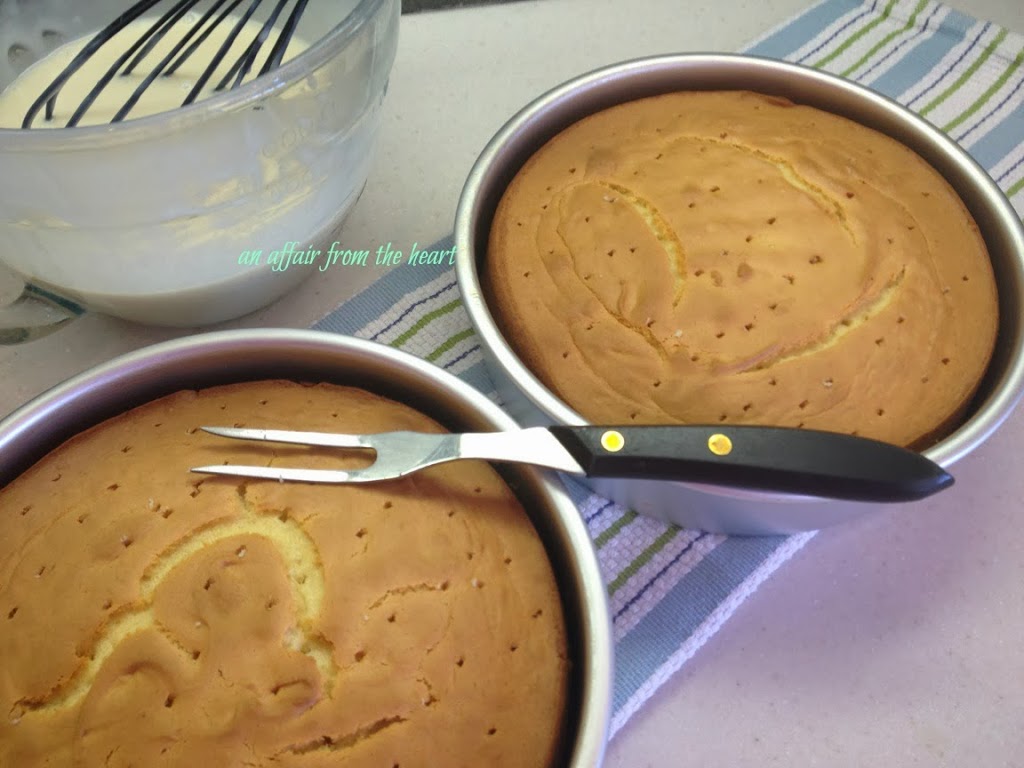 While cakes are warm poke holes all over with a large fork or skewer.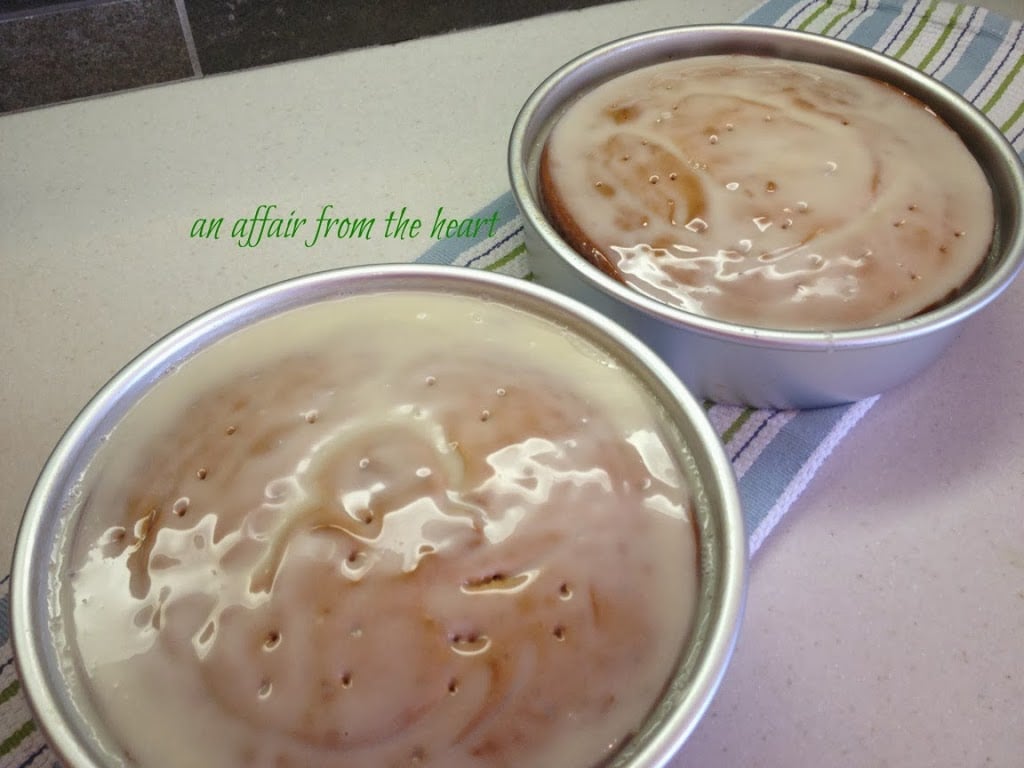 Pour cream mixture over the top of the cakes.
(I think the next time I will only use about 3/4 of the mixture, the cakes got REALLY moist, which made them a little more difficult to layer)

If you make this recipe, I'd love to know! Snap a picture, share the photo on social media with the hashtag #AnAffairFromTheHeart – I'd love to see what you made! – Michaela