Resort Omelets
As an Amazon Associate and member of other affiliate programs, I earn from qualifying purchases.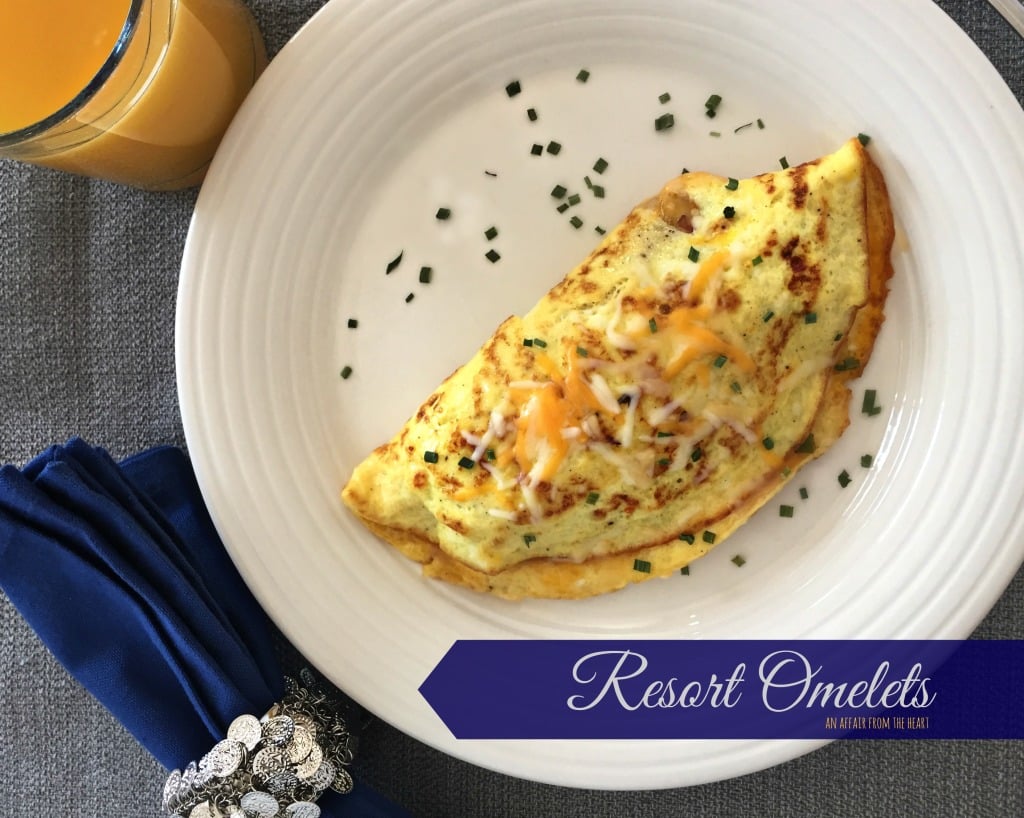 Since my hubby and I took our first vacation to Jamaica, he has been a rock-star at making omelets That was our favorite meal of the day when we visited the Sandals resort back in 2004. Lazy mornings, walking in the sunshine, hand in hand, to the dining room where you told the chef making omelets just what you wanted in yours. He would whip it up there right in front of you, and every day it was delicious.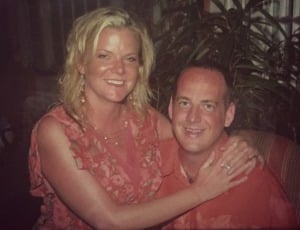 My husband, Brian and I in 2004 in Jamaica
Brian and I have always loved omelets, but making them at home, they never ever turned out. The ingredients always seemed under cooked, they split, they just were sub-par. Brian finally asked the man making them what the secret was, watched and learned and ever since then, this is my favorite breakfast he makes. I always request them on Mother's Day and my birthday, he can't tell me no then, right? They are time consuming, especially when you are making breakfast for typically 6 people, and we all want to eat at the same time. The other thing, they tend to make a mess out of the stove, or maybe that's him while he's pretending to be on his own cooking show, either way, it's all 100% work the extra time before and after when you take that first bite. They are so good.
Visiting Jamaica that year had us sold on all inclusive resorts. We have been lucky to have gone to many different ones since then, Puerto Vallarta, Mexico, Cancun and Cabo San Lucas, Mexico, and have since that first trip we have been back to Jamaica two more times.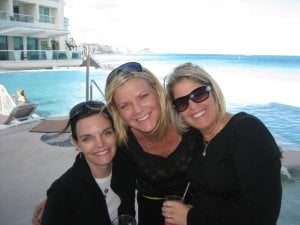 Here I am, with two of my best girlfriends in Cancun, we took a couples trip together in 2010.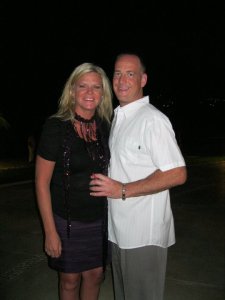 Brian and I again in Jamaica in 2011.
We enjoy the all- inclusive stays. There is so much to do, you don't feel like you really even NEED to leave the resort. We always pick places that offer many different cuisines; One night eating sushi, the next Italian, of course in Mexico, I eat enough guacamole to choke a horse, you get the idea… so many choices, plus entertainment every night. I will admit though, that when we are on vacation, we don't do much of anything at all. You will typically find us in a lounger on the beach or by the pool all day, reading napping, sipping cocktails, taking dips when we are hot and long walks on the beach. We usually venture out in to the town once while we're there to take in the sites. Plus, we have 4 kids who are counting on souvenirs when we return!
Here we are in Cabo San Lucas, Mexico in 2012.
We love the RIO Palace, there, have been there twice now. Going into town in Cabo is always fun! The food is incredible, and I mean, how can you be right by Sammy Hagar's original CABO WABO and NOT have a margarita or two?
Jamaica 2013
I have to say that we are both head over heals in love with Jamaica, though. They have the nicest people I have ever met in my life. Seriously. The kindest, friendliest people we have ever had the pleasure to meet. If I ever win the lottery, you know where you will find me full time.
Well, thanks for taking a little trip down memory lane with me, on to the omelets!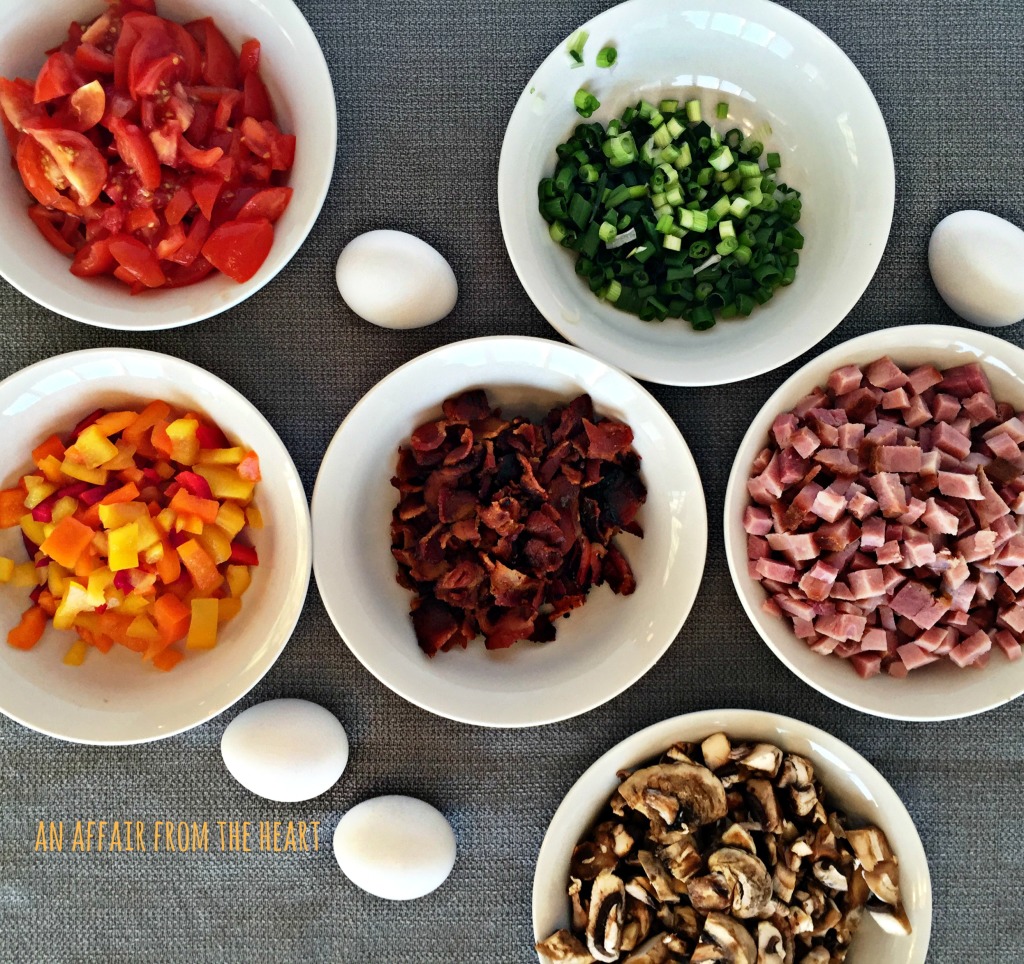 You can put anything you want inside. We always chop up whatever we have on hand. This past weekend, that meant tomatoes, green onion, bell peppers, bacon, ham and mushrooms.
Of course, eggs and CHEESE!! Ya gotta have the CHEESE! I almost always have a Mexican blend on hand, you can use whatever you want. Buy it shredded or shred it up yourself.


The trick is this: You have to have two pans going. Don't just make the egg part, then toss those veggies in and fold it over. That's when it'll seem under-done, and most likely split.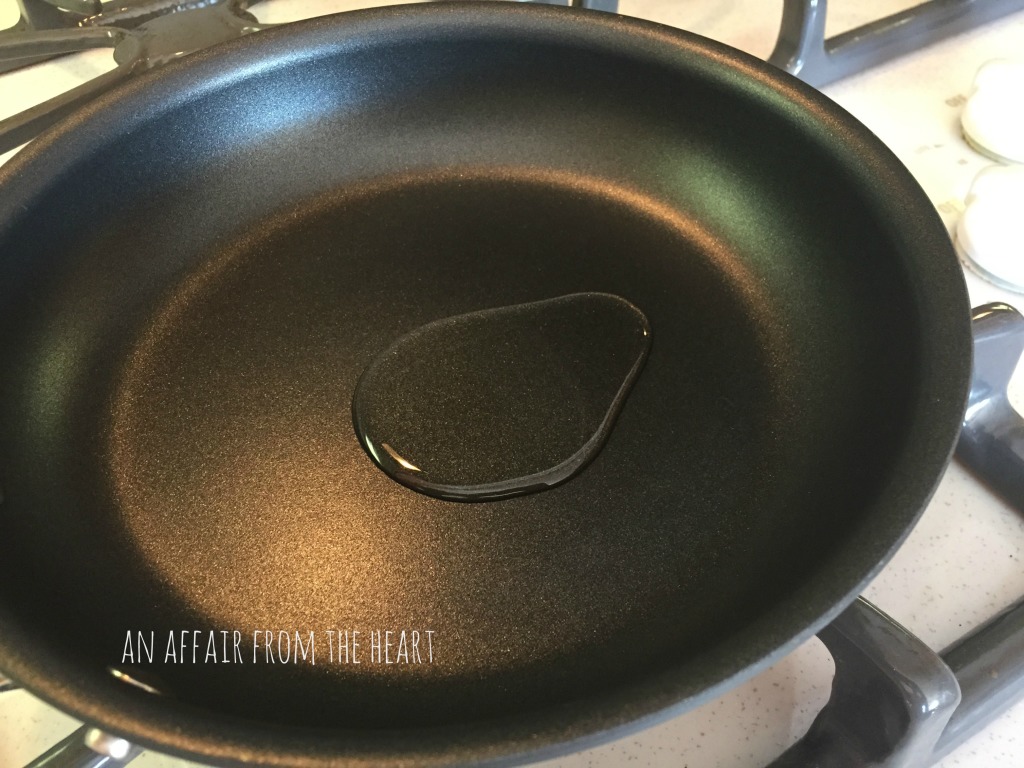 pour oil in the bottom of both the egg pan and the pan that will hold the ingredients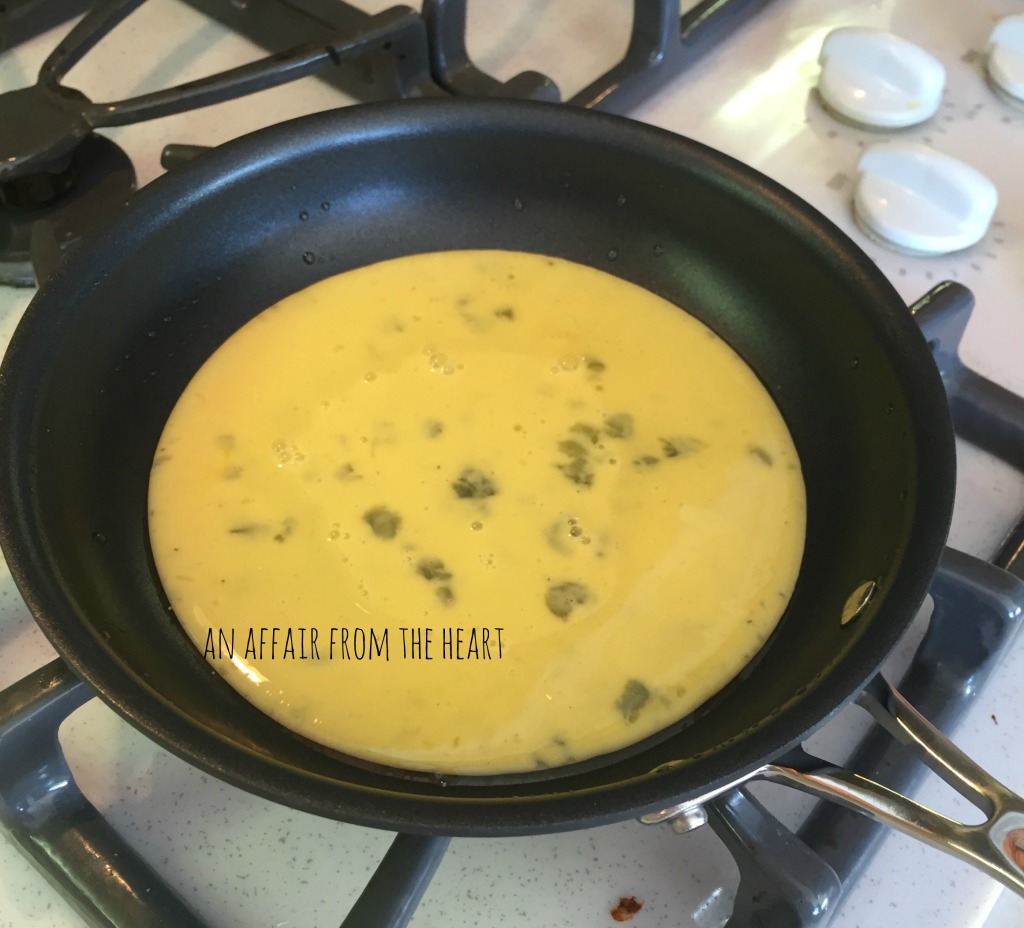 As it cooks make sure to keep edges well oiled, Brian keeps a little measuring cup so he can add as needed, it needs to cook well, or it'll fall apart when you flip it.
Saute all of the ingredients in the other pan while the eggs are cooking. They'll get done about the same time.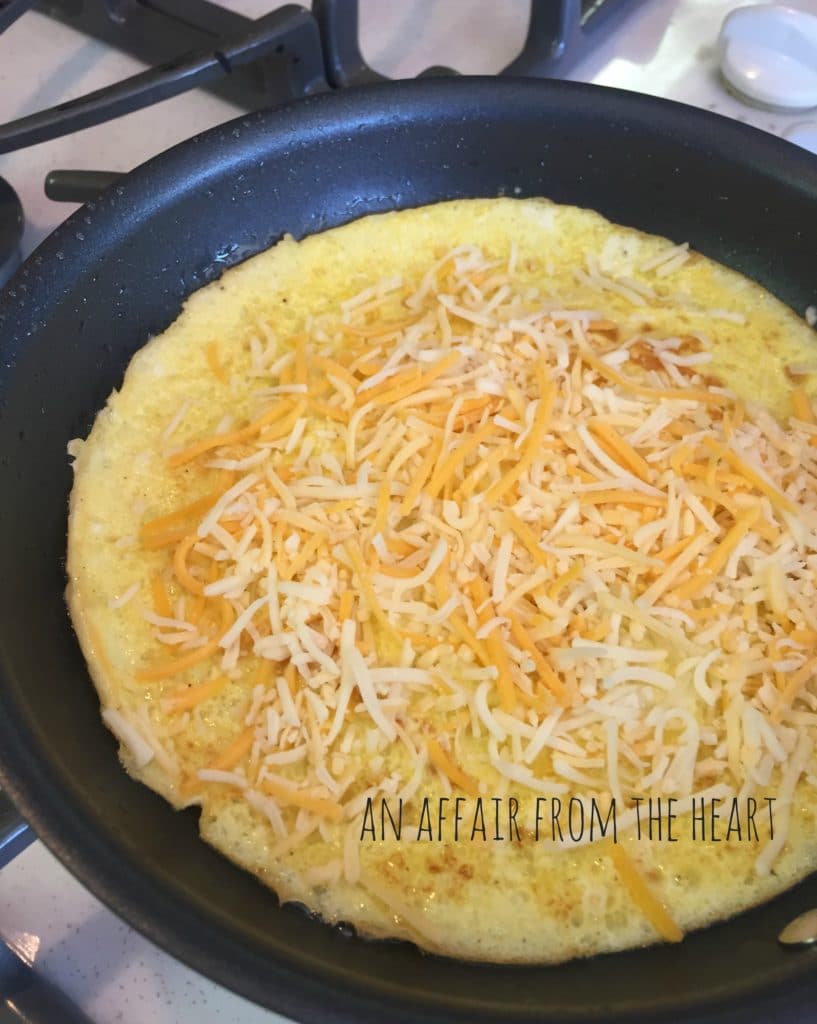 After you flip the egg, top with cheese.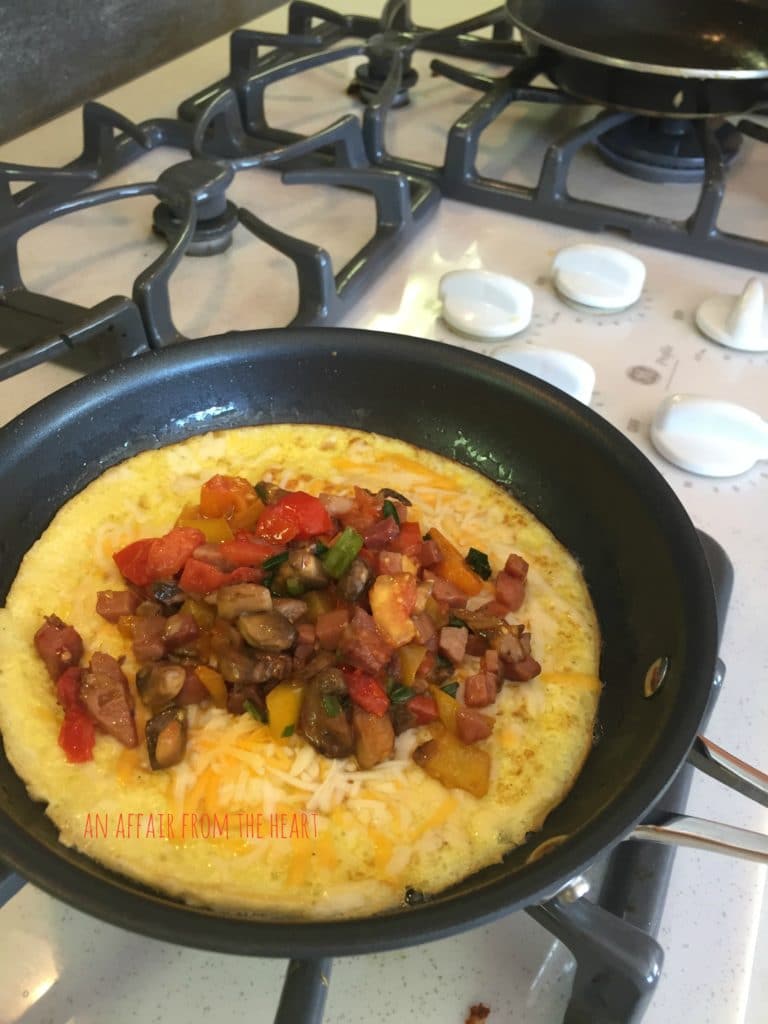 Here is where you will add in the tomatoes if you are using them, otherwise it gets too runny. Spread the filling over the egg and cheese.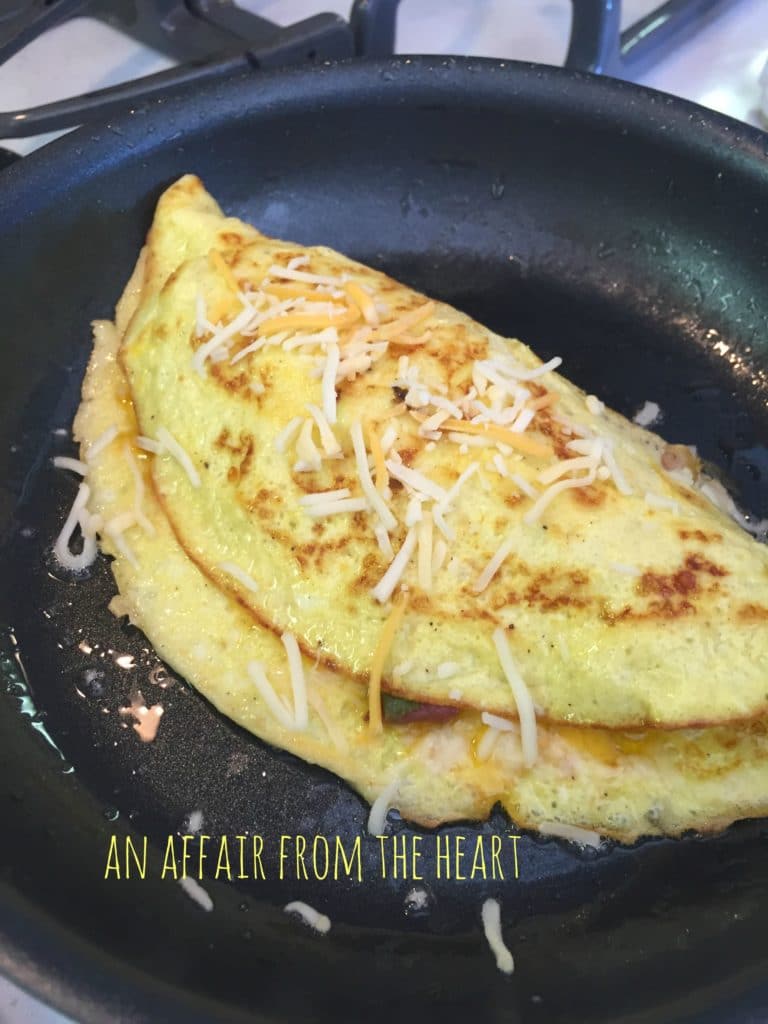 Carefully fold it over and top with more cheese.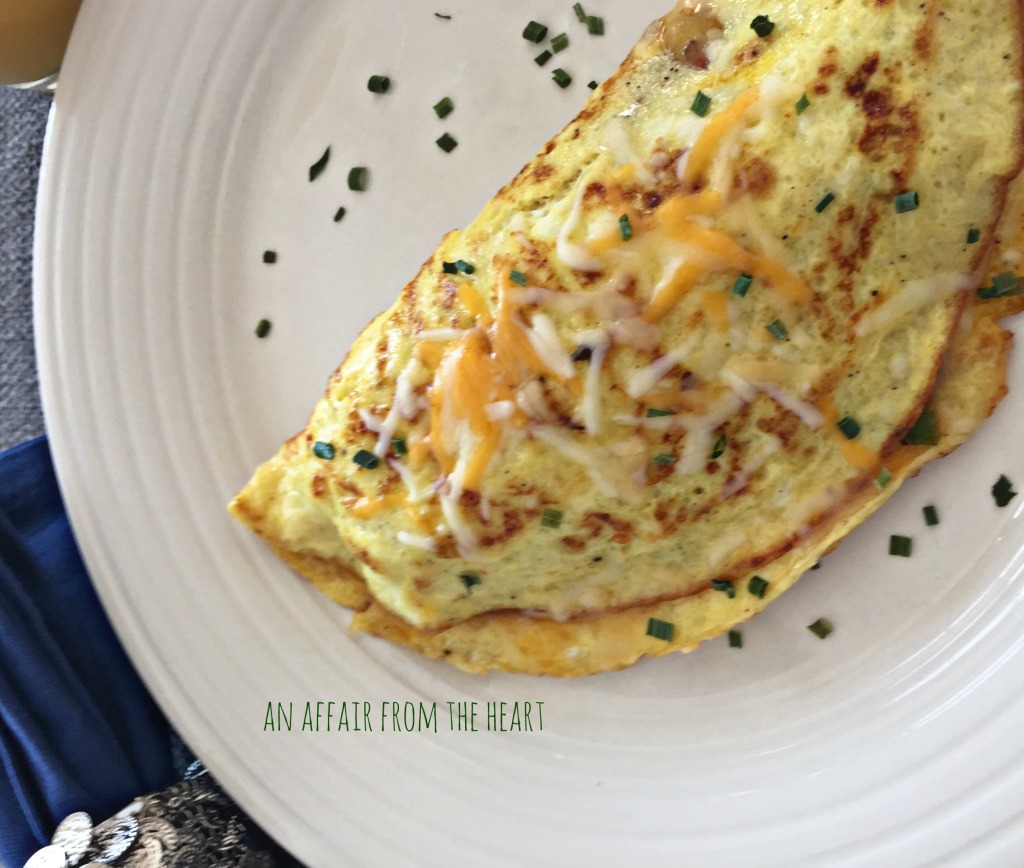 We topped ours with a little chive, it looks pretty and I love me some chives! 😉
~~~
Yield: 3 omelets
Resort Omelets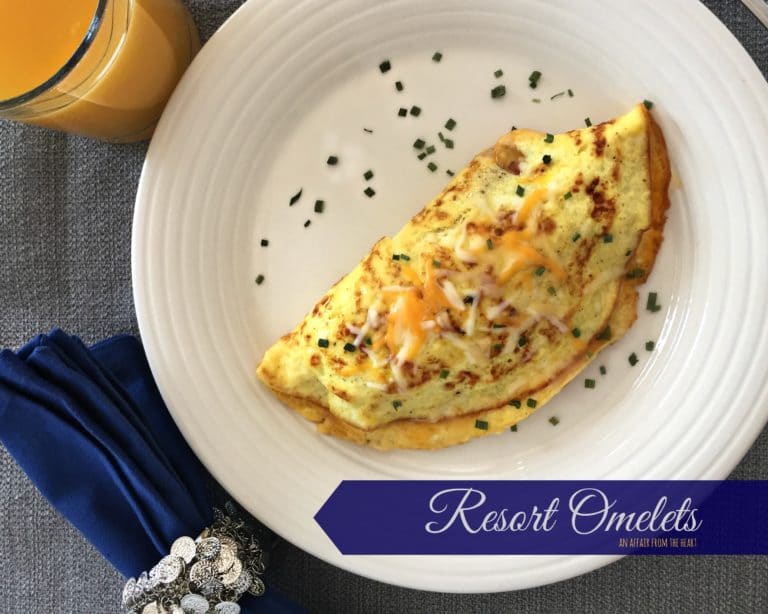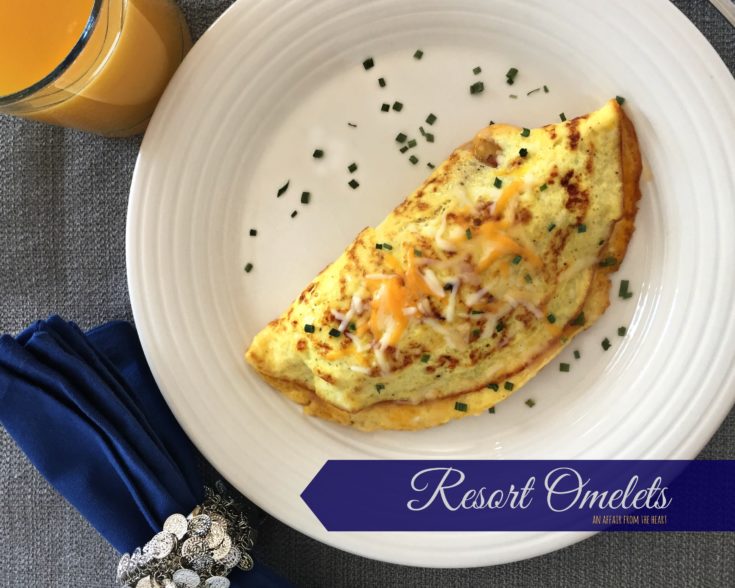 Ever wonder how the omelets at resorts or brunch restaurants that are made to order taste so good? We learned how in Jamaica and this recipe will tell you how it's done!
Ingredients
4 eggs
1/2 cup milk
salt and pepper
Vegetable Oil
Filling ingredients are optional: bacon, ham, bell pepper, onion, mushrooms, cheese, tomatoes what ever you desire!
Instructions
Whisk together eggs, milk and salt & pepper. Set Aside.
Cook any meat you are putting into the omelets prior to making them.
Chop all of the ingredients up.
Place a small about of oil (about 1 T.) in each of 2 small skillets on the stove top, over medium heat. Keep the oil close by to add as needed. In one pan add approximately 1/2 cup of egg mixture, in the other, about 1/2 cup of your desired ingredients. (Do not add tomatoes or cheese yet) Saute filling ingredients while the egg is cooking. Using a rubber spatula to swirl around the edges, adding more oil if needed as it cooks. You want it to move around freely in the pan. Flip the egg over in the same pan, and top with cheese. (about 1/4 cup) Allow the bottom to cook for a minute or two, this will become the outside of your omelet. Spread sauteed filling over the top of the cheese and egg (if you are adding tomatoes, do that now) and gently fold in half. Top with more cheese, and serve. OR if you are making these for a sit down meal, place on a lined cookie sheet in keep in the oven while the others are being prepared. (oven set to warm - about 200 degrees)
Nutrition Information:
Yield:
3
Serving Size:
1
Amount Per Serving:
Calories:

343
Total Fat:

21g
Saturated Fat:

7g
Trans Fat:

0g
Unsaturated Fat:

13g
Cholesterol:

300mg
Sodium:

909mg
Carbohydrates:

11g
Fiber:

2g
Sugar:

5g
Protein:

27g
Nutrition isn't always accurate.
If you dig breakfast and trying something new, I bet you would love this EGG & HASH BROWN BREAKFAST PIE!
Now, I have to go, all of this cold weather outside, and talk of vacations has me thinking I need to make a phone call.
To my travel agent!