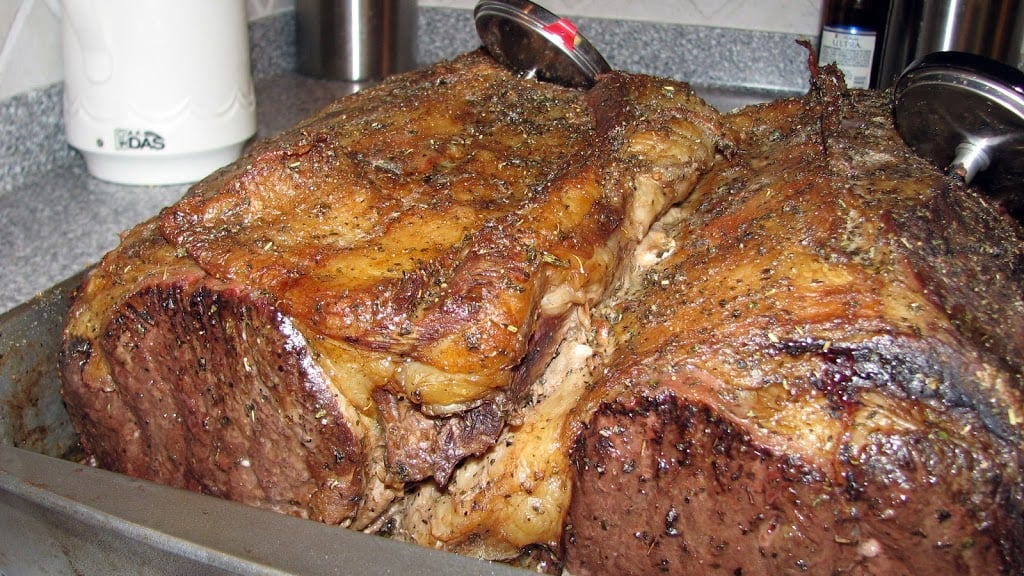 Italian Style Prime Rib Roast
No… your eyes aren't playing tricks on you… that is 24, yes, 24 pounds of PRIME RIB right there.
My In-Laws have always done Prime Rib for Christmas dinner.
I will honestly tell you that until I had this magnificent dinner, I had never had Prime Rib in my life.
After having it, I would try to order it in a restaurant, and it was such a HUGE disappointment!
They do it best I will tell you.
I'm not sure why I should be surprised, though.
In the department of Mother and Father In-Law, I just plain hit the jack pot.
They are such a fantastic family, and I thank God for them every night I lay my head on my pillow.
Denny, my Father-in-law, loves to read my blog, and gets a huge kick out of me taking pictures
of food when he visits.
"Don't 'cha wanna take a picture of that one, Kala?"
This year, I decided to document the making of the Prime Rib. With the help of my hubby.
If you want to make a Prime Rib that will wow the masses…. here is what it takes!
4-5 pound rump roast or prime rib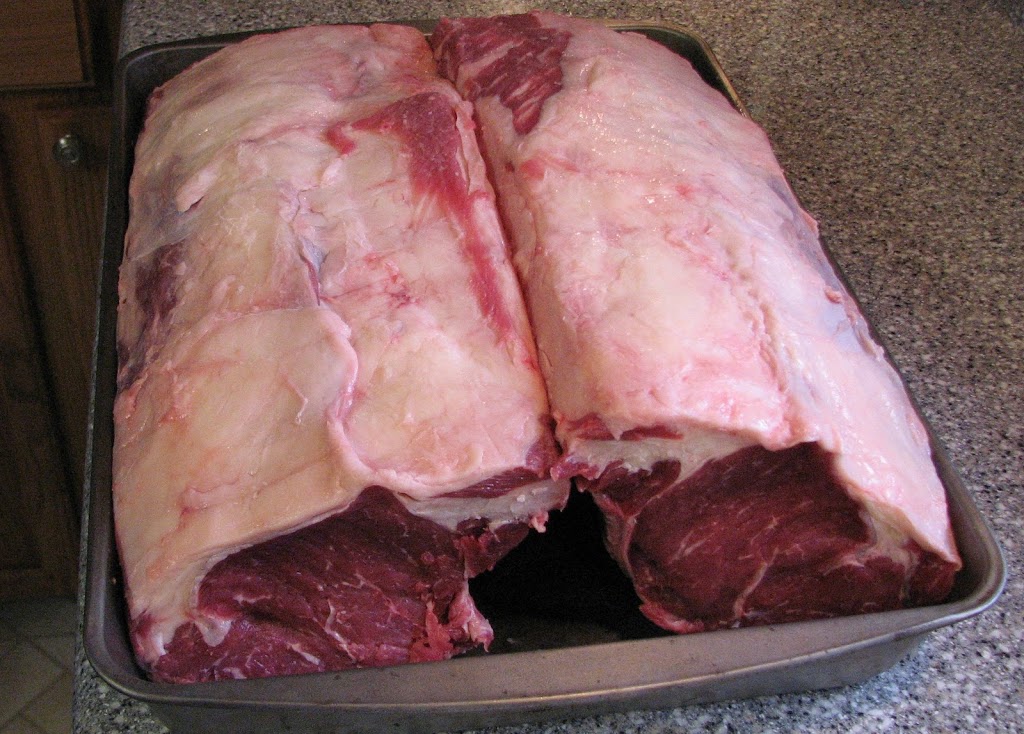 or if you're at our house… 24 pounds….
Denny cuts off a few steaks so they will fit in the pan!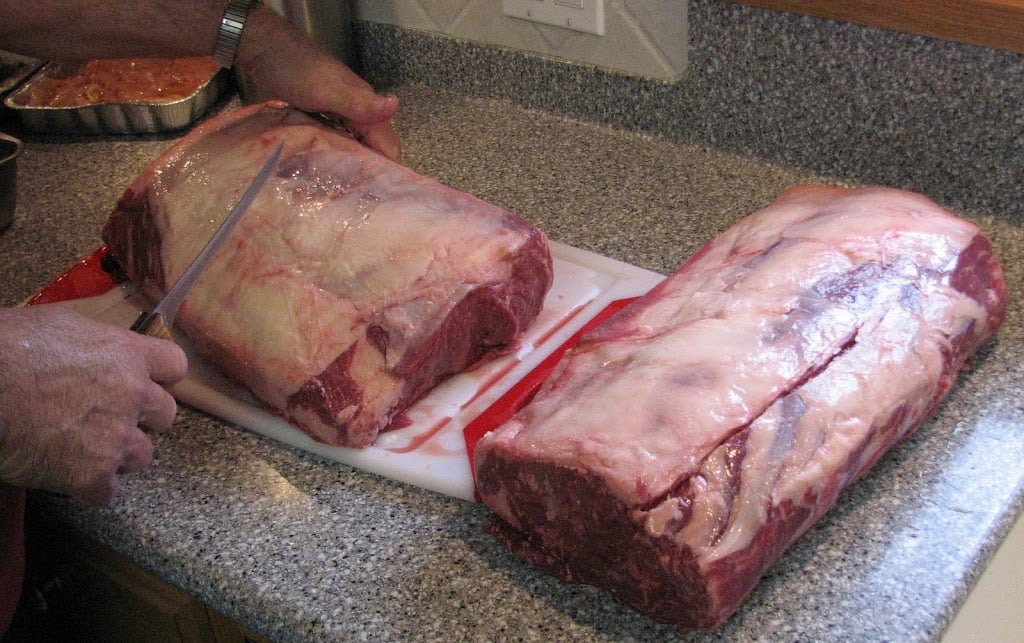 steaks go in the freezer to be enjoyed later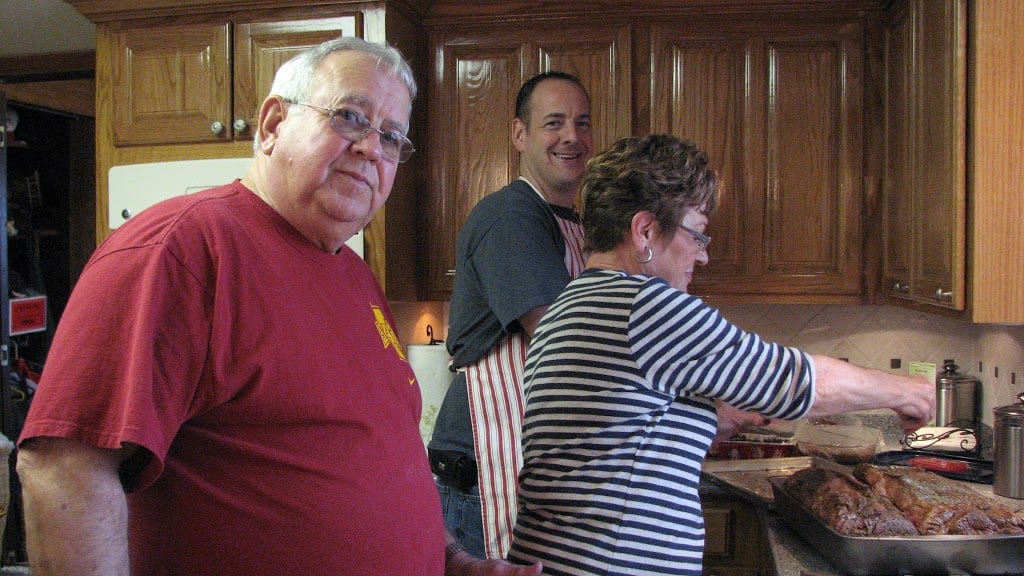 Brian helps his parents do the herb and spice rub after the meat is seared to perfection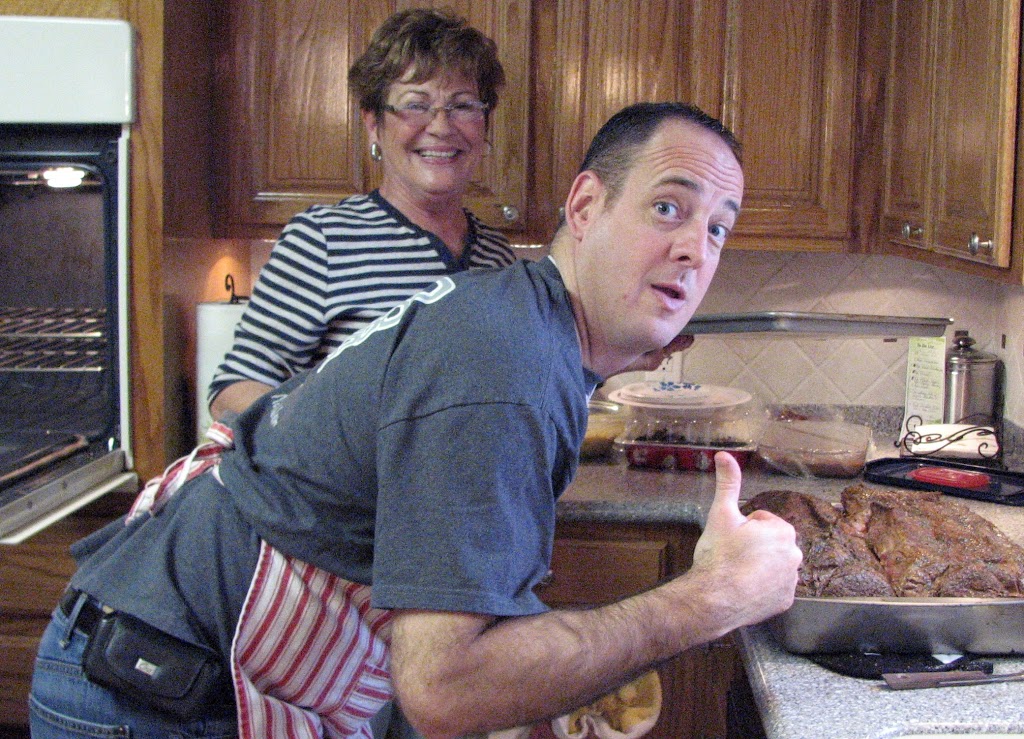 goof!! Think he's excited?!?!
I kept teasing him about his apron. I told him he looked like an elf!
Every time he put it on I looked at him and said "Herbie doesn't like to make toys!"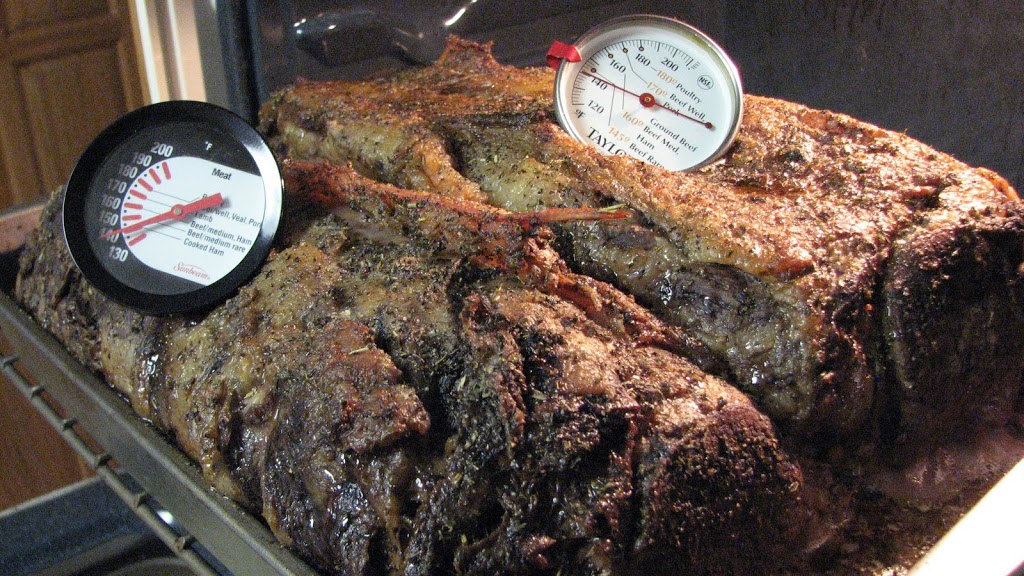 we take it out when it reaches 140 degrees so those who like it rare get their way!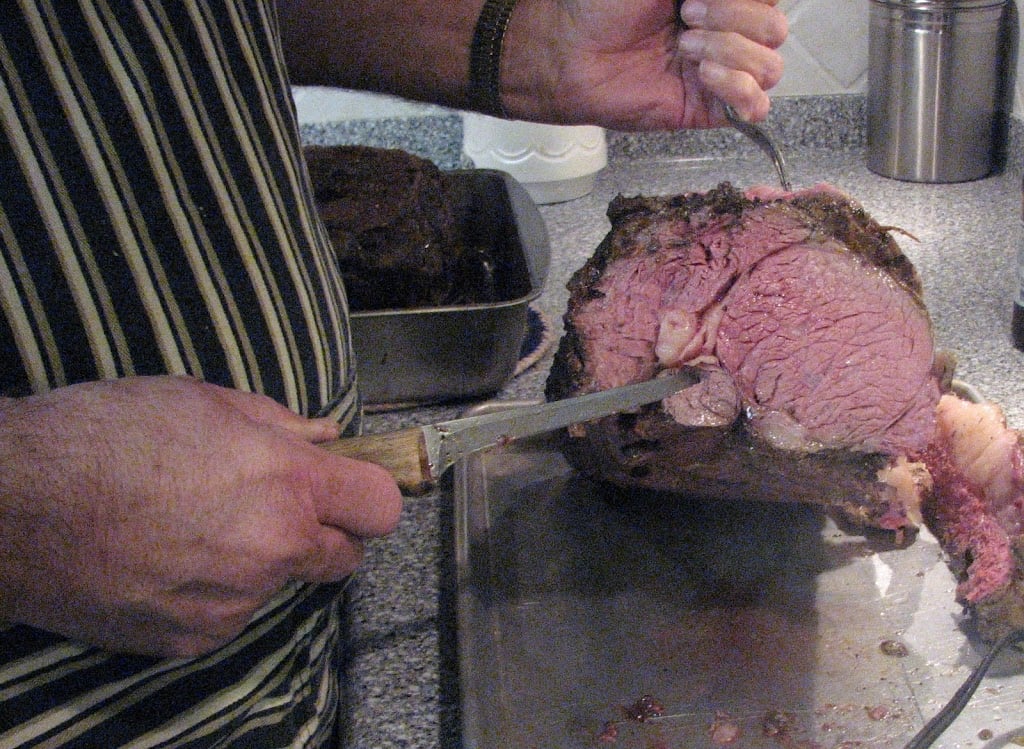 perfection!
Denny trims the fat off of the roast, and begins slicing. He sets an electric frying pan with au jus to the side to cook it a little more for those who don't like it too pink!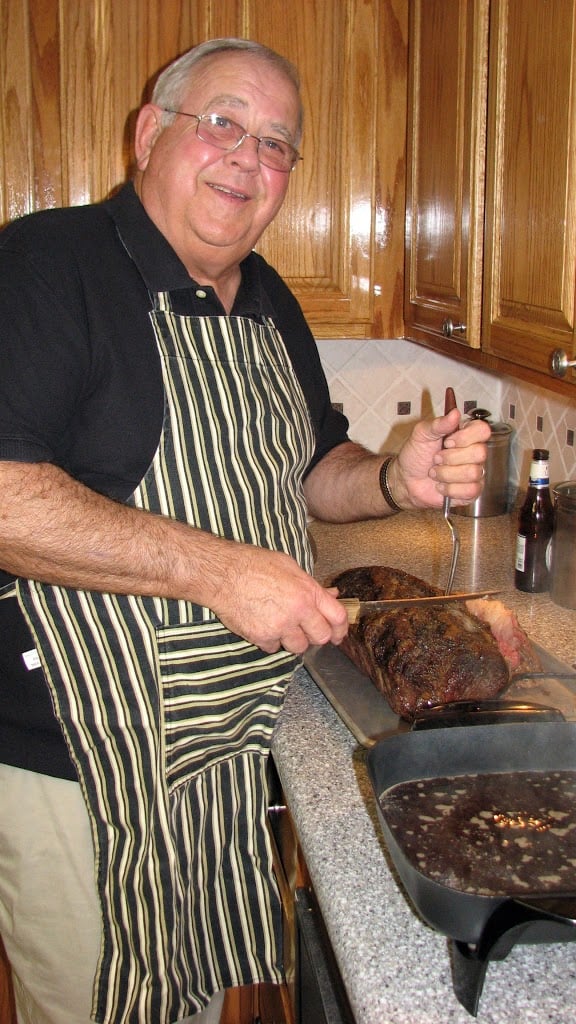 Denny gets everyone's cut done to their liking. He looks proud here, doesn't he?
As he SHOULD!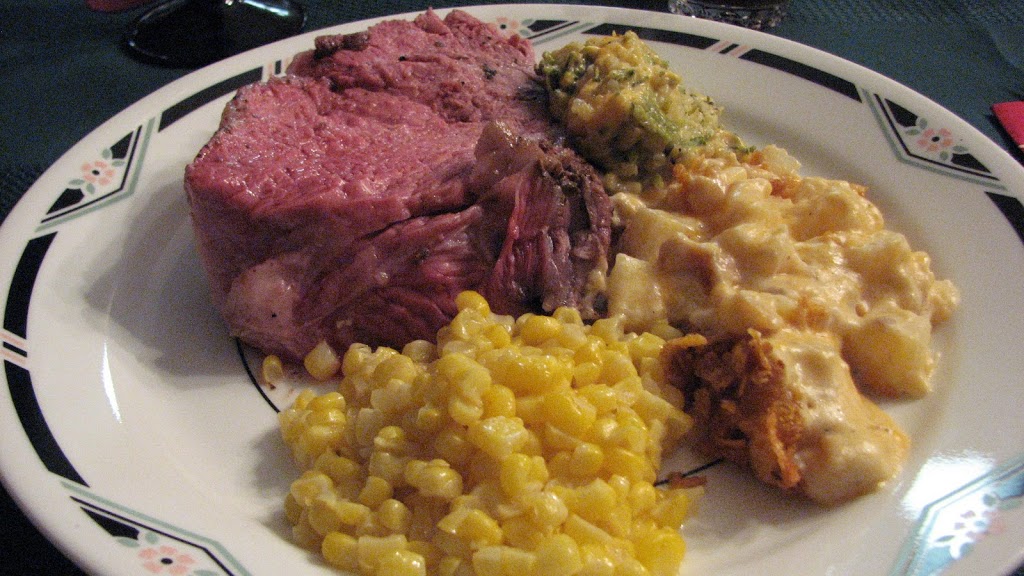 my plate: prime rib, home grown sweet corn, potato casserole and broccoli rice and cheese casserole
(please don't count the calories!!)
It was hard not to dig in…but I took a picture!! It was MAGNIFICENT!!
I highly recommend you try this next time you make a prime rib!! It's DIVINE!
Yield: 4-5 lb Roast
Italian Style Prime Rib Roast - My In-Laws do it BEST!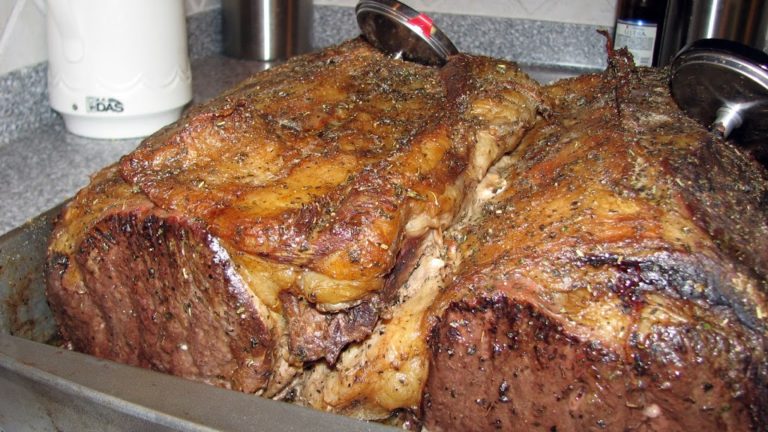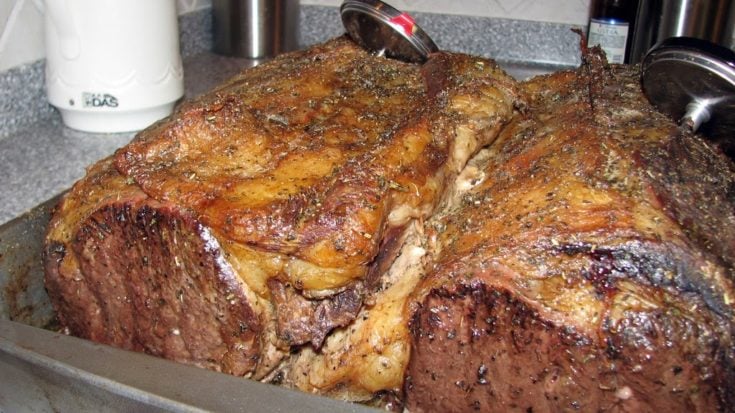 Italian Style Prime Rib Roast. Seasoned with Worcestershire and Italian spices.
Cook Time
1 hour
15 minutes
Total Time
1 hour
20 minutes
Ingredients
4-5 pound rump or prime rib roast
Herb and Spice Mix
1 T. Worcestershire Sauce
1/4 t. each: dried parsley flakes, basil, pepper, Italian seasoning
1 t. salt
Generous sprinkling of garlic powder and onion salt
Au Jus Mix
1 beef bouillon cube dissolved in 1 cup of water
Put meat in and ungreased pan on a rack, fat side up and bake at 450 degrees for 15 minutes to sear the meat.
Instructions
Put meat in and ungreased pan on a rack, fat side up and bake at 450 degrees for 15 minutes to sear the meat.
Remove from oven and rub with Worcestershire Sauce, mix herbs and spices together, sprinkle over meat, rub in.
Continue to roast at 250 degrees for a total time of 15 minutes per pound.
This will make the roast Medium Rare.
Add bouillon to drippings to make Au Jus.
For extra, just use McCormick au jus packets, according to package instructions.
Nutrition Information:
Yield:
1
Serving Size:
1
Amount Per Serving:
Calories:

9702
Total Fat:

798g
Saturated Fat:

330g
Trans Fat:

0g
Unsaturated Fat:

377g
Cholesterol:

2143mg
Sodium:

5986mg
Carbohydrates:

13g
Fiber:

4g
Sugar:

3g
Protein:

578g
Nutrition isn't always accurate.

If you make this recipe, I'd love to know! Snap a picture, share the photo on social media with the hashtag #AnAffairFromTheHeart – I'd love to see what you made! – Michaela