Everything Bagel Dip + Video
As an Amazon Associate and member of other affiliate programs, I earn from qualifying purchases.
A creamy dip made with everything bagel spice. Serve it with bagel chips. I dare you to try and leave it alone!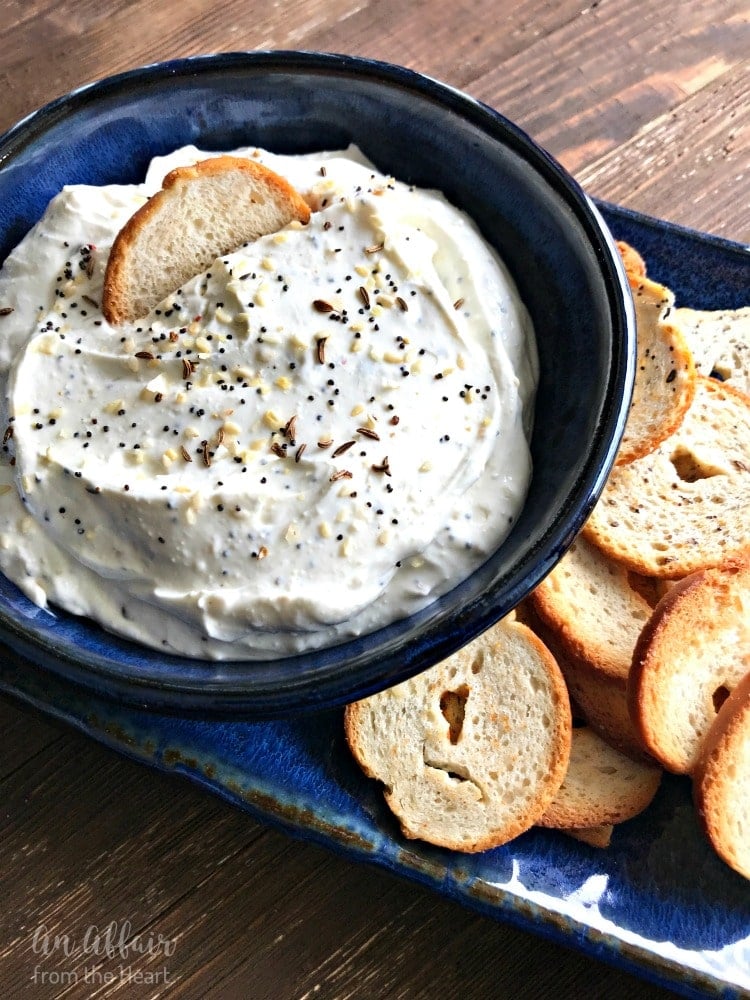 I feel like I want to be one of those announcers, you know the ones, with that really good voice? "Ladies and Gentlemen!! … it's the moment you have all been waiting for!" If you only knew how long I have not only been waiting to make this dip but how long I have been waiting to share it with you!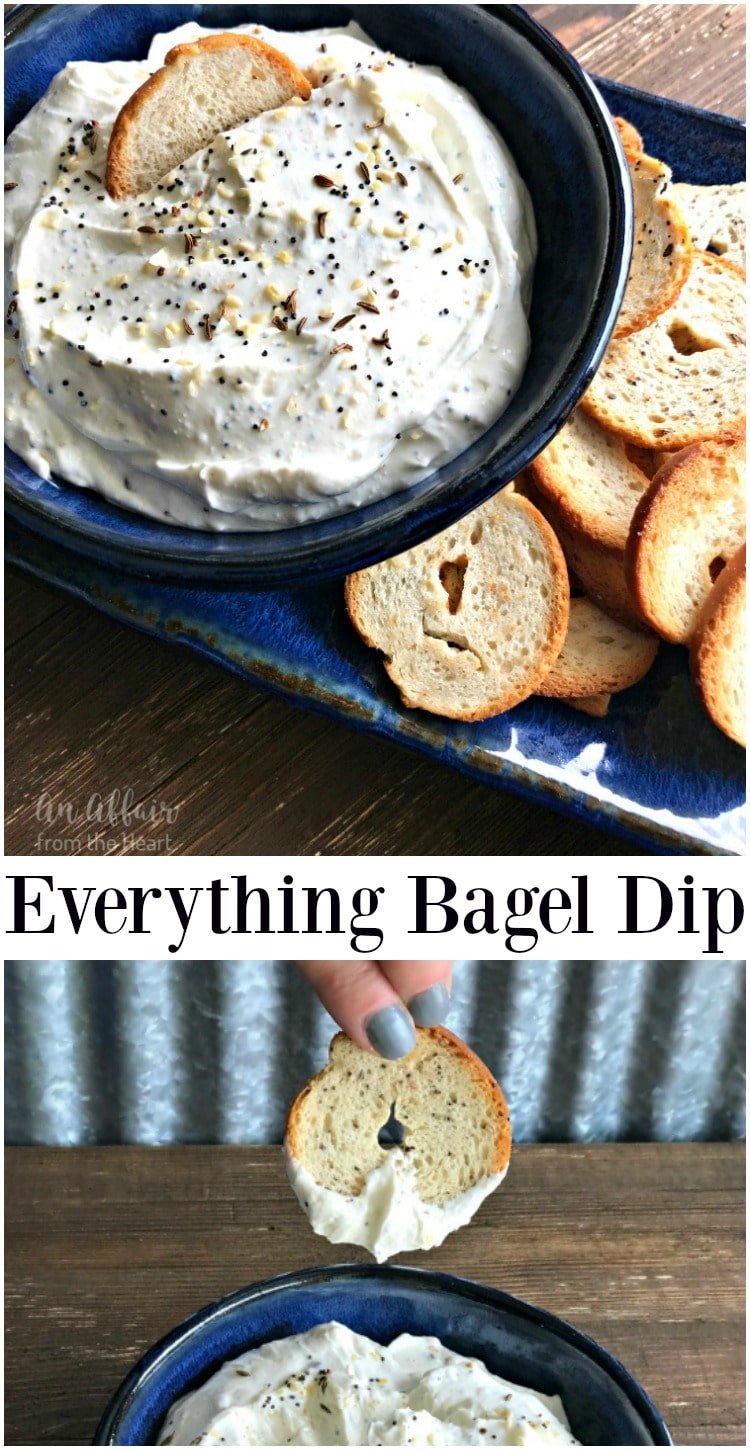 You see, I have wanted to make this dip for a really long time. My friend, Jennifer, shared it on her blog, Take Two Tapas, like a year an a half ago! I have drooled over it every time it showed up in my social media feeds. I promised myself I would make it. But for some reason, I just didn't. Then … drum roll please … I chose her blog for our Spring Freaky Friday blog hop! I knew EXACTLY what I was making.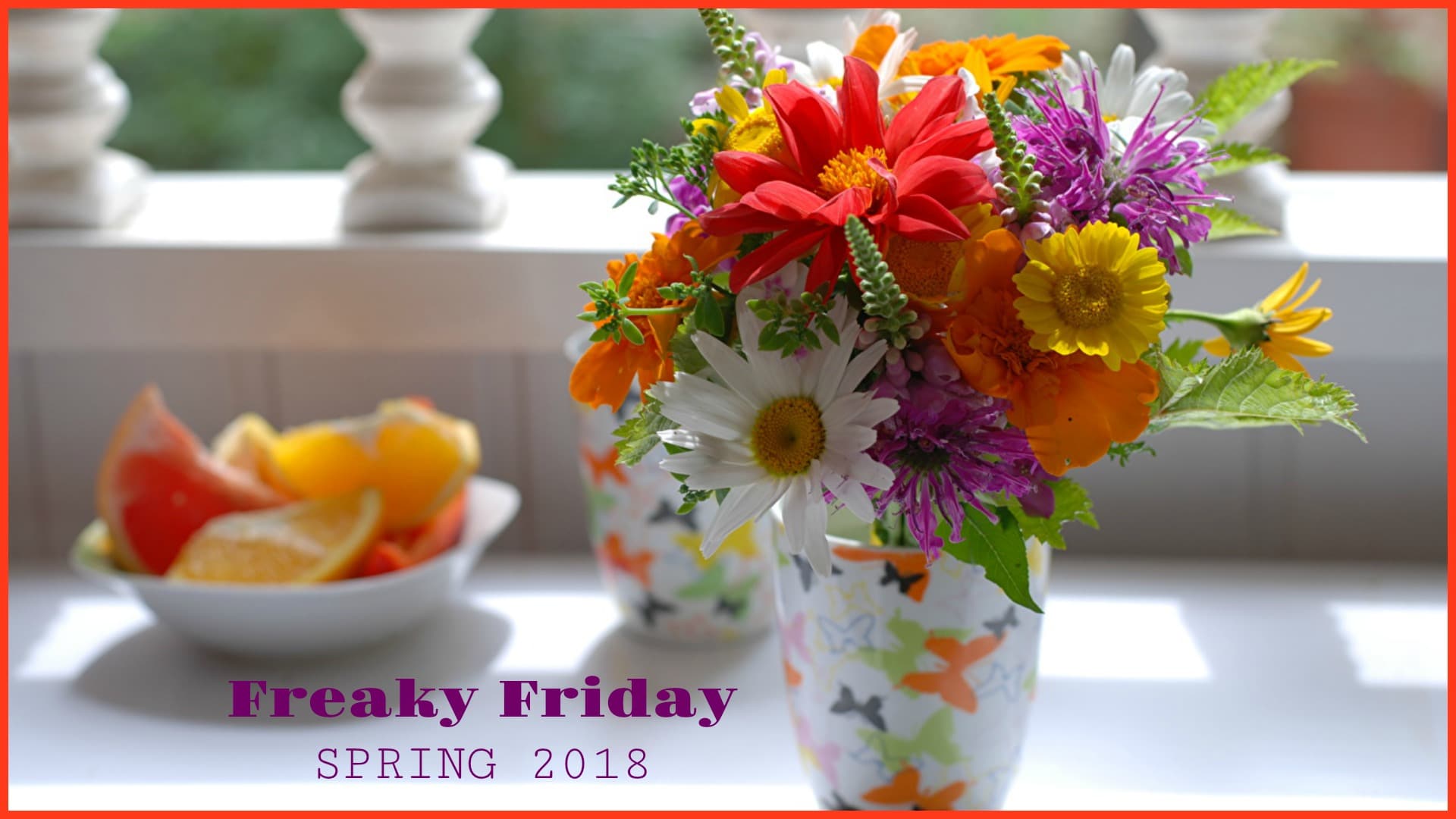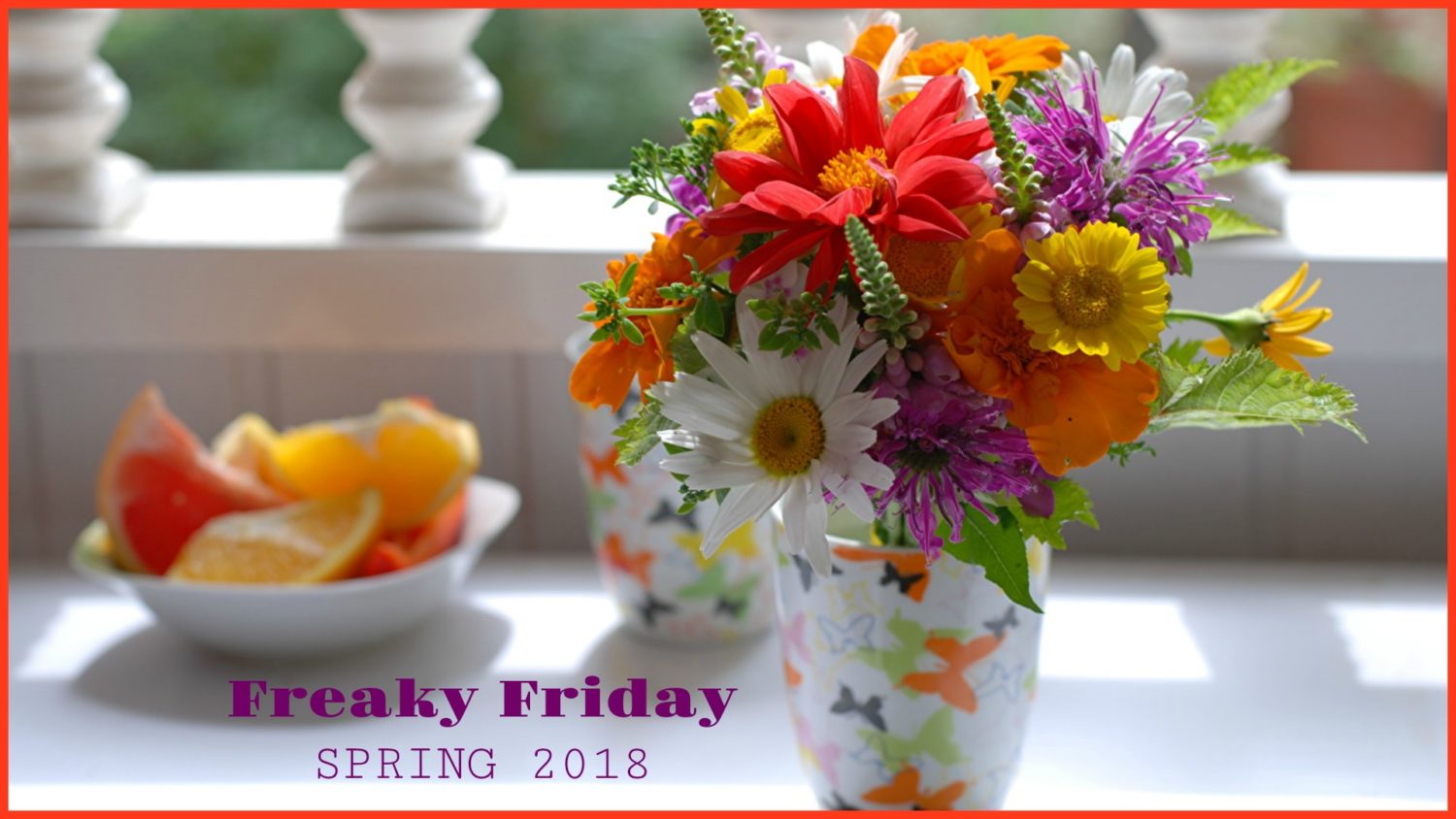 What's Freaky Friday you ask? It's a good old fashioned blog hop, that I organize once a season. A group of my blogger buddies gets together and we are secretly assigned one another's blogs to cook/bake from. Then on one selected Friday, all of our posts go live at the same time, and we share them with each other and with you! It's a time for you to grab all sorts of yummy recipes AND find all kinds of new bloggers to love.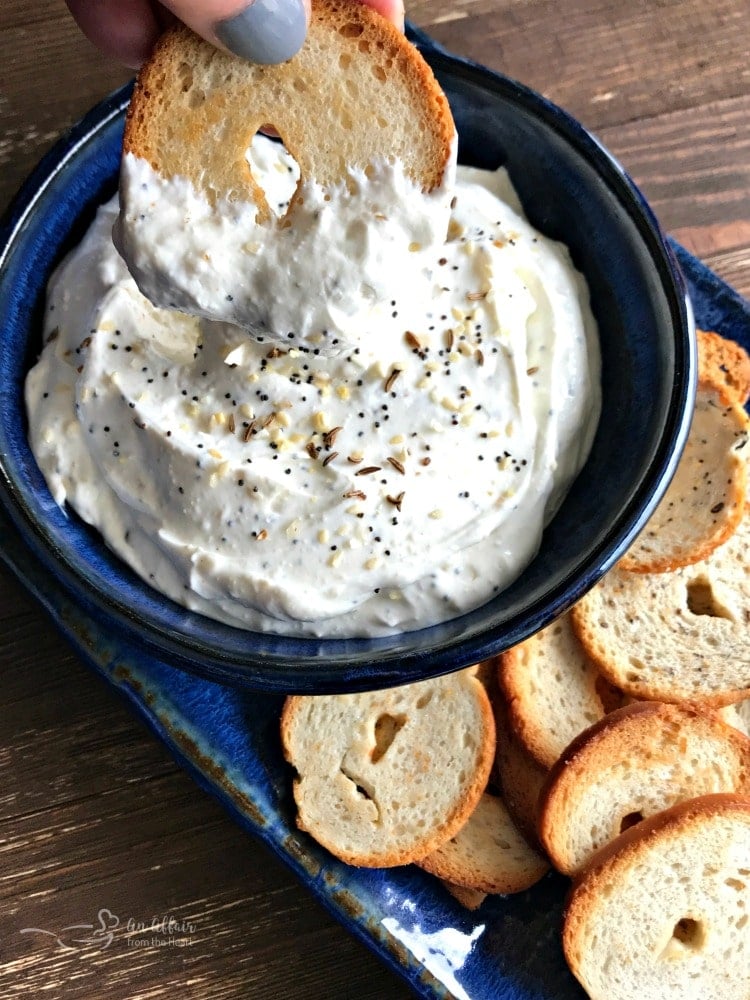 Food bloggers are a close knit group of people for the most part, and when you find your tribe? Well, it's a friendship that's hard to imagine. You see, I feel like I have known Jennifer for a really long time. But up until this past February, we had never met in person. We were supposed to last April … but due to tornadoes and flight cancelations and airport stays that I hate to even think about … we had to wait a year. This past February, we met at a conference in San Jose. We had such a good weekend, none of us were ready to head home. Sure we learned a lot, that's what conferences are for, right? But we all got to know each other better over cocktails at the hotel bar when the conference day came to an end. Let me tell you a little about Jennifer. She's married to her husband, Brooks, and is mom to two amazing boys. She and her family recently moved from Georgia to Arizona, but her Southern accent is a dead giveaway. She is one of the most down to earth women I have ever met, not to mention one of the strongest. She has a keen wit and is a fantastic writer. Her blog always makes me laugh — and holy crap! Can this girl cook and make some cocktails!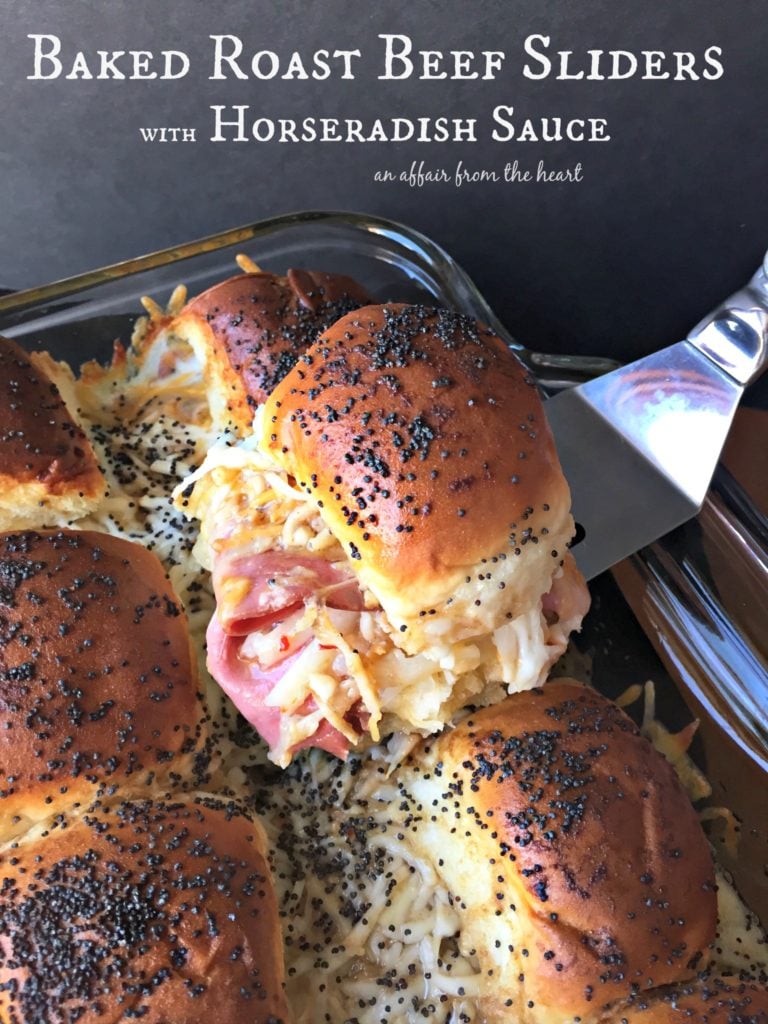 This is the second time I have had Jennifer's blog. The first time I made these Baked Roast Beef Sliders with Horseradish Sauce, they were a giant hit at our football parties! Her blog has such a fun niche. She focuses on big flavor and smaller bites. Her blog is FULL of amazing cocktails, appetizers, dips and even sweets. She manages to take the flavors of everyday things, and turn them into fun party food. Like remember those oatmeal creme pies we ate as kids? She turned those into a DIP! And spicy food? She and I have that love of spice in common. I can't wait to make her Pan Blistered Shishito Peppers. And swoon … don't even get me started on her Cuban Totchos with homemade pickles!! My, oh my! She is the queen of the cheese board and even can teach you how to host a brunch with a Bacon Bar that will blow your mind! So, take some time and visit Jennifer's blog and see for yourself how super cool she is.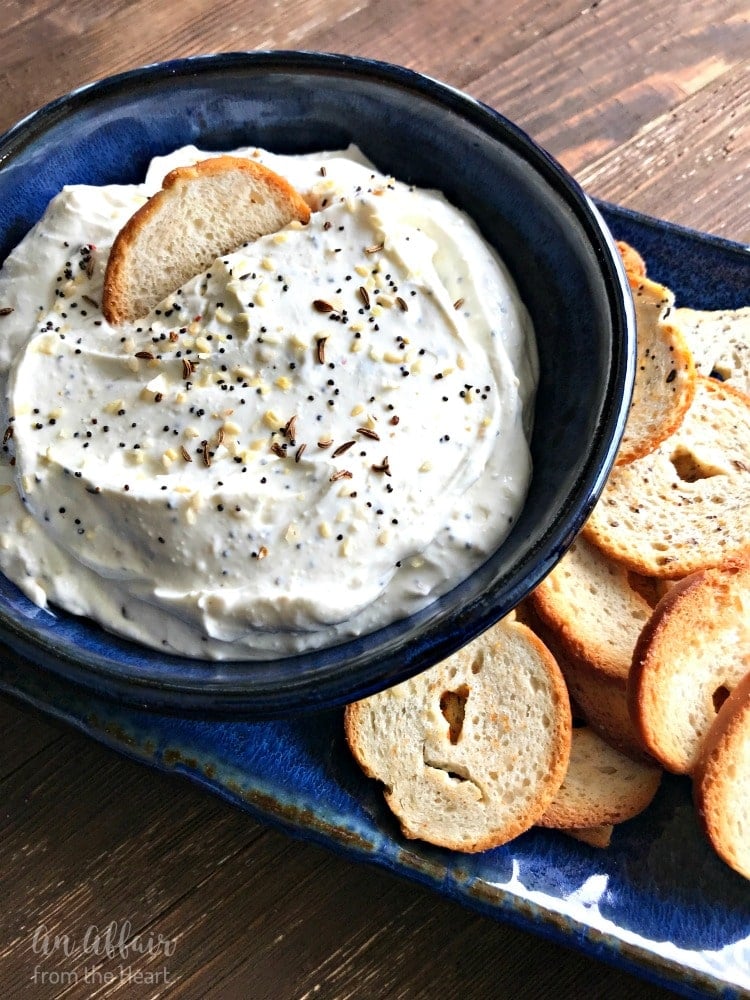 See What ALL of the Bloggers Made this Round:
A Dish of Daily Life – Korean BBQ Chicken Skewers
An Affair from the Heart – Everything Bagel Dip
A Kitchen Hoor's Adventures – Cottage Cheese and Pinto Bean Salsa
Bacon Fatte – No Bake Strawberry Shortcake Dessert
Bowl Me Over – Best Enchilada Sauce
Hostess at Heart – Rhubarb Oat Muffins
LeMoine Family Kitchen – Brown Sugar Jalapeño Bacon
Life Currents – French Onion Tart
Lisa's Dinnertime Dish – Tuscan Pork Sheet Pan Dinner
Mildly Meandering – Roasted Red Pepper Dip
Seduction in the Kitchen – Caprese Tortellini Skewers
Take Two Tapas – Mexican Beer Cheese Skillet
West Via Midwest – Reuben Totchos
Who Needs a Cape? – Raspberry Daiquiri Pie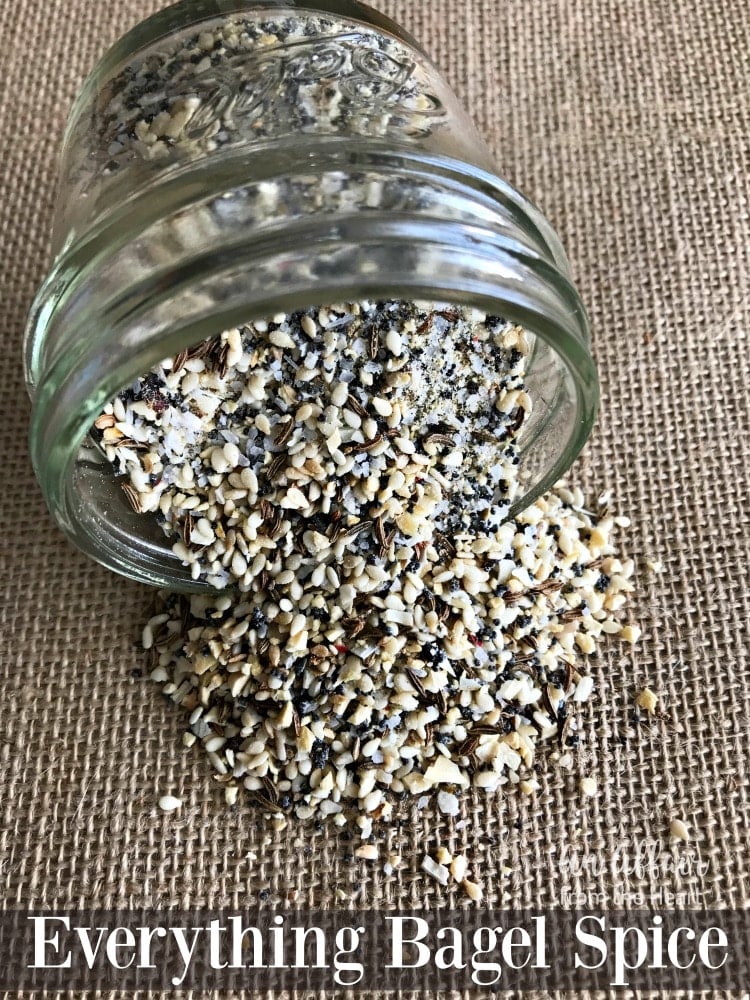 Before we can make the dip, you need to make the Everything Bagel Spice, another great recipe I got from Take Two Tapas. You'll want to keep it on hand — seriously SO GOOD! I have even been sprinkling it on my salads!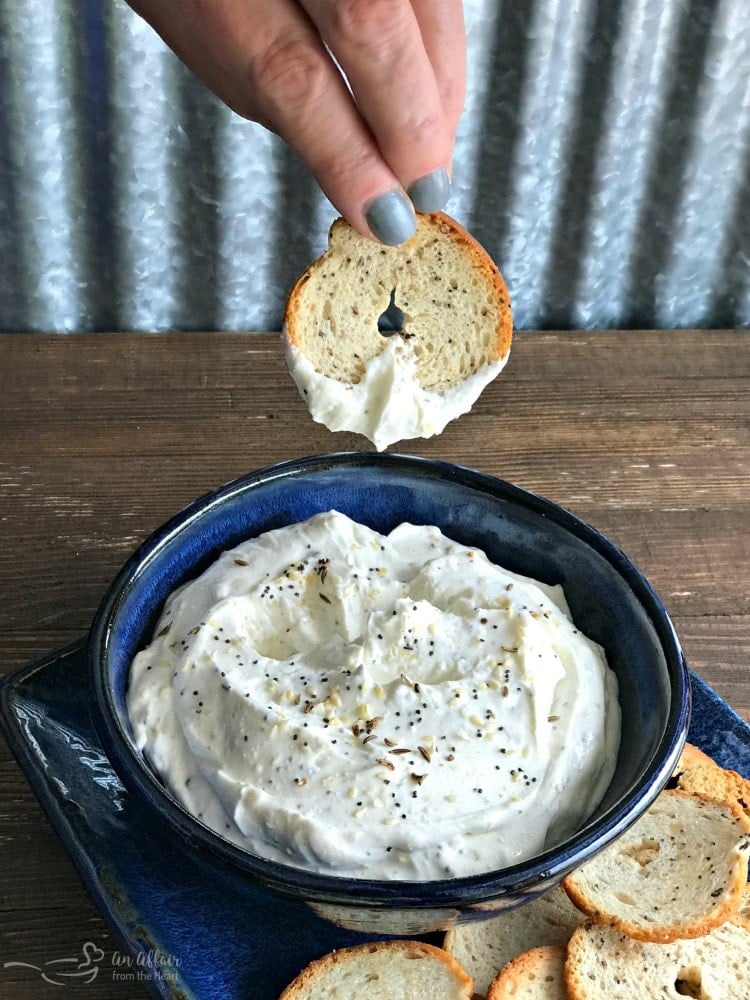 I hope you give this dip a try, as well as the other recipes offered here today.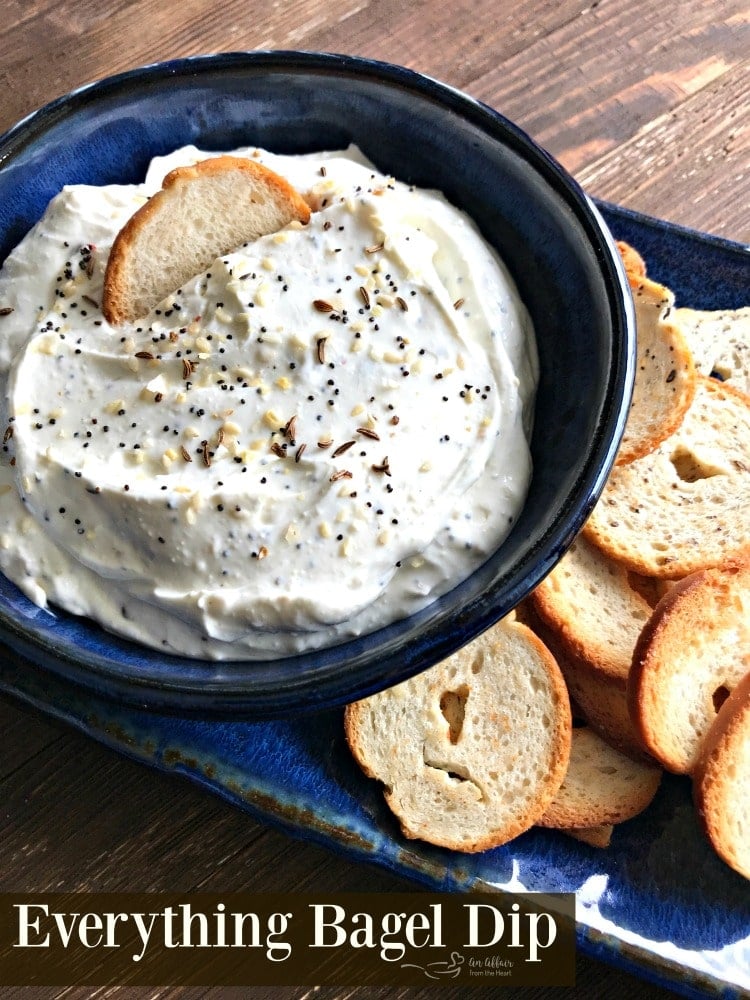 What do you say we get to dippin'?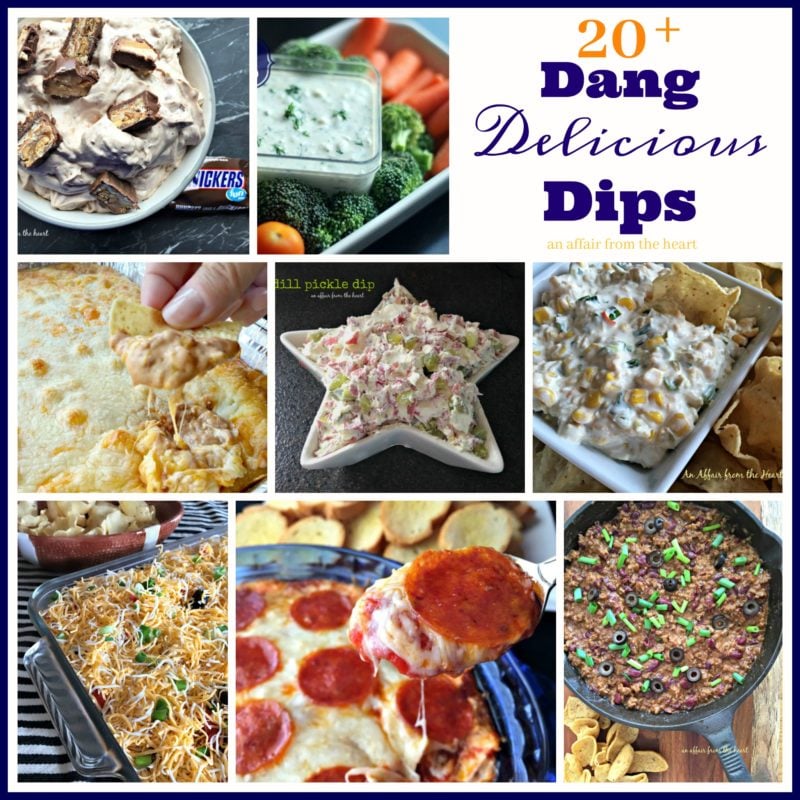 Yield: About 3 cups
Everything Bagel Dip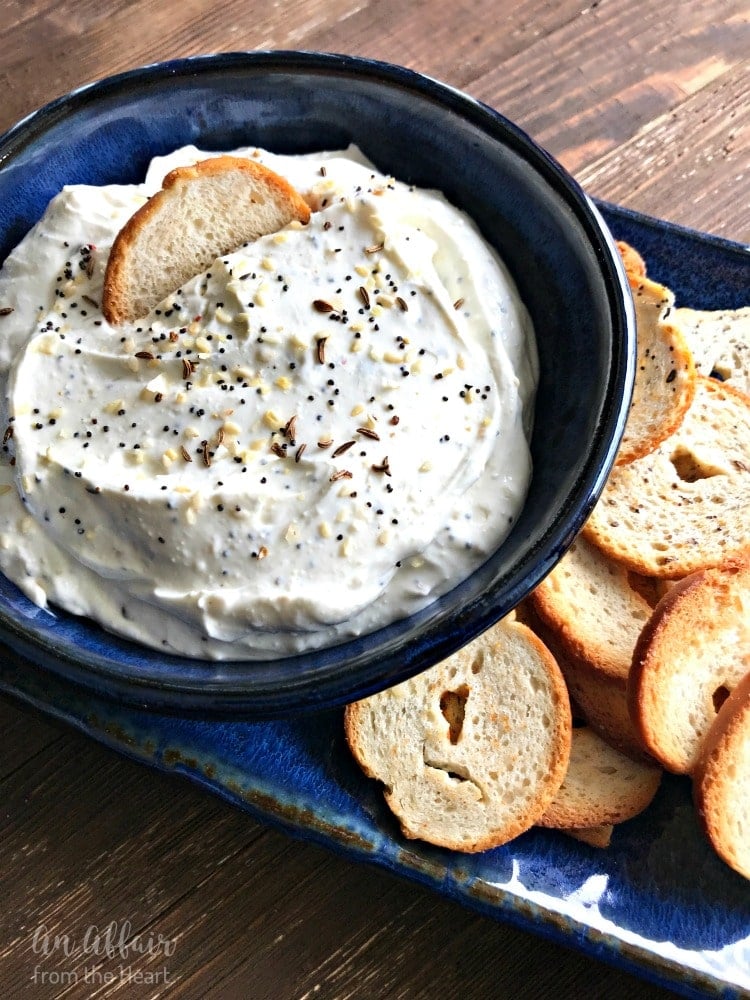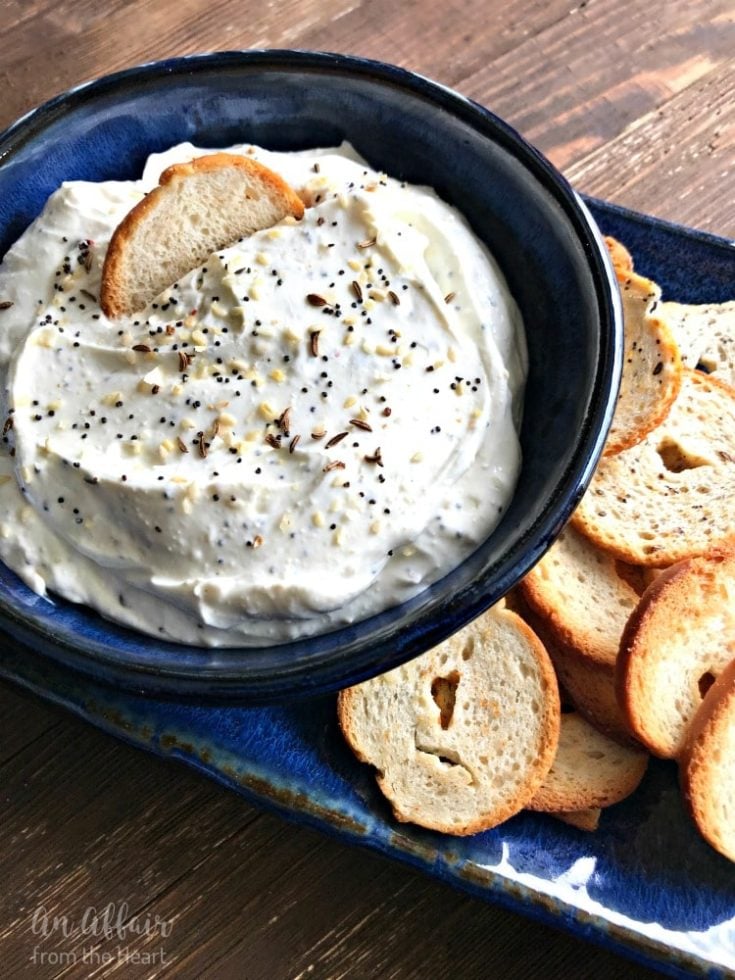 A creamy dip made with everything bagel spice. Serve it with bagel chips. I dare you to try and leave it alone!
Ingredients
1 (8 ounce package) cream cheese, softened
1 1/2 cups sour cream
1 teaspoon onion powder
Instructions
Mix cream cheese with your mixer until smooth. Add in spices and sour cream, beat until combined.
Scoop into a bowl, Serve with bagel chips.
Refrigerate any leftovers.
Recommended Products
As an Amazon Associate and member of other affiliate programs, I earn from qualifying purchases.
Nutrition Information:
Yield:
10
Serving Size:
1
Amount Per Serving:
Calories:

82
Total Fat:

8g
Saturated Fat:

4g
Trans Fat:

0g
Unsaturated Fat:

2g
Cholesterol:

23mg
Sodium:

70mg
Carbohydrates:

2g
Fiber:

0g
Sugar:

1g
Protein:

2g
Nutrition isn't guaranteed accurate