As crazy as it seems, this actually works. I have been using this technique for years, and it really works just like the callus remover they use at a salon.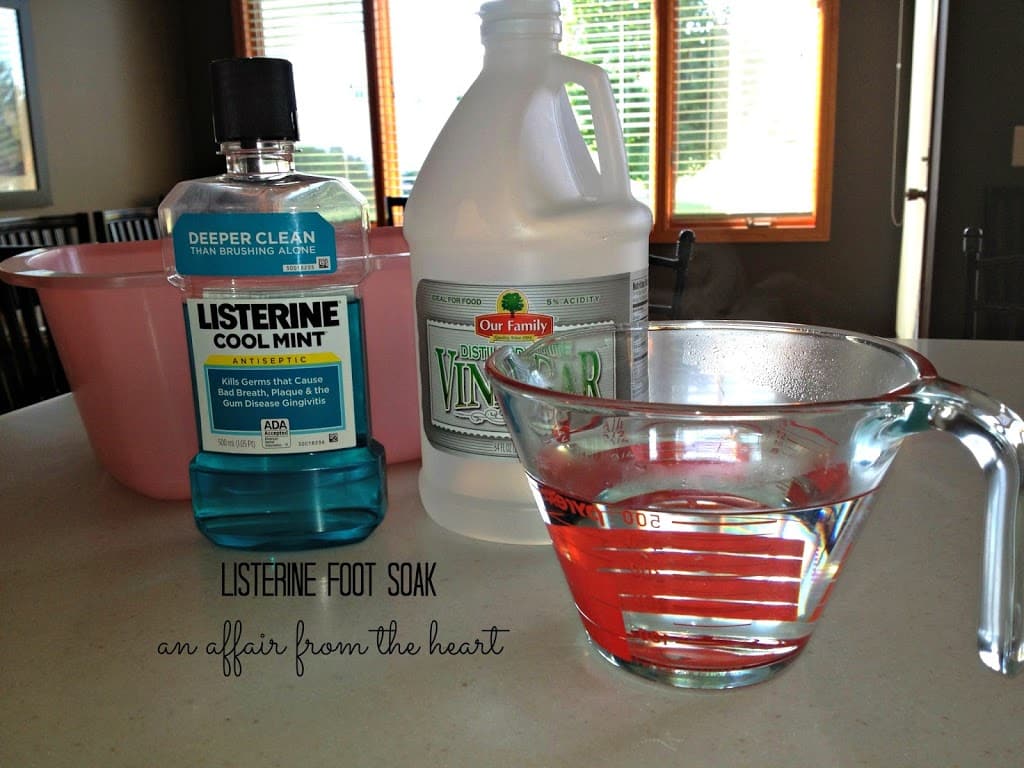 This DIY at home pedicure uses Listerine Mouthwash as the main ingredient … Does it work? You bet it does!! Crazy, right?
Seriously?
Who thinks of this stuff?
I mean … who sits around thinking "I wonder what would happen if I put banana on my face?
Would it work like botox?"
Or … "what if I soak my feet in Listerine? — will they not only be minty fresh, but callus free?"
I'm not sure who thinks of it, but I am here to tell you that when it works?
AWESOME!!
I am the queen of going barefoot.
I go from Ugg boots to barefoot, and vice versa.
If I'm not in my running shoes, that's me.
I am not going to gross you about with foot talk, though, because honestly, feet totally gross me out.
I mean, even my kids'.
Once they get past that cute little kissable baby foot, and start running around and getting sticky, they can kinda just keep them to themselves.
It took me a whole lot of years to even go get a pedicure somewhere, because the thought of someone wanting to TOUCH my feet? gross.
Now, I got over that, and I do love to get pedicures, but I'm not crazy about the expense.
I reserve it for a treat a couple of times a year.
So, in between, I do my own, because I HATE to not have my toenails polished.
When I ran across countless posts of foot scrubs, I thought I would give this one a whirl over the winter.
And by golly, it works!
(you'll have to trust me on this though, and try it for yourself, because I am so not putting a photo of my feet on the world wide web. again, gross.)
—
What you'll need for this DIY Home Listerine Foot Soak Pedicure & Callus Remover
Listerine Mouthwash
White Vinegar
Warm Water
A small tub to soak them in
A pumice stone
—
At home beauty treatments are fun!! My daughters and I love to try new ones when we have girls night in. One year for Christmas I made homemade sugar scrubs for my kids' teachers and for my friends. They were a huge hit. I made peppermint ones, but you could use the formula with any scent.
Here are some others you are sure to enjoy! Homemade Indian Clay Mask, 7 Ingredients – 20+ DIY Natural Beauty Recipes, and 36 Toxin Free Homemade Beauty Products. There are a whole bunch of fun ones to try next — but for now, let's get to those tootsies, shall we?
It REALLY works great.
Here's the recipe,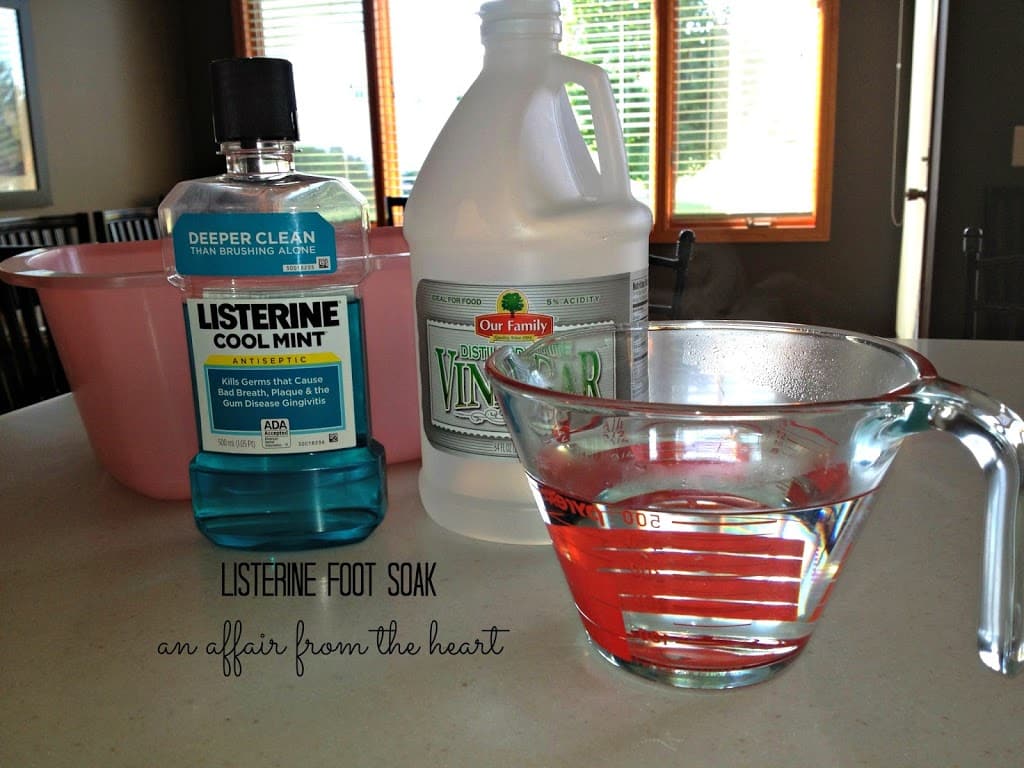 DIY Pedicure at Home - Listerine Foot Soak - Callus Remover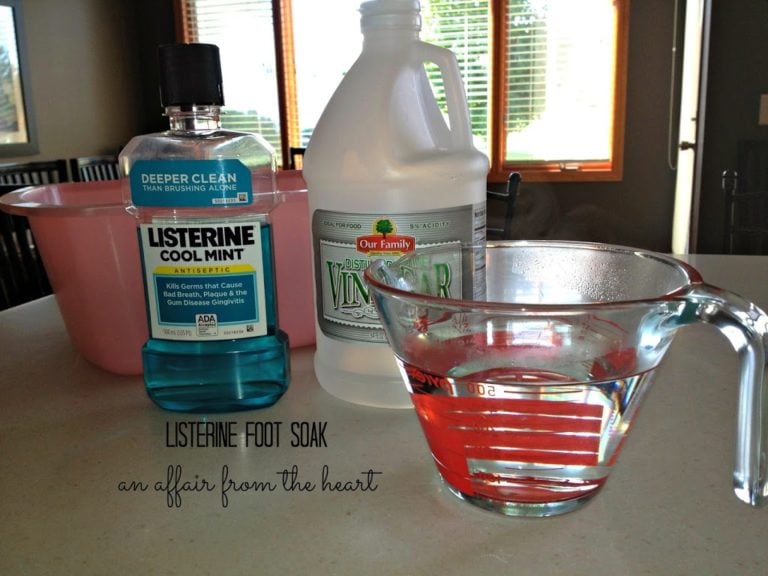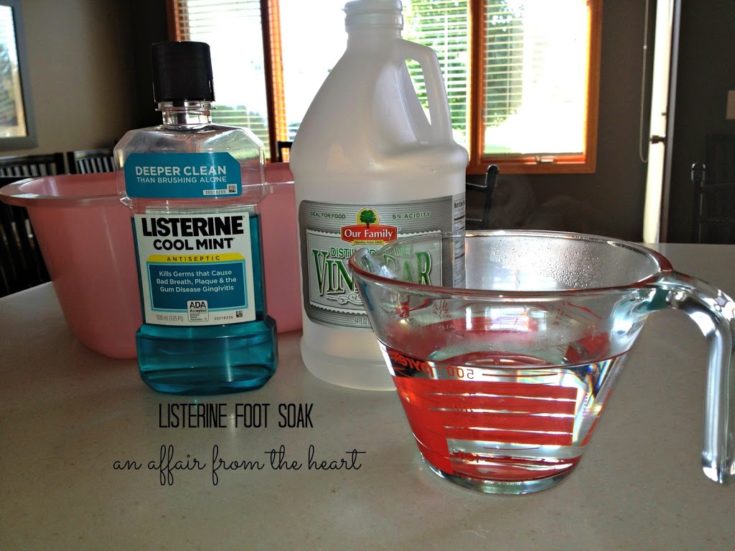 Ingredients
1/2 cup Listerine (I used blue but any will work)
1/2 cup white vinegar
1 cup warm water
Instructions
Combine ingredients in a shallow pan or basin. Soak your feet for 15 minutes.
With a brush or pumice rub the dead skin right off. I usually just hop in the shower for this part.
The blue Listerine will turn your feet blue, but it comes right off in the shower while you're removing skin.
Apply lotion.
Voila!

If you make this recipe, I'd love to know! Snap a picture, share the photo on social media with the hashtag #AnAffairFromTheHeart – I'd love to see what you made! – Michaela