This past weekend I had the honor and the pleasure of doing the decorations for my husband's parents Golden Wedding Anniversary. It needed to be special, 50 years of marriage for anyone is a great big deal…but for these two people, that I was lucky enough to be able to call family almost 20 years ago, I wanted to make it SUPER SPECIAL, just like them!!
My daughter thought they needed to have their car decorated, so she told the other girls of the plan, and that afternoon they all went and got supplies to "gussy up" their car while they were in church.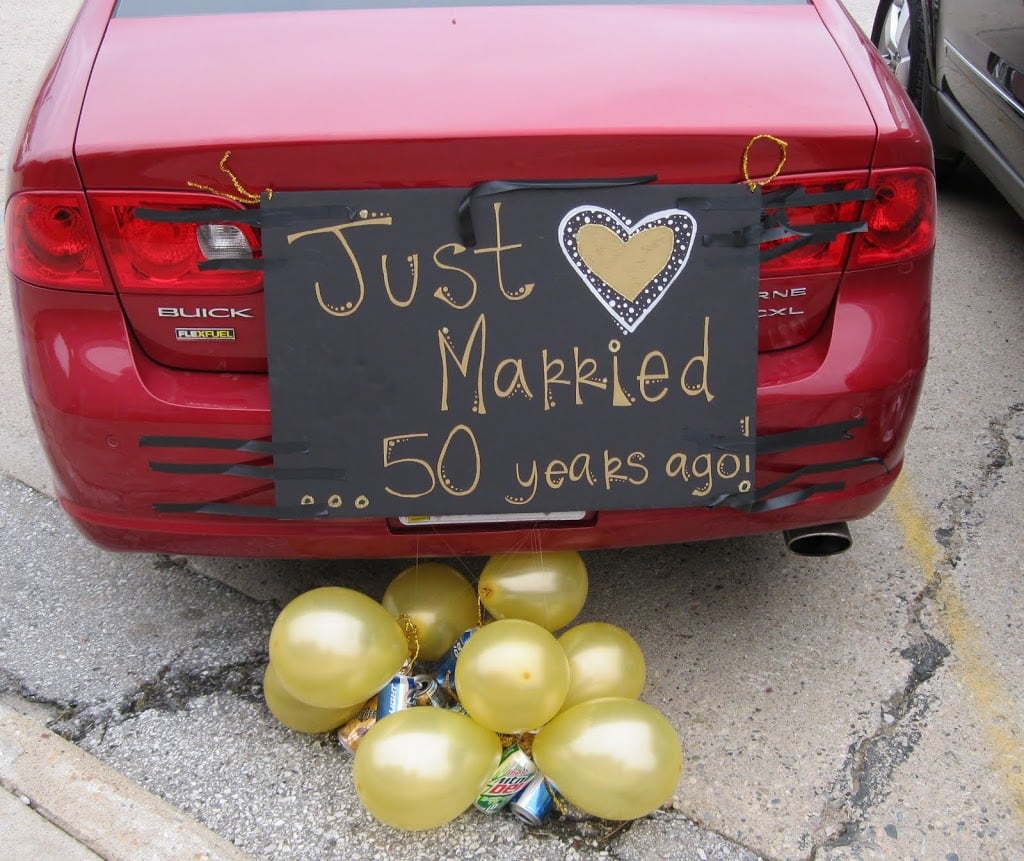 the granddaughters handy work
When guests entered the parish hall, they were greeted by all of the granddaughters. There was a guest book to sign, name tags for all and their wedding album to browse.
the guest book, their wedding photo, and a photo taken this year on the beach in Del Mar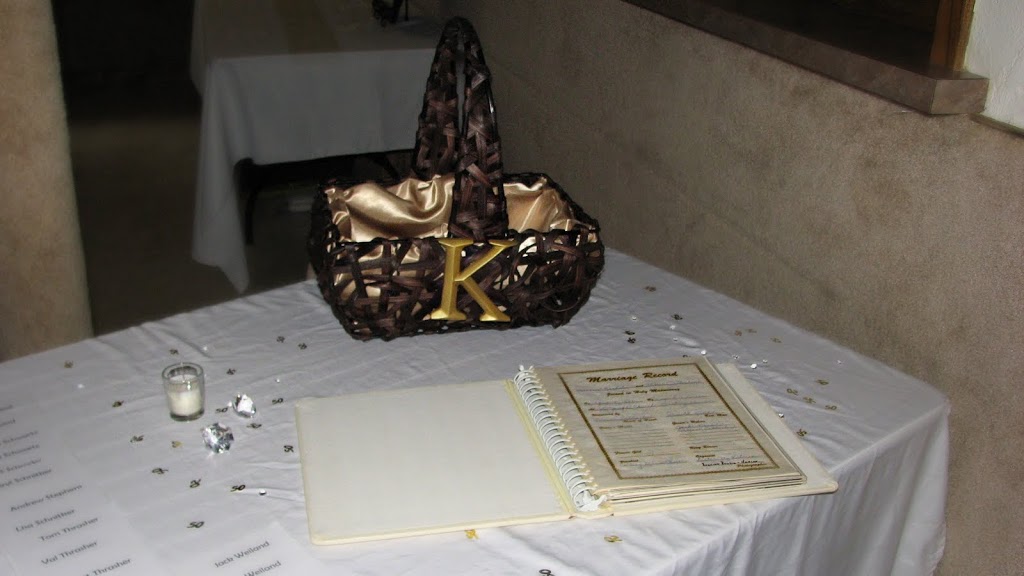 their wedding album, and a basket that I lined and decorated for their cards
The tables were covered in white with a runner of sparkly gold tulle down the center of each. Votive candles in white were surrounded with a sprinkling of golden "50" confetti and diamonds. In the center of each table were 6″ square glass vases, with golden and crystal glass stones, water and a floating oriental lilies. They smelled AMAZING!!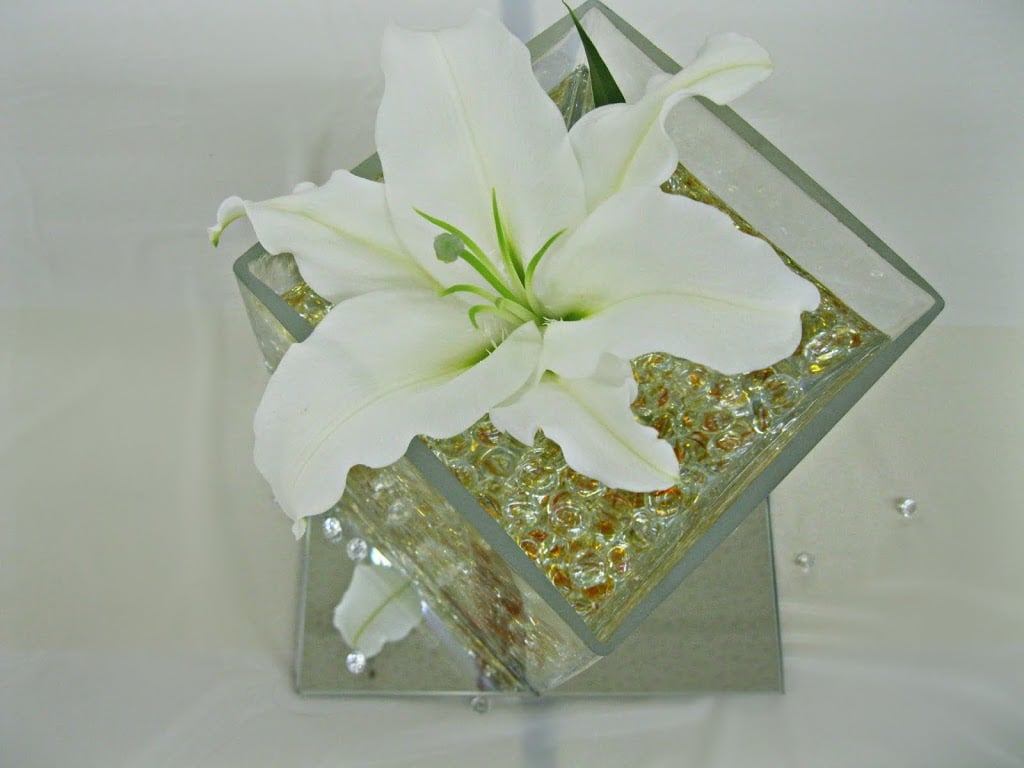 top view of centerpieces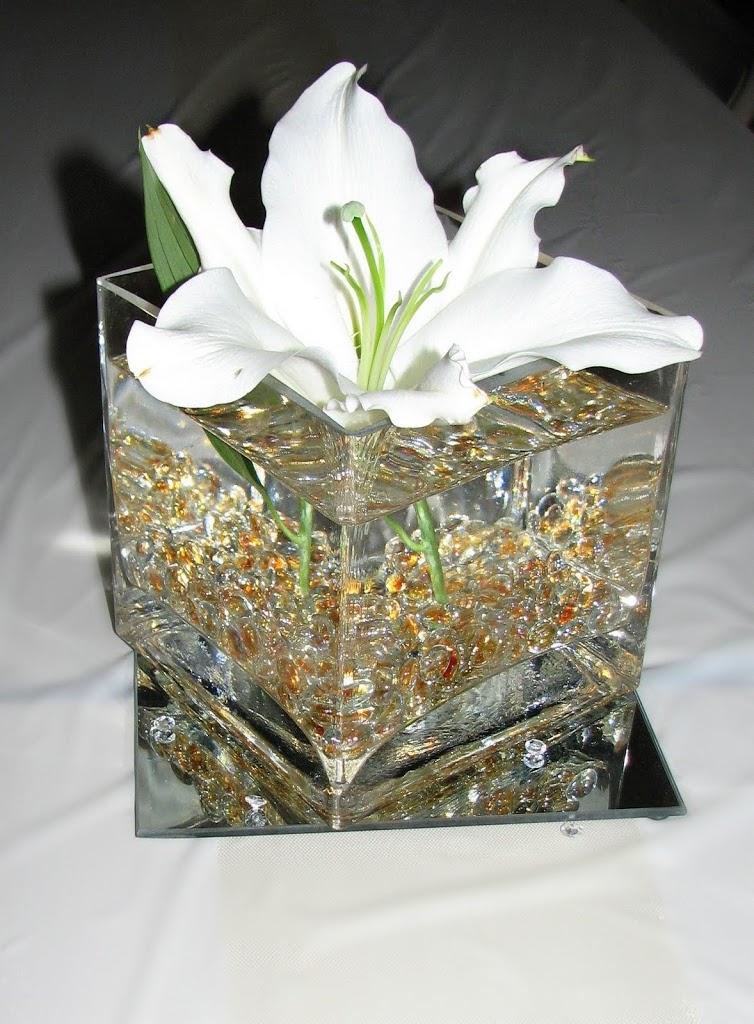 side view…if only you could smell them!
In lieu of a traditional cake, we had cookies and cupcakes made by Mary Bissen, the county's favorite baker! There were five different flavors of cookies, and white cupcakes with raspberry filling and chocolate cupcakes with a cream filling. There wasn't one left.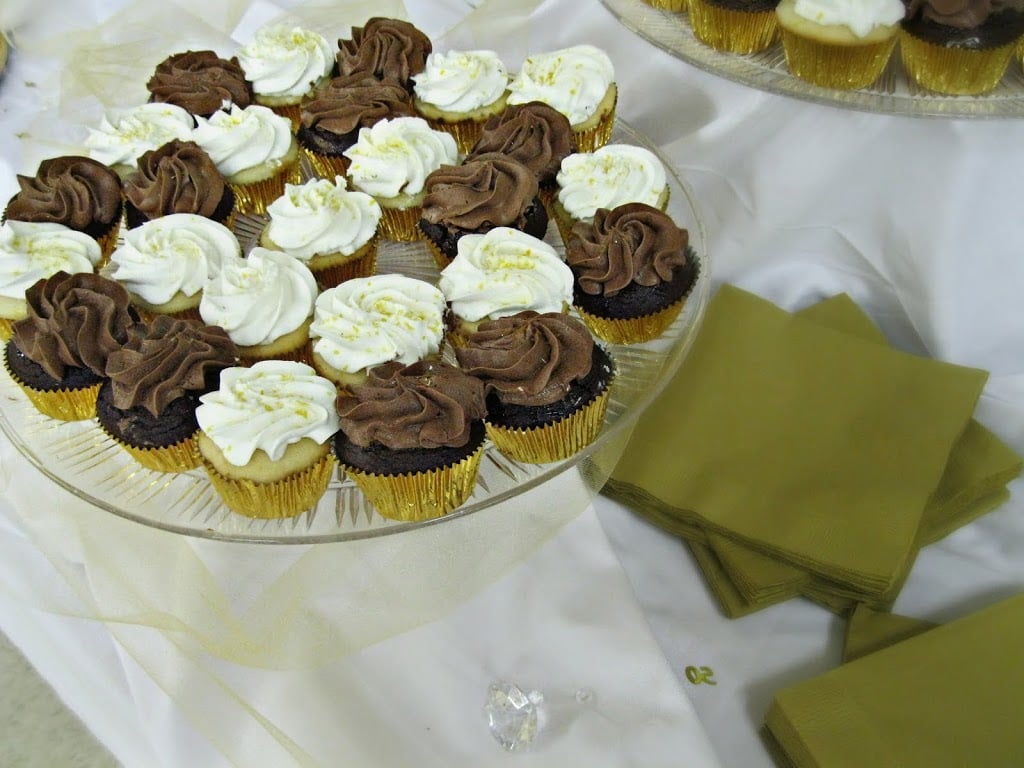 the cupcakes nestled in their gold foil liners
I covered a long white table with white linens, added cake pedestals in different heights, intertwined them with white lights, and covered them with more white linens. Then used more of the gold tulle, diamonds and confetti to decorate around the yummy goodies. Cookies were placed upon gold charger plates, and the cupcakes on glass platters. No need for a fork here, just grab a gold napkin!
a view of the dessert table
Like I mentioned, this party was not only fun to do, but a true honor for me. These two people have made my life so much sweeter by just being in it… I hope they enjoyed their day, as much as I enjoyed planning it!
Love you Mom and Dad!!

If you make this recipe, I'd love to know! Snap a picture, share the photo on social media with the hashtag #AnAffairFromTheHeart – I'd love to see what you made! – Michaela