Going back through some parties that I never told you about, I found this one.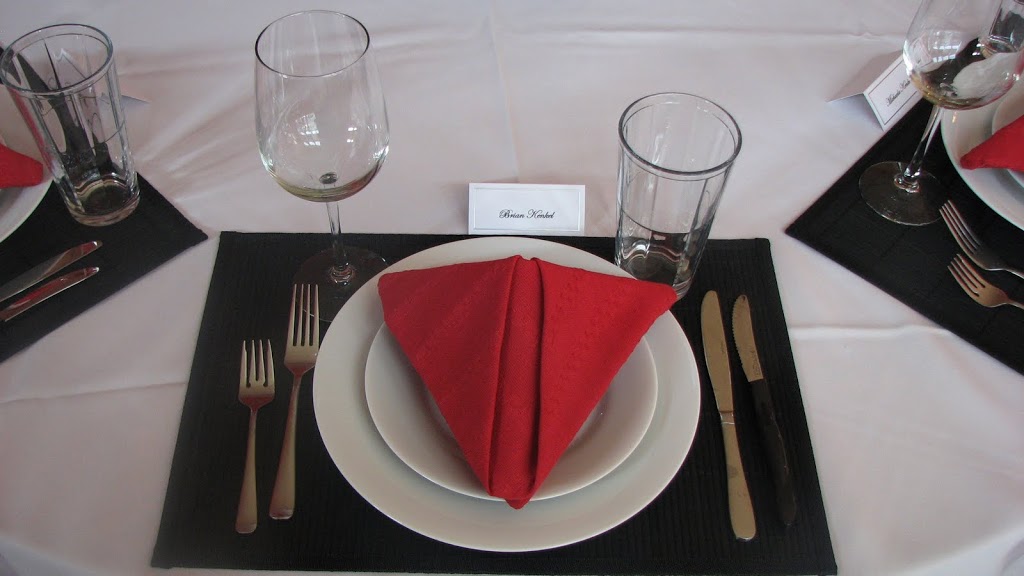 In August of 2010 I hosted a dinner party for my husband's sales team and their spouses. He owns his own company, and the sales team had consecutively achieved their monthly goals for six months, and we wanted to do something special for them. I made invites, and I was on my way to planning another event. Yay! ( have I mentioned how much I love throwing parties??) All of the team was able to come, including my husband's business partner and his wife, I was making dinner for sixteen. Everyone arrived shortly after six o'clock and were served their cocktail of choice and had an opportunity to get to know one another's spouses. There were many hors d'eouvres to snack on while everyone made themselves comfortable in our home.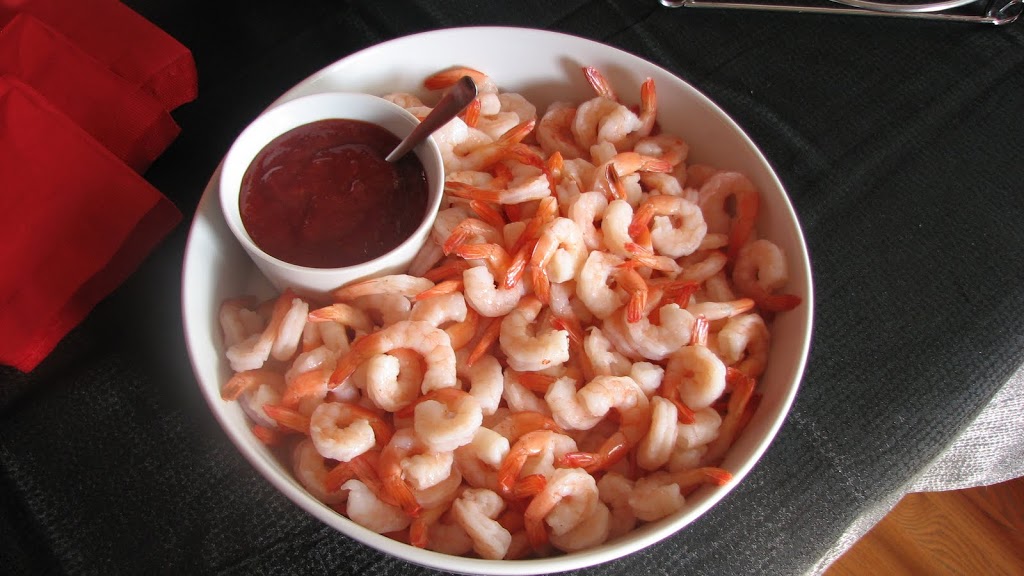 shrimp cocktail
hors• d'oeuvre (pronounced or-DURV) is a noun.
A small portion of a tasty food served as an appetizer before a meal or as at a cocktail party.
From the French, and literally means "outside of work"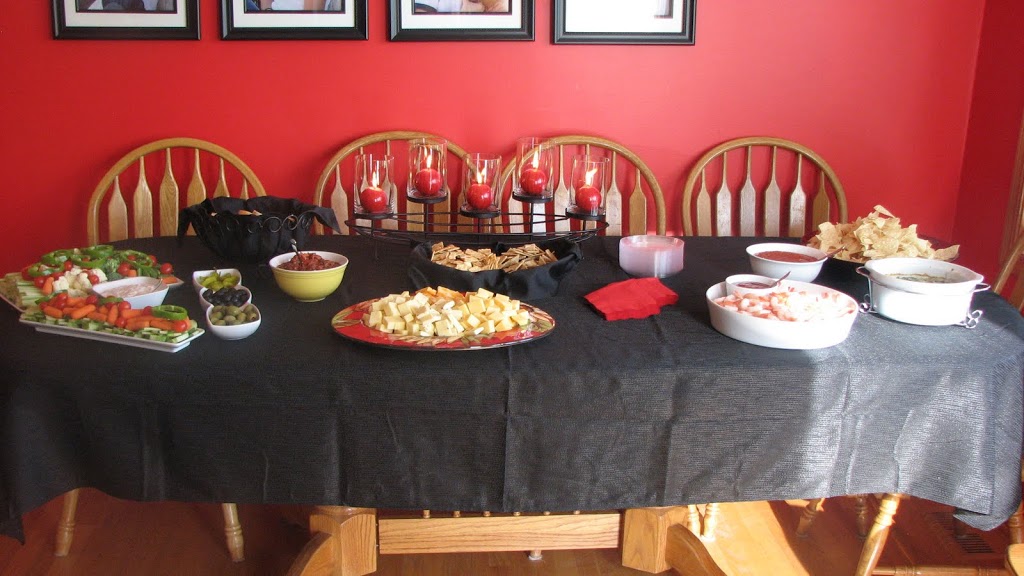 hors d'eouvre table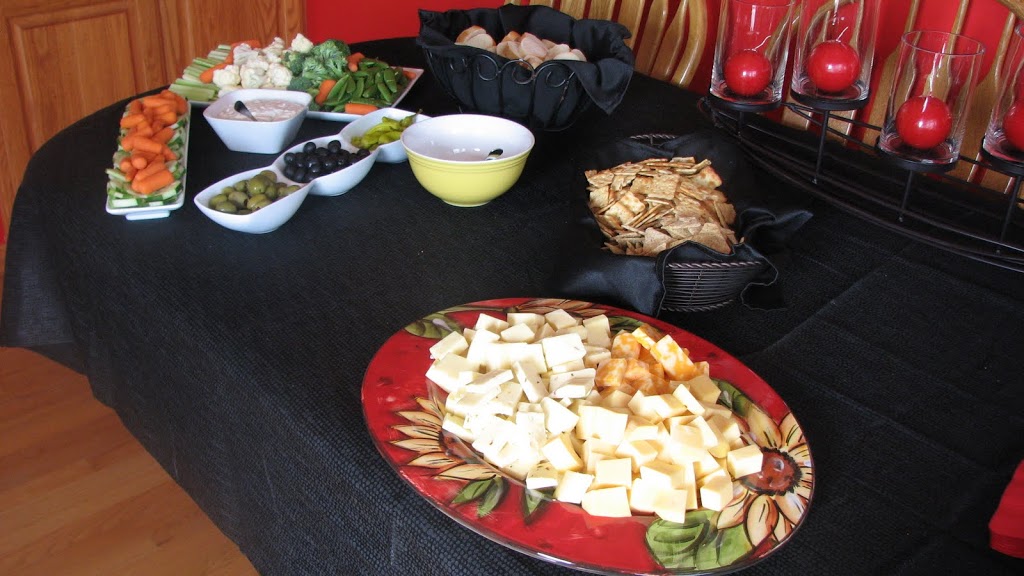 yum….
My husband, Brian and his business partner, Steve, grilled NY Strip steaks, and chicken breasts, while the guys had a little healthy competition in our back yard with a few yard games. Most of the wives simply chatted and sipped wine while we awaited the main course. I had the tables already set, and everything else was prepared.
the tables were set in the company's colors
All of the wives took home one of the beautiful flower arrangements that were scattered throughout the dinner party, as a thank you for their support of the company, and of their spouse's work.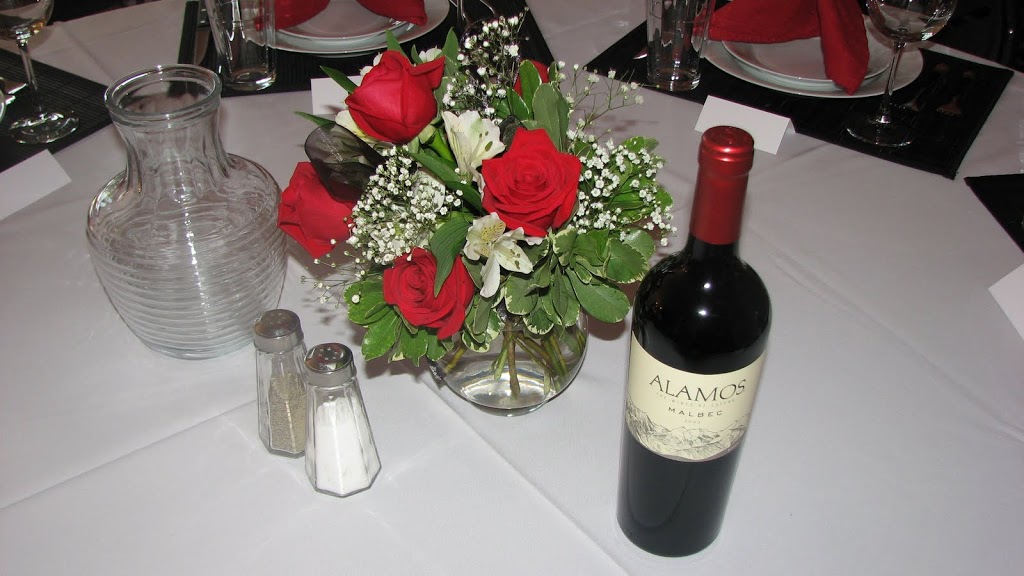 one of the arrangements
A great time was had by all. I received many compliments on the evening as a whole. I had a ball planning it. I told Brian I would do that every weekend, as long as he got me a cleaning lady next time! 😉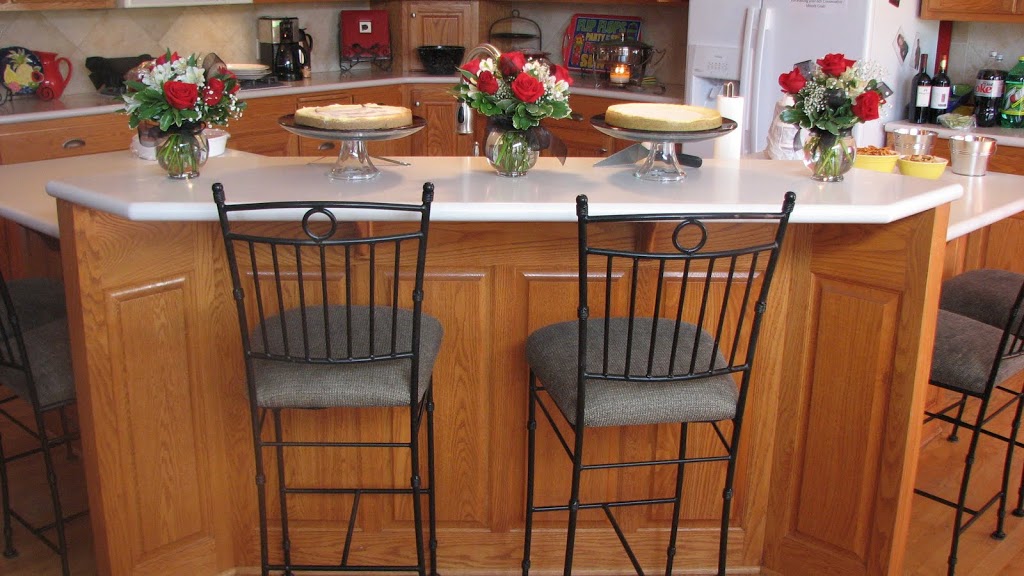 more arrangements and dessert
The Menu:
Hors• d'oeuvres: Assorted fresh vegetables with a dill dip, Baguette Bread and Bruchetta, Warm Spinach Artichoke dip and Home Made Salsa with tortilla chips, Assorted cheeses and Olives and a large
Shrimp Cocktail Ring
Dinner: "Olive Garden" Salad and dressing, Ciabatta rolls, Grilled 12oz NY Strip steak or 7oz Chicken Breast, Baked potato, with any or all of the following: butter, fresh chives, sour cream and bacon, and Fresh green beans.
Dessert: Coffee with either a Mocha Swirl Cheesecake or a NY Style Cheesecake with cherries.


If you make this recipe, I'd love to know! Snap a picture, share the photo on social media with the hashtag #AnAffairFromTheHeart – I'd love to see what you made! – Michaela