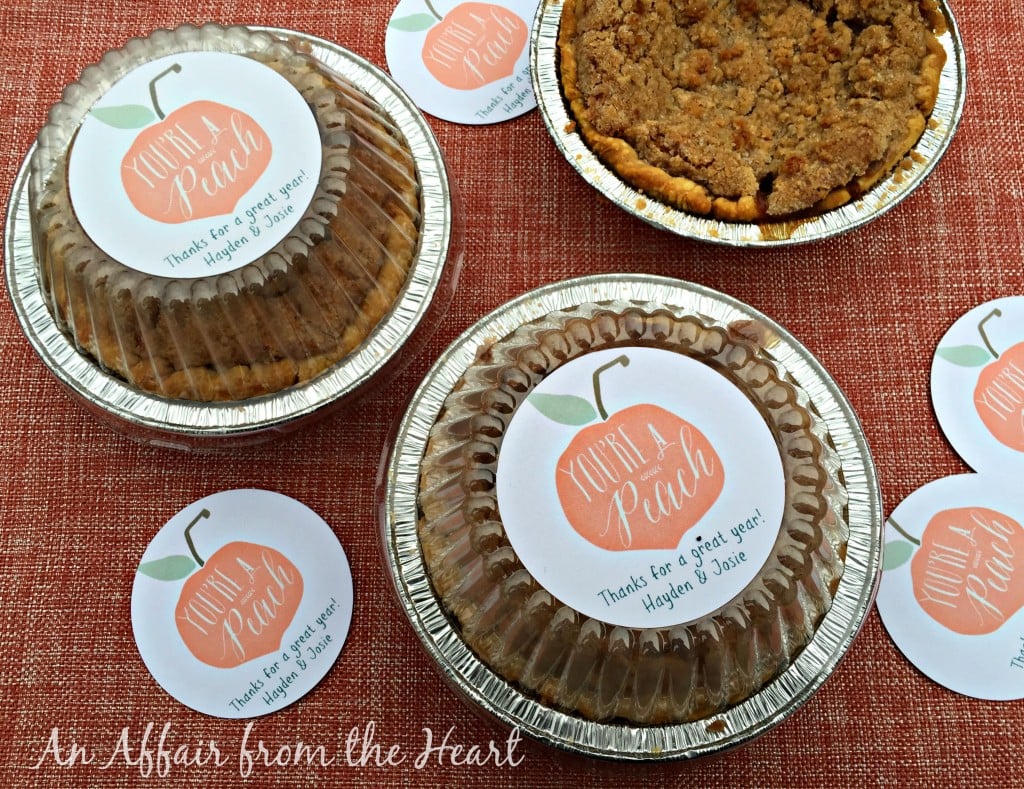 I found these cute little miniature pie pans a couple of months ago at my local Hyvee. I thought they were super cute! Surely I could do SOMETHING with them – so I bought a couple packages. Laying in bed one night, as I dritfted to sleep an idea popped in my head. I had been trying to think of SOMETHING to do for our teachers and school staff for the end of the year. Many of them follow my blog, (Hi, St. Patrick's teachers reading this! 😉 ) and I have gotten to be known around the school for my baking. I couldn't just buy them a gift card, it HAD to be cute. Ideas roaming through my head late at night, all of the pies I love to bake… what I could do with one of them … my thoughts landed on one of my kids' favorite pies, my Spiced Peach Pie with Crumb Topping. I had it!
"You're A Peach!" would work just fine!
Now to find the perfect tag. As most people, I only had to look as far as Google to find a cute clip art shot of a peach. I resized it in a circle to fit the top of the pie pans, and added a "Thanks for a Great Year" and my kiddos names.
I baked up a batch of my pie recipe. (I was making 13 of these.) I found that one of my pie recipes will make 3 pretty generously stuffed mini-pies.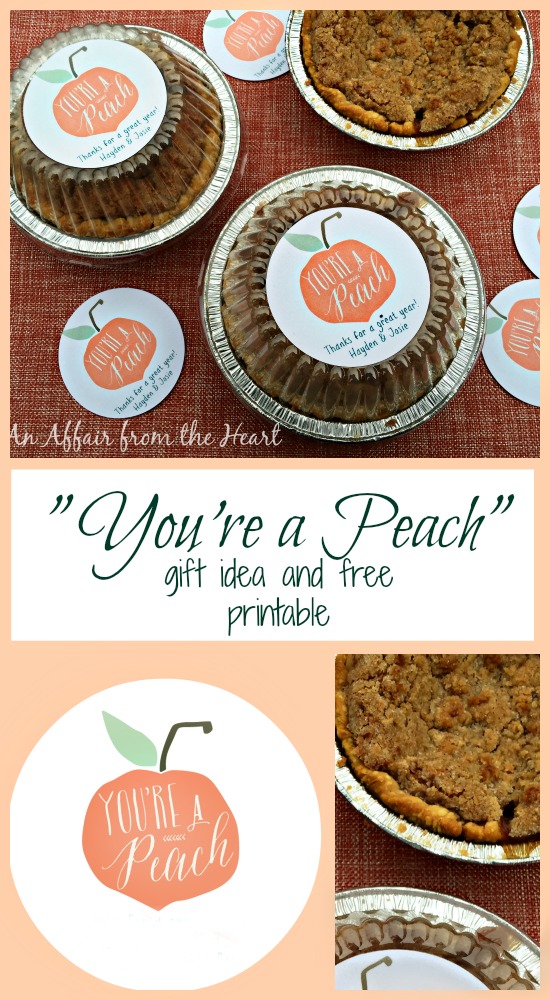 —
Yield: 3 mini pies
You're a Peach - Gift Idea & Free Printable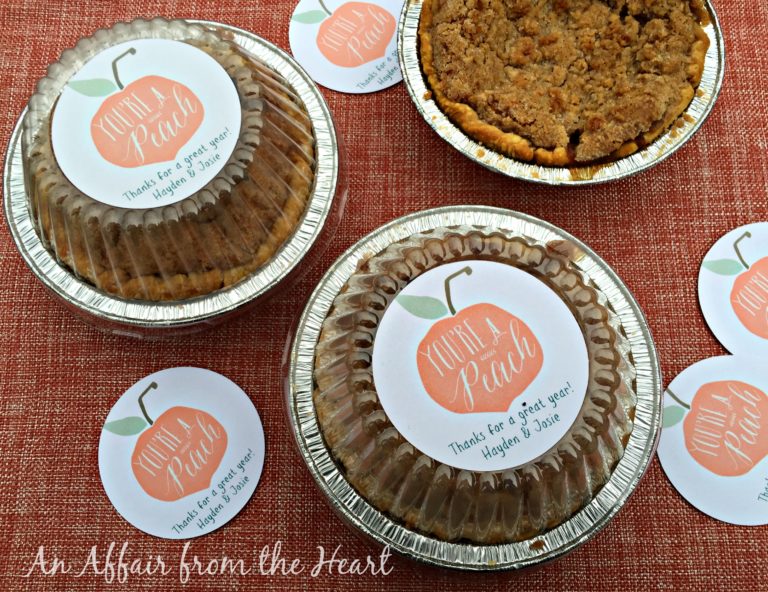 Ingredients
For the Pies:
4 cups fresh sliced peaches
½ cup sugar
½ teaspoon ginger
½ teaspoon nutmeg
1 teaspoon cinnamon
⅓ cup flour
½ teaspoon vanilla
½ teaspoon lemon juice
1 pie shell - 9 inch, unbaked
For the Topping:
⅓ cup sugar
⅓ cup flour
¼ cup cold butter
½ teaspoon cinnamon
½ teaspoon nutmeg
3 "Pot Pie" sized pie plates
Instructions
Line each pie plate with pie crust and form edge. *I roll my refrigerated pie crusts out a bit when I unroll them. You can cut 2 from the first roll out, the excess will make the 3rd crust)
In a bowl combine filling ingredients, pour, dividing evenly between the pie crusts.
Make crumb topping, in a bowl combine sugar, flour and spices. Cut pads of cold butter into mixture. Using your fingers crumble together, it will be the consistency of brown sugar.
Add crumb topping to tops of the pies.
Bake 400* for 10 minutes, then 350* for 25-30 minutes. Edges will bubble and crust will be brown.
Serve warm with vanilla ice cream.
—

If you make this recipe, I'd love to know! Snap a picture, share the photo on social media with the hashtag #AnAffairFromTheHeart – I'd love to see what you made! – Michaela