Fresh Orange Layer Cake
As an Amazon Associate and member of other affiliate programs, I earn from qualifying purchases.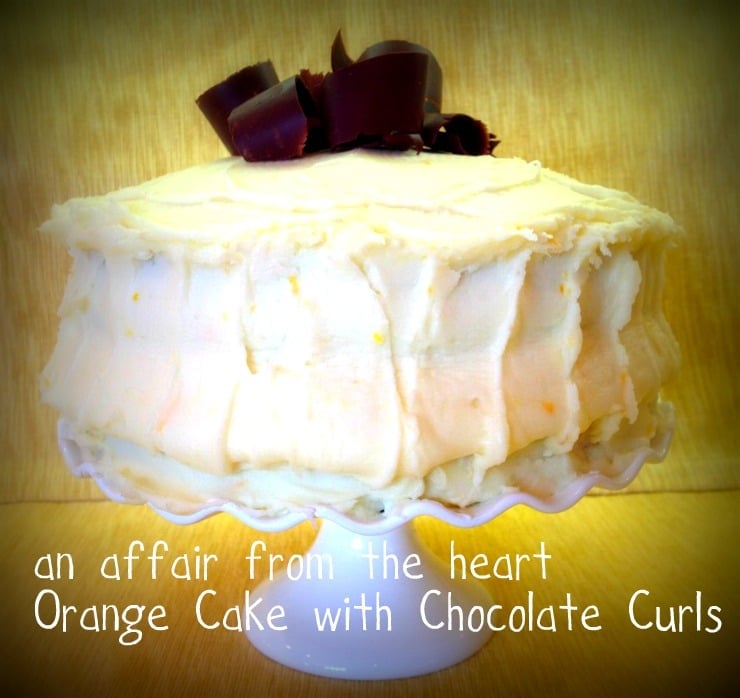 orange cake
It was time for "Birthday with the Girls" again! There are four of us, and two out of four have a birthday in January. So, Rhonda, "Miss December" and Me, "Miss June," decided to pitch in and make dinner for the ladies of the month, Betsy and Lori.
Rhonda had her house looking so nice, and her family left for the evening.
It was PEACEFUL.
Between the four of us, we have thirteen children!!
I love my kids to pieces, but silence can be golden!!
(at least when it's accompanied by girlfriends, good food, good wine and good conversation!)
Betsy doesn't like chocolate (GASP!!)
So, I started scouring recipes to find something for dessert that she would love!!
I came across this orange cake.
It was submitted by Ris Lacoste, and if I ever get the chance I just want to THANK HER!
This cake is really good!! Every element is perfectly flavored, the filling, the frosting and the cake.
I know the key to it's perfect flavor is the fresh orange juice.
It's a very time consuming cake to make; lots of steps.
But don't let that change your mind, you would be missing out!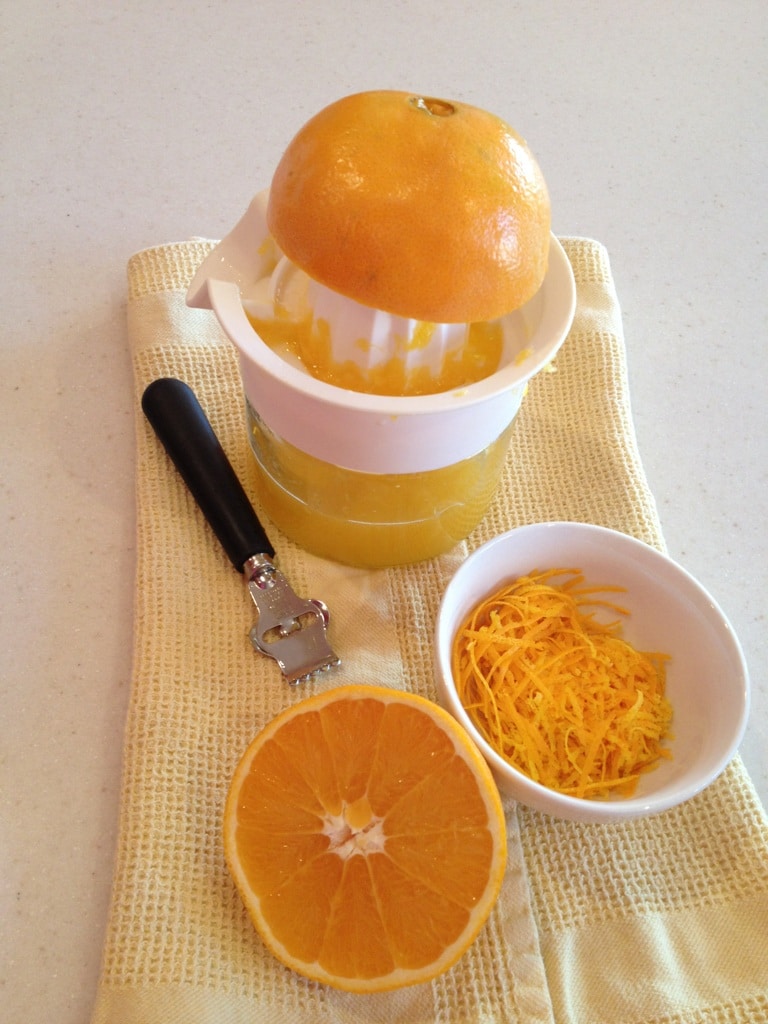 fresh squeezed oranges and orange zest make this a perfect citrus cake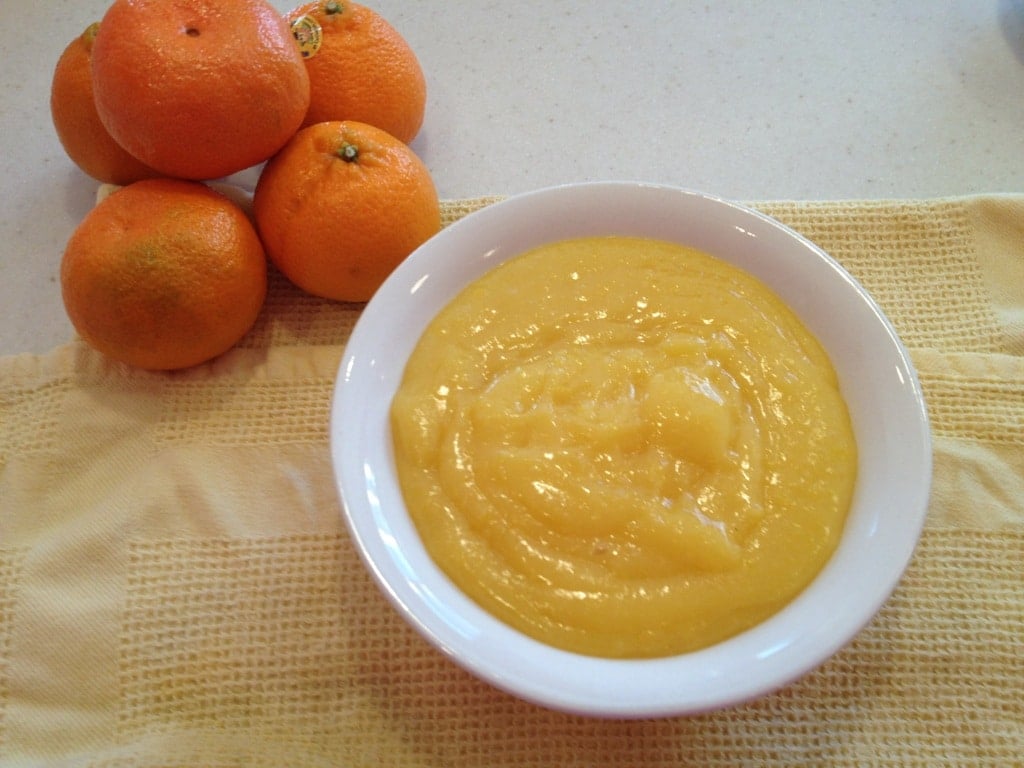 prepare the filling first, so it can chill thoroughly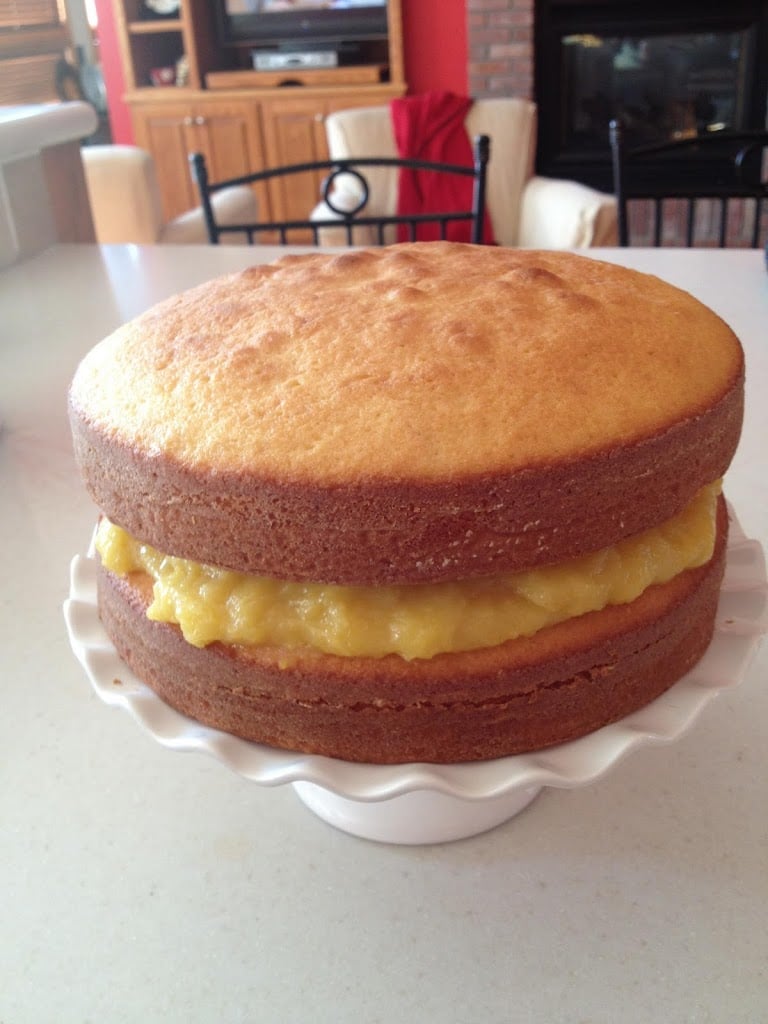 here the cake is with the filling.
My youngest daughter, my sou chef, said it looked like a giant hamburger!!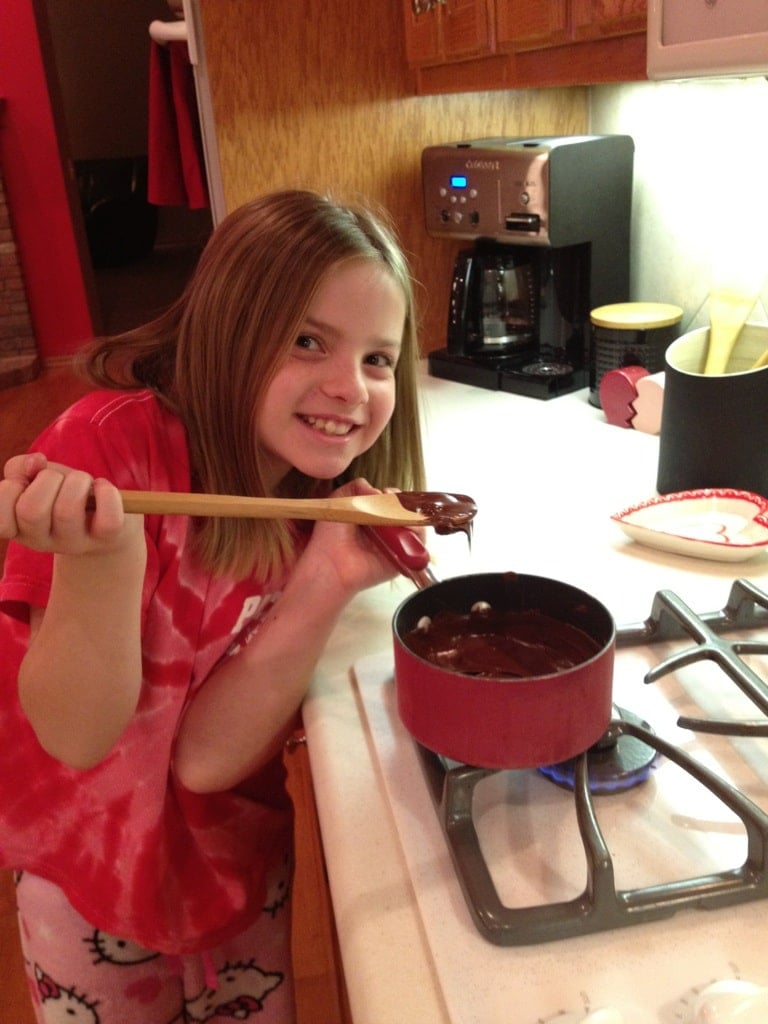 my sou chef, Josie, melting the chocolate for the curls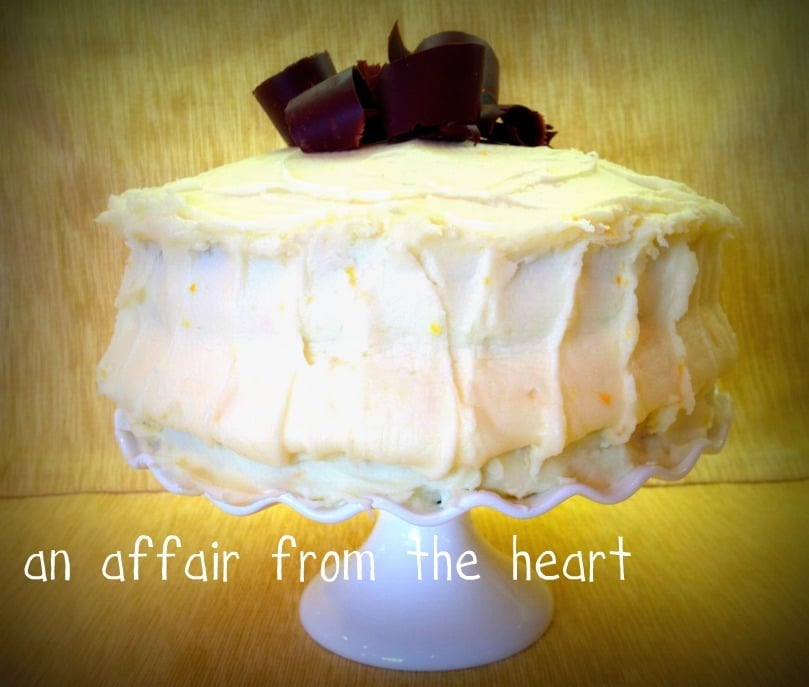 topped with the chocolate curls
The original recipe called for topping with orange slices and mint leaves. I think this would be GORGEOUS in the spring, but for the winter, I thought about making chocolate curls. I love chocolate orange, and I figured, I would serve Betsy's without chocolate, easy peasey!!
One candle on top, and some fresh tulips (my favorite!!)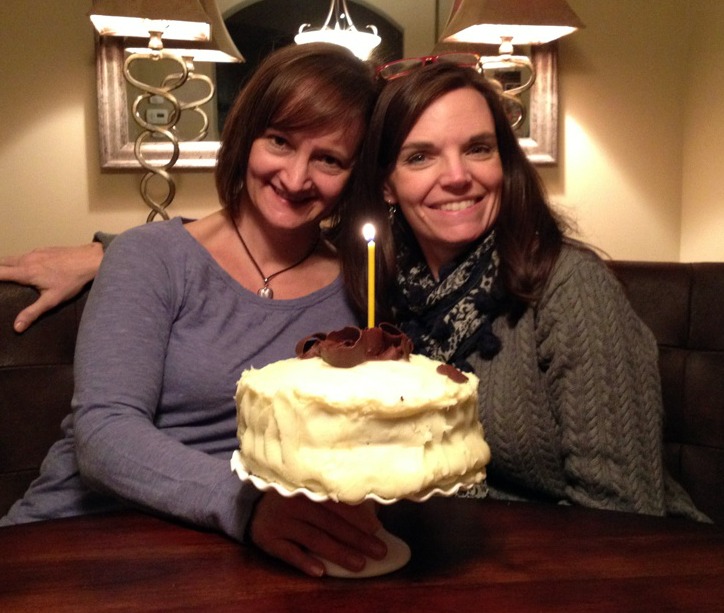 "Miss Januaries" Lori and Betsy, the birthday girls
This little slice of cake is like a little slice of heaven!!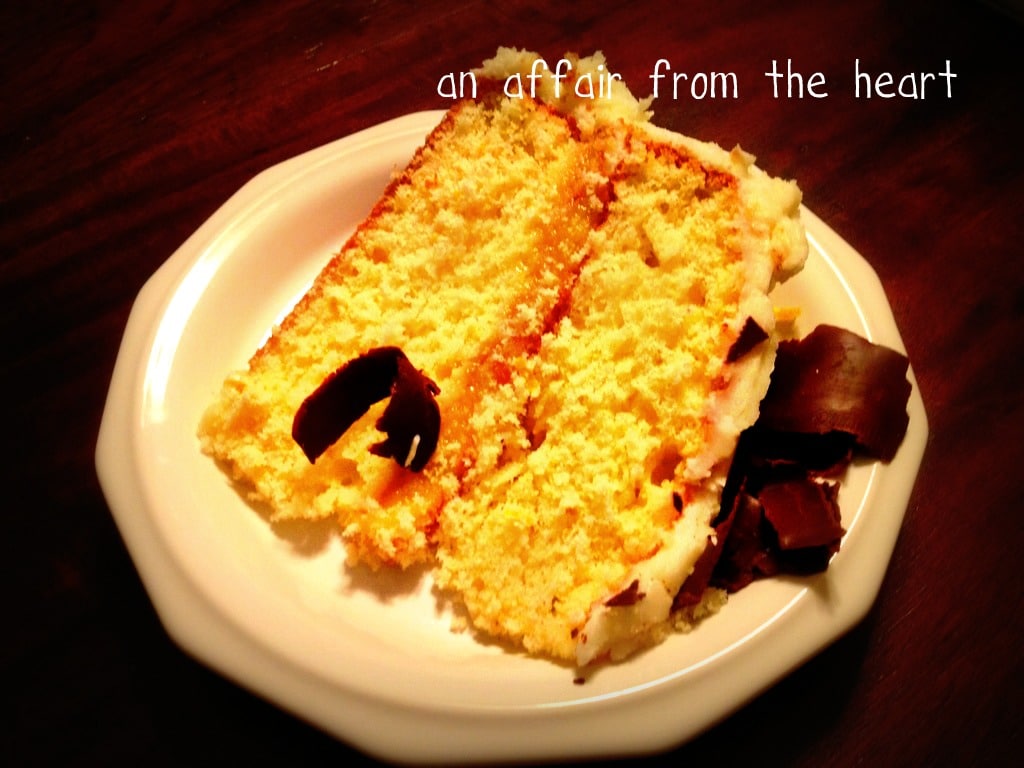 the filling is AMAZING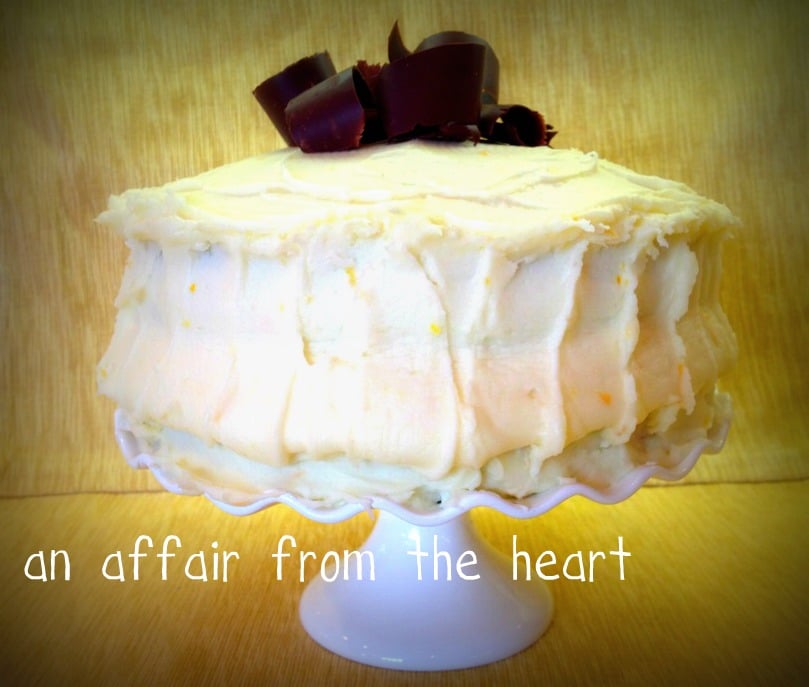 Fresh Orange Cake with orange filling
and Orange Buttercream Frosting
———
When all of the cake components are cool, put one layer on a cake stand or plate, spread the filling over the cake to make a 1/2 layer. (you will have some extra) Place top layer on and refrigerate the cake for another hour or so, to firm the filling back up.
Using an icing spatula, spread a very thin layer of frosting, called a "crumb coat," over the whole cake. Place the cake back in the fridge for another 10 minutes or so. Frost the cake, adding decorative strokes to complete.
You can top with chocolate curls, or with fresh oranges, or just eat it plain, it's so yummy!!
This would make a great Easter dessert!!
Yield: 1 cake
Fresh Orange Layer Cake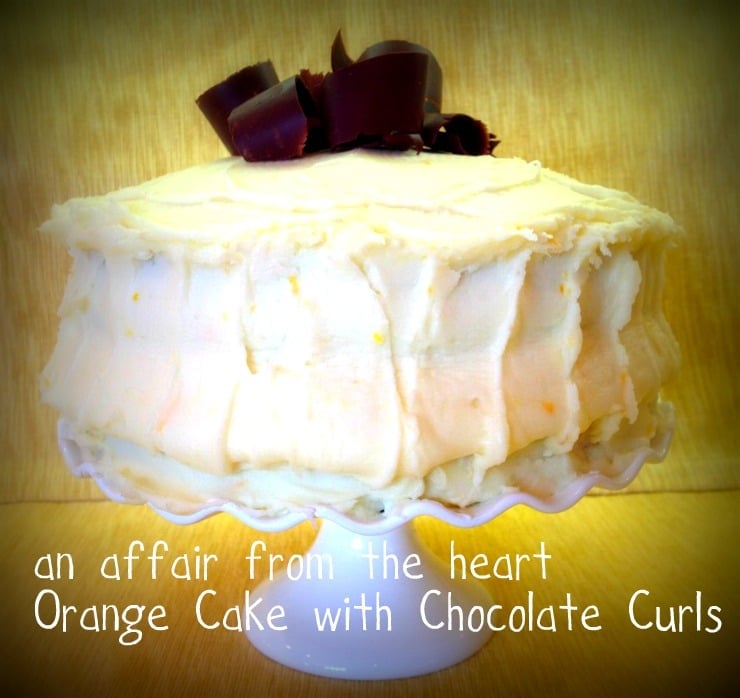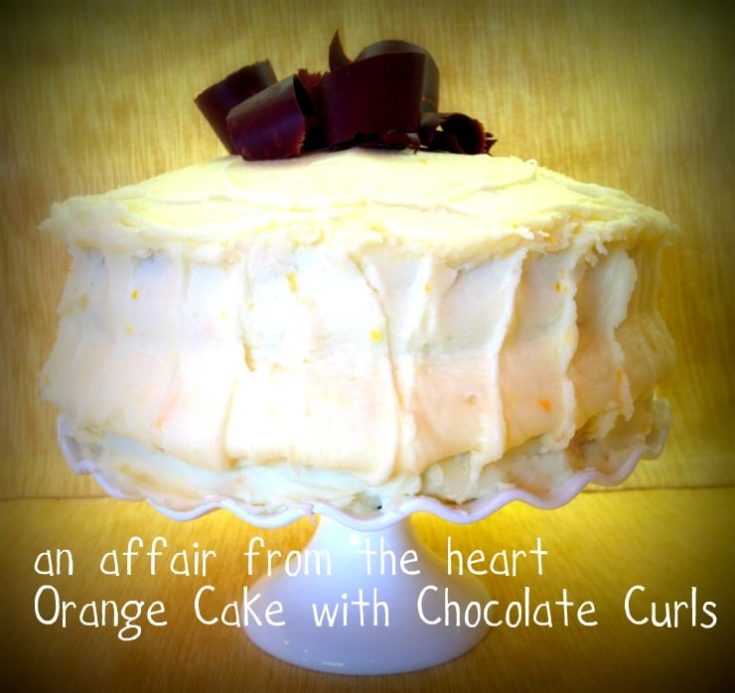 What better use for fresh oranges than to put them in this Fresh Orange Layer Cake.
Ingredients
Filling:
2/3 cup sugar
3 Tablespoons flour
1 cup fresh orange juice (about 3 large oranges), pulp removed
2 large egg yolks
2 Tablespoons salted butter
Cake:
2 1/4 cup flour
2 1/2 teaspoons baking powder
1 teaspoon salt
1/3 cup salted butter
1/3 cup vegetable shortening
2 teaspoons grated orange zest (from about one large orange)
1 1/2 cups sugar
3 large eggs
1 cup fresh orange juice (about 3 large oranges), pulp removed
Frosting:
18 Tablespoons of Salted butter, room temperature
6 cups powdered sugar
dash of salt
1 1/2 teaspoons of grated lemon zest
6 Tablespoons of fresh orange juice
Instructions
Making the filling:
Combine the sugar and the flour in a heavy saucepan. Whisk to mix, add the orange juice and egg yolks, whisk quickly to combine. Put the saucepan over medium-high heat and cook, whisking constantly, until the mixture boils. (about 3 minutes) Cook another minute, stirring constantly, the mixture will thicken and become less cloudy. Be sure to let it boil for one minute so that the filling will thicken enough to support the top layer of the cake. Remove from heat and stir in the butter. Transfer to a bowl and cover with plastic wrap, laying the plastic wrap directly on the filling when covering the bowl.
Chill thoroughly before using.
Make the cake:
Heat the oven to 350 degrees. Sift together flour, baking powder and salt, set aside. Grease and flour two 8″ round cake pans (you can use 9″ round, the layers will just be thinner)
In your mixer, cream together butter, shortening, and zest. Gradually stir in the sugar and eggs, creaming together, and scraping down the sides of the bowl.
Add the sifted dry ingredients alternately with the orange juice to the creamed mixture, beating well on low speed after each addition. Pour equal amounts of batter into the two prepared cake pans. Tap the pans on the counter a couple of times to remove any air bubbles and to even out the batter. Bake until a toothpick in the middle comes out clean, about 28 minutes. Cool the layers in the pans for about 10 minutes and then loosen the layers from the pans and transfer to a rack to cool completely.
To make the frosting:
Cream the butter in the mixer. Add the sugar and salt and combine thoroughly. Add the orange juice and zest and mix until light and creamy. Make sure to scrape the sides of the bowl down. Refrigerate if not using right away.
(if you refrigerate, be prepared to place frosting back under the mixer to fluff it back up when you are ready)
Nutrition Information:
Yield:
1
Serving Size:
1
Amount Per Serving:
Calories:

9239
Total Fat:

391g
Saturated Fat:

222g
Trans Fat:

12g
Unsaturated Fat:

142g
Cholesterol:

1924mg
Sodium:

6195mg
Carbohydrates:

1399g
Fiber:

11g
Sugar:

1130g
Protein:

73g
Nutrition isn't always accurate.