Moscow Mule
As an Amazon Associate and member of other affiliate programs, I earn from qualifying purchases.
Refreshing tart lime mingles with spicy ginger beer and vodka in this classic Moscow Mule recipe. This vodka cocktail is perfect for hot days, but if you are a fan of ginger, like me, you'll drink these Moscow Mules all year long!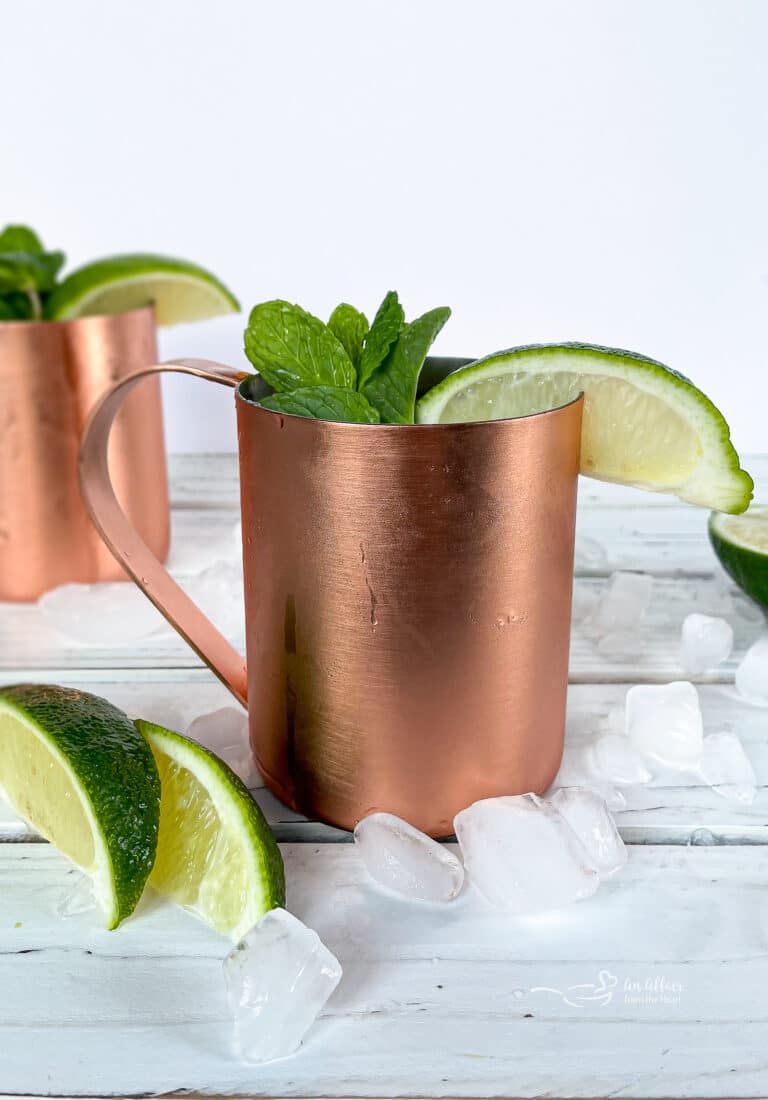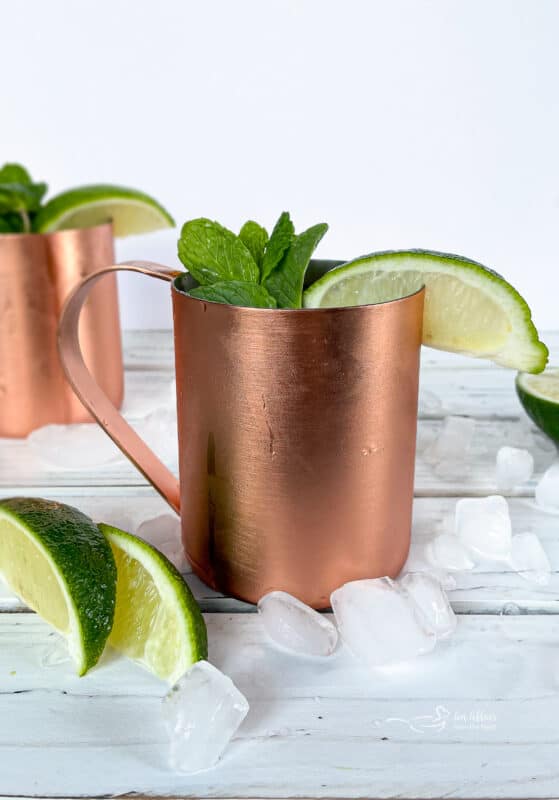 It's been years since I first posted this recipe. I remember the first time I had a Moscow Mule. It was love at first sip. Since then, it's become one of my go-to's when ordering at a pub. There is just so much to love about this tasty cocktail!

Moscow Mule Cocktail
The Moscow Mule is nothing new, in fact, it's been around since the early 1940s. (Via Wikipedia:) The cocktail was invented in 1941 by John G. Martin of G.F. Heublein Brothers, Inc., an East Coast spirits and food distributor, and "Jack" Morgan, President of Cock 'n' Bull Products (which produced ginger beer) and proprietor of the Cock 'n' Bull restaurant on Sunset Boulevard in Los Angeles popular with celebrities.
It's definitely made its comeback and is now one of the most popular drinks around.
Served in these great copper mugs, they are cold, refreshing, and just plain delightful on a hot summer day.
I know there are many ways to make a Moscow Mule, but I am going to share with you the way I was taught. It doesn't require making any simple syrups like some, and only requires 3 ingredients, unless you count the ice, then it's four!
I love my copper mug, but don't let the lack of one keep you from giving this classic cocktail a try, it tastes just as good in a short cocktail glass.

Classic Moscow Mule Ingredients
The full measurements and instructions for this delicious cocktail can be found in the printable recipe card at the bottom of this post. My recipe makes two Moscow Mules.
lime – you can use lime juice in a pinch, but fresh limes are the way to go with this recipe.
vodka – what vodka brand you choose is up to you. Our favorite vodka is Grey Goose, but I like Titos in my mules, too. Smirnoff vodka is also a common brand.
ginger beer – you have all sorts of choices when it comes to ginger beer. I typically reach for the sugar-free myself to cut back on calories.
ice, preferably crushed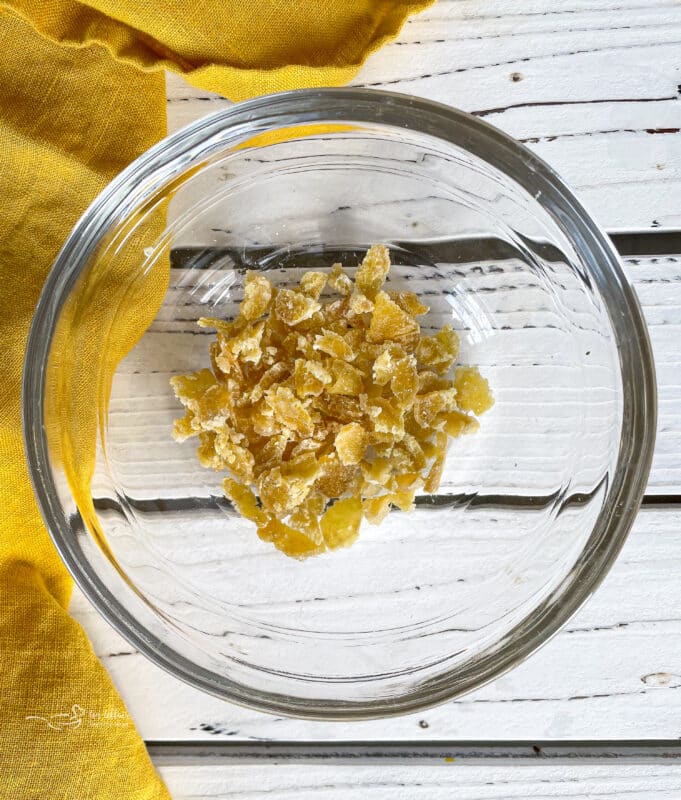 Optional Garnish – fresh mint and candied ginger make great garnishes. Shaved real ginger will give it more of a strong ginger flavor, which is one of those personal preferences.
copper mule mug – Moscow Mule Copper Mugs are best for serving, but a regular cocktail glass or rocks glass will work, too.

How to Make the Best Moscow Mule Recipe
First, Fill a copper cup with crushed ice.
Pour: Pour in vodka. Add half of the can of Ginger Beer to the glass.
Add: Squeeze half of the lime into the glass and drop it into the cup.
Stir: Give it a quick stir and Serve!
Crushed Ice, Ginger Beer, vodka, and fresh lime juice are all it takes! You can also add a touch of finely grated ginger as well. Either mix it in or just garnish on top with the lime to add extra ginger zing to it.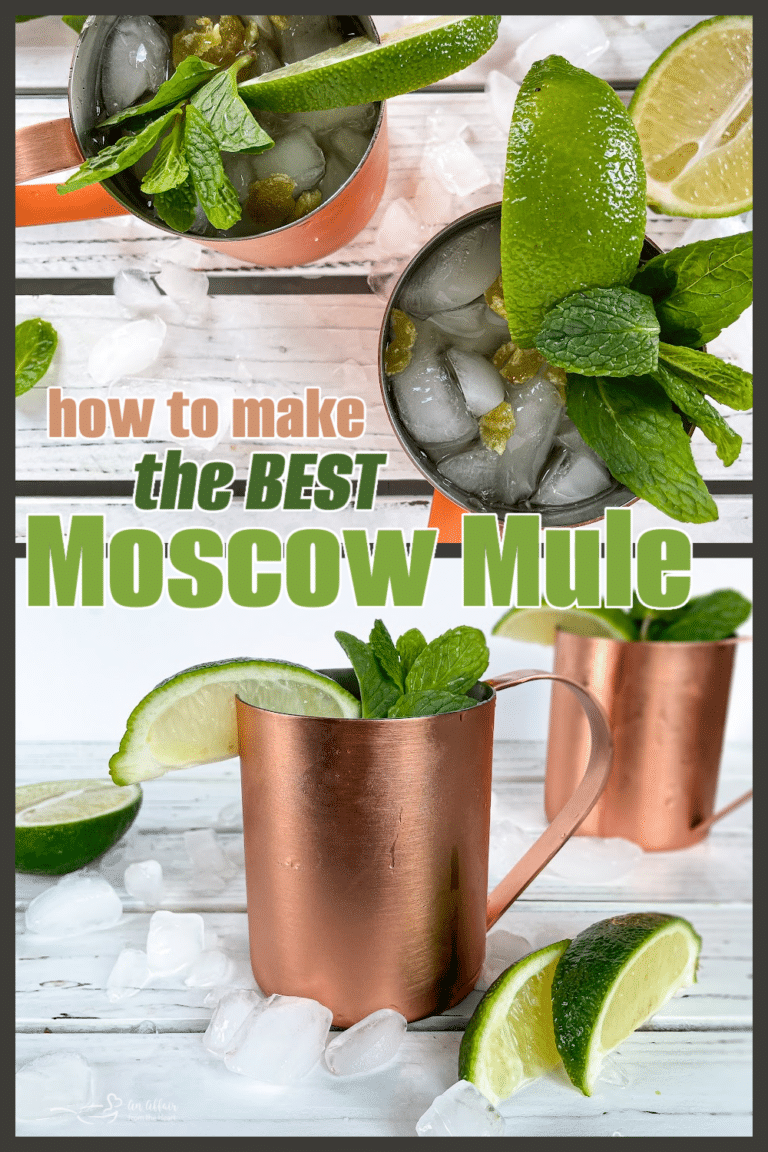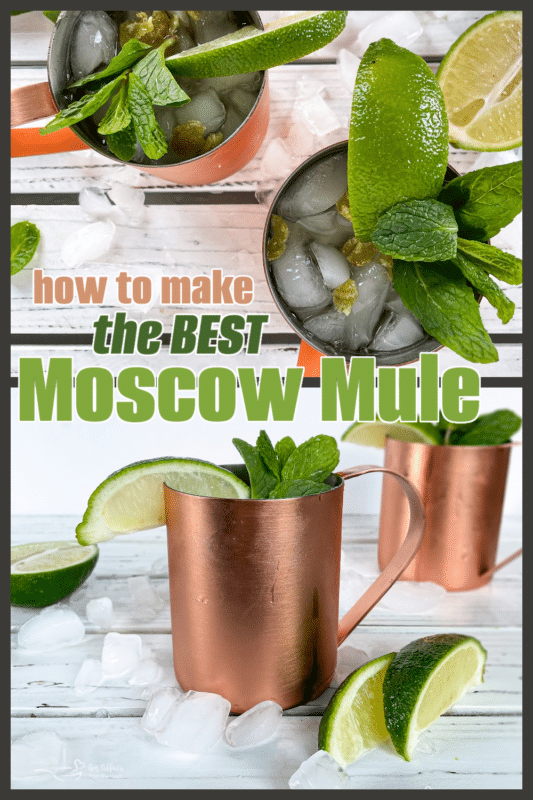 Love it? Pin it!
Don't forget where you found the recipe for the BEST Moscow Mule! Pin it to your favorite Pinterest Board before you go!

Is Ginger Beer Alcoholic Or Non-Alcoholic?
Real old-school authentic ginger beer does actually contain alcohol. However, most of the popular modern brands like Cock N Bull, and Fever Tree contain so little alcohol they are considered non-alcoholic. So in reality, even though they are called "ginger beer" they are really closer to ginger soda, aka ginger ale.
Check out this Ginger Beer Taste Test.
THE BEST GINGER BEER FOR MOSCOW MULES
The more snap the ginger beer has, the stronger the ginger heat, and the better the Moscow Mule. I love spicy ginger beer myself – it makes the perfect Moscow Mule in my opinion.
In most places, you can find an assortment of ginger beers at the grocery store, if not, the liquor store is going to be your best option.
Obviously, if you can't find a ginger beer on the shelves, then ginger ale works too. But, in that case, you definitely want to grate in some fresh ginger in order to increase the actual ginger flavor.

Tips On Making Great Moscow Mules
With a Moscow Mule, follow these tips and you can't beat it. A great cocktail for a hot day by the pool.
Make sure everything is chilled as much as possible. Vodka from the freezer. If you have a copper mug, then rinse it and toss it in the freezer without drying it first. Get the ginger beer on ice for maximum chilliness without freezing it.
Use a quality ginger beer. Cock and Bull is awesome. Reeds works well too. Usually, you can find those too in the soda aisle at the market.
Use a decent Vodka. Doesn't have to be on the top shelf unless that is your preference, but the smoother the vodka, the better the drink.

More Mule Cocktails To Love
Can't get enough? Us either! Here are a bunch of ways to love (and consume) Moscow Mules!
By Location:
Flavored Moscow Mule Cocktails:
More Cocktail Suggestions
I have loads of cocktail recipes on my website. No matter if you are looking for something as simple as a Red Beer or sophisticated as a Dirty Martini or French Martini, I have you covered! Want something a little more sweet and rich? Try my Grasshopper Cocktail or my White Russian!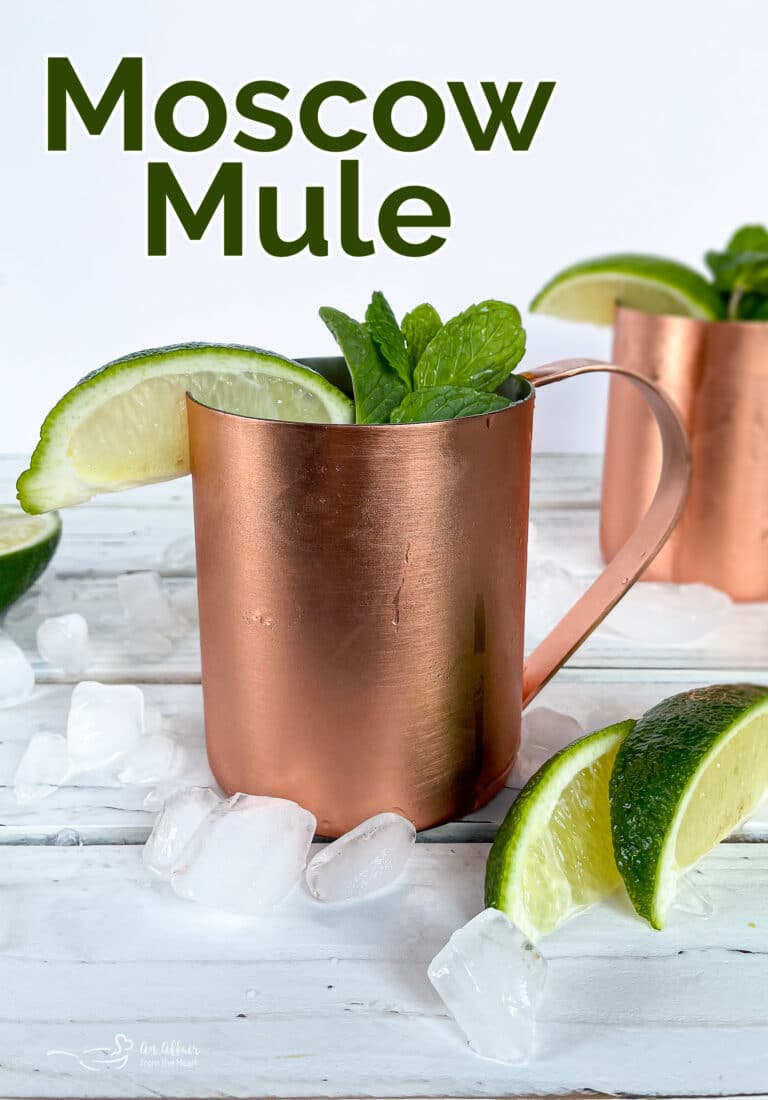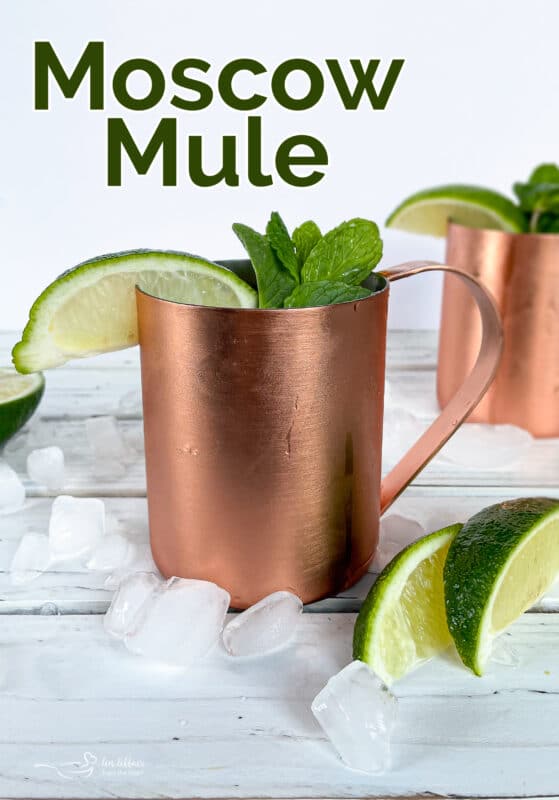 Thirsty yet? Me, too!! Let's make Moscow Mules!

Yield: 2 Cocktails
Moscow Mule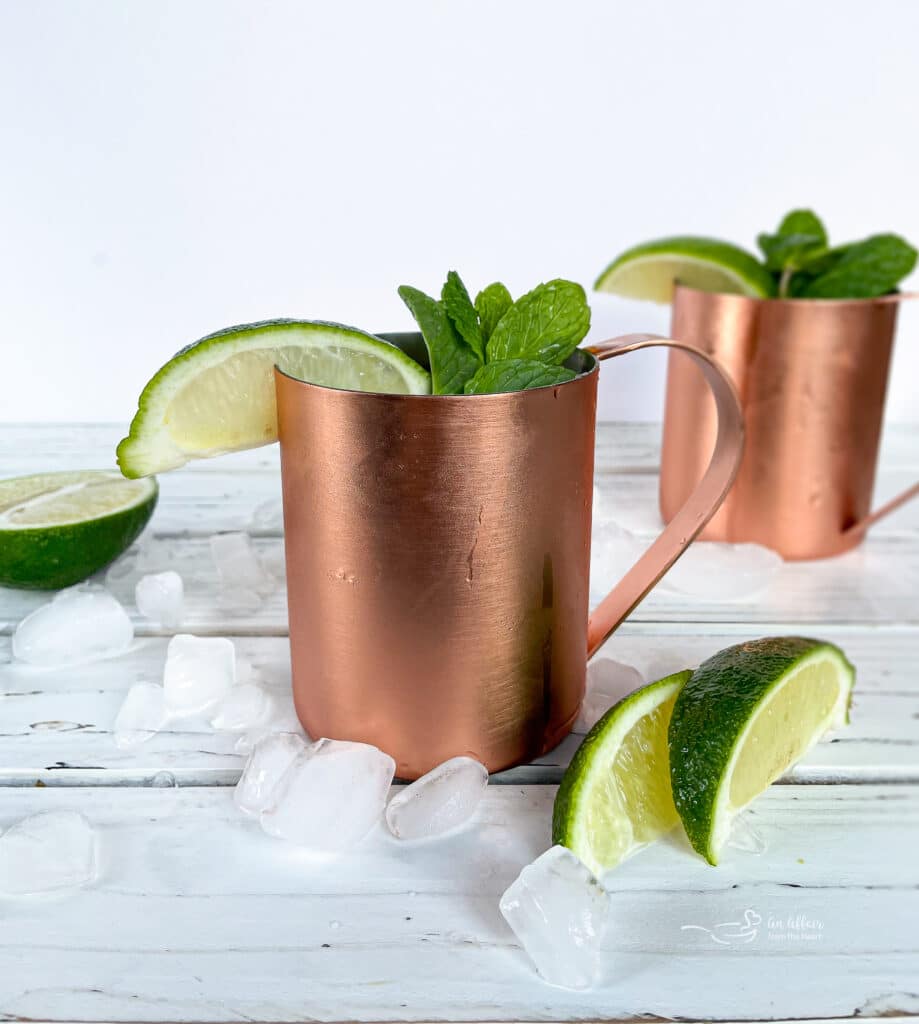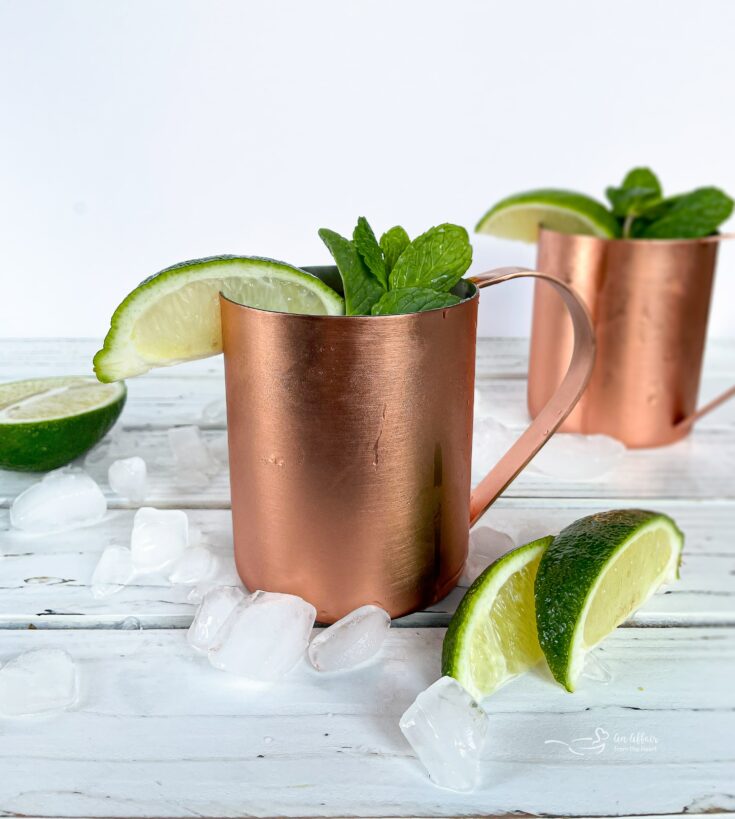 Ginger beer, vodka and lime make this refreshing drink!
Ingredients
1 lime, cut in half
4 ounces vodka
1- 12 ounce ginger beer
ice, preferably crushed
Instructions
Fill a 16 ounce copper mug or small cocktail tumbler, with crushed ice.
Pour in 2 ounces of vodka.
Add half of the can of Ginger Beer (6 ounces) to the glass.
Squeeze half of the lime into the glass and drop it into the cup.
Give it a quick stir and Serve!
Nutrition Information:
Yield:
2
Serving Size:
1
Amount Per Serving:
Calories:

232
Total Fat:

0g
Saturated Fat:

0g
Trans Fat:

0g
Unsaturated Fat:

0g
Cholesterol:

0mg
Sodium:

14mg
Carbohydrates:

28g
Fiber:

1g
Sugar:

24g
Protein:

0g
Nutrition isn't always accurate.
This recipe was originally posted on May 22, 2014. It has been updated to improve experience and reshared on March 2, 2023.