How To Make a Cozy Autumn Simmer Pot
As an Amazon Associate and member of other affiliate programs, I earn from qualifying purchases.
Create a warm and inviting atmosphere with an Autumn Simmer Pot, a delightful blend of aromatic ingredients gently simmered on your stovetop. Learn how to easily prepare a simmer pot and envelop your home with delightful fall scents. Transform your space into a cozy haven of natural seasonal fragrances and good vibes.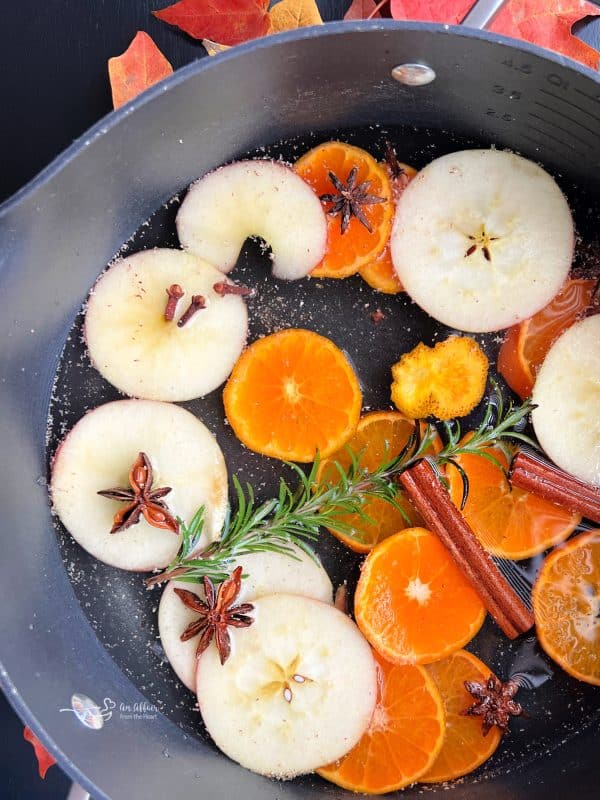 The Magic of Autumn Simmer Pots: Bringing Warmth and Fragrance to Your Home
Autumn, a season of transition and change. As the air turns crisp and leaves transform into vibrant shades of orange, yellow, and red, I love to invite the warm, comforting scents of the season into my home.
One time-honored way to do this is by creating an autumn simmer pot. We'll explore why people make simmer pots, talk about common ingredients used to make them, and even touch upon the metaphysical reasons behind the spices used.
What is a Simmer Pot?
A simmer pot is a concoction of aromatic ingredients like herbs, spices, and fruits that are placed in a pot and simmered on the stovetop. While it warms, a fragrant, comforting aroma fills your home, creating a cozy and inviting atmosphere. It's a simple and natural way to freshen the air and infuse your living space with seasonal scents.
If you love this recipe, check out these "Kitchen Spa" recipes while you're here: Homemade Sugar Scrub, Banana Botox, plus my recipe for Homemade Foot Soak and Callus Remover.
Why Make an Autumn Simmer Pot
Autumn simmer pots infuse your home with natural fragrances. No chemical-laced plug-ins or smoky candles. Simmer pots contain all-natural ingredients. As we move from the warmth of summer to the chill of winter, simmer pots help create a smooth transition, making us feel more connected to the earth's seasonal cycles.
The aromatherapy can even help our wellbeing. Cinnamon, cloves, and other autumn spices can have a calming and grounding effect. Their aroma can relieve stress, and anxiety, and promote a sense of relaxation.
Common Ingredients in Autumn Simmer Pots
Spices and herbs are a must. Cinnamon Sticks lend a warm and spicy fragrance. While the sweet, earthy aroma of cloves evokes the coziness of fall. Nutmeg and star anise deepen the complexity of the scent, while fresh rosemary provides an herbal element.
Fruit like oranges, lemons, and apples give a sweet aroma and a touch of vanilla can deepen that scent.
Adding Essential Oils to Your Simmer Pot
A few drops of essential oils can customize your simmer pot to your preferences. I have recently become obsessed with Young Living Essential Oils and everything they provide. If you are interested in them, let me know. My friend, Suzy, is a wealth of knowledge when it comes to essential oils. She's my Woo-Woo Bestie!
Metaphysical Beliefs About Simmer Pots
In some belief systems, spices and herbs carry metaphysical significance. Cinnamon, for example, symbolizes protection and prosperity. Cloves are associated with love and friendship. When you create an autumn simmer pot, you can infuse your home with these symbolic energies, inviting positivity and balance.

Ingredients in This Autumn Simmer Pot Recipe
For complete ingredients and instructions scroll to the bottom of this post for the full printable recipe card.
apple – associated with immortality, and protection; apple seeds form a pentacle when cut crosswise.
oranges – sliced.

Adds a warm, sunny feeling and boosts mood, evoking hope and positivity.

cinnamon sticks – are u

sed for prosperity, protection, love, and healing; they enhance ambition and raise vibrations.

whole cloves – offer

strong protection, repelling negativity and discouraging gossip and rumors.

star anise– r

enowned for its calming and grounding properties.

ground nutmeg – known for luck, money, prosperity, psychic awareness, and protection.
sprig of fresh rosemary -b

rings peace and protection to the home, aids focus and memory, and enhances dream recall while preventing nightmares if simmered before sleep.

Water – regular filtered water or use your moon water to fill the pot.
Optional Essential Oils –Clove, Cinnamon, and Rosemary essential oils can be added to your pot in addition to the natural spices and herbs. Chamomile essential oils can support a better and more consistent flow of chi both within and outside your physical and spiritual bodies. In addition, it acts as a mild sedative. This oil can help you unwind and block outside noise so you can meditate or contemplate even more deeply. Patchouli has grounding, calming, and balancing properties, and is commonly used in aromatherapy and rituals to promote well-being and enhance spiritual experiences.
Creating Your Autumn Simmer Pot
As you prepare your simmer pot, take a moment to reflect on the changing season, express gratitude, and set intentions for the months ahead.
To create your simmer pot, simply place all of the ingredients in the bottom of your pot.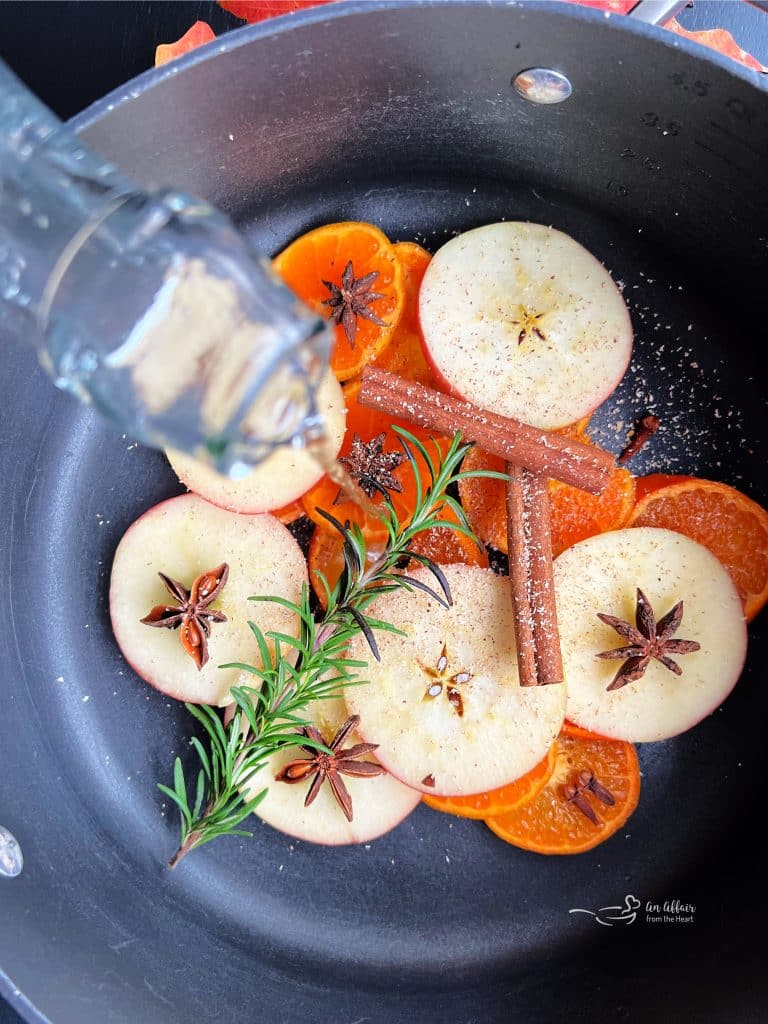 Pour water over the top.
Simmer on low and let the fragrance fill your home.
Stir occasionally and add water if it cooks down too far.
Love it? Pin it!
If you love this Autumn Simmer Pot Tutorial, make sure that you don't lose it! Pin it to your favorite Pinterest board before you go!
What to Do with the Remains of Your Simmer Pot
Once your autumn simmer pot has filled your home with its delightful aroma and your chosen herbs and spices have worked their magic, you may wonder what to do with the remains. Waste not, for there are several ways to rid of simmer pot ingredients.
Add them to your compost pile or bin and they'll break down and nourish your garden for future growth. The ingredients from your simmer pot can continue to serve as a natural air freshener. You can place them in small dishes or jars in your rooms and they will provide a subtle fragrance for another day or two.
I personally take the softer elements of it and run them through my garbage disposal to freshen it. I take the hard elements, like the cinnamon sticks, and place them in my flowerbeds, returning them to the earth.
By finding purpose and value in the remains of your simmer pot ingredients, you not only reduce waste but also create a deeper connection to the cycle of nature. Embrace the eco-friendly and spiritually enriching aspects of this practice to truly honor the essence of autumn.

FAQs About Simmer Pots
Do I Need a Special Pot to Make a Simmer Pot? Not at all! Using any saucepot, stockpot or even a slow cooker will work. However, after taking photos of this autumn simmer pot, I came across this glass simmer pot online and fell in love. You will see this one used in my upcoming Holiday Simmer Pot Recipe. Stay tuned for that!
Can I use ground spices and dry herbs in place of fresh ones? Yes. You can use ground spices and dried herbs in place of fresh in a pinch.
Do I have to use a spice I don't like to make this recipe? Not at all! Change up the spices to your liking. Remove one, add another, or even more or less of the ones you love. I am heavy-handed on the cloves and the star anise, but if it's not your thing, omit them or replace them. The same goes with the citrus – use whatever citrus you have on hand in a pinch. Lemons work well in this recipe, too!
As we welcome the transformative beauty of fall into our lives, the scents of a simmer pot bring warmth and comfort to our homes. So, embrace the magic of autumn, and let the fragrant symphony of spices and herbs envelop your senses and soul.

Yield: 1 simmer pot
How To Make a Cozy Autumn Simmer Pot
As you prepare your simmer pot, take a moment to reflect on the changing season, express gratitude, and set intentions for the months ahead.
Total Time
5 minutes
6 seconds
Ingredients
1 small apple, sliced
1-2 oranges, sliced
2 cinnamon sticks
7 whole cloves
6 star anise
ground nutmeg
1 sprig of fresh rosemary
Water
Optional Essential Oils: Camomile, Pachouli, clove cinnamon and rosemary
Instructions
Place all of the ingredients in the bottom of your pot. Grind a heavy sprinkle of nutmeg over the ingredients in the pot.
Pour water over the top.
Simmer on low and let the fragrance fill your home.
Stir occasionally and add water if it cooks down too far.
Notes
This can be made in a crock pot too. Follow the same instructions and simmer on low.
You can keep the simmering pot going for many hours by adding more water as it cooks down. Don't let it burn!
You can use ground spices in place of the whole raw spices if you are in a pinch.