Chocolate Chip Cheesecake
As an Amazon Associate and member of other affiliate programs, I earn from qualifying purchases.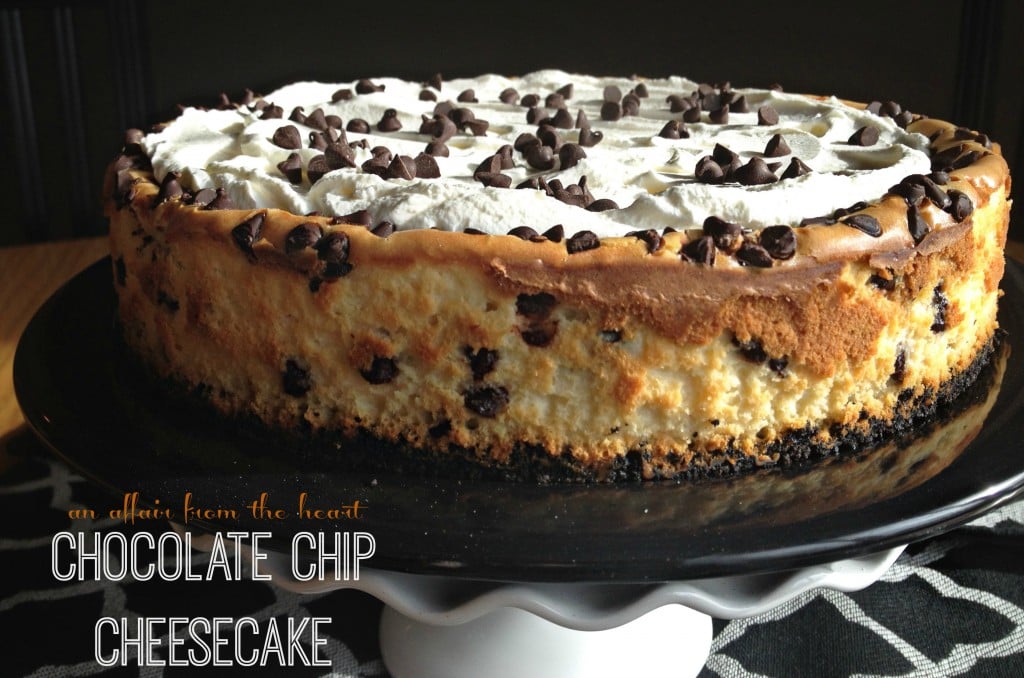 I love cheesecake, don't you? I love it in all sorts of ways, plain, topped with fruit, filled with candy bar flavors… Pretty much any cheesecake makes me happy. If I HAD to choose though, I think chocolate chip cheesecake would be in my top three of my favorites.
I have tried MANY recipes over the years, and this one, I am pleased to say, turned out just right. It is actually a combination of recipes that I have tried over the years. I have pieces of paper all clipped together that have scratched out parts, and circles saying "this for crust" — "this for topping."
This particular cheesecake was my son's birthday cake this past year. It had been hanging out in my "to blog" file, and I thought it was due time to get it to you!
One of the things about cheesecakes, is getting them not to crack. I am not always successful at this. About a year ago, I ordered cheesecake at a restaurant and it came with this delicious sweet sour cream topping. Not only was it tasty, but it set a light bulb off in my head!
"It would COVER THE CRACKS!!!!"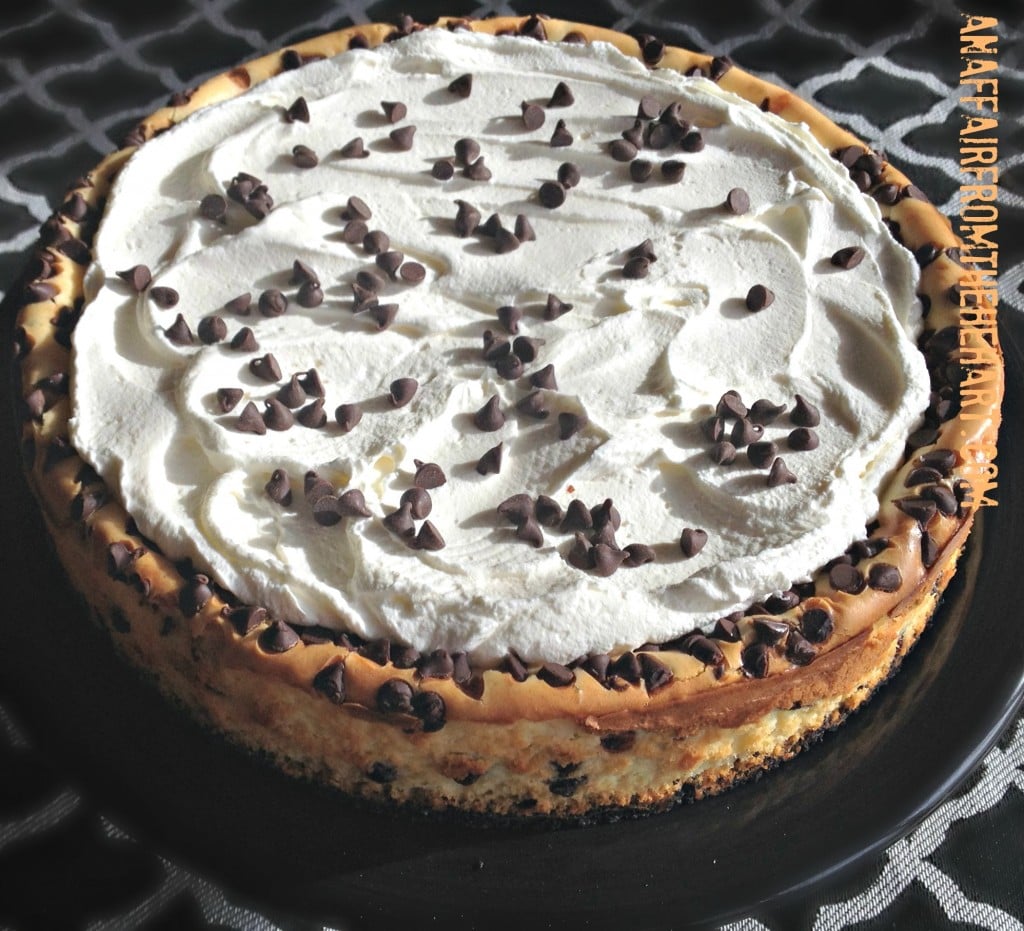 Yay!! So, I tried it. It kicked the creaminess of this cheesecake up a couple of notches…we LOVED it!
The birthday boy was VERY PLEASED!!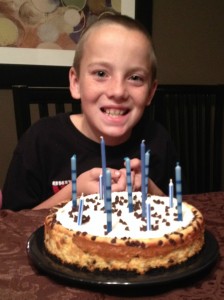 He and his twin sister celebrated their birthdays in style and with CHOCOLATE! She chose my French Silk Pie for her birthday dessert. Does it get any better than having TWO DESSERTS on one day? I think not!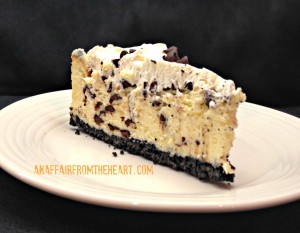 Yield: 1 cake
Chocolate Chip Cheesecake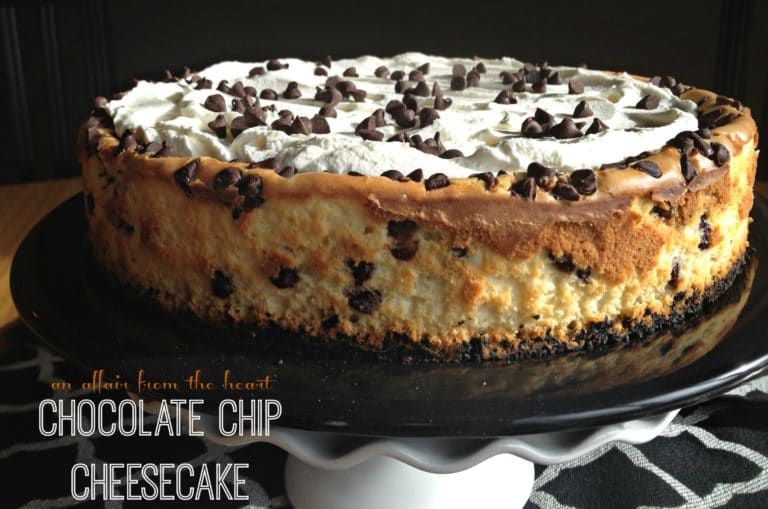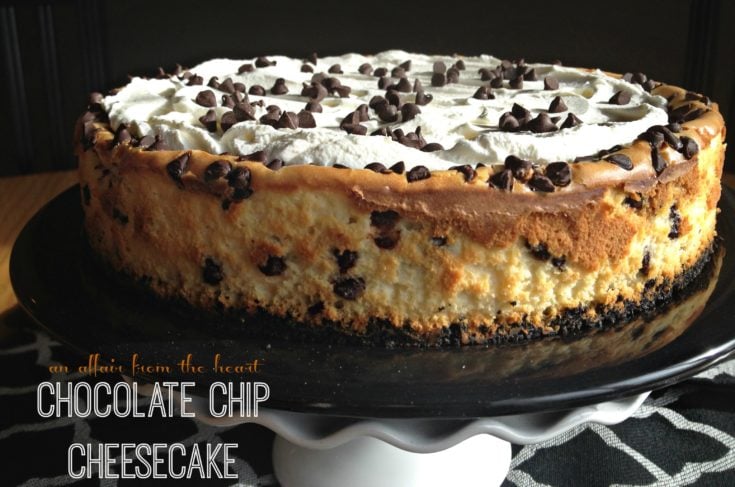 This chocolate chip cheesecake is made of a chocolate cookie crust, layered with creamy cheesecake center full of chocolate chips and topped with a sweet sour cream... it's perfect in every way.
Total Time
1 hour
5 minutes
Ingredients
For the CRUST:
1 1/2 cups finely crushed chocolate sandwich cookies,(Oreos) -about 1/2 of a 14 ounce package
2-3 Tablespoons of melted butter (I use salted)
For the CHEESECAKE:
3 - 8 ounce packages of cream cheese, softened
1 - 14 ounce can of Sweetened Condensed Milk
3 large eggs
2 teaspoons vanilla extract
1 cup of semi sweet chocolate chips. + about 1/4 cup more for garnish (mini ones work good, too)
1 teaspoon flour
For the TOPPING:
2 cups sour cream
1/3 cup powdered sugar
1 teaspoon vanilla
Instructions
Preheat oven to 300 degrees.
Crush your cookies, filling and all in your food processor until fine. Combine with melted butter using a fork. Press into the bottom of a 9" (ungreased) spring form pan.
Beat the cream cheese in your mixing bowl until fluffy. Slowly beat in the sweetened condensed milk until smooth. Add the eggs and the vanilla and mix to combine.
Divide chocolate chips into two separate bowls. (1/2 cup in each) Sprinkle flour over the chips in one bowl. Give them a little shake to coat them with the flour. Gently fold them into the cheesecake batter.
Pour batter over the crust, smooth out the top, sprinkle the remaining chips on top.
Bake 55-60 minutes or until set. Cool. Then chill completely in the refrigerator.
For the topping, combine the sour cream, sugar and vanilla. Place in the refrigerator to keep cool until ready to use.
Spread the topping over cooled cheesecake before serving.
Nutrition Information:
Yield:
1
Serving Size:
1
Amount Per Serving:
Calories:

7429
Total Fat:

508g
Saturated Fat:

295g
Trans Fat:

5g
Unsaturated Fat:

156g
Cholesterol:

1848mg
Sodium:

3946mg
Carbohydrates:

597g
Fiber:

14g
Sugar:

527g
Protein:

142g
Nutrition isn't always accurate.
Do you love cheesecake like WE LOVE CHEESECAKE?? If so, you will want to take a peek at a couple of the others I have done over the years…
White Chocolate Raspberry Cheesecake
Or look… NO BAKE!!
Individual Lemon Raspberry (no bake) Cheesecakes
Treat yourself to some cheesecake… life is too short not to!