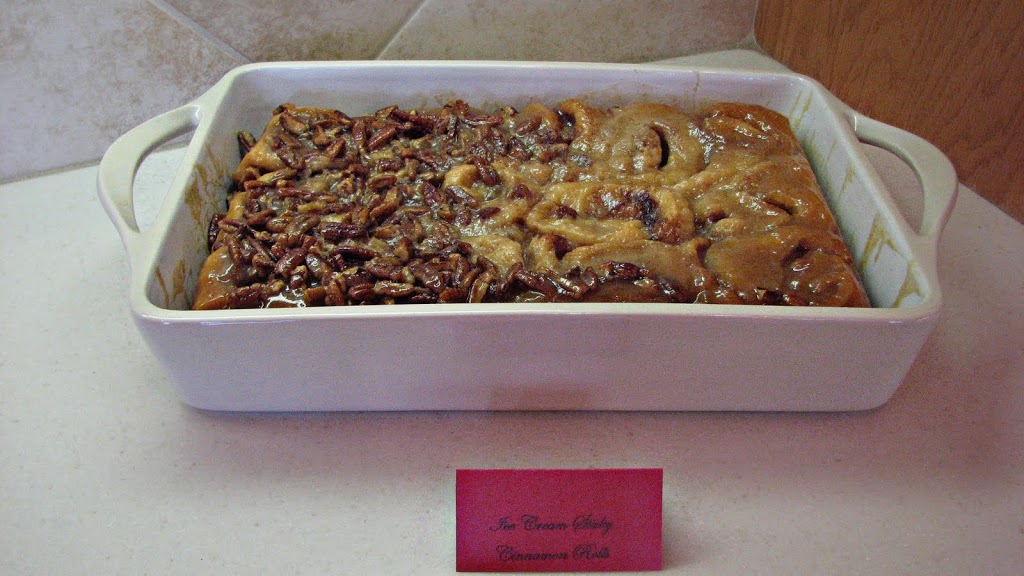 ice cream sticky cinnamon rolls
I had never made these before, and had a couple of people talk about them when I was planning my brunch menu last weekend. I couldn't decide on one recipe. I, most often, have a problem sticking to a recipe anyway, and end up making up my own. (what fun is coloring in between the lines all of the time?) So, after combining a couple of ideas, this is what I came up with.
Ice Cream Sticky Cinnamon Rolls
Ingredients:
1 Cup Vanilla Ice Cream
1 Stick of Butter
1 Cup of Brown Sugar
1 1/2 Cups White Sugar
Rhode's ™ Self Rising Cinnamon Rolls (or other brand)
Chopped Pecans (optional)
Non-Stick Cooking Spray
Directions:
1. Spray a 9×13 or a 10×15 pan with cooking spray. (I like to use the buttered flavor)and place the frozen cinnamon rolls in the pan.
2. In a saucepan over low heat combine sugars, butter and ice cream until melted and sugars are dissolved. pour mixture evenly over the rolls. At this point if you would like to add the chopped pecans, do so. Cover tightly with plastic wrap sprayed with cooking spray. Let rise in a warm place over night.
3. In the morning, remove plastic wrap and bake at 350 degrees for 20-25 minutes. After they cool just a little while, invert the rolls into another pan the same size or on a platter, then the sticky part will be on the top.
Yummy and SO EASY!
Prep Time:10-15 minutes
Cook Time:20-25 minutes
Ready In:overnight
Servings:12
Yield 9×13 or 10×15 Pan

If you make this recipe, I'd love to know! Snap a picture, share the photo on social media with the hashtag #AnAffairFromTheHeart – I'd love to see what you made! – Michaela