Pizza Meatloaf Minis
As an Amazon Associate and member of other affiliate programs, I earn from qualifying purchases.
These Pizza Meatloaf Minis bake up in your cupcake pan, they are a quick and easy meal, with the flavors of pizza in a cute little meatloaf. Kids will love them!
Today I have the pleasure of sharing with you a new cookbook, by a fellow food blogger friend of mine, Nicole Meyer. Nicole hosts a food blog called Nibbles By Nic .. and that is where I "met" her.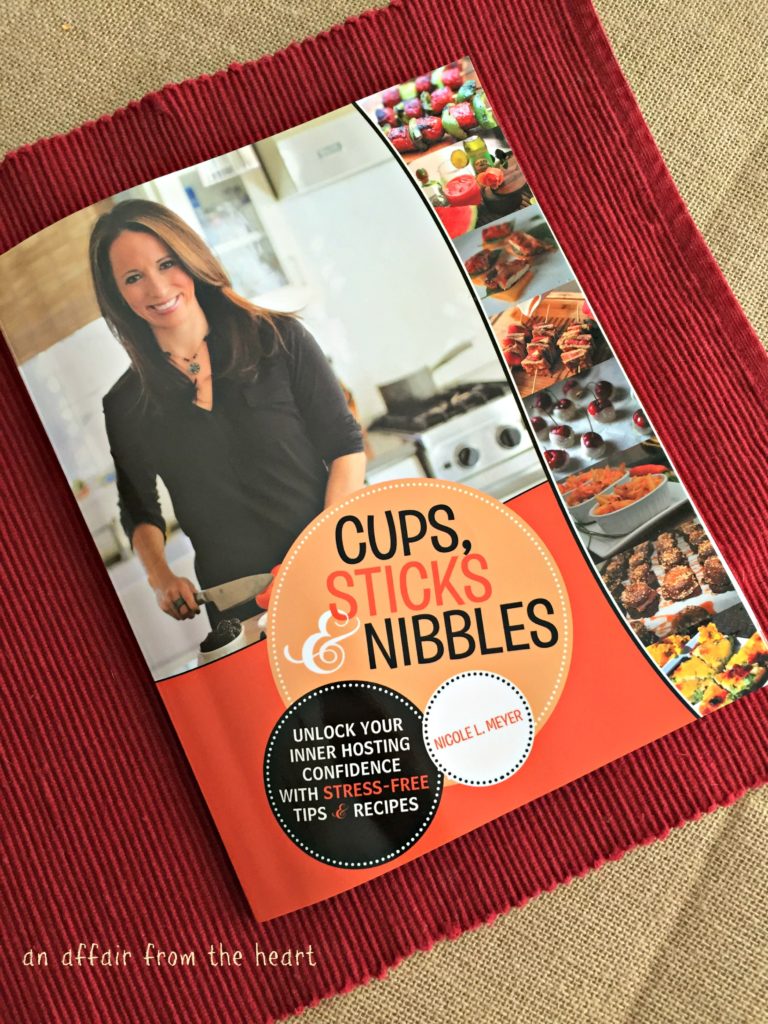 Isn't she darling? Nicole's fantastic new cookbook is called Cups, Sticks & Nibbles and shares not only fantastic recipes, but ways to build your confidence as a hostess. Throwing a party? Don't fret, Nicole has it broken down what to be doing weeks before the guests arrive on your doorstep. Menu planning and recipes for everything from brunch to cocktails, grilling recipes to sweets. There are a wealth of family recipes and fun bites for your kiddos, too!
I had my eye on the White Chocolate Covered Cherries and the Toasty S'More bars, but alas, I kept flipping back to the meatloaves. Aren't they super cute?
I made meatloaf in muffin tins once a long time ago, and my kids really liked it. Not sure why I didn't do it again?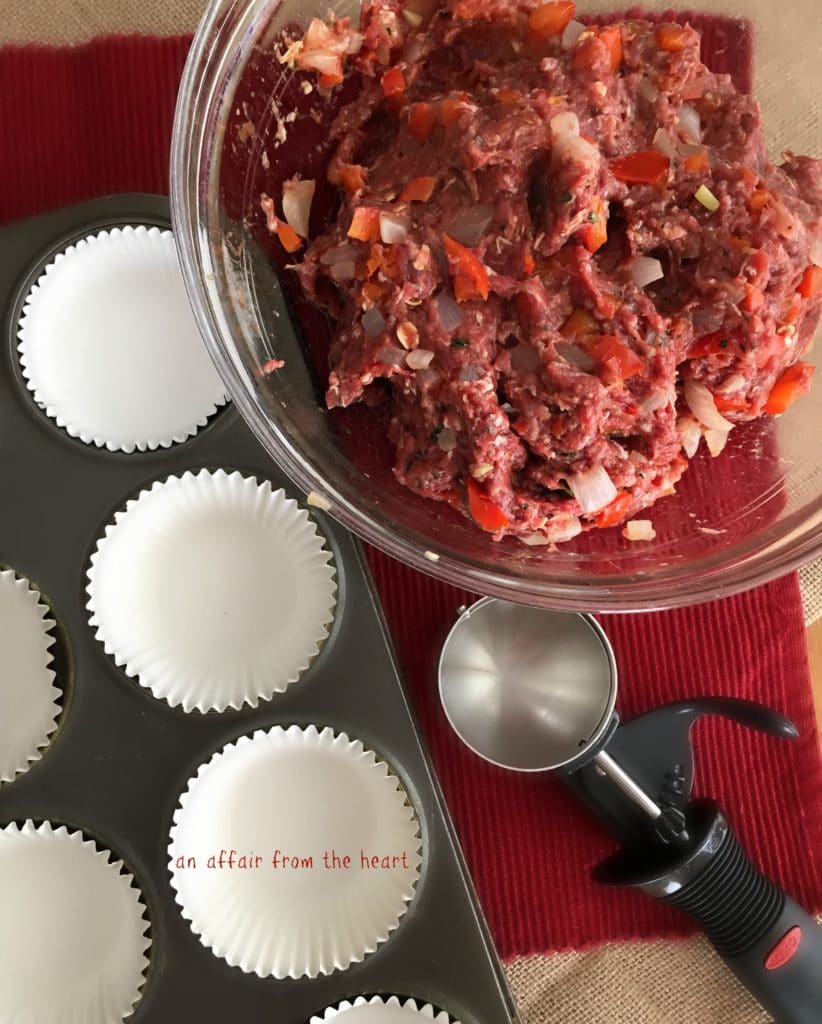 This particular meatloaf recipe, was unlike anything I had ever tasted. It truly did have that pizza flavor. Best part? They cook in like 20 minutes! #Bonus I lined my cupcake pan with the foil cupcake liners. Used my ice cream scoop to scoop right in, and voila! ready to bake!
The only thing I changed was the amount of ground beef, and the name. Nicole calls hers Pizza Meatloaf Cupcakes. When I said cupcakes to my kids they had a perplexed look on their faces? Ha — I went with minis… call them whatever you like, just please try them. They are a perfect weeknight meal. Great portion control, too.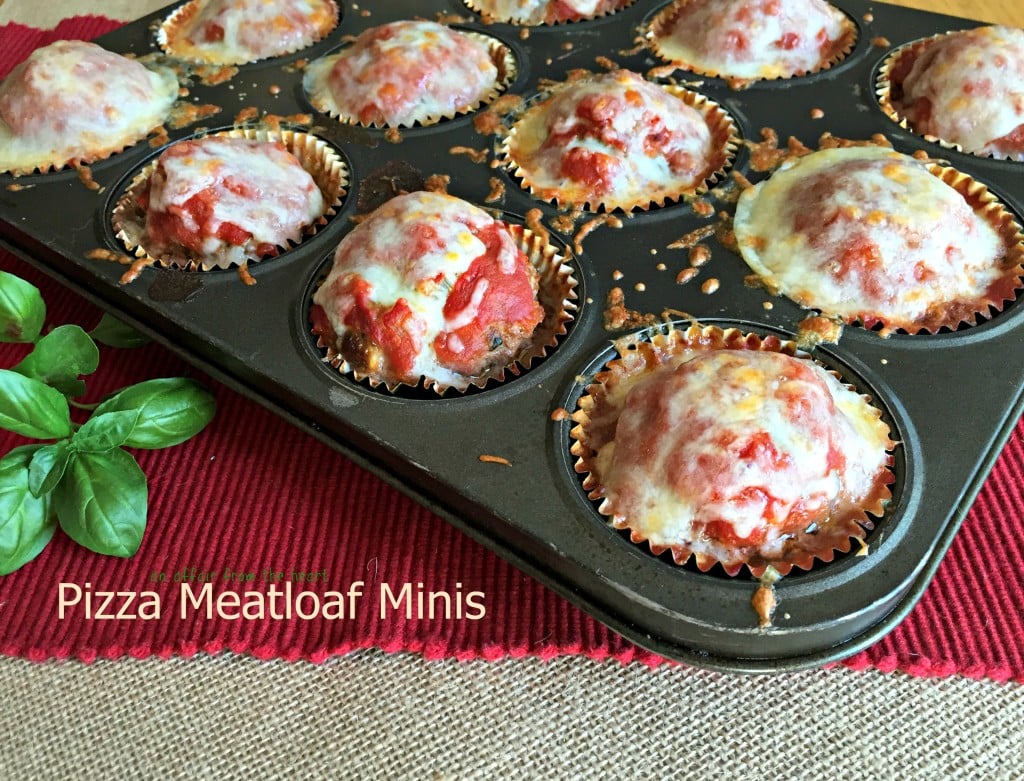 —
Yield: 12 mini loaves
Pizza Meatloaf Minis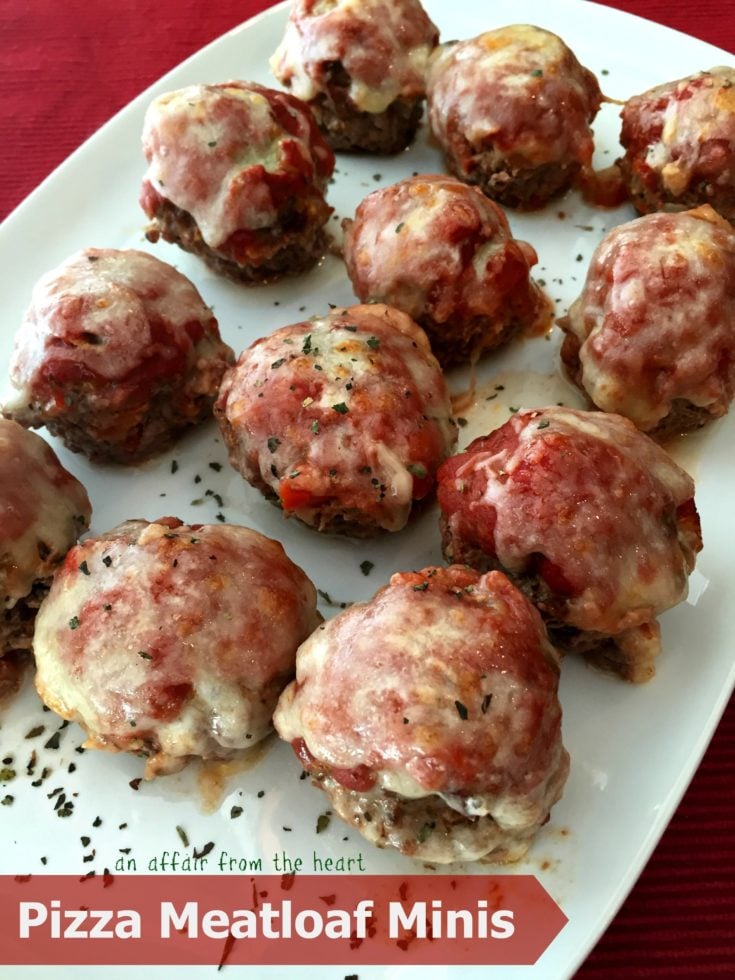 These Pizza Meatloaf Minis bake up in your cupcake pan, they are a quick and easy meal, with the flavors of pizza in a cute little meatloaf. Kids will love them!
Ingredients
3 Tablespoons olive oil
1 small onion, chopped
1 red bell pepper, seeded and chopped
2 large cloves garlic, minced
1 1/2 pounds lean ground beef
1 egg, beaten
1/4 cup quick cooking oatmeal
1 Tablespoon Worcestershire sauce
1 Tablespoon tomato paste
1 teaspoon dried oregano
1 teaspoon dried basil
1/2 teaspoon salt
black pepper to taste
2 Tablespoons water
1 (8 ounce) can tomato sauce
1 cup shredded Mozzarella cheese
Instructions
Preheat oven to 350 degrees. Spray cupcake pan (12 unit) with cooking spray, or line with heavy duty cupcake liners.
In a large skillet heat Olive oil and add in onion. After about 2 minutes, add bell pepper and garlic and saute until tender. - cool.
In a bowl, mix together your ground beef, egg, oatmeal, Worcestershire sauce, tomato paste, water and seasonings. When well combined add your pepper/onion mixture. Mix again until incorporated.
Using an ice cream scoop, evenly divide meat mixture in the cupcake pan. Top each meatloaf with 1 Tablespoon tomato sauce.
Bake for 15-20 minutes or until just beginning to brown. Remove from oven and sprinkle with cheese. Switch oven to broil and place meatloaf back in the oven to melt cheese under the broiler.
Let stand for 5 minutes - serve.
Nutrition Information:
Yield:
12
Serving Size:
1
Amount Per Serving:
Calories:

210
Total Fat:

12g
Saturated Fat:

4g
Trans Fat:

0g
Unsaturated Fat:

7g
Cholesterol:

71mg
Sodium:

402mg
Carbohydrates:

5g
Fiber:

1g
Sugar:

3g
Protein:

19g
Nutrition isn't always accurate.
—
I want to extend a HUGE thank you to Nicole, for sending me her delicious cookbook to review. You guys all know how much I love to entertain, so the hostess tips are so handy. I have many pages bookmarked to try even MORE recipes. Want to grab one of these cookbooks for yourself? Visit Nibbles By Nic to order TODAY! Follow Nicole on facebook to see her current nibbles she is sharing!