The other day I joked about making some concoction in my kitchen that I would share if it tasted good? Well, guess what? It did!! Everyone loved it!
So, now comes the hard part, trying to "write a recipe." You see, this is pretty much how I cook. A lot of my best meals I throw together with something I had laying around here so I wouldn't have to go to the store… again. I would not call myself a recipe follower…more like a recipe tweaker! Most times, in the taste category this works out to my advantage, other than to replicate it again sometimes doesn't quite work out.
I have been trying to get better at jotting down what I put into something, and measuring instead of just shaking a spice into the pot until it tastes good, so bear with me!
smelled even better than it looked
(here is where I opened my 2nd Dos XX Amber…please don't judge. It's a 114 outside and I am sitting next to my oven!)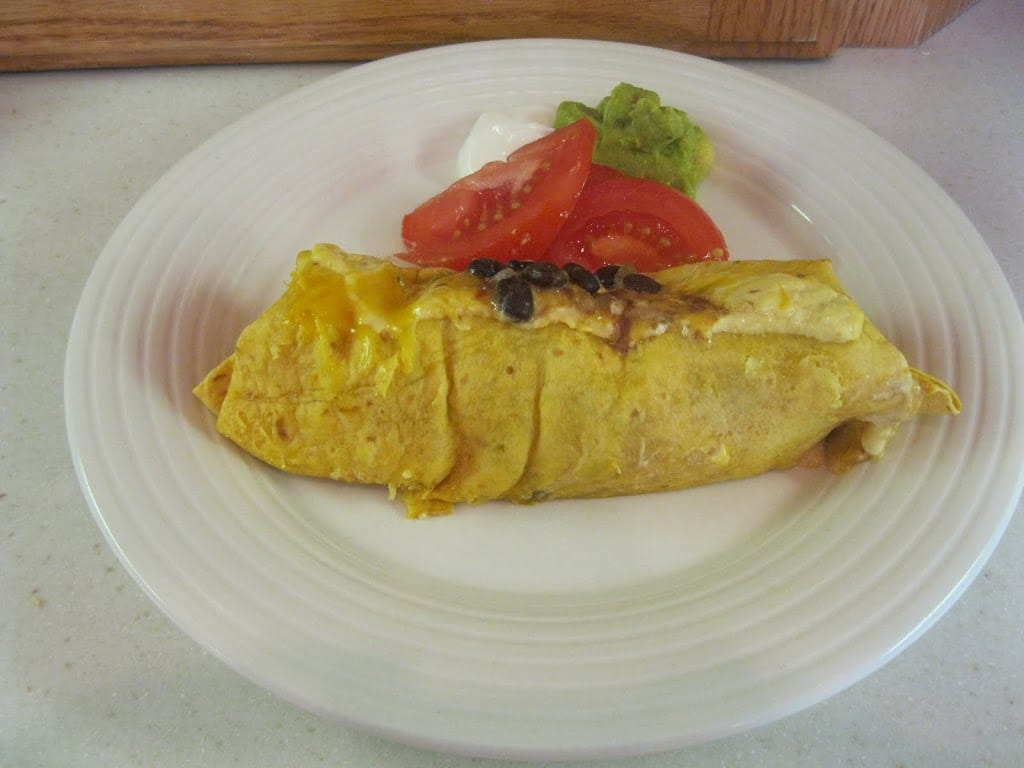 gussy it up on the plate with some fresh tomatoes, sour cream and guacamole
Looking toward the future and the next time I make this, here is what I would do different. I would add colored bell peppers to the chicken mixture, and more green chilis to the soup mixture. I am not saying that it was lacking, I was just using up what I had here to make something. But if I was shopping for the ingredients to make this, I would do that part differently!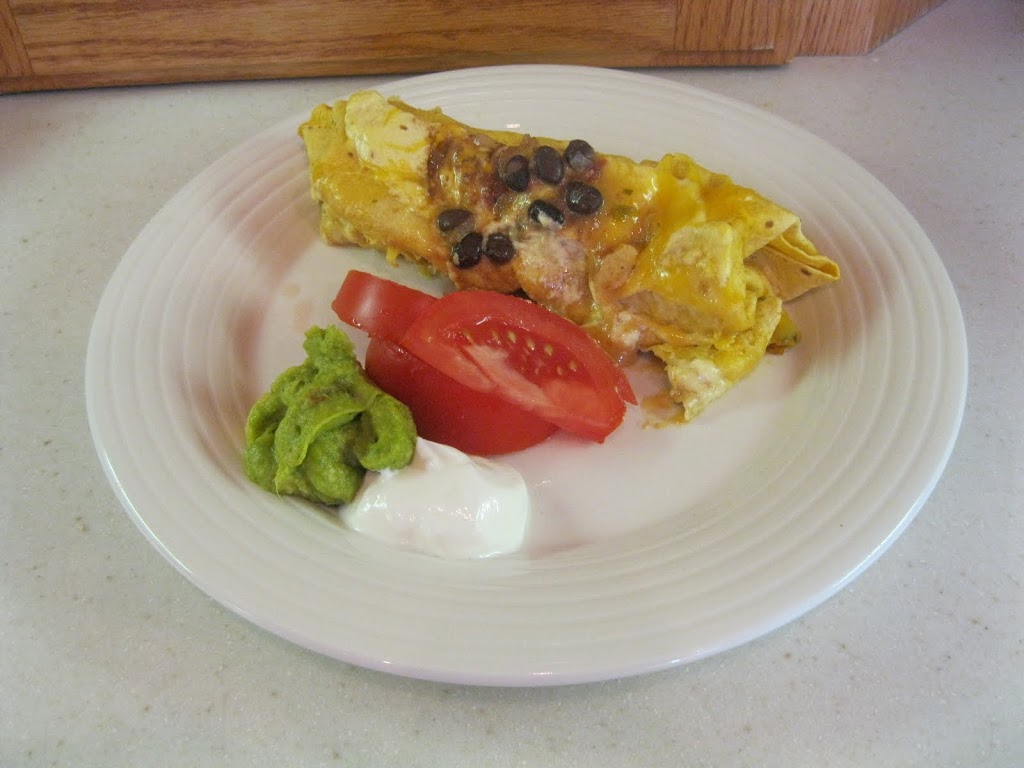 chicken fajita bake
Yield: 8 servings
That mystery dish we named Chicken Fajita Bake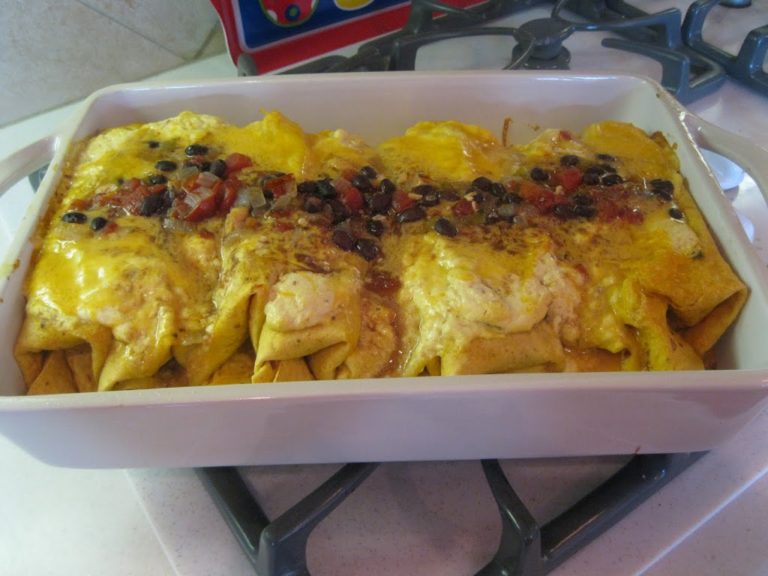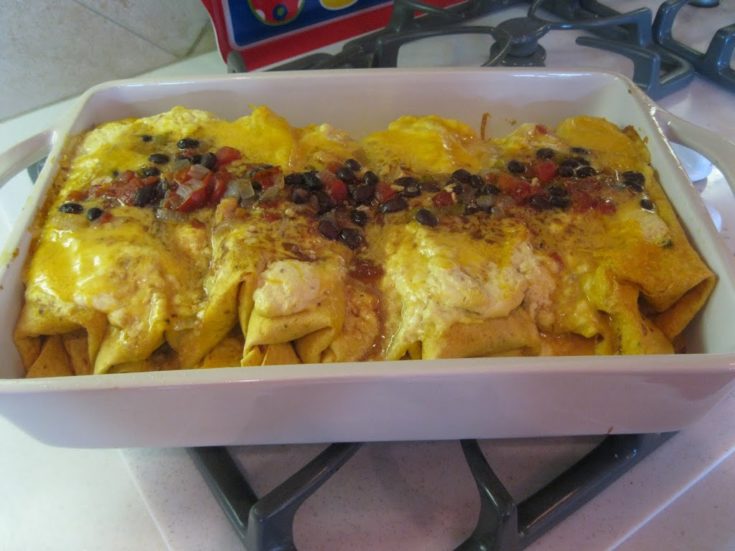 Chicken Fajita meat, green chilis, black beans and other good things all stuffed in tortilla shells.
Ingredients
1 package of frozen chicken breast meat for fajitas
1 onion
1 can green chilis
1 can rotel
1/4 teaspoon cumin
1/8 teaspoon cayenne pepper (more to taste)
1 can cream of chicken soup
8 ozs sour cream
1 can black beans
8 tortillas (I used cheddar jalepeno flavored ones)
large package of shredded cheddar or mexican cheese
Instructions
Saute your chicken with the onion and green chilis until heated
(that's they beauty of that chicken fajita meat, it's already cooked!)
Add the rotel, cumin, cayenne pepper and black beans and simmer for about 5-10 minutes.
Combine the sour cream and cream of chicken soup and spread about a tablespoon in the middle of each tortilla, a scoop of the meat mixture, sprinkle with cheese and roll "enchilada style" and place into a greased 9×13 dish. Continue to fill all 8 tortillas. The remaining soup mixture is spread on top, as well as the remaining cheese. I placed some of the beans and tomatoes down the center also.
Cover and Bake at 350 degrees for 30 minutes.
Nutrition Information:
Yield:
8
Serving Size:
1
Amount Per Serving:
Calories:

555
Total Fat:

22g
Saturated Fat:

9g
Trans Fat:

0g
Unsaturated Fat:

11g
Cholesterol:

75mg
Sodium:

1218mg
Carbohydrates:

60g
Fiber:

7g
Sugar:

3g
Protein:

29g
Nutrition isn't always accurate.

If you make this recipe, I'd love to know! Snap a picture, share the photo on social media with the hashtag #AnAffairFromTheHeart – I'd love to see what you made! – Michaela