Creamed Corn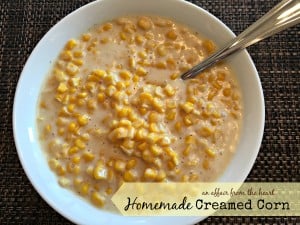 Author:
An Affair from the Heart
3 (15.25 oz) cans of corn, drained
1 cup heavy cream
1 teaspoon salt
3 Tablespoons sugar
sprinkling of black pepper
3 Tablespoons butter
1 cup milk
2 Tablespoons flour
In a skillet over medium heat, melt the butter. Add corn, cream, sugar salt and pepper. Cook until hot. (About 5 minutes)
Whisk together milk and flour and add to the corn mixture. Stir and let thicken, over medium heat. (About 10 minutes)
Serve!